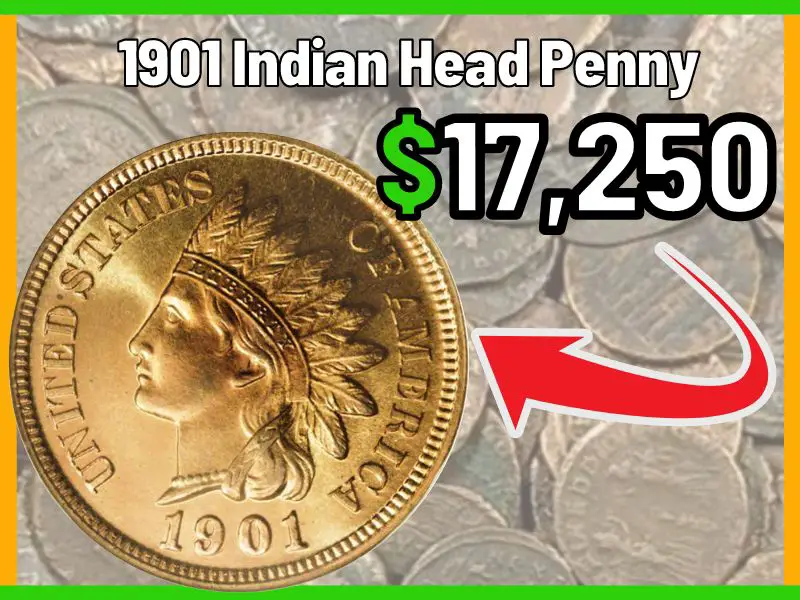 Depending on its condition, a 1901 Indian Head Penny is worth between $1 to $50. There are, however, specific factors that influence the condition and value of this coin. Some of them include the grade, the quantity minted, the quantity in circulation, etc.
This article, however, aims to give a general breakdown of everything you need to know about the 1901 Indian Head Penny, including its history, features, value, conditions for sale, and the best places to sell one.
Most Valuable 1901 Indian Head Penny
The Most Valuable 1901 Indian Head Penny is 1901 1C PR68 Red NGC Sold on Sep 13, 2006 for: $17,250.00
A Brief History of the Indian Head Penny
The Indian head penny was designed by James B. Longacre that circulated from 1859 to 1909 before the Lincoln Wheat Penny replaced it. Collectors generally refer to this coin as the Indian head cent.
On the obverse side of the coin is the image of a Caucasian lady wearing a traditional Native American headpiece, popularly known as Miss Liberty.
The Indian head penny was first minted in 1858 and officially released in 1859. Over the period of 1859 to 1909, various editions of the Indian head penny were minted, therefore, we have the 1859 Indian head penny, the 1860 Indian head penny down to the 1909 Indian head penny.
To identify which edition of these pennies you have in your possession, the year it was minted is always stuck below the female bust commonly known as Miss Liberty. The Flying Eagle cent preceded the Indian Head design, and the Indian head penny was minted for about 50 years before its replacement.
1901 Indian Penny
As previously mentioned, there are various editions of the Indian head Pennies. The 1901 Indian Penny had a composition of 95% copper and 5% tin and zinc, weighing 3.11grams with a diameter of 19 millimetres.
While the coin had a high mintage, it has more value than other series with even lesser mintage. This shows that numismatists find it quite unique and an excellent addition to a collection.
Features of the 1901 Indian Head Penny
The year 1901 introduced great changes in the production of Indian head pennies. Unlike the previous years, there was a larger production of coins at the Mint. Numismatists believe that opening a new United States Mint facility at 1700 Spring Garden Street in Philadelphia was directly responsible for this development.
In addition to this, the production, unlike before, was powered with electricity and not steam.
There was also a rise in the demand for cents which were needed for transactions in several important sectors like trade and transportation.
According to the Philadelphia Mint report, 79,609,158 Indian head cents were produced in 1901.
Aside from these production changes, specific features distinguish the 1901 Indian head penny from other pennies.
Obverse Features
The first thing you will notice on the coin's obverse is the left-side profile of Lady Liberty. While it was rumoured that Longacre modelled this bust after his then 12-year-old daughter, he maintained that the bust was inspired by the Crouching Venus, from the Vatican which was on display in the Philadelphia Museum of Art in the late 1850s.
She wears a feather-like Native American headdress with a ribbon right above her forehead inscribed with the word "LIBERTY". "The UNITED STATES OF AMERICA" is engraved along the coin's top.
You will find the coin's production year directly under Miss Liberty's bust. In this case, it is 1901.
Reverse Features
A laurel wreath is struck on the coin's reverse, with a Union Shield at the top centre. Encircled in the wreath is the inscription "ONE CENT."
The bottom of the laurel wreath is intertwined with several arrows to symbolize the United State's readiness for both war and peace.
The Coin's Edge
The edge of the Indian head penny is smooth and has no inscriptions, images, letters, or numbers on it.
Mints and Varieties
The 1901 Indian head penny was printed exclusively in Philadelphia. As a result, it has no mint mark on it. However, its mintage is quite impressive, seeing that only one Mint was responsible for producing the coin.
How Rare is the 1901 Indian Head Penny?
The Indian Head penny is not a particularly rare coin, even though it was struck at only one Mint. However, several factors play vital roles in determining the overall rarity of a coin, and we will discuss the most crucial ones.
Generally, the rarity of a coin is determined by three major factors. These factors include the mintage, availability, and Demand.
Mintage
This refers to the total number of a particular coin struck at during a production year. Numismatists generally agree that coins with a mintage of 10 million or less are considered rare because they were produced in relatively smaller numbers.
On the contrary, coins with over 10 million mintages and above are considered common coins.
The 1901 Indian head penny had a high mintage because of the huge demand for cents at the time of its circulation. As mentioned earlier, 79,609,158 Indian head pennies were minted, making it a common coin.
Availability
In recent times, however, the demand for coins has been controlled by their availability. Because most coins are no longer in circulation, their availability is low, and the value of these coins is high. However, coins with a high number of mintages are not so rare to find therefore, their value is not too high.
Demand
If the demand for a coin is high among collectors, it will affect its availability by reducing the number available for purchase.
However, the demand can sometimes be negligible if the coin's mintage is high enough.
1901 Indian Head Penny Value
Although the 1901 Indian head penny has a low attached value, it sells at varying prices depending on a number of factors. These attributes make it so that you can get even more worth for your coin than its theoretical or face value.
Factors that Determine the Value of a Coin
Certain factors influence a coin's final value at auctions or sales. Some of these factors include:
Grade
Coins are graded on a scale of 1-70. A coin's grade indicates its condition and appearance, influencing its physical appeal and, ultimately, its value.
Good– This grade covers coins that fall between 3-11 on the Sheldon Numerical Scale. Coins under this category are heavily worn out, however, some basic features like the date are slightly visible.
Fine– Coins under this category are moderately and evenly worn, and features are discernible. Letters and numbers are visible too but worn out. It falls under the scale of 12-30.
Extremely Fine (XF)– Intricate details are very clear and sharp in this grade. Features are very clear too, but the sides are slightly worn. These coins fall under the scale of 40-49.
Uncirculated (AU and MS)– The AU grade covers coins that fall on the scale of 50-59. They show light traces of wear at very high points only.
MS coins are on a scale of 60-70 and remain in the state they were produced. Most of these coins might have errors that made them unfit to be circulated, but today, they are unique and valuable.
Rarity
In terms of rarity, the 1901 Indian head penny has over 70 million mints. This means that it does not fall into the category of rare coins and is generally not expensive.
Error
During production, most coins have errors that distinguish them from others. In most cases, coins with major errors are not circulated. As a result, their current value is high because collectors and bidders mostly seek unique coins for the purposes of art, antique preservation, etc. Some of the common errors observed in coins include
Double Die Obverse (DDO)
Repunch Error
Double Die Reverse (DDR)
1901 Indian Head Penny: Value and Price
| | |
| --- | --- |
| Coin Grade | Price |
| PCGS AU 58 | $97 |
| MS63 (RB) | $86.50 |
| PCGS MS64 (RB) | |
| ICG MS65 (RB) | |
| NGC PF-66 (BN) | $900 |
Best Places to Sell Your 1901 Indian Head Penny
Although the price of your Indian head penny is greatly influenced by the factors discussed previously, you can still sell your coin for a better price depending on where and how you sell it.
There are several ways to sell your 1901 Indian head penny. Some of them include
Local coin dealers.
Pawn shops.
Online platform.
For low-value coins, it is easier to sell them off quickly by visiting a local coin dealer or pawn shop. This method is quick and effective because the coin's value isn't much, to begin with, however, the prices are always on average. It is therefore not advised to sell high-value coins through this method.
Making use of Online platforms is the best for high-value coins. Your uncirculated 1901 Indian Penny will be best sold by listing it on a website that supports online bidding. This gives room for more people to see it and bid for it. When you sell your high-value Indian penny online, your chances of selling it way above the average price are high.
In some cases, you can sell it for as high as $300 or more against the average price of $30 – $50. Examples of websites that are suited for high-value coins are eBay, Etsy, and Heritage Auctions.
Wrapping Up
The 1901 Indian head penny lasted only eight years, but within this time, over 70 million coins were struck because of its high demand. It has no mint mark because it was minted exclusively in Philadelphia.
1901 Indian head pennies are common coins, but the uncirculated versions and error coins have high demand. Online auctions are the best platforms to get more value for your coin, however, you can sell circulated varieties to local coin dealers for some quick cash.
Finally, the coin holds a special place in every collection, ensuring that it is always in demand for people looking to build one.