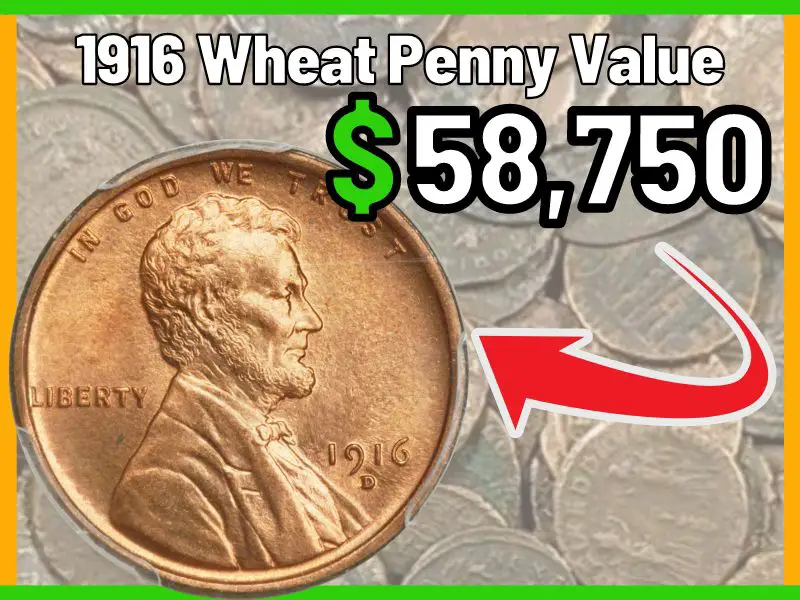 The 1916 Lincoln wheat cent is worth $0.56 in average condition and can be worth $20 to $39 or more in uncirculated (MS+) mint condition. Proof coins can be worth $1,388 or more.
The 1916 wheat penny is an interesting little penny. To some, this old coin doesn't seem to be that special. But appearances can be deceiving as it turns out that the coin is loaded with charm and worth over $40.00 in the higher grades!
Everyone is looking for the value of coins and their worth. Nowadays, it seems, people are digging through their cupboards and stashes at home, seeking any sort of gold items or coins they can get their hands on. You may have found a 1916 wheat penny and you wonder "how much is a 1916 Wheat Penny Worth?" This article would answer your question and even provide you with top-notch info about the penny in your possession.
1916 Wheat Penny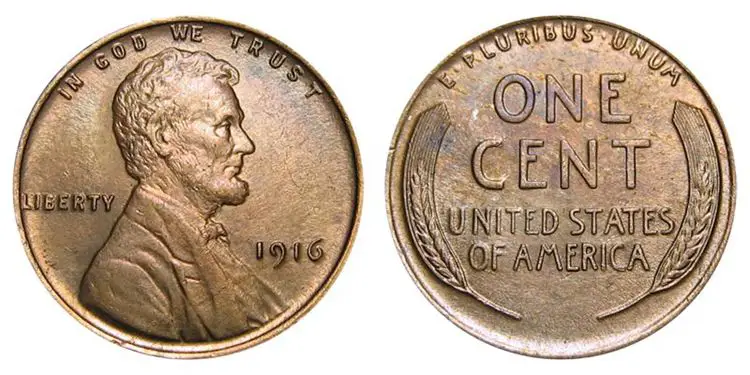 This absolutely amazing coin was minted in three locations and thus there are three varieties of the 1916 wheat penny; the Philadelphia, Denver, and San Francisco issue. All of these coins have their value which is based on the condition of the coin. A rough-looking coin might not fetch you much, however, a coin without spot or wear would most definitely leave you smiling after selling.
History
Production of the 1916 Wheat Penny began in the Philadelphia mint with over 130 million coins minted, the Philadelphia mint had the highest number of wheat pennies minted in the year 1916, and the Denver mint was the second highest United States mint to strike Wheat Pennies with over 30 million coins struck. The San Francisco mint was the least with above 20 million coins struck.
1916 Wheat Penny
Location
Minted
Philadelphia
131,833,677
Denver
35,956,000
San Francisco
22,510,000
Total
190,299,677
The United States one-cent coin, usually called the penny, is a unit of currency equaling one-hundredth of a dollar. The penny has been the lowest face-value unit of U.S. currency since 1857 when the half-cent was abolished.
A study of three potential reverses resulted in a decision to approve a very simple design bearing two wheat heads in memorial style. On the reverse, the center of the coin bears the denomination, UNITED STATES OF AMERICA, and around the upper border is the national motto, E Pluribus Unum ("Out of many, one"), in Latin.
The original design bore Brenner's name curving along the rim below "UNITED STATES OF AMERICA", but officials at the United States Mint substituted "VDB" for his monogram because they thought it was too prominent.
1916 Wheat Penny
Metal Composition
95% Copper – 5% Tin and Zinc
Mass/Weight
3.11 grams
Diameter
19.05 mm (0.750 in)
Mint Mark
"D" "S"
Edge
Plain
Designer
Victor D Brenner
When the coin was released, many protested that even the initials printed on it were conspicuous and detracted from the design. To make a change would have required halting production, so the decision was made to eliminate the initials entirely. And thus, the 1916 penny was among those that didn't have Brenner's initials on the obverse.
The U.S penny also has a metal composition of 95% Copper, the remaining 5% is made up of zinc and tin.
The 1916 Wheat Penny Design
Brenner's obverse design shows a profile of Lincoln similar to the one he had used for a desk plaque he made for the Gorham Manufacturing Company in 1907. The numismatic historian Roger Burdette suggests that Brenner based his work on an 1864 photograph of Lincoln taken at Mathew Brady's studio by one of his assistants.
On January 18, 1909, Brenner submitted models to the Mint with a Lincoln profile on the obverse and a reverse design very similar to that on the then-current French silver coins. He also proposed designs for a Lincoln half dollar showing the late president on one side, and a standing Liberty design—almost identical to that on the obverse of the same French coin. The design for the reverse was disapproved. However, Brenner was able to come up with a design that was accepted.
Obverse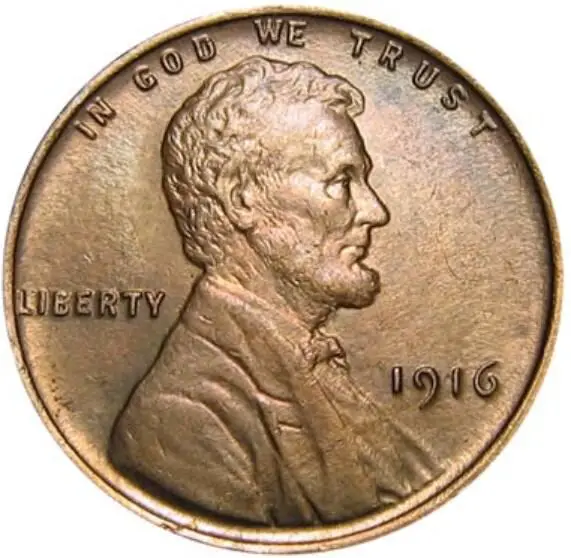 The obverse of the 1916 penny has a unique design seen in every Lincoln Cent. For over 70 years, the obverse has remained constant, only the reverse of the coin has had different designs. The front features a portrait of the former president of the United States Of America, Abraham Lincoln facing left. Behind him is the word "LIBERTY" written boldly. Above his head are the words "IN GOD WE TRUST" a popular sentence found in almost all United States Coins.
The year of the coin is also present on the obverse, in this case, "1916." Coins struck in the Philadelphia mint won't have a mint mark on the obverse, however, there's a mint mark on coins in the Denver and San Francisco mint with a "D" and "S" symbol respectively. This mark is found just below the date on the obverse.
Reverse
The words "ONE CENT" are boldly inscribed on the reverse side of the coin, with "UNITED STATES OF AMERICA" right beneath it. The words "E PLURIBUS UNUM" are engraved at the top very close to the rim of the coin, it is the United States motto which means "out of many."
The reverse design was criticized for its similarity to the French silver coins displaying a tree branch. After Brenner submitted his proposal designs, Leech asked him to make a simple design with just three details: the country's name, the denomination, and the motto "E·Pluribus·Unum." He went ahead and put both wheat ears on one side of the coin.
No mint mark is found on the reverse, it's only present on the obverse for the Denver and San Francisco Issue.
Mints
The Lincoln Wheat Cent was first struck in 1909 and continued to be minted until 1958. The design of the coin changed repeatedly throughout those years. However, even though the new designs were different, the coins themselves were still made in the same three mints: Philadelphia, Denver, and San Francisco. Some years had coins struck in one of three mints, others two of three mints. However, the 1916 Wheat Cent was struck in all mints.
Philadelphia Mint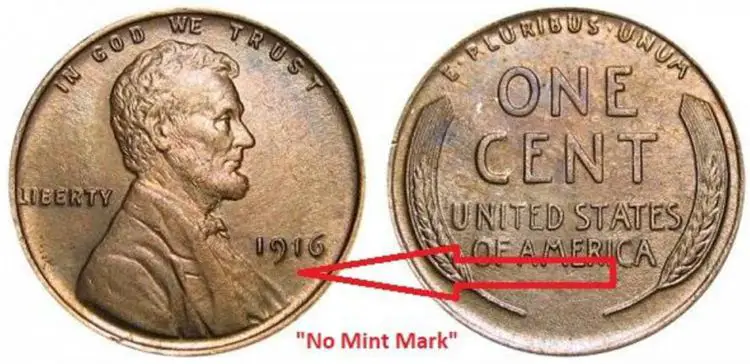 The Philadelphia mint struck 131,833,677 pennies and a lot of these coins went into circulation. However, a good amount of coins were kept as uncirculated coins. The Philadelphia mint has no mint mark, which should be originally located just below the 1916 date on the obverse. This mint produced the highest number of Lincoln Pennies in 1916. Hence, most coins you would find would not have a mint mark.
Denver Mint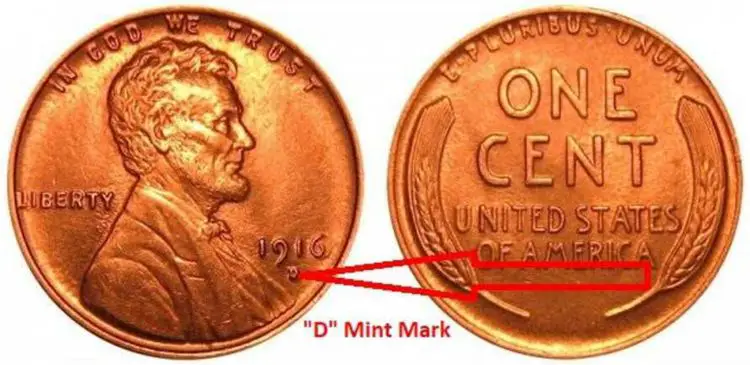 The Denver mint was the second highest coin to strike 1916 Lincoln Wheat Cents. A total number of 35,956,000 were struck with a lot of coins circulated for public use. As usual the mint held on to some coins and released them much later to collectors. So, you'd find a couple of Uncirculated coins in the auction market today. These uncirculated coins would be of amazing quality with minimal wear or fade present.
Coins in the Denver mint from 1916 had a mint mark on the obverse just below the date. You'd find this mark on every coin that was minted in the United States Denver mint.
San Francisco Mint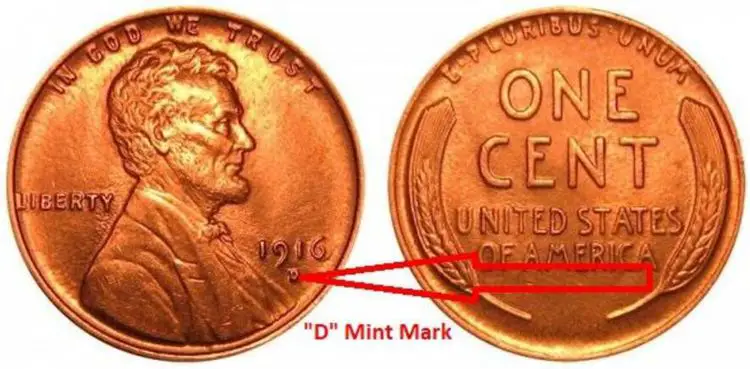 Although the San Francisco mint was the least to strike 1916 pennies back in the day, the numbers are still considered to be large. A total of 22,510,000 coins were struck in the San Francisco mint. Over 22 million coins is a lot and that's why you would still find a coin like this easily in good condition.
All 1916 pennies struck in the San Francisco mint come with an "S" mint mark on the obverse, a great method of indicating where the coin was struck. The mark is just below the date on the front of the coin.
1916 Wheat Penny Value
When you take a look at the 1916 wheat penny value it is likely that you are going to see that these coins are worth much more than the copper pennies of today. While there were many pennies struck during 1916, the fact that these coins were minted so long ago will make them a popular item for your coin collection.
The first thing that you should do when you are getting ready to learn about the 1916 wheat penny value is to take a look at the face value of these coins. The face value was 0.01 and this helps to give you an idea as to why they are worth so much more than some of the pennies that are in circulation today.
| | | | | | |
| --- | --- | --- | --- | --- | --- |
| Year | Good | Very Good | Fine | Very Fine | About Uncirculated |
| 1916 P | $0.33 | $0.56 | $0.85 | $2.28 | $14 |
| 1916 D | $1.13 | $2 | $3.3 | $6.64 | $39 |
| 1916 S | $2 | $2.55 | $3.57 | $9.13 | $55 |
Ever wonder what the value of a 1916 wheat penny is? It's a common question that many coin collectors ask, and we'll address that topic here today. First, you should know that the price of a Wheat Penny depends in part on its condition.
The "grade" of a coin refers to its overall state of wear and tear, and is usually designated by one or two capital letters after the year (for example, "VF" for Very Fine). So, for example, if you have a 1916 Wheat Penny in Very Fine condition, you might expect to receive about $4 for it at your local coin shop. If your coin is in lower condition, you might get less.
Grading
1916 Wheat Penny is a very common coin. You will find them all over the place, and they are not worth a lot of money. However, it is still an interesting coin to collect because it was minted just after World War I, making it a little more interesting than your average penny.
Uncirculated: A coin that still shines with its original mint luster is a strong candidate for the Mint State Uncirculated grade. Undisturbed surfaces free from any wear are needed to obtain this grade. The high-relief areas of the coin are first to show signs of wear. The area behind Lincoln's ear is prone to circulation wear, with many small details showing evidence of wear. Looking closely, the mint frost is intact with the original texture. There is no flatness or smoothness shown.
Collectors are aware that copper often turns brown after time, a phenomenon known as toning. A well-preserved Penny would still be vibrant, indicating it has been well preserved and has collector value.
Extremely Fine: After a time in circulation, a coin's design begins to wear down. Collectors grade these coins according to the condition of their designs and assign them a grade of Extremely Fine for their collections.
There should be a slight flattening of the hair behind the ear, and waves of hair on top remain separated with a small merged spot above the ear. Crisp and bold are the lower relief elements of hair and ear.
Fine: Moderate wear appears on the outer edges of a coin in this grade, while heavier wear appears in the central areas. Some major details remain visible. Lincoln's hair behind his ear might have some minor mottling. The flatness extends to above his ear, and a small connection of his forehead is noted. Detail to the waves of hair can still be seen towards the back of his head, placing this example in Fine grade.
Good: Coins in the Good grade exhibit heavy wear and lack minor details, although some original elements are visible. The area behind Lincoln's left ear is now smooth, with just a small amount of contour remaining around his portrait. Flatness extends throughout the central area of the coin.
Copper coins often take on a rich brown color when exposed to air. Lighter shades indicate that the coin was protected from exposure when it was collected. Preservation, plus eye appeal, increase the value of a coin.
1916 Penny Value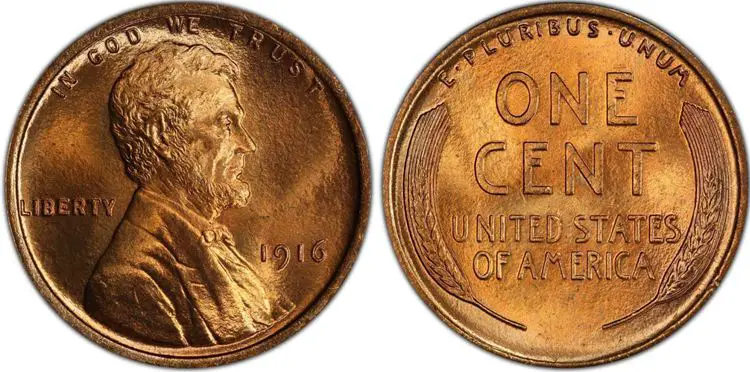 Your 1916 Lincoln wheat penny is worth $0.56 in average circulated condition, but it could be valued at $20 to $39 or more in uncirculated (MS+) mint condition. Proof versions could be worth $1,388 or more.
| | |
| --- | --- |
| Grade | Price |
| MS 60 | $34 |
| MS 62 | $42 |
| MS 63 | $72 |
| MS 64 | $150 |
| MS 65 | $325 |
| MS 66 | $625 |
| MS 67 | $2,150 |
1916 D Penny Value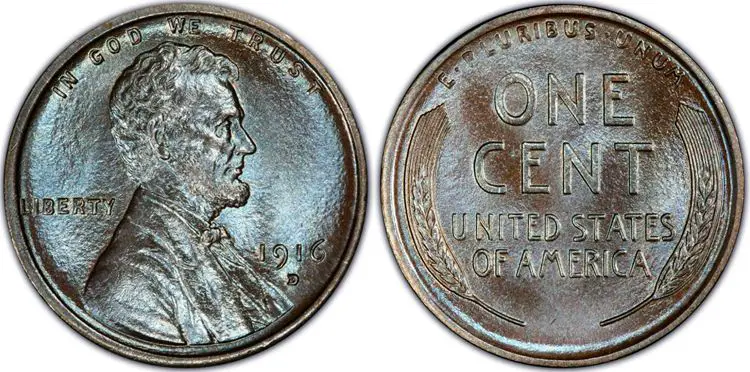 The 1916-D Lincoln Wheat Penny is estimated to be worth $2.00 in average condition and can be worth $83 or more in uncirculated (MS+) mint condition.
| | |
| --- | --- |
| Grade | Price |
| MS 60 | $90 |
| MS 62 | $110 |
| MS 63 | $135 |
| MS 64 | $210 |
| MS 65 | $475 |
| MS 66 | $2,800 |
| MS 67 | $10,000 |
1916 S Penny Value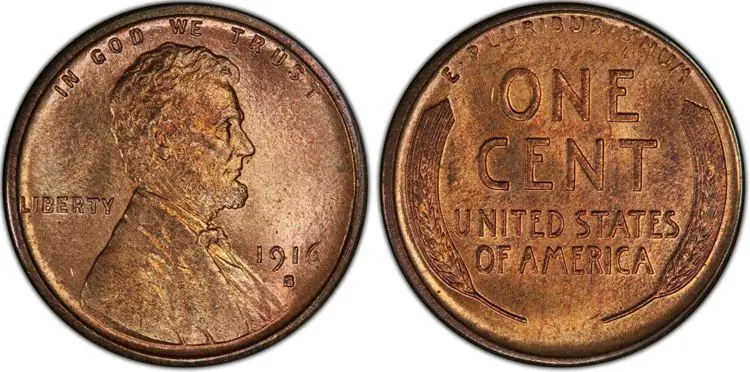 The 1916-S Lincoln Wheat Penny is estimated to be worth $2.55 in average condition and can be worth $120 to $198 or more in uncirculated (MS+) mint condition.
MS 65 is the highest grade assigned to this coin. Based on Population Reports data, about 110 coins exist in this grade. Of the 110 total estimates, approximately 20 may be Brown in color. Approximately 50 are Red Brown in color and there may only be about 40 or so displaying Full Red surfaces.
| | |
| --- | --- |
| Grade | Price |
| MS 63 | $600 |
| MS 63+ | $750 |
| MS 64 | $1,200 |
| MS 64+ | $2,850 |
| MS 65 | $6,000 |
| MS 65+ | $18,000 |
5 Most Valuable 1916 Wheat Penny Ever Sold
5 Most Valuable 1916 Wheat Penny
No.
Type
Condition
Sold Date
Price
1
1916-D Lincoln Cent
MS67 Red
Feb 4, 2016
$58,750.00
2
1916-D 1C
MS67 Red
Apr 23, 2020
$50,400.00
3
1916-D 1C
MS67 Red
Jan 10, 2019
$50,400.00
4
1916-D 1C
MS66 Red
Jan 3, 2007
$34,500.00
5
1916 1C
PR67 Red
Oct 13, 2011
$34,500.00
1. 1916-D Lincoln Cent, MS67 Red Sold on Feb 4, 2016 for: $58,750.00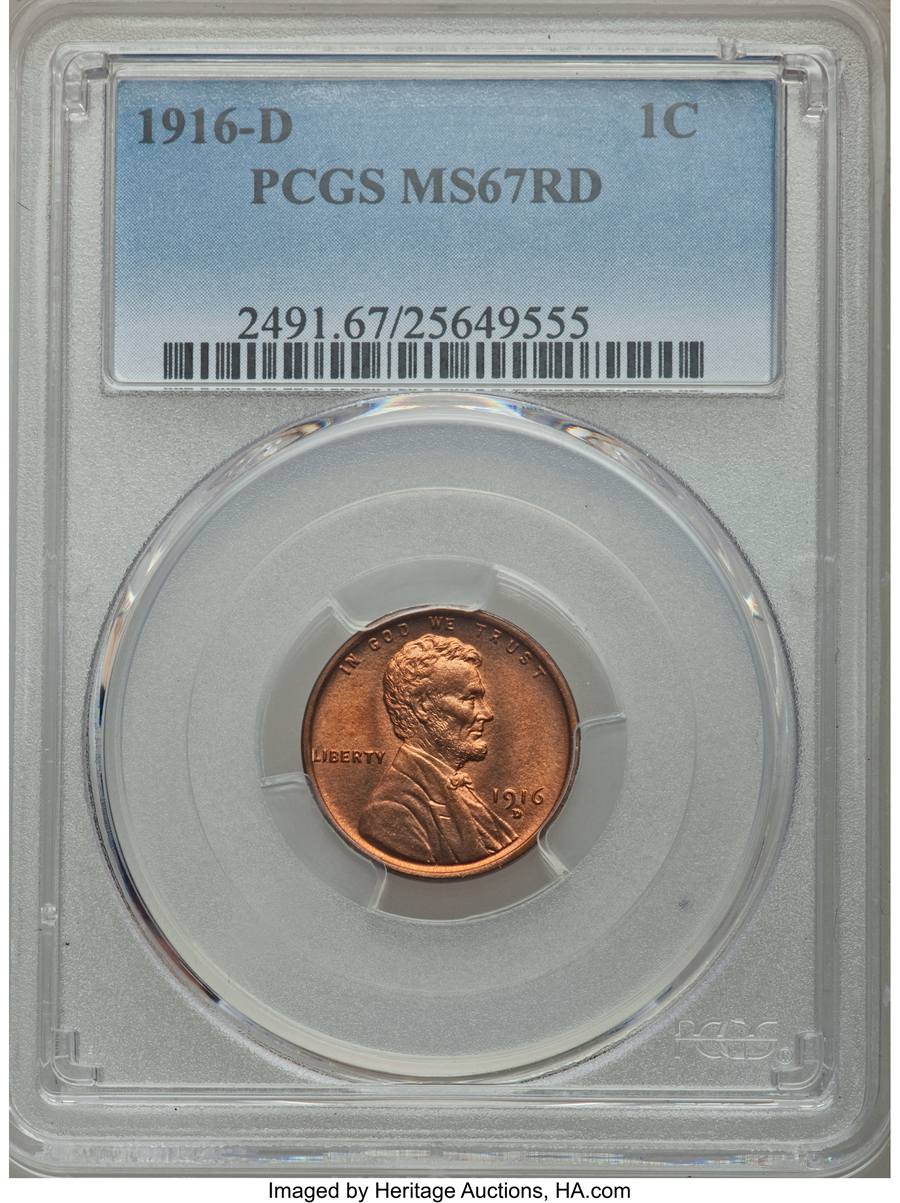 2. 1916-D 1C MS67 Red Sold on Apr 23, 2020 for: $50,400.00
3. 1916-D 1C MS67 Red Sold on Jan 10, 2019 for: $50,400.00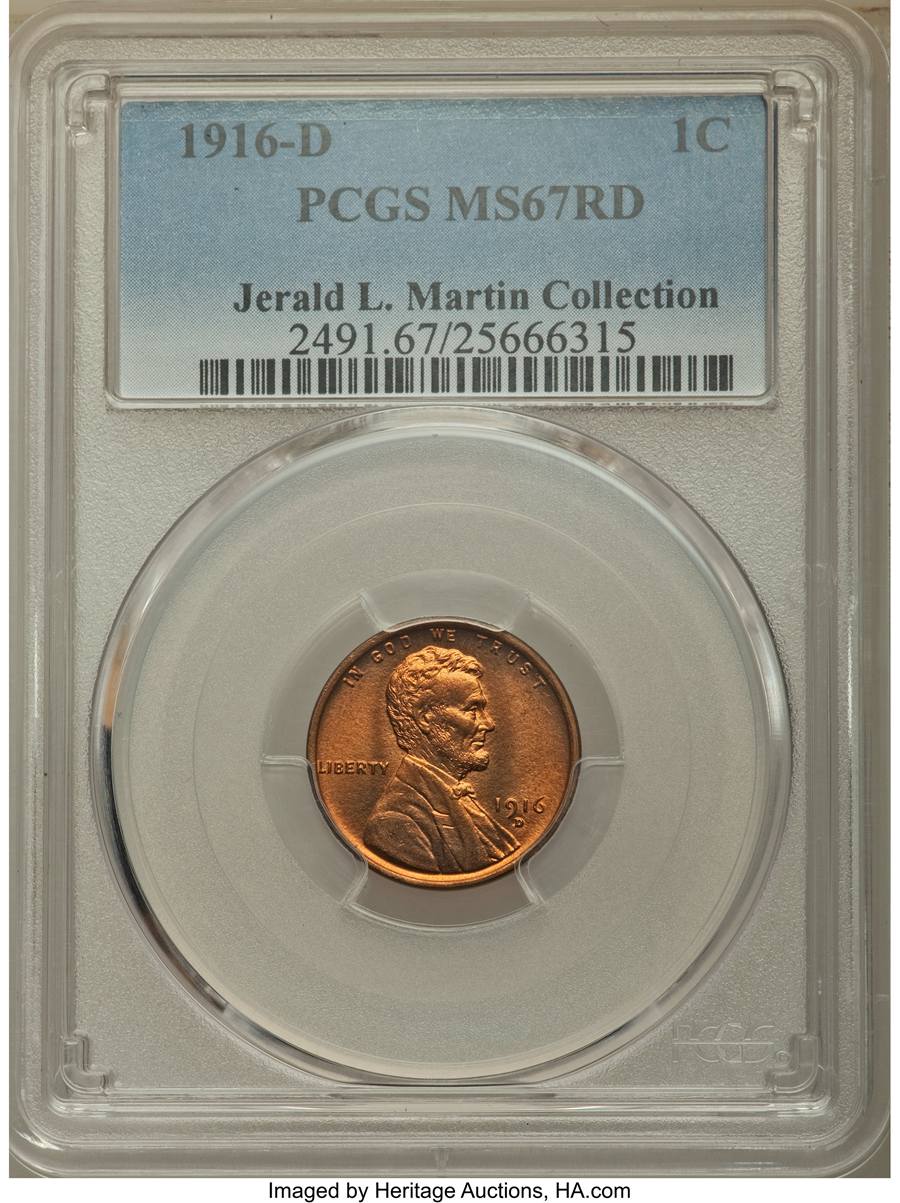 4. 1916-D 1C MS66 Red Sold on Jan 3, 2007 for: $34,500.00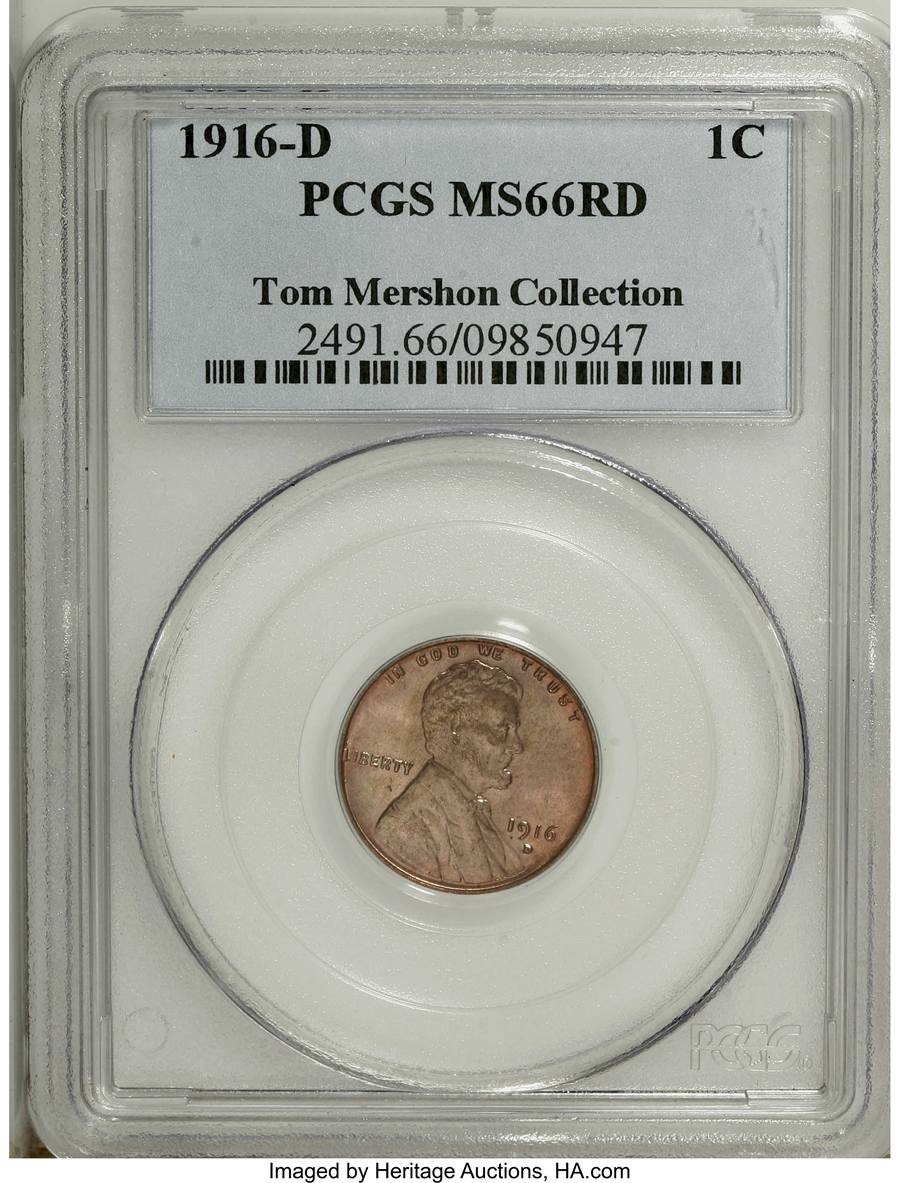 5. 1916 1C PR67 Red Sold on Oct 13, 2011 for: $34,500.00
Where To Sell Old Coins
The best place to sell old coins is at a coin shop or coin dealer. You can find these types of stores in most cities, and many larger cities have several stores.
The first step is to determine the value of your coin and how much money you are willing to receive for it. Some places have a minimum amount that they will take for your coins, and others will give you more if you have more valuable coins.
The second step is finding a store that will buy your coins. This can be done online through sites like eBay or Craigslist, but it is best if you can visit the store in person so that you can see what they have available before making a decision on whether or not they are worth selling them there.
Conclusion
For a coin that's over a hundred years, the 1916 Wheat Penny is certainly worth your attention. Given its popularity, it's one of our favorites as well. This old penny is a century old, but its value is still not terrible.
You don't necessarily have to be wealthy to collect rare pennies, and you appreciate history whether extremely old or extremely young. These historical items are funny and engaging, and even if the big red cent has fallen out of favor with newer generations like yours, you may find yourself taking a liking to it in due time. Now you've got all the information you need to value a 1916 wheat penny. Enjoy!