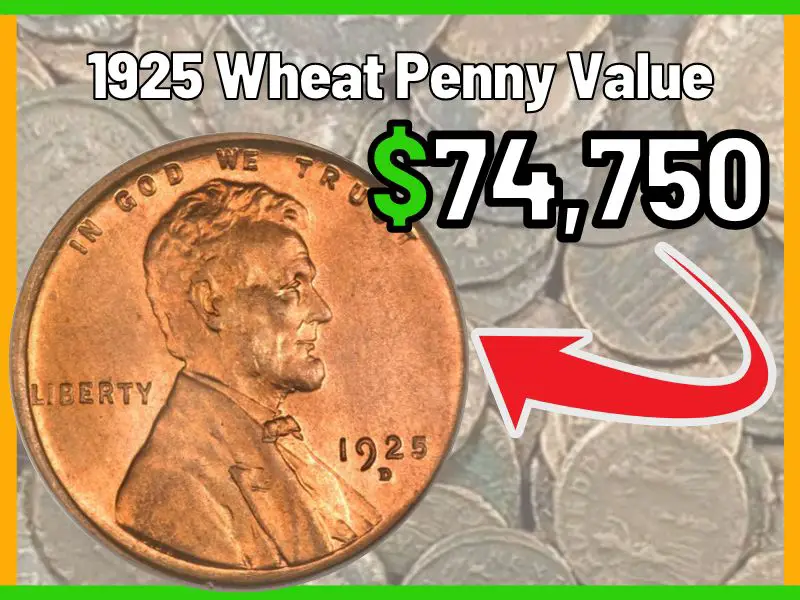 The 1925 Lincoln Wheat Penny is worth about $0.28 in average condition and can be worth as much as $11 to $23 or more in uncirculated (MS+) mint condition.
The Lincoln penny has been in circulation for a long time. In fact, it's still in circulation today, though its design is different from what it used to be. The coin is an essential part of US history. Do you own a 1925 Penny and wonder, how much is a 1925 penny worth? In this article, you will know the worth of a 1925 penny.
This guide is packed full of essential information on how to value, grade, and even buy or sell a 1925 Penny. Keep reading to know more.
Most Valuable 1925 Wheat Penny
Most Valuable 1925 Wheat Penny is 1925-D 1C MS66 Red PCGS Sold on Sep 10, 2009 for: $74,750.00
1925 Wheat Penny
The Lincoln cent, the smallest denomination of United States coinage, has been struck by the United States Mint since 1909. The obverse or heads side was designed by Victor David Brenner, as was the original reverse, showing two stalks of wheat.
For coin collectors, the 1925 Lincoln is highly sought after because of its age, design, and historical significance. Regardless of condition, coin collectors will do anything to get their hands on these coins.
History
In January 1909, the U.S. Mint engaged designer Victor D. Brenner to create a Lincoln cent for the centennial of Lincoln's birth. It was the first time an image of a U.S. president appeared on a coin, a practice that had been rejected in the past by George Washington.
1925 Lincoln Wheat Penny
Location
Minted
Philadelphia
139,949,000
Denver
22,580,000
San Francisco
26,380,000
Total
188,909,000
Although there were some doubts about the final design of the piece, Brenner's final design was approved and the new coins were issued to a great public interest on August 2, 1909.
The designer of the Lincoln penny, Victor David Brenner, had his initials (VDB) removed from the coin after complaints that they were too prominent. They were restored in 1918, but this time they were smaller and appeared on Lincoln's shoulder.
The cent coin was originally made of 95% copper, but during World War II it was changed to zinc-coated steel to aid the war effort. The 1925 Penny contains 95% Copper – 5% Tin and Zinc.
1925 Lincoln Wheat Penny
Metal Composition
95% Copper – 5% Tin and Zinc
Mass/Weight
3.11 grams
Diameter
19 mm
Mint Mark
"D" "S"
Edge
Plain
Designer
Victor D Brenner
The 1925 Penny was struck in three mints like most pennies; The Philadelphia mint had the highest number of pennies struck in the year 1925 with 139,949,000 coins bearing the 1925 date on the obverse.
The Denver mint produced the least amount of 1925 Wheat Pennies with 22,580,000 coins struck bearing the 1925 date and D mint mark. The San Francisco Mint was the second highest, however, the numbers cannot be compared to that of the Philadelphia mint. 26,380,000 coins were struck in the San Francisco Mint.
Design
Brenner's portrait of Lincoln closely follows a profile he had used in another work—a desk plaque he made for the Gorham Manufacturing Company in 1907. Numismatic historian Roger Burdette believes that Brenner based his portrait of Lincoln on an 1864 photograph taken by one of Mathew Brady's assistants.
While the photograph in question showed only Lincoln's head and shoulders, Reed indicates that Brenner obtained additional detail from an 1860 campaign photograph of Lincoln without a beard. Regardless of the stories surrounding the coin's design, it's undeniable that the image of Abraham Lincoln is a work of art!
Obverse
The Lincoln cent is a one-cent coin that was first minted in 1909. The original design on the obverse or heads side was created by Victor David Brenner, as was the original reverse, which depicted two stalks of wheat.
The obverse features the words "IN GOD WE TRUST" arching above the former President's head. The date of the coin "1925" is just after the chest area on the obverse. The word "LIBERTY" is behind the portrait of former President Abraham Lincoln.
Reverse
The words "ONE CENT" are engraved on the back of Lincoln's head, beneath which is the word "UNITED STATES OF AMERICA." The motto "E PLURIBUS UNUM" is engraved above these words on the rim of the coin—Latin for "out of many, one."
The design for the reverse of the coin submitted by Frank Gasparro was controversial because it resembled the reverse designs of French coins. When Brenner submitted his design for the coin, Leech asked him to make a simple design with three details: the country's name, the denomination, and the motto "E Pluribus Unum." He put both wheat ears on one side of the coin because it looked nice that way.
Mints
This section is going to help you to understand the type of wheat penny you have in your possession and then you can go further to determine the value of the coin. Three mints were responsible for the production of Lincoln Pennies which had two ears of wheat on the obverse; there were the Philadelphia mint, Denver mint, and San Francisco mint. Coins from either of these mints bearing the 1925 date would have diverse valuations based on the grade of the coin.
Philadelphia Mint
If your 1925 Lincoln Wheat Penny doesn't have a mint mark below the year on the obverse of the coin, it means the coin was from the Philadelphia mint. Wheat Pennies from this mint do not have a mint mark on the obverse. In the year 1925, 139,949,000 coins were struck in the Philadelphia mint, this means that a lot of these coins were given to the public for day-to-day use. Hence, it is common to find a 1925 Wheat Penny in lower grades.
Denver Mint
The Denver Mint was the least to strike Wheat Pennies in the year 1925, 22,580,000 coins were struck at the Denver mint all of which had the D mint mark just below the year of the coin. Due to the low mintage, the price of wheat pennies bearing the "D" mark might be a bit more scarce and thus increase the value of the coin in the open market.
San Francisco Mint
The second highest to strike 1925 Wheat Pennies was the San Francisco mint, however, the numbers are still nothing compared to the Philadelphia mint. The San Francisco mint struck 26,380,000 coins. Coins from this mint would have an "S" mint mark on the obverse of the coin below the date.
Grading A 1925 Wheat Penny
Uncirculated: A coin that has been graded as being Uncirculated was never used. From the moment it was minted, its owner kept it safe in a bank vault. As a result, these coins will show absolutely no damage and will appear just as they did when they were first minted. Of course, some color on the coin's faces will have faded over time.
If you examine a 1926 Lincoln cent, you may notice that it still has mint luster on its surface. You can also be sure that the penny didn't go into circulation when you see all the details; for instance, the collar lines of Lincoln's coat should be sharp, while his shirt lapel is clearly defined.
Extremely Fine: An Extremely Fine (EF) coin is one that may have a small imperfection, but still mostly appears to be in perfect condition. A coin with a few slight imperfections will generally fall into this category. The imperfections are usually small enough that they are difficult to see with the naked eye and only affect the coin's value slightly.
Fine: A coin that is given a Fine grade has been used in circulation for at least 10 years, but less than 25. For the 1925 Lincoln, you might notice some smoothing of the outer edges as well as some scratches. By most accounts, the damage and/or imperfections you will be able to notice are typical for a circulated coin from this era.
Good: A Good-graded coin has been circulated for most of its life. These coins will show heavy damage to the point where some raised inscriptions and imagery might be worn away. Collectors still seek out these rare, collectible coins despite their severe wear.
1925 Wheat Penny Value
Lincoln pennies have been minted in a variety of different years, so you will need to know the type of coin and its condition to determine its value. Most old pennies are worth face value, but only if they are in good condition. If your coin has been damaged or worn down, it will have no value unless you can find a collector who wants it for its historical significance. Even then, it will probably only be worth a few dollars at best because of its condition issues.
| | | | | | | |
| --- | --- | --- | --- | --- | --- | --- |
| Year | G | VG | F | VF | XF | AU |
| 1925 | $0.22 | $0.28 | $0.39 | $0.67 | $3.30 | $7.18 |
| 1925 D | $0.96 | $1.48 | $2.76 | $4.52 | $14 | $34 |
| 1925 S | $0.85 | $1.13 | $2.11 | $3.06 | $13 | $34 |
The most common types of pennies from 1925 are the circulated ones. These are coins that may not be worth much today but could be worth more than face value if they were in better condition when they were minted. On the other hand, uncirculated coins can be worth quite a bit more than their face value as long as they haven't been damaged since being minted by the government.
1925 Penny Value & Price Chart
The 1925 Lincoln Wheat Penny has an estimated value of $0.28 in average condition and can be worth $11 to $23 or more in uncirculated (MS+) mint condition. The 1925 Lincoln cent is common in all circulated grades, through MS65, with MS66 pieces scarce in number and MS67 examples proving extremely rare.
When buying Lincoln cents dated 1925, look for uncirculated examples that are free of carbon spots or uneven color. Also examine the quality of the strike, which is often poor on these coins.
| | |
| --- | --- |
| Grade | Price |
| MS 64 | |
| MS 65 | |
| MS 66 | |
| MS 67 | |
| MS 67+ | |
1925 S Penny Value & Price Chart
The 1925-S Lincoln Wheat Penny is one of the most popular and valuable US coins, with an estimated value of $1.13 in average condition and a worth of $102 to $227 or more in uncirculated (MS+) mint condition.
The 1925-S Lincoln cent is common and readily available in all circulated grades, but it is quite challenging to find in Mint State grades above MS63, regardless of its color designation. The 1925-S Lincoln cent is scarce in Mint State 64 and rare in Mint State 65. This pattern is typical of many branch-mint pieces from the 1920s, as they are not necessarily rare or even scarce in circulated condition, but then availability suddenly drops above the MS60-63 range.
| | |
| --- | --- |
| Grade | Price |
| MS 63 | |
| MS 64 | |
| MS 64+ | |
| MS 65 | |
1925 D Penny Value & Price Chart
The 1925-D Lincoln Wheat Penny is worth $1.48 in average condition and can be worth $83 to $102 or more in uncirculated (MS+) mint condition.
1925-D Lincoln cents are readily available in circulated condition. Mint State examples are available in ample supply through MS64 but become difficult in MS65, regardless of color designation. Coins with rich color, few surface marks and no carbon spots are preferred.
| | |
| --- | --- |
| Grade | Price |
| MS 63 | |
| MS 64 | |
| MS 65 | |
| MS 66 | |
Where To Buy 1925 Wheat Penny
If you are looking to buy your own 1925 wheat penny, there are several places where you can go to find one. Here are some of them:
Online auction websites – eBay is one of the most popular online auction websites in the world today. It has millions of users who come from all over the globe and they use this site to buy and sell items that they no longer need or want. You can easily find many different types of coins on this website including uncirculated ones like the 1925 wheat penny. Just make sure that you read all the descriptions carefully before bidding on any item so that you know exactly what you're getting into and how much it will cost you in terms.
Local coin dealers: Visit local auction houses or coin shops in your area and see if they have any examples available for sale. The larger cities tend to have more options than smaller towns, but even if there aren't any sitting out on display, you can ask about their inventory by phone or email and have them ship whatever they have in stock directly to your door.
Coin shows: Coin shows attract collectors from all over the world and they're a great place to meet other collectors and sell your coins — or buy ones that you've been looking for. If there aren't any coin shows around where you live, check out local coin shops for rare coins like this one that you might not find elsewhere.
How rare is a 1925 penny?
The 1925 Penny had a total number of 188,909,000 coins minted in Philadelphia, Denver and San Francisco mints. The coin is fairly available in average condition and not considered much of a rarity. However, in higher grades such as MS 65-68 the 1925 penny becomes hard to come by with only a few coins known to exist.
Are Lincoln wheat pennies worth anything?
There's a lot of misinformation out there about Lincoln wheat pennies, and you might have heard that they're valuable coins. Most of the time, this isn't true—wheat pennies are worth at least 4 cents to most coin dealers. Wheat pennies are popular among collectors, and there will always be a demand for high-quality coins. Therefore, if you're interested in collecting Lincoln Wheat cents, buy only those coins graded in the highest condition that you can afford.
Even with so-called rare wheat pennies, the value is usually only a few dollars. If your coin has been damaged or cleaned, it's not worth more than a few cents, even if it's made of solid gold and features Lincoln on one side and a picture of Mt. Rushmore on the other hand.
Final Words
The best way to sell your coins is to first research the prices they are currently selling for online, and then determine the quality of yours in comparison. If yours is a better grade or better condition coin, you can expect it to be worth more. A reputable coin dealer will be able to offer you a fair penny value for your coins. If this article has helped you kindly share with your friends and family members who are interested in coins.
Thanks for stopping by, visit our homepage to see more United States coins, their worth and other information that might be of interest to you.