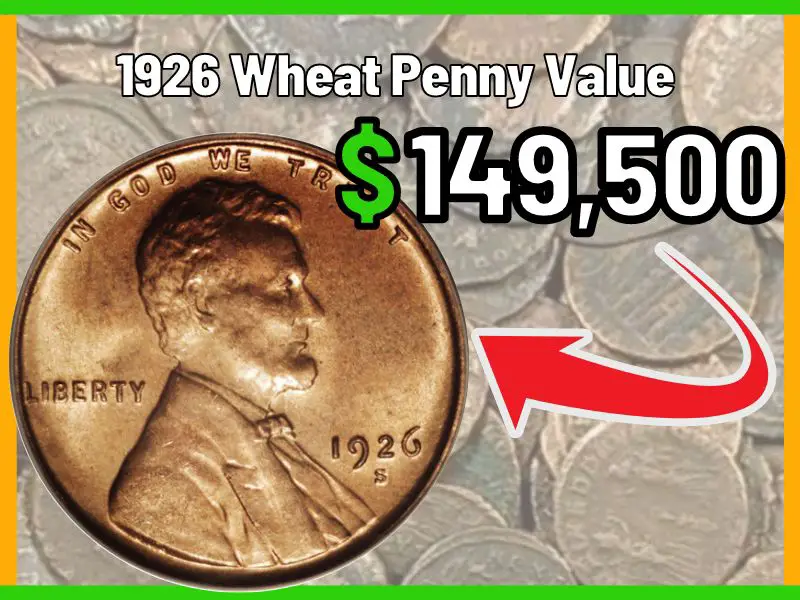 The 1926 Lincoln Wheat Penny is worth about $0.28 in average condition and can be worth $9.13 to $20 or more in uncirculated (MS+) mint condition.
So you have a 1926 Wheat Penny in your possession and you have been wondering "how much is a 1926 wheat penny worth? Well, you're in the right place. However, note that the value of the coin actually depends on the condition of the coin. 1926 wheat pennies in good condition won't fetch much as coins that are in pristine condition.
If you are just beginning to collect, you may want to start with an affordable coin first. This will help in getting a feel for the hobby before spending a lot of money on expensive rare coins. Wheat pennies are inexpensive and make great gifts or starter coins.
Most Valuable 1926 Wheat Penny
Most Valuable 1926 Wheat Penny is 1926-S 1C MS65 Red PCGS Sold on Jan 5, 2006 for: $149,500.00
1926 Wheat Penny
The Lincoln penny is one of the oldest coins in circulation in the United State, having been minted in 1909. Although the coin's design has been altered to some extent over the years, it is still recognizable as a penny and there's not much difference as it was way back in 1926.
The modern penny is worth much less than the one from 1926—indeed, the latter is much more valuable and sought after. A modern-day issue of the Wheat Penny is worth 1 cent, however, 1926 is way more than 1 cent even in good condition.
History
The Mint engaged Brenner to design a cent depicting the late president Abraham Lincoln, who was born in 1909. This was the first widely circulating design of a U.S. president on a coin, an idea that had been seen as too monarchical in the past by George Washington.
Despite this, Brenner's design was eventually approved, and the new coins were issued to high public interest on August 2, 1909.
1926 Lincoln Wheat Penny
Location
Minted
Philadelphia
157,088,000
Denver
28,020,000
San Francisco
4,550,000
Total
189,658,000
The initials (VDB) of the coin's designer, Victor David Brenner, were deemed too prominent once the coins were issued, and were removed within days. The initials were restored in 1918; this time, they were smaller and appeared on Lincoln's shoulder.
The cent coin was originally struck in 95% copper, but because of the need to aid the war effort during World War II, it was changed to zinc-coated steel in 1943. This means the 1926 issue of the Lincoln Wheat Cent was made of 95% Copper, the other 5% was made of tin and zinc.
1926 Lincoln Wheat Penny
Metal Composition
95% Copper – 5% Tin and Zinc
Mass/Weight
3.11 grams
Diameter
19 mm
Mint Mark
"D" "S"
Edge
Plain
Designer
Victor D Brenner
Like most Wheat Pennies, the 1926 wheat penny was struck in three United States mints. The Philadelphia mint had the most coins struck with 157,088,000 coins struck, The Denver mint was the second highest to strike pennies from this year with over 28 million coins. The final mint was the San Francisco mint with only about 4.5 million coins.
Design
Brenner's obverse design closely follows a profile of Lincoln he had used in other work, such as the Gorham Manufacturing Company desk plaque he made in 1907. Numismatic historian Roger Burdette believes that Brenner based his portrait of Lincoln on an 1864 photograph taken by one of Mathew Brady's assistants.
However, Burdette adds that in an April 1, 1909 letter, Brenner mentioned that in producing the design, he envisioned Lincoln reading to a child. This is what made Lincoln seem so radiant. It is possible that Brenner was inspired by the Brady photograph of Lincoln with his son, Tad.
Although the photograph in question showed only Lincoln's head and shoulders, Reed indicates that Brenner obtained additional detail from an 1860 campaign photograph of Lincoln without a beard. Regardless of the fact that the Lincoln Wheat Penny design has many stories surrounding it, you still can't neglect the fact that the design of the coin is amazing!
Obverse
On the obverse side of the 1926 Lincoln penny, you will see the raised profile of Abraham Lincoln. His image is depicted in stunning detail. The former President's bust will be flanked by inscriptions reading "Liberty" and 1926, commemorating the year in which the coin was minted. The words "IN GOD WE TRUST' are arched over the head of the former president Abraham Lincoln.
Reverse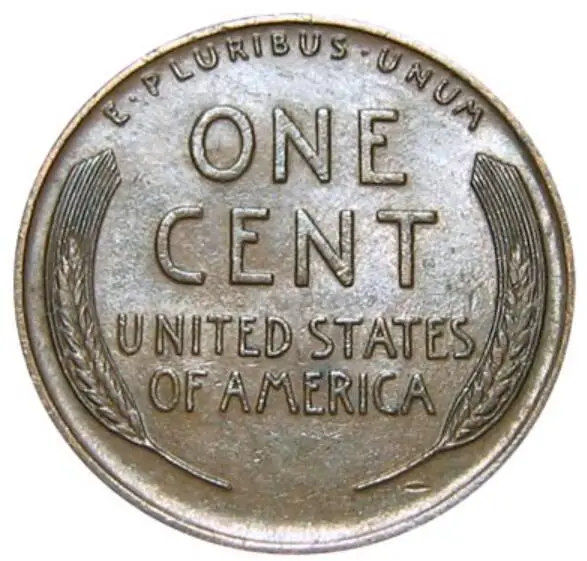 The words "ONE CENT" are engraved on the reverse of the Lincoln cent, beneath the one cent word reads "UNITED STATES OF AMERICA." The motto "E PLURIBUS UNUM" is engraved above these words on the rim of the coin—Latin for "out of many, one."
The reverse design submitted by Frank Gasparro was controversial because it resembled the reverse designs of French coins showing a tree branch. When Brenner submitted his design for the coin, Leech asked him to make a simple design with three details: the country's name, the denomination, and the motto "E Pluribus Unum." He put both wheat ears on one side of the coin because it looked nice that way.
Mints
Only three United States mints ever struck the United States Wheat pennies from 1909-1958. The Philadelphia, San Francisco, and Denver mints produced these wheat pennies. You might think you own a 1926 Wheat Penny when in fact you own a 1926 S or a 1926 D penny, coin experts would pay different prices for these coins, so, it is important to know which particular coin you are selling or buying.
Philadelphia Mint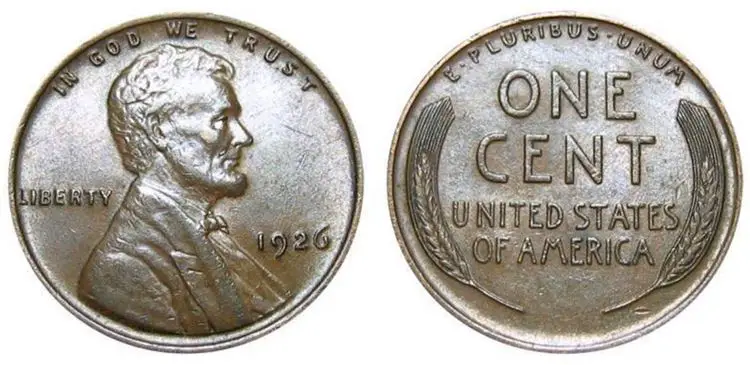 The Philadelphia mint struck the highest number of 1926 pennies, 157,088,000 coins in total, all of which do not bear a mint mark. The majority of these coins were circulated and as such in five pennies bearing the 1926 date you are sure to find at least more than two without the mint mark. Wheat Pennies that do not have a mint mark were all minted in the Philadelphia mint. The mint mark usually appears on the obverse of wheat pennies just below the 1926 date.
Denver Mint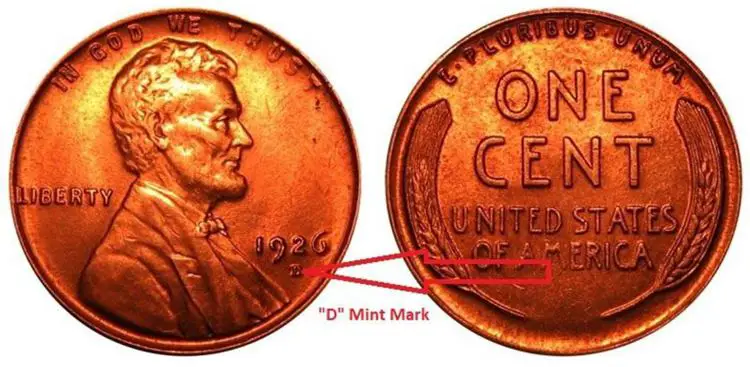 The Denver mint was the second highest mint to strike 1926 wheat pennies, a total number of 28,020,000 coins were struck in this mint and all of them had the D mint mark on the obverse, which indicates that it is from the Denver mint.
San Francisco Mint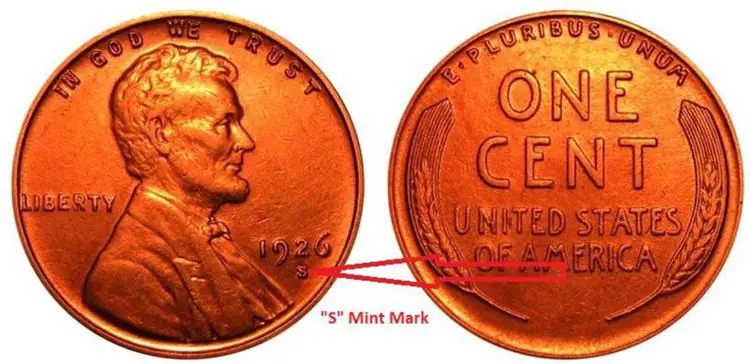 Last and the least to strike 1926 wheat pennies in all history was the San Francisco mint. Collectors determine if a coin came from this mint by the "S" mark on the obverse. A total number of 4,550,000 coins were struck with the S mint mark. The number of coins as compared to other mints is very low, this would most likely make this coin a bit more valuable than others because not a lot of coins were circulated, thus it would not be as easy to find as other coins.
How To Grade A 1926 Wheat Penny
Good: Lincoln pennies in this condition are not good collectibles. You can see long-term circulation on their surface, which means numerous scratches, cracks, and relief flattening. For example, Lincoln's face is almost merged with his jaw, and his hair details are missing. But most letters and the date might still be legible.
Fine: This grade of pennies have been in circulation for a long time, and they have worn down. The main relief details are still present, but you can notice signs of wear on the President's coat and hair. The inscriptions and the minting date might still be legible.
Extremely Fine: This coin has been in circulation for a short time and has not suffered significant damage. Slight imperfections are barely visible to the naked eye, but you can get a better view by using a magnifying glass.
The luster of a coin's surface that remains in areas protected from wear—such as the protected areas of lettering and rays—adds to its overall appeal and strengthens its numismatic value. Scratches or dents will lower the grade of a coin, but contact marks are taken into consideration when grading coins in the extremely fine grade.
Uncirculated: When examining a 1926 Lincoln cent, you can be sure that the penny wasn't in circulation when noticing a mint luster on its surface. And all the pronounced relief details are visible; for instance, the collar lines of Lincoln's coat should be distinctly sharp, while the shirt lapel edge is still clearly defined. Coins that still shine with their original mint luster are strong candidates for the Mint State Uncirculated grade.
Copper coins often turn brown after they have been exposed to the elements, a phenomenon called toning. However, A well-preserved coin would still be vibrant, indicating it has been well preserved and has collector value.
1926 Penny Value
Collecting old pennies and wheat pennies is a popular hobby with many collectors. Many of these collectors are looking for coins that are valuable and in better condition than what they can find at their local bank or grocery store.
A couple of factors can affect the price of a 1926 Penny, the first being the grade of the coin. If your coin is in higher grades, collectors will definitely pay top dollar for it. Another factor that might affect the price is where you sell or buy it. Auction websites are best to buy and sell because you get to bid on coins.
| | | | | | | |
| --- | --- | --- | --- | --- | --- | --- |
| Year | G | VG | F | VF | XF | AU |
| 1926 | $0.22 | $0.28 | $0.33 | $0.58 | $2.28 | $4.52 |
| 1926 D | $1.54 | $2.00 | $3.89 | $5.96 | $16 | $36 |
| 1926 S | $10 | $11 | $14 | $19 | $39 | $83 |
The value of a 1926 Lincoln penny, or any other coin for that matter, depends on both the type and condition of the coin. There were three types minted each year, so you might have three different values for 3 pennies of the same grade. There's a table above that would help you in determining the value of your 1926 Lincoln Wheat Penny.
Melt Value
This coin doesn't have a reasonable melt value, this is because it contains 95% Copper – 5% Tin and Zinc, melt these and it would not amount to much if you tried to sell it. The current melt value of this coin is $0.0251.
Coins like the walking liberty or morgan silver dollars would have more value because it is made of silver, and if melted you can sell the silver for a reasonable amount.
1926 P Lincoln Wheat Penny Value & Price Chart
The 1926 Lincoln Wheat Penny is estimated to be worth $0.28 in average condition and could be worth $9.13 to $20 or more in uncirculated mint condition. In circulated grades, the 1926-P Lincoln cent is very common.
Only in MS65 condition or higher can it be considered scarce. In MS67 grade or higher, it is very rare with only a few hundred examples known. Only a small number of coins exist in MS67 or better condition.
| | |
| --- | --- |
| Grade | Price |
| MS 63 | |
| MS 64 | |
| MS 65 | |
| MS 66 | |
| MS 67 | |
| MS 67+ | |
1926 D Lincoln Wheat Penny Value & Price Chart
The 1926-D Lincoln Wheat Penny is estimated to be worth $2.00 in average condition and can be worth $94 to $140 or more in uncirculated (MS+) mint condition.
The 1926-D Lincoln cent is common in circulated grades, scarce but available for a price in the Mint State grades, and rare in a grade of MS65 or better. This is typical of most branch-mint pennies from the 1920s. This can be explained by the fact that many coin collectors were not collecting Lincoln cents by date and mintmark during this period.
| | |
| --- | --- |
| Grade | Price |
| MS 63 | |
| MS 64 | |
| MS 65 | |
| MS 66 | |
| MS 66+ | |
1926 S Lincoln Wheat Penny Value & Price Chart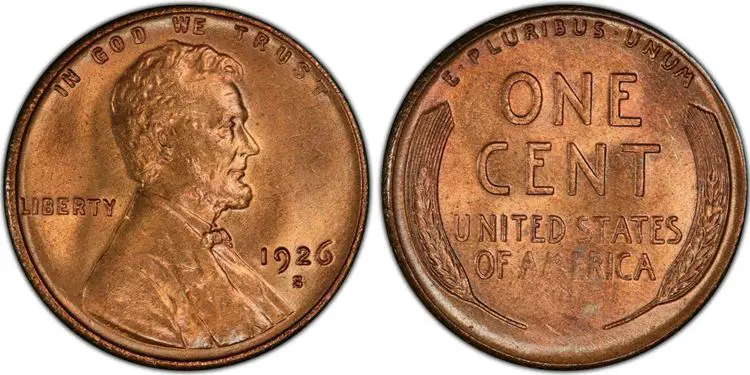 The 1926-S Lincoln Wheat Penny is estimated to be worth $11 in average condition and can be worth $176 to $371 or more in uncirculated (MS+) mint condition.
The 1926-S Lincoln cent is not a rare coin, but it can be pricey in mint state grades. The 1926-S penny runs a bit higher in the price for a grade than many of its S-mint contemporaries in mint state. Even in Brown grade, this coin can be extremely tough to find. It pays to buy a choice specimen whenever possible, avoiding weakly struck examples.
| | |
| --- | --- |
| Grade | Price |
| MS 63 | |
| MS 64 | |
| MS 64+ | |
| MS 65 | |
Where To Buy 1926 Wheat Penny
The 1926 Lincoln Wheat Penny is one of the most popular and widely collected coins in America. It is one of the first coins that you should add to your collection. There are many different ways that you can obtain this coin.
One of the best places to sell it is at a coin shop or auction house. You can find these places in your phone book, online, or by asking friends or relatives where they go to sell coins. You should also consider looking at local coin shows and fairs that are held throughout the country.
You can also try going online, but be aware that there are many scam websites out there that claim they will pay you top dollar for your coins and then disappear with your money! eBay however is a good online option, the site has a huge community of serious coin collectors, so you'll have no trouble finding buyers. Plus, it's easy to set up a listing and get paid once the sale is complete.
Below are some trusted websites for selling and buying coins that we recommend;
eBay
HA.com
Stacksbowers.com
Conclusion
The fact that the 1926 wheat penny value is so low makes them easy to find in just about any old change you come across. Which makes them an excellent coin to start a collection of Wheat pennies. While they are not the most valuable, they are still worth at least 0.28 – $1.00 and are very popular with collectors.
Most pennies, their value is low, so they are not worth much to a collector. However, this type of coin has gained interest in the last few years and could be valuable. Since there is a nice historical significance, collectors will pay a premium for this coin.