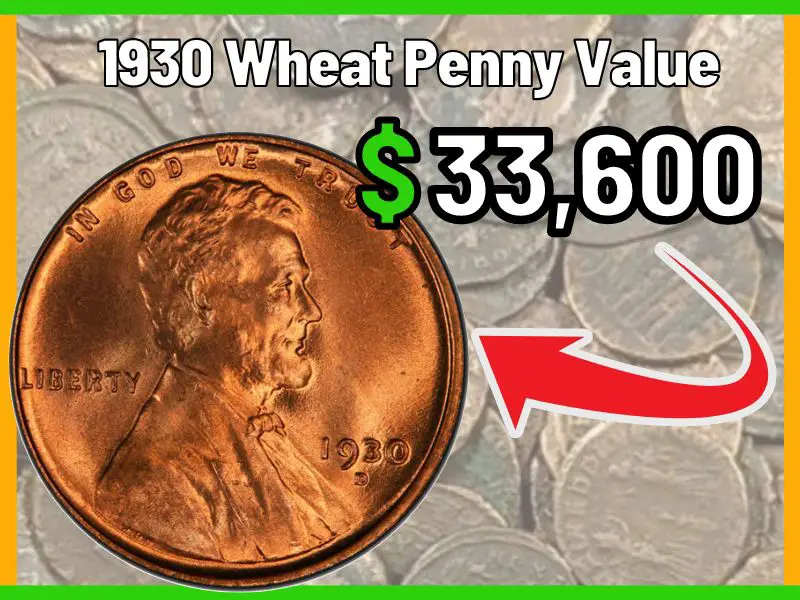 The 1930 Lincoln Wheat Penny is worth $0.22 in average condition and can be worth $6.64 to $11 or more in uncirculated (MS+) mint condition.
The Wheat Penny is one of the most popular coin value charts among collectors, as well as being one of the easiest to sell. If you have ever asked the question, how much is a 1930 penny worth? Then you came to the right place.
In this article, we are going to show you how to properly evaluate your old penny to know its worth in the current market. You are also going to learn how to grade your wheat penny as well as the variations of the 1930 Wheat penny and how to differentiate them.
This guide is fully packed with top-notch information that would be of high importance to you. If you're among the lucky ones to own a 1930 Wheat Penny, read on;
Most Valuable 1930 Wheat Penny
Most Valuable 1930 Wheat Penny is 1930-D 1C MS67+ Red PCGS Sold on Oct 15, 2020 for: $33,600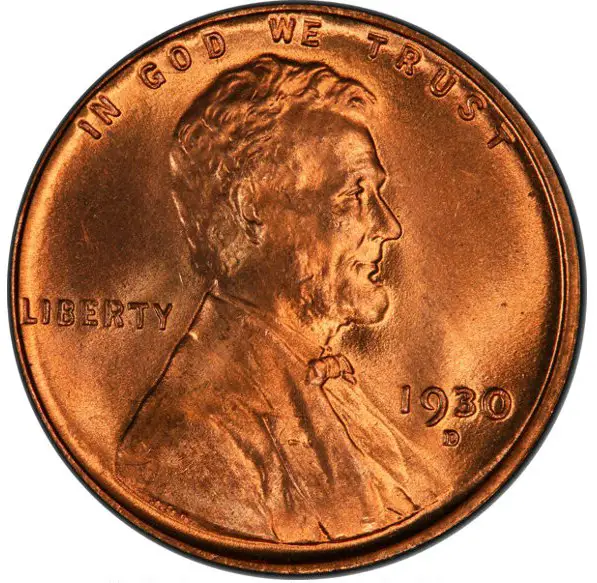 1930 Lincoln Wheat Penny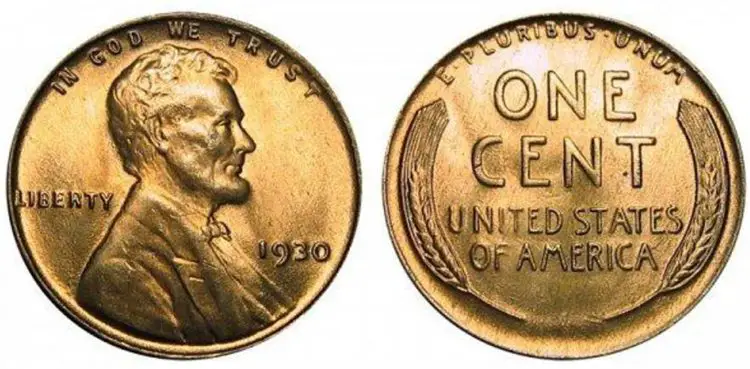 The Lincoln Cent is a one-cent coin that has been minted since 1909 by the US Government. It was created to honor the memory of Mr. Abraham Lincoln and is considered a symbol of the American people. In addition, the copper-made penny invokes excitement and fascination from hobbyists across the globe.
History
The Wheat Penny is a one-cent coin struck by the United States Mint from 1909 to 1958. It was designed by artist Victor D. Brenner; this was the first time the face of an American President was depicted on a circulating coin.
1930 Lincoln Wheat Penny
Location
Minted
Philadelphia
157,415,000
Denver
40,100,000
San Francisco
24,286,000
Total
221,801,000
The coin isn't made with any precious metal, it is made of 95% Copper – 5% Tin and Zinc, which gives it a very low melt value depending on the current price of copper.
The cent coin was originally struck in 95% copper, but during World War II it was changed to zinc-coated steel as a shortage of copper was needed for the war effort. The mint then reverted to 95% copper until 1982, when inflation made copper too expensive. Zinc was used instead, with an outer layer of copper to retain the coin's color.
1930 Lincoln Wheat Penny
Metal Composition
95% Copper – 5% Tin and Zinc
Mass/Weight
3.11 grams
Diameter
19 mm
Mint Mark
"D" "S"
Edge
Plain
Designer
Victor D Brenner
The 1930 Wheat Penny was minted across three United States mints and they were Philadelphia, Denver, and San Francisco. The Philadelphia mint struck the highest number of wheat pennies in the year 1930 accounting for over 150 million coins. The Denver mint was next to follow suit with over 40 million coins. The San Francisco mint had the least number of 1930 Lincoln struck with just over 20 million coins.
Design – 1930 Lincoln Wheat Penny
Numismatic historian Roger Burdette suggests that Brenner based his work on an 1864 photograph of Lincoln taken at Brady's studio by one of the photographer's assistants.
However, Burdette adds that in an April 1, 1909 letter, Brenner mentioned that in producing the design, he envisioned Lincoln reading to a child. This is what made Lincoln seem so radiant. It is possible that Brenner was inspired by the Brady photograph of Lincoln with his son, Tad.
Although the photograph in question showed only Lincoln's head and shoulders, Reed indicates that Brenner obtained additional detail from an 1860 campaign photograph of Lincoln without a beard. Regardless of the fact that the Lincoln Wheat Penny design has many stories surrounding it, you still can't neglect the fact that the design of the coin is amazing!
Obverse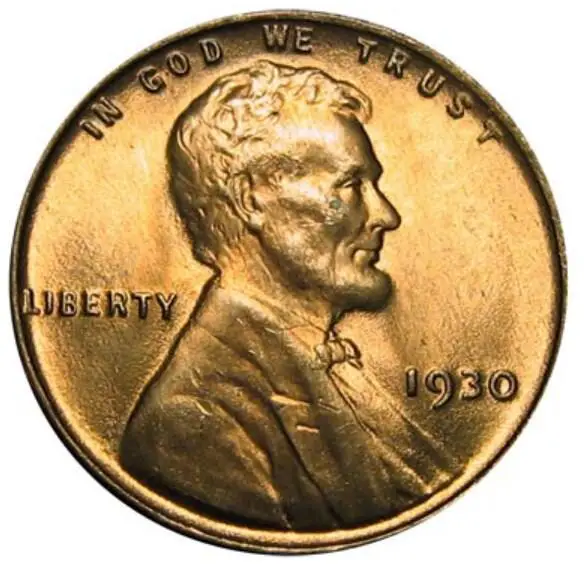 For over 70 years, the obverse of the penny has remained constant, only the reverse of the coin has had different designs. The front of the coin features a portrait of the former president of the United States Of America, Abraham Lincoln facing left, with the word "LIBERTY" written boldly behind him. Above his head is the phrase "IN GOD WE TRUST," a popular saying found on all United States currency. The year of issue, 1930, is also present on the obverse.
Also, if this coin had a mint mark it would be located just below the year of the coin. The Denver mint would have a "D" and the San Francisco mint coins would have an "S."
Reverse
On the reverse "ONE CENT" is engraved, with "UNITED STATES OF AMERICA" right beneath it. The words "E PLURIBUS UNUM" are engraved at the top very close to the rim of the coin, it's America's motto which means "out of many, one."
There was controversy pertaining to the reverse, The design submitted by Frank Gasparro was criticized for its similarity to French coins displaying a tree branch. After Brenner submitted his proposal designs, Leech asked him to make a simple design with just three details: the country's name, the denomination, and the motto "E·Pluribus·Unum." He went ahead and put both wheat ears on one side of the coin.
Mints
In the course of production, only three US mints ever struck the United States Wheat pennies from 1909-1958. The Philadelphia, San Francisco, and Denver mint were the ones that produced these wheat pennies.
Some coins over the years were struck in just one or two mints but as for the 1930 Wheat Penny, it was struck in all three mints. Across the three mints that struck the 1930 Lincoln cent the total number of coins struck was over 200 million with the Philadelphia mint having the highest number of coins struck in the year.
This section would help you to know the kind of coin you have, why? Because these coins vary, you don't want to describe your coin wrongly!
Philadelphia Mint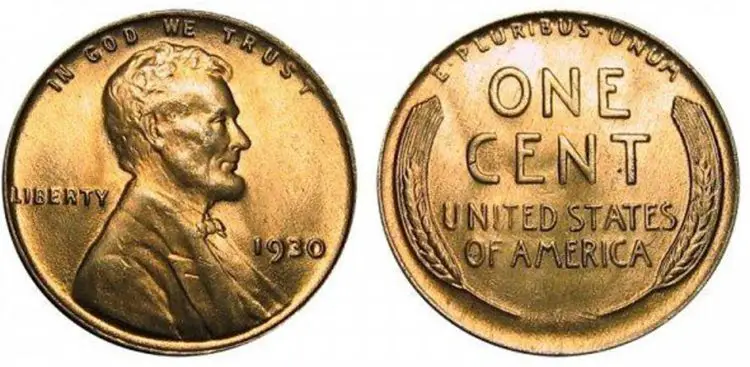 If your coin belongs to the set that was minted among the 1930 batch of Wheat Pennies struck at the Philadelphia mint it should look like the image above. Even if your coin is not in great condition i.e the detail on the obverse can be barely seen, you'd still be able to see the mint mark on the obverse, unlike indian head cents whose mint mark cleans off due to circulation over the years.
The Philadelphia mint struck 157,415,000 wheat pennies in 1930, making it one of the highest wheat pennies struck.
Denver Mint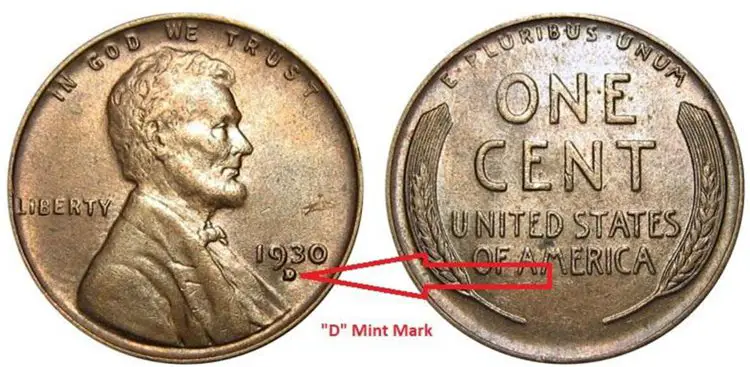 The Denver mint was the second highest to strike wheat pennies in the year 1930. You can know if your coin was struck in the Denver mint by simply looking below the year on the obverse of the coin.
40,100,000 coins were struck in the Denver mint, if your coin has the "D" mint mark and the "1930" date just right above it, this means your coin was among the 40 million coins struck at the United States Denver mint.
San Francisco Mint
The last mint to strike 1930 Wheat Pennies was the San Francisco mint. This mint struck the lowest amount of pennies as compared to other mints. Although the mintage number is lower than others, it isn't hard to come across this coin in good condition, however, higher grades such as MS 67-70 might be very difficult to come by.
The San Francisco mint bears the "S" mint mark just below the 1930 date as an indication that it originated from the San Francisco mint. 24,286,000 Lincoln Wheat Pennies bearing "1930" and "S" were struck.
1930 Wheat Penny Value
Do you have a 1930 wheat penny? If so, you have an old coin and it might be worth some money. Penny values can be very confusing because of different mint marks. Sometimes, one mint mark is what makes the difference in value between wheat pennies of the same year.
The condition of your penny also plays a very vital role in the value of your coin. A 1930 Wheat penny in good grade is worth $0.17-$0.22 which isn't much. However, if the condition of the coin is high the value will increase. We made a table below showing you the value of a 1930 Wheat penny in different grades.
| | | | | | | |
| --- | --- | --- | --- | --- | --- | --- |
| Year | G | VG | F | VF | XF | AU |
| 1930 | $0.17 | $0.22 | $0.28 | $0.56 | $1.42 | $2.28 |
| 1930 D | $0.22 | $0.28 | $0.33 | $0.62 | $2.81 | $4.52 |
| 1930 S | $0.22 | $0.28 | $0.33 | $0.67 | $2.80 | $6.64 |
These are the current prices or value of the 1930, 1930 D and 1930 S wheat pennies. If the table above is confusing for you, it means you probably do not know how to grade your wheat penny. There's a whole section below that includes a video that shows you how to properly grade your Lincoln Wheat Penny.
Grading – 1930 Lincoln Wheat Cent
Uncirculated: When examining a 1930 Lincoln cent, you can be sure that the penny wasn't in circulation when noticing a mint luster on its surface. And all the pronounced relief details are visible; for instance, the collar lines of Lincoln's coat should be distinctly sharp, while the shirt lapel edge is still clearly defined. Coins that still shine with their original mint luster are strong candidates for the Mint State Uncirculated grade.
Copper coins often turn brown after they have been exposed to the elements, a phenomenon called toning. However, A well-preserved coin would still be vibrant, indicating it has been well preserved and has collector value.
Extremely Fine: This coin has been in circulation for a short time and has not suffered significant damage. Slight imperfections are barely visible to the naked eye, but you can get a better view by using a magnifying glass.
The luster of a coin's surface that remains in areas protected from wear—such as the protected areas of lettering and rays—adds to its overall appeal and strengthens its numismatic value. Scratches or dents will lower the grade of a coin, but contact marks are taken into consideration when grading coins in the extremely fine grade.
Fine: This grade of pennies have been in circulation for a long time, and they have worn down. The main relief details are still present, but you can notice signs of wear on the President's coat and hair. The inscriptions and the minting date might still be legible.
Good: Lincoln pennies in this condition are not good collectibles. You can see long-term circulation on their surface, which means numerous scratches, cracks, and relief flattening. For example, Lincoln's face is almost merged with his jaw, and his hair details are missing. But most letters and the date might still be legible.
1930 Wheat Penny Value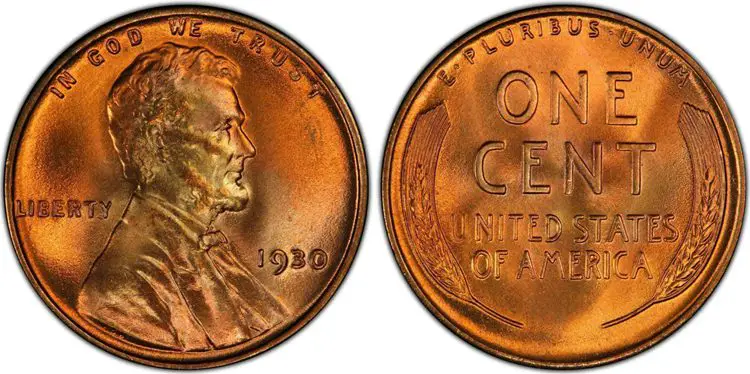 The 1930 Lincoln Wheat Penny is worth $0.22 in average condition and can be worth $6.64 to $11 or more in uncirculated (MS+) mint condition. A lot of these coins were circulated and thus you'd easily find one in good condition up for sale. However, coin collectors would rather purchase an uncirculated coin as they are way more valuable.
Given below is a table showing different grades of the 1930 Wheat Penny and prices they were sold at.
| | |
| --- | --- |
| Grade | Price |
| MS 63 | |
| MS 64 | |
| MS 65 | |
| MS 66 | |
| MS 67 | |
| MS 67+ | |
1930 D Wheat Penny Value
The estimated value of a 1930-D Lincoln wheat penny in average condition is $0.28, but it could be worth $13 to $31 or more in uncirculated (MS+) condition.
The 1930-D Lincoln cent is one of the scarcer issues in Gem Uncirculated grades from the 1930s. In general, 1930s-era Lincoln cents are scarce in MS66 condition and higher and more so than those minted after 1934. This coin compares well with a similar 1932-D specimen in MS66 condition.
This coin is rarely available in grades above MS66, as there are probably no more than 200 examples of it in existence. It is very difficult to find in MS67 condition, with only ten examples or so being known.
| | |
| --- | --- |
| Grade | Price |
| MS 64 | |
| MS 65 | |
| MS 66 | |
| MS 67 | |
| MS 67+ | |
1930 S Wheat Penny Value
A 1930-S Lincoln Wheat Penny in average condition is worth $0.28 and can be worth $11 to $13 or more in uncirculated (MS+) mint condition. The 1930-S Lincoln cent is a challenging coin to find in Mint State 64 or higher grades. In MS65 they are a bit uncommon but still available.
In Mint State 66, there are only a couple of hundred examples available. In Mint State 67, there are only a handful of known examples to exist with none being finer.
| | |
| --- | --- |
| Grade | Price |
| MS 63 | |
| MS 64 | |
| MS 66 | |
| MS 66+ | |
| MS 67+ | |
Where can I sell my wheat pennies?
The best places to sell your wheat pennies are on eBay and coin auction websites. These sites have a large audience and they're easy to use.
If you're looking for a more traditional way to sell your coins, there are also coin shops that buy coins. The most common type of shop is called a coin dealer or numismatic shop. These kinds of stores buy and sell rare coins, so they're the perfect place to sell your wheat pennies if they're still in mint condition. You would have to search for the nearest coin dealer depending on your location.
Which 1930s penny is worth the most?
The 1930 D Lincoln Wheat Penny is worth the most. A 1930-S Lincoln Wheat Penny in average condition is worth $0.28 and can be worth $11 to $13 or more in uncirculated (MS+) mint condition. The higher the grade of your Lincoln penny, the higher the chance of getting paid more money for it.
Is a 1930 penny a good investment?
If you are looking for a good investment, there are better choices than the 1930 penny. A better investment would be something like gold or silver coins because they have been proven to retain value over time. However, if you happen to own a 1930 penny already and in pristine uncirculated condition, you would probably get good money if you plan to sell.
Final Words
The condition of your coin and the mint mark will determine its worth. if your coin has been damaged by exposure to chemicals or excessive handling, its value will be lower than that listed above as these factors tend to affect overall appearance and desirability.
If you are considering selling, the most important thing is to do your research. On eBay, there have been many sales of the 1930 Lincoln penny. These provide valuable information on what is possible when it comes time to sell. Just make sure to convert your penny value so that it stays in line with current trends. The values can be greatly affected by inflation, so you don't want to leave any money on the table!