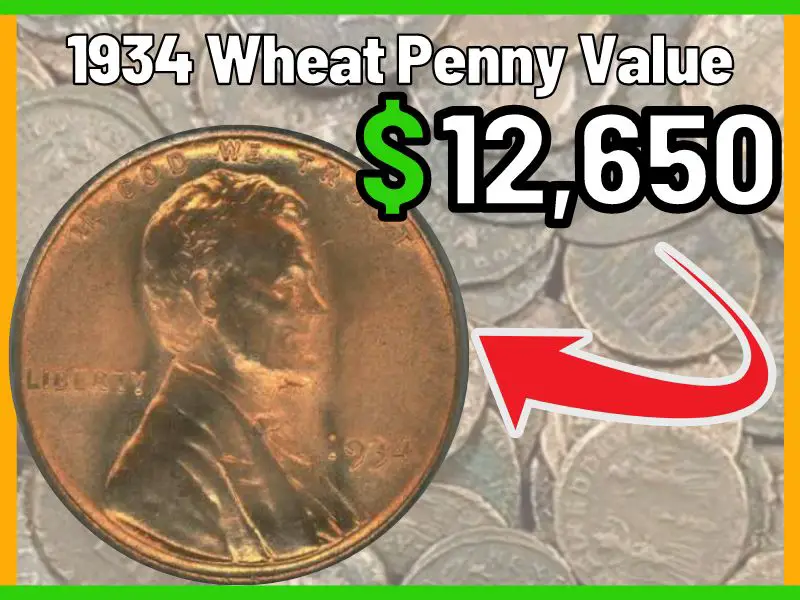 The 1934 regular strike wheat penny is worth $0.17 in good condition. In uncirculated MS 60, it is valued at $11. In brilliant uncirculated MS 63, it is worth $17. The D penny is worth $0.22 in Good condition, and in brilliant uncirculated condition, it is worth $31.
If you have a wheat penny made in 1934, it may interest you to know that it is one of the most valuable Lincoln cents. In this article, you will learn about the value of the 1934 wheat penny, its types, and the value of each one. With the aid of price charts that show their grades, you'd be able to determine the value of your own wheat penny.
As time passes the number of coins available diminishes. This causes the value of that coin to rise. This principle applies to the 1934 wheat penny too. It is a coin that belonged in the long line of Lincoln pennies that began production decades ago. The wheat penny is considered a significant coin in the history of US money.
1934 Wheat Penny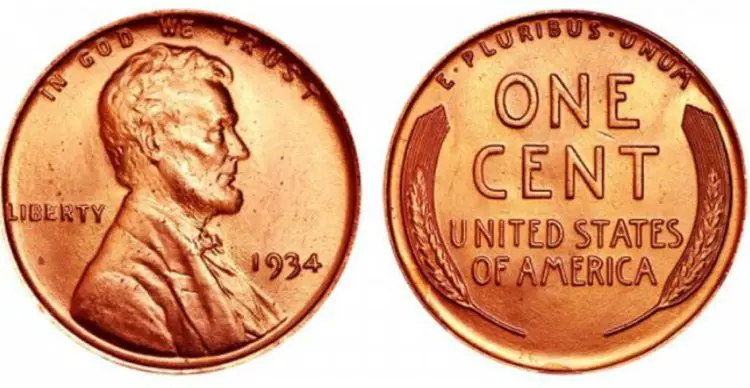 The 1934 wheat penny is not the only one to bear wheat stalks on it. All pennies with this reverse design are called so. As seen above, coins from that year which maintain their mont condition are very appealing to the eyes.
A Brief History Of The 1934 Wheat Penny
The first wheat penny was created in 1909 from a design prepared by the US engraver Victor David Brenner. In that year, David Brenner designed the head of Lincoln for the obverse of the coin, and then two wheat stalks for the reverse. Consequently, these one-cent coins were usually called Lincoln cents.
The wheat stalk design continued from that year till 1958 when the stalks were replaced with the image of the Lincoln memorial building which is in Washington DC. The Lincoln cent now bears a Union shield.
Brenner wanted his initials to be on the penny so he placed it on the reverse of the 1909 penny but this move caused controversy. The newspaper called The Washington Star complained that the presence of the initials equated to an advertisement. The paper quoted treasury officials saying the coins that bore the initials were illegal. Coinage was suspended until the mint could strike the pennies with a small initial B for Brenner.
1934 Wheat Penny Mintage
Location
Mintage
Philadelphia
219,080,000
Denver
28,446,000
Total
247,526,000
In 1909, pennies with and without Brenner's initials were struck in Philadelphia and San Francisco mint. In 1934 wheat pennies were struck only in the Philadelphia and Denver mints. Proof cents would not be struck until 1936. The Philadelphia mint produced more than 200 million pennies and the Denver mint made more than 28 million. Together the total came to more than 247 million wheat pennies that went into circulation in 1934.
1934 Wheat Penny Composition
Metal Composition
95% Copper, 5% Tin and Zinc
Mass/Weight
3.11 grams
Diameter
19mm
Edge
Plain
Designer
Victor David Brenner
This penny contains a combination of copper and zinc, the same bronze composition from 1909. This composition continued to be in use until 1982 with some variations introduced in between around wartime in the 1940s. In 1943 the penny was produced with zinc-plated steel. Now it is made with copper-plated zinc.
The Philadelphia mint produced wheat pennies in 1943 without a mint mark on them. This is the tradition with this facility. The Denver mint however produced the wheat penny with a D mark on the obverse, under the date.
Design
The significance of the wheat penny has required that it go through changes in design over the years. By the year 1934, the wheat penny was still relatively at its young age. It had become widely loved and accepted by the American public. One of its appeals lay in the presence of the face of Abraham Lincoln on the obverse.
The design of the obverse has remained the same, the only changes that usually happened to pennies being the changes on the reverse. For example, in 1959 the wheat stalks on the reverse were replaced with the Lincoln memorial and subsequently, it would be replaced with the Union Shield.
Below are the features you'd find on your 1934 wheat penny.
Obverse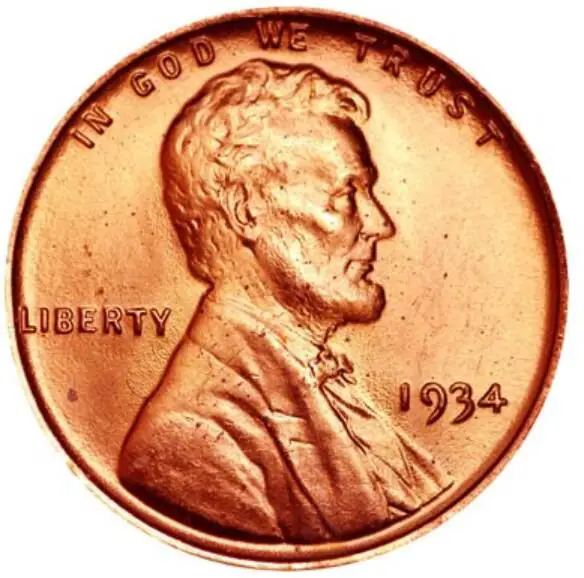 The obverse as can be seen in the image above shows the head of Abraham Lincoln facing right. Note the details in the hair, ear, and beard and in his clothes. The coin has lettering on it. Over the head of Lincoln, you can see the words IN GOD WE TRUST, behind his head is the word LIBERTY and in front of him is the date the coin was produced, 1934. You will find the mint mark D under the date only if the coin was struck at the Denver mint.
Reverse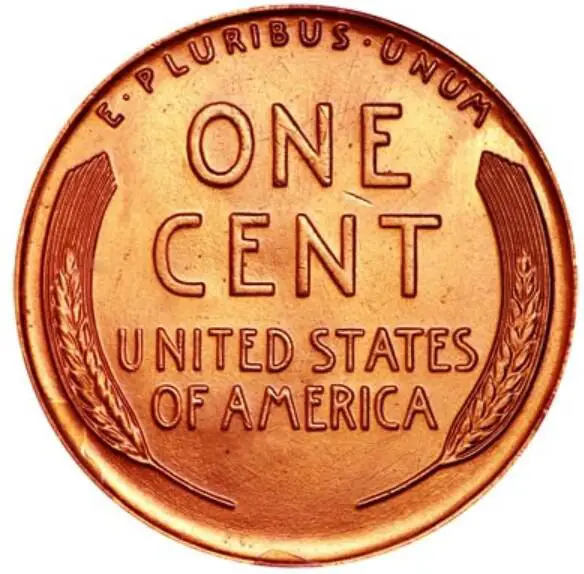 The reverse of the coin features a different design also by mint engraver Victor David Brenner. You can see the prominent detail of the two wheat stalks curved along both sides of the coin's face. There are letterings here as well. E PLURIBUS UNUM is written on the top, ONE CENT in the middle, and under that UNITED STATES OF AMERICA. The 1934 wheat penny doesn't have Victor David Brenner's initials on it.
Mint
The US mints are very integral parts of American coin life. Without them, we won't have many beautiful pennies. The 1934 wheat pennies were made in only two facilities in that year, namely the Philadelphia and the Denver mint.
Philadelphia Mint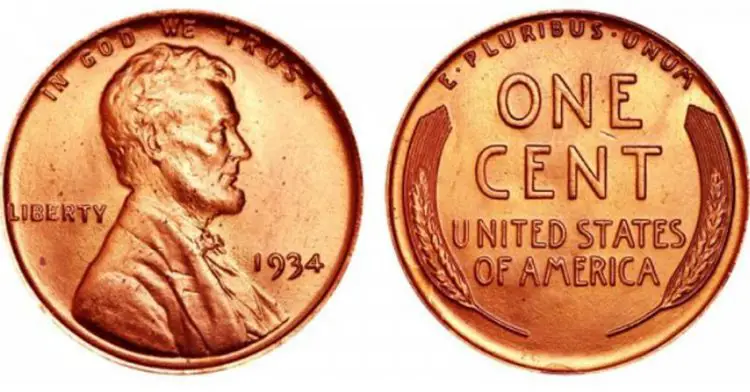 The Philadelphia mint makes coins without marks. The facility was the first mint to begin making coins in 1793. In 1934 the Philadelphia mint produced 219,080,000 wheat pennies. Each penny featured the design created by Victor David Brenner on the obverse and the reverse. The coins were produced with 95% copper and 5% tin and zinc.
Denver Mint
Wheat pennies made in the Denver mint all have mint mark D on the obverse under the date. The pennies made here also feature the same design as those made in Philadelphia. The facility produced 28,446,000 wheat pennies in 1934. Mint-marked wheat pennies are usually the favorite of collectors.
Grading The 1934 Wheat Penny
Most coins you find today are worth nothing more than their face value, that is, Their worth in the metal used to make them. But you've heard people make a lot of profit from selling coins. In fact, you've heard pennies that have sold for a million dollars. What was special about these coins?
The difference between those coins that made a big profit and the ones that were worth only a little over one cent is their condition. Your 1934 wheat penny can sell at a premium profit too if you have it graded by experts. How do the expert's grade? Coin grading is a very important part of coin collection. To get experts interested, your wheat penny must be graded highly enough. Your 1934 wheat penny can be graded in the following categories:
| | | | | | | |
| --- | --- | --- | --- | --- | --- | --- |
| Year | G | VG | F | VF | XF | AU 50 |
| 1934 P | $0.17 | $0.20 | $0.22 | $0.33 | $1.13 | $4.52 |
| 1934 D | $0.22 | $0.28 | $0.56 | $0.85 | $2.55 | $8.54 |
Poor or Basal (P1): this is the lowest a coin can be graded. It is the worst condition a coin can be in. The date and mint mark must be identifiable. This coin is heavily worn out with so many marks. The details are faded too. And they have plenty of damage.
Fair (FR2): this coin is heavily worn and faded too but doesn't have as much damage as a poor coin.
About Good (AG3): this is a slightly better coin than the first two categories. The date is barely readable and the details are faded.
Good (G4):this coin is heavily worn but you can still make out some details like the date which is almost smoothed out with the rim.
Very Good (VG8): coins in this category are worn too but you can still see the details of major features.
Fine (F12): Coins in this category show a lot of wear but major designs are still clear.
Very Fine (VF20):Here the major parts of the coin are still visible like the rim and the outlines of the images. The wear is only moderate.
Extremely Fine (EF40):this coin shows very little wear with few contact marks and scratches. Most of the major design features are still present.
About Uncirculated (AU50): this coin has the appearance of an uncirculated coin because it has very little wear. There are contact marks from rubbing with other coins.
Very Choice About Uncirculated (AU 58): this coin is like the previous one but has no contact marks. It is visually appealing and full of luster.
Uncirculated-Mint State Basal (MS 60):this coin is Uncirculated and that is why it is referred to as a mint state. But it has plenty of ugly marks and scratches. It has little luster. It is uncirculated because it was never made available to the public.
Choice Brilliant Gem Uncirculated (MS 65): this coin has an almost full luster, almost no contact marks, and has high appeal.
Premium Quality Mint State Uncirculated (MS 68):one of the important characteristics of this coin is that they show a sharp strike. There's perfect luster and no visible marks.
All But Perfect Mint State Uncirculated (MS 69): this is an almost perfect coin. There are only minute flaws that can be seen under a magnifier.
Perfect (MS 70):this coin is totally flawless showing no marks or damages. The strike is flawless on the planchet. This coin is highly valuable.
1934 Wheat Penny Value & Price Chart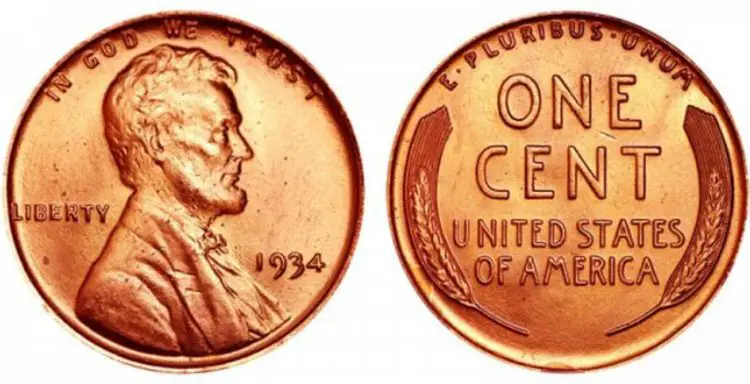 The wheat penny produced in 1934 comes in two types: the one that was produced in Philadelphia with no mint mark. This wheat penny is worth $11 in uncirculated condition. At an auction, coins are usually worth even more, especially when they're graded. In 2003 a 1934 wheat penny graded MS 68 was sold for $12,650 on Heritage Auctions.
To show that your wheat penny is capable of bringing in more profit the chart below shows real sales of the no-mint mark wheat penny.
| | |
| --- | --- |
| Quality | Price |
| MS 64 | |
| MS 65 | |
| MS 66 | |
| MS 66+ | |
| MS 67 | |
| MS 67+ | |
| MS 68 | |
1934 D Wheat Penny Price Chart
As noted earlier in this article, if your 1934 wheat penny has a mint mark, it can sell for an even higher price. In 2018 a coin graded MS 67 was sold for $20,350. The chart below shows real sales of the D penny.
| | |
| --- | --- |
| Quality | Price |
| MS 63 | |
| MS 64 | |
| MS 65 | |
| MS 65+ | |
| MS 66 | |
| MS 66+ | |
| MS 67 | |
| MS 67+ | |
Other than the above-mentioned types of 1934 Wheat Penny, there are usually error coins for pennies. But in the case of this penny, there are no known errors and if found, collectors are willing to pay handsomely for them.
5 Most Valuable 1934 Wheat Penny Ever Sold
5 Most Valuable 1934 Wheat Penny
No.
Type
Condition
Sold Date
Price
1
1934 1C
MS68 Red
Jul 26, 2003
$12,650.00
2
1934-D
MS67+ Red
Apr 23, 2014
$11,162.50
3
1934 1C
MS68 Red
May 29, 2008
$9,775.00
4
1934 1C
MS68 Red
Dec 4, 2008
$8,050.00
5
1934 1C
MS68 Red
Jan 4, 2006
$7,475.00
1. 1934 1C MS68 Red Sold on Jul 26, 2003 for: $12,650.00
2. 1934-D Lincoln Cent, MS67+ Red Sold on Apr 23, 2014 for: $11,162.50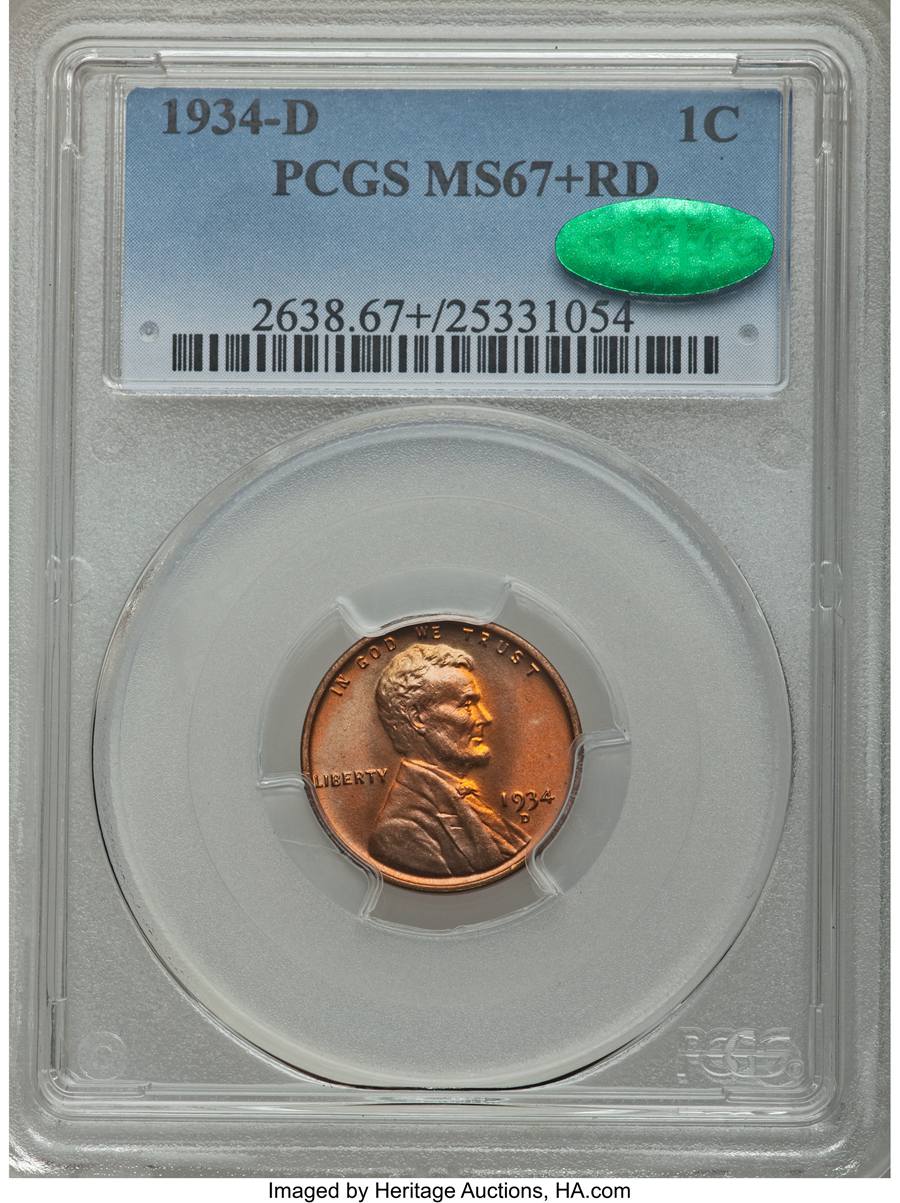 3. 1934 1C MS68 Red Sold on May 29, 2008 for: $9,775.00
4. 1934 1C MS68 Red Sold on Dec 4, 2008 for: $8,050.00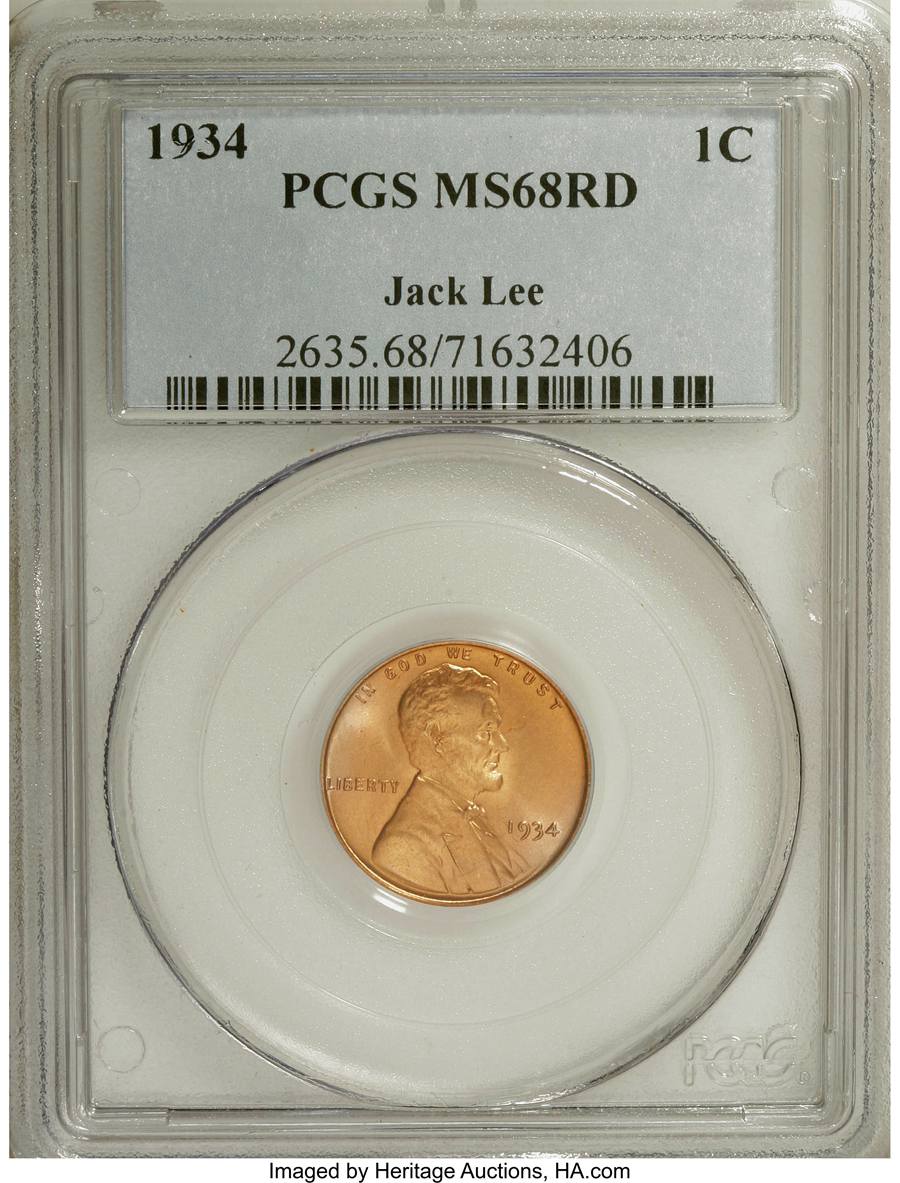 5. 1934 1C MS68 Red Sold on Jan 4, 2006 for: $7,475.00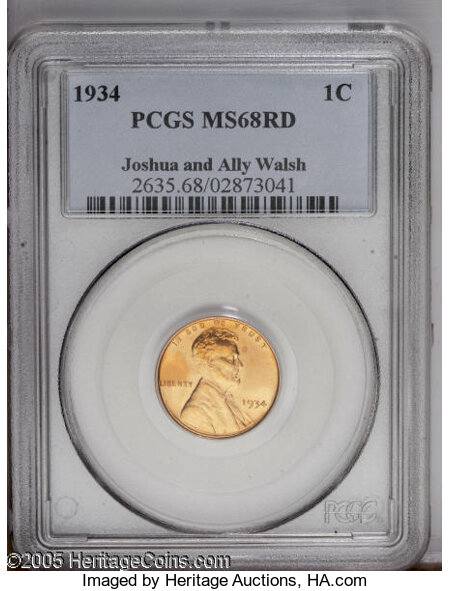 Where You Can Sell Your Wheat Penny
If you have a fair amount of 1934 wheat pennies then you might be looking to convert these into money. Likely also, you now understand the value of the 1934 wheat penny and how coins are generally graded. If that's the case you have made significant progress. Now you wonder where you can sell your graded coins. You can often sell to the grading company. But if you need more places here they are
Some of the most expensive coins have been sold on Heritage Auctions. This site allows you to post your coins and experts bid for them. Your coin must be graded by an expert organization like PCGS to be sold on this site. They usually take their own fees after the auction to cover for costs of shipping and miscellaneous expenses.
If you'd prefer a more public and less specialized place, then check out eBay. Here thousands of visitors visit every day and your coin can be seen by them. You are allowed to set your price on this site and pay a fee of 12.35% when the coin is sold.
This site also allows your coin to be seen by hundreds of their visitors. Esty is a site where people buy and sell all sorts of antiques. Since your 1934 wheat penny qualifies as an antique you can definitely post it there as well. Etsy accepts $0.20 for posting an item. But you can be sure that your coin is getting exposure.
This is one of the best places to go if you are selling coins for the first time. It is not an auction site. They allow you to list your coin for free. Here they sell only antique coins. You only pay 5% of what you sell if it's up to $100,000.
Some of the best people to sell to are coin dealers and coin collectors. This set of buyers is interested in graded coins of special value. They love error coins. They love the ones with mint marks. And most especially they love to invest in coins that have been graded highly. They usually buy at good rates as well. You can find dealers at auction houses. They usually buy at online shops too.
These shops offer a good place to begin for someone who's just starting out as a newbie in coin collection. Pawn Shops offer amateur experience. The downside with them is the buyer may not be an expert in coins. It may not make a difference whether your coin is graded or not to a pawnshop owner. But unlike many other options open to you, pawn shops pay you faster.
This is also an easy place to sell your coins. Yard sales offer a relaxed and friendly environment for a newbie. You can display your coin for sale along with other household stuff. It can be one that you organize by yourself or you can join up with others. The downside here is that your prospects are precarious. You may not get someone interested in coins, or you may get really ridiculous offerings. Local buyers may be newbies like you who yet don't understand the value of coins. It may not matter that your coin is graded too. But if you get a sale, you usually get your money instantly.
Bottom Line
Studying the nature of coins is such an interesting and engrossing topic. The US coins make for an interesting read. It is important that you continue to take your time to understand them. The 1934 wheat penny offers a great starting point for you as a newbie.
This article has covered the value and history of this penny. It has also shown how coins are graded and the conditions that make them valuable. The 1934 penny is only one out of all decades of pennies. And it is by no means the most valuable of them. To get the most out of the Lincoln pennies, you need to study as many of them as you can.