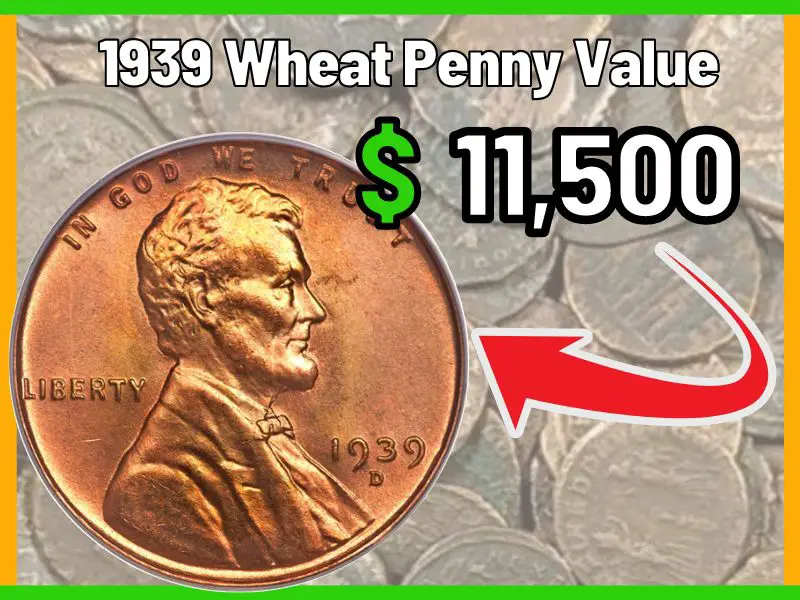 A 1939 Lincoln Wheat Penny in average condition is worth $0.20 and can be worth $2.28 to $3.30 or more if it's in uncirculated (MS+) mint condition. Proof coins for the 1939 Wheat Penny can be worth $63 or more.
How much is a 1939 Penny worth today? This is the first question that comes to mind if you get lucky enough to find a 1939 Lincoln cent in grandpa's old pair of trousers, sadly that old wheat penny isn't going to be worth much if it is a circulated coin with lots of wear and tear.
Evaluating a 1939 Lincoln cent begins with determining what kind of penny you have in your possession. There are 3 major variations of the 1939 Wheat penny, this article will teach you how to grade your wheat penny, there's also a price chart to guide you in evaluating your coin.
Most Valuable 1939 Wheat Penny
Most Valuable 1939 Wheat Penny is 1939-D 1C MS68 Red PCGS Sold on Oct 22, 2009 for: $11,500.00
1939 Wheat Penny
The 1939 Wheat penny is a United States coin with a face value of $0.01. It features former president Abraham Lincoln on the obverse. 3 years after this coin was minted, the use of copper was halted due to the world war, and pennies were then produced with Steel Coated Zinc.
There are many interesting facts about the 1939 Wheat penny. The year 1939 saw a time of change for the United States of America. It began the era when Americans were entering World War 2 and beginning to suspect that Hitler was a threat to the Western World.
History
The United States has used a decimal system for coinage long before most of us were born. All coins struck with a value of 1⁄100 of a dollar are called cents because the U.S. has always minted coins using decimals. The nickname "penny" comes from the British practice of calling their smallest coin a penny, which continues today.
Citizens had written to the Treasury Department, proposing a Lincoln coin, and Roosevelt was eager to honor his fellow Republican.
1939 Wheat Penny
Location
Minted
Philadelphia
316,466,000
Denver
15,160,000
San Francisco
52,070,000
Total
383,696,000
In January 1909, the Mint hired designer Victor D. Brenner to create a cent depicting Abraham Lincoln's face. This was the first widely circulating coin design featuring an American president, an idea that had previously been seen as monarchical.
Despite this, Brenner's design was eventually approved, and new coins were issued to great public interest on August 2, 1909.
The original cent was struck in 95% copper but was changed to a zinc-coated steel coin in 1943. This was done because the country needed copper for the war effort.
The 1939 Wheat Penny was minted in three of the United States Mints; Philadelphia, Denver, and San Francisco. The Philadelphia mint struck the highest number of coins in the year 1939, followed by the San Francisco and Denver mint.
1939 Wheat Penny
Metal Composition
95% Copper – 5% Tin and Zinc
Mass/Weight
3.11 grams
Diameter
19.05 mm (0.750 in)
Mint Mark
"D" "S"
Edge
Plain
Designer
Victor D Brenner
A total number of 383,696,000 coins bearing the 1939 date across three mints in the United States. This means a lot of 1939 pennies were circulated and as such, it won't be hard to find a 1939 penny in good-about uncirculated condition.
The 1939 Wheat Penny did not have Brenners initials on it. The initials of Victor David Brenner, designer of the Lincoln cent, were deemed too prominent once the coins were issued way back in 1909, and were removed within days of the release. The initials were restored, this time smaller, on Lincoln's shoulder in 1918.
Design – 1939 Lincoln Wheat Cent
In 1904 President Theodore Roosevelt wrote to his Secretary of the Treasury, Leslie Mortier Shaw, in order to question why U.S. coinage lacked artistic merit and if it would be possible to engage a private artist such as sculptor Augustus Saint-Gaudens to prepare new coin designs.
The Mint asked Saint-Gaudens to redesign the cent. He originally conceived a flying eagle design, but after learning that by law an eagle could not appear on the cent, he developed it for the double eagle.
Although it is uncertain how Mint Director Frank A. Leach selected Brenner to design the coin, he likely had good reason for doing so. In January 1909, Leach contacted Brenner and asked him about his fee for designing the new coin. In his correspondence with Leach, Brenner mentioned that President had liked his Lincoln design
Obverse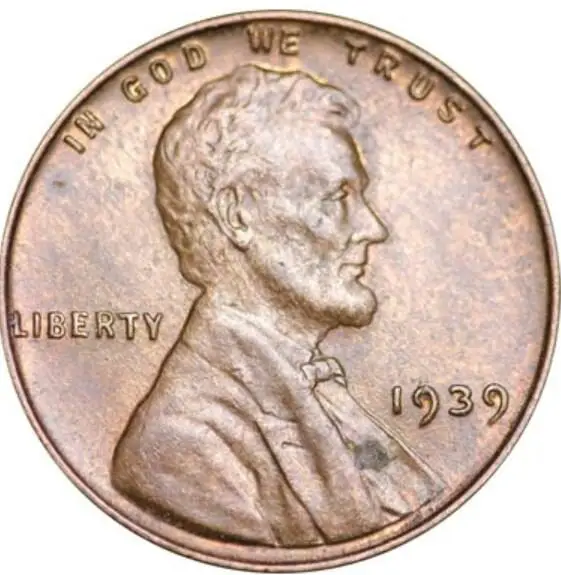 The obverse features a portrait of Abraham Lincoln who was a former president of the United States. The obverse also features the words "IN GOD WE TRUST" and "LIBERTY." The year of issue appears at the bottom left of the coin's obverse "1939". Other versions of this coin would have a mint mark just below the year of issue, a "D" mark for coins struck in the Denver Mint and an "S" mark for coins struck in the San Francisco mint.
The detail on Abraham Lincoln's hair is quite amazing. It would make it easier for professionals to grade this coin.
Reverse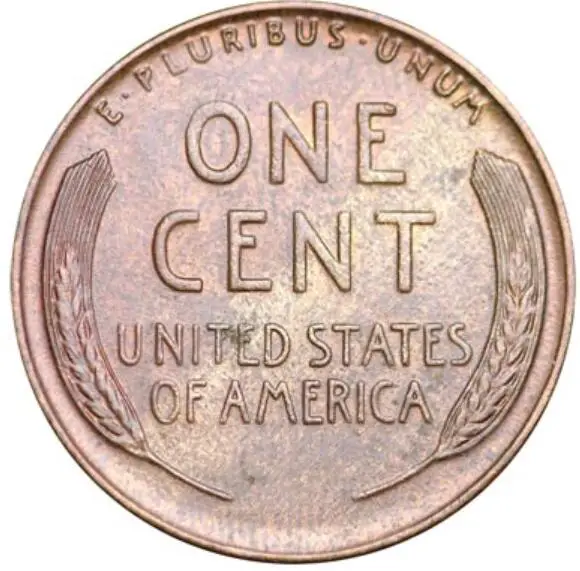 The design on the reverse of the coin was initially criticized for its similarity to the French silver coins displaying a tree branch. After Brenner submitted his proposal designs, he was asked to make a simple design with just three details: the country's name, the denomination, and the motto "E Pluribus Unum." as an addition he included two wheat ears, which suits the name "wheat penny"
The reverse features more words than the obverse, at the back you would find "ONE CENT" "UNITED STATES OF AMERICA" and the motto of the United States "E PLURIBUS UNUM."
Mints
While many wheat pennies were produced in three United States Mints, not all coins were actually struck in all three, for example, 1922 was only struck in the Denver mint. 1939 was among the lucky coins to be minted at Philadelphia, Denver, and San Francisco mints, with the Philadelphia mint producing the highest number of 1939 pennies without a mint mark.
This section is going to show you how to properly determine which mint your coin belongs to, why? The prices for 1939 pennies vary based on the mint mark.
Philadelphia Mint
Philadelphia mint wheat pennies do not have a mint mark on the obverse. If the coin in your possession was struck in the Philadelphia mint, it would look like the image above. This mint produced the highest number of 1939 pennies and that's why the majority of the pennies you'd see with the 1939 date won't have a mint mark.
309,170,000 were struck and circulated, coming across this coin in good to about uncirculated grade would not be difficult, however, the 1939 wheat penny becomes scarce in higher grades such as MS 67.
Denver Mint
Examine the obverse of your 1939 wheat penny, if it has a D mint mark as seen in the image above it means the coin was struck in the Denver mint. The mark is always located directly under the year, anything besides this might be a fake coin or definitely not a wheat penny.
The Denver mint struck a lot of wheat pennies in 1939, though not as much as the Philadelphia mint. A total of 15,160,000 wheat pennies were struck in this mint.
San Francisco Mint
Last is the San Francisco mint, coins struck here would bear an S mark on the obverse just below the date of the coin. The total number of wheat pennies struck bearing the 1939 date and S mark was 52,070,000.
1939 Wheat Penny Value
At face value, the 1939 penny is worth one cent. This is the figure indicated on the reverse face and represents its denominational value.
The Lincoln 1939 penny has value as a numismatic coin. A 1939 Lincoln Wheat Penny in average condition is worth $0.20 and can be worth $2.28 to $3.30 or more if it's in uncirculated (MS+) mint condition.
| | | | | | |
| --- | --- | --- | --- | --- | --- |
| Year | G | VG | F | VF | AU |
| 1939 | $0.17 | $0.20 | $0.22 | $0.28 | $1.13 |
| 1939 D | $0.56 | $0.67 | $0.73 | $0.96 | $3.30 |
| 1939 S | $0.17 | $0.22 | $0.33 | $0.85 | $2.81 |
A coin that is "uncirculated" means it has never circulated and looks new as if it was taken right out of a bank vault or mint packaging and put into your hands for buying and selling purposes. Coins in this condition have not been used to purchase goods or services but are circulated by collectors who want them for their collections.
The 1939 Lincoln Wheat Penny is an affordable and relatively easy coin to find in lower grades and to complete sets. This makes it an ideal choice for collectors just starting out collecting coins as well as more experienced collectors looking for a new addition to their collection.
Grading
Grading the 1939 Lincoln Wheat Penny is a lot of fun. You don't always have to be an expert in grading to be good at it. If you are just learning the art of grading and want to move up a grade level, there are some tips that can be very useful.
Uncirculated: The Mint State Uncirculated grade is reserved for coins with shiny, undamaged surfaces. The high-relief areas of the coin are first to show signs of wear. The area behind Lincoln's ear is prone to circulation wear, with many small details showing evidence of wear, including miniscule cracks in his hair and beard. On the reverse, the mint frost is intact with the original texture.
Extremely Fine: A coin in excellent condition should have minor imperfections only noticeable via a magnifying lens. This coin has been in circulation for only a short time and shows very little damage. A magnifying glass will help you see the imperfections more clearly.
Fine: Moderate wear appears on the outer edges of a coin in this grade, while heavier wear appears in the central areas. Some major details remain visible. Lincoln's hair behind his ear might have some minor mottling. The flatness extends to above his ear, and a small connection of his forehead is noted. Detail to the waves of hair can still be seen towards the back of his head, placing this example in Fine grade.
Good: Coins in the Good grade exhibit heavy wear and lack minor details, although some original elements are visible. The area behind Lincoln's left ear is now smooth, with just a small amount of contour remaining around his portrait. Flatness extends throughout the central area of the coin.
Copper coins often take on a rich brown color when exposed to air. Lighter shades indicate that the coin was protected from exposure when it was collected. Preservation, plus eye appeal, increase the value of a coin.
1939 Wheat Penny Value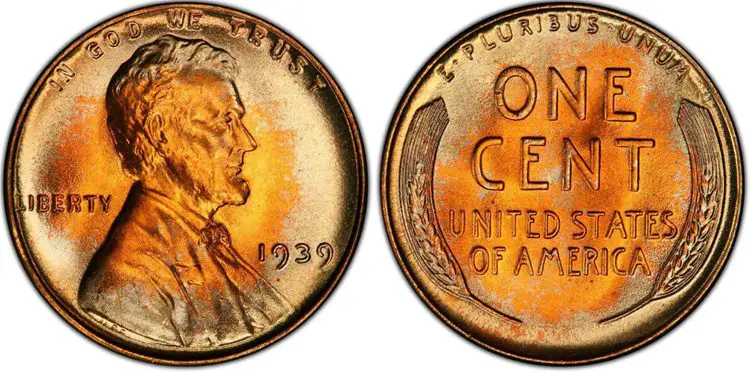 The 1939 Lincoln Wheat Penny is worth $0.20 in average condition, but can be worth $2.28 to $3.30 or more in uncirculated (MS+) mint condition. Proof coins can be worth up to $63 or more.
The coin's value also depends on its grade and the condition of the coin. The higher the grade, the more valuable the coin is likely to be.
If you have a 1939 Wheat Penny that's in almost perfect condition, it could be worth way more than the average 1939 Wheat Penny, see the table below for previously sold coins in the same category.
| | |
| --- | --- |
| Grade | Price |
| MS 64 | |
| MS 65 | |
| MS 66 | |
| MS 66+ | |
| MS 67 | |
| MS 67+ | |
| MS 68 | |
1939 D Wheat Penny Value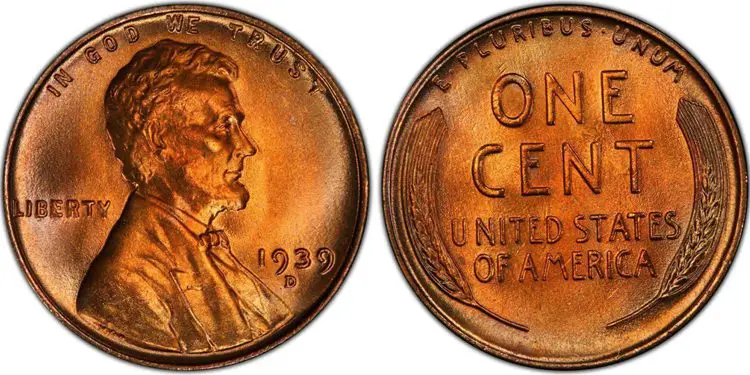 The 1939-D Lincoln Wheat Penny has an estimated value of $0.67 in Average Condition and can be worth $4.52 to $6.64 or more in Uncirculated (MS+) Mint Condition.
The 1939-D Lincoln Wheat Penny was struck at the Denver Mint which had the least number of coins, it is slightly more valuable than the Philadelphia Mint version of this coin.
The condition of your coin determines its value. For example, a worn out coin with scratches and nicks would be worth less than one that appears to have never been circulated before being lost or misplaced for many years.
| | |
| --- | --- |
| Grade | Price |
| MS 64 | |
| MS 66 | |
| MS 66+ | |
| MS 67 | |
| MS 67+ | |
| MS 68 | |
1939 S Wheat Penny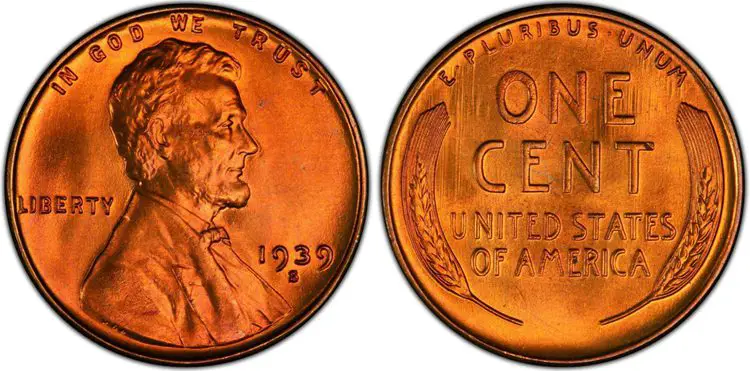 The 1939-S Lincoln Wheat Penny is worth about $0.22 in average condition and can be worth $3.30 to $5.70 or more in uncirculated (MS+) mint condition.
The 1939-S Wheat Penny has a mintage of over 52 million coins. This is a higher mintage for San Francisco compared to previous years with the Lincoln Cent series. It can be difficult to find this coin in higher uncirculated grades in the brown version, but higher Mint State grades seem possible in red.
Below is a table that shows different grades and the prices the coins were sold for. It should help determine the worth of your 1939 S coin if you have graded it already.
| | |
| --- | --- |
| Grade | Price |
| MS 64 | |
| MS 65 | |
| MS 66 | |
| MS 67 | |
| MS 67 | |
| MS 68 | |
Where to sell 1939 wheat penny?
There are several options for selling your 1939 wheat penny. You can sell it online at sites like eBay, or you can try your local coin shop. If you choose to sell online, make sure that you use a reputable company like PCGS or NGC as they have strict grading guidelines and provide excellent customer service. If you're interested in selling privately, make sure that the buyer will meet or beat the current market value of your coin before agreeing to any sale.
Are coins from 1939 worth anything?
There are quite a few coins from 1939 that are worth quite a bit of money. One in particular is the 1939 D Lincoln cent, other versions of the coin are also valuable, however, the higher the quality of the coin, the more money you're going to get paid for it.
Conclusion
While the 1939 Lincoln Wheat penny may not be the most valuable coin or even a rarity, it still has plenty to offer collectors. In fact, there are many thousands of these coins still in existence and they are quite affordable to collect.
In the end, whether or not a coin will be worth collecting depends on a whole host of issues that are unique to that particular coin. This is especially true with mistakes and errors, as each one is unique.