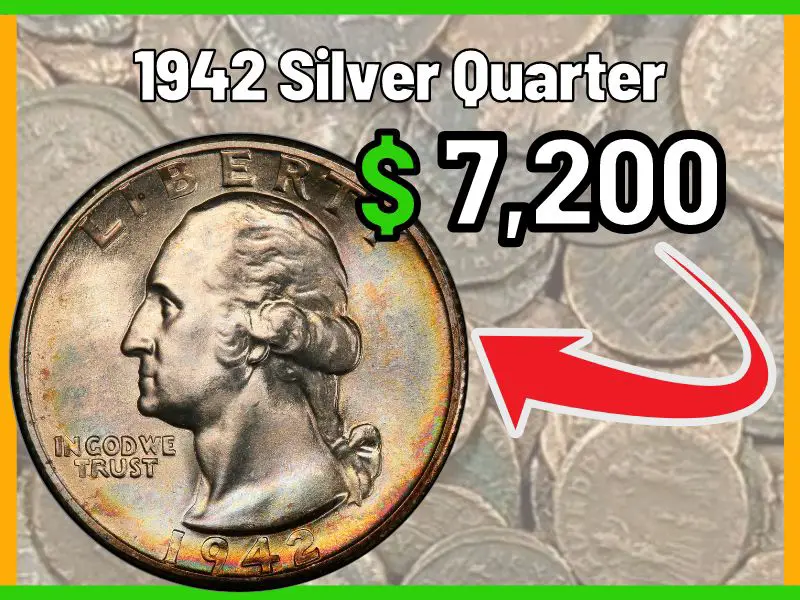 The 1942 quarter dollar is approximately $5.42 or more in average condition. In Uncirculated condition, it is worth more than that and is estimated at $7 to almost $10,000. The rarity and condition of the coin all contribute to the value and price of the coin.
The 1942 S silver quarter is the most valuable and coveted of this series. Most collectors want a piece of this coin especially if it is in pristine condition and has high eye appeal.
After the S variant, the Denver issue is the next most valuable, it is also more valuable than the Philadelphia issue. The 1942 silver, now over 80 years old, is still one coin that collectors love to assemble.
The 1942 silver quarter actually contains silver just as the name implies. By this time silver was still used to produce the Washington quarter before its composition was eventually changed to cupronickel (75% copper 25% nickel) clad on a core of pure copper.
1942 Silver Quarter
The 1942 silver quarter is a 25-cent piece that measures 24.26mm in diameter and is 1.75mm thick with a weight of 6.25grams. On the obverse, you'll find a portrait of George Washington while the reverse bears an American bald eagle and other elements.
Although the Washington quarters reverse is currently used to commemorate different historic sites and events in America, the 1942 reverse depicts the original bald eagle design by John Flanagan.
It was struck in three different Mints – Philadelphia, Denver, and San Francisco. These pieces might not be of much value, except if you're able to find them in pristine condition or the error coins.
Keep reading to find out more about the value and prices of 1942 quarters in different variations.
History
The silver quarter, also known as the quarter dollar, has been produced on and off since 1796; its production became consistent only from 1831. The 1942 quarter dollar is a 0.25 American dollar that weighs 5.67g, has a diameter of 1.75mm, It has 119 reeds and it is made up of 90% silver and 10% copper.
1969 Washington Quarter
Location
Minted
Philadelphia
102,117,123
Denver
17,487,200
San Francisco
19,384,000
Total
138,988,323
The Washington quarter was first issued in 1932 and it was to commemorate the bicentennial of the birth of the first president of America, George Washington.
It replaced the standing Liberty quarter and has remained so even till the present. Since 1999, the reverse of the coin has been changed over and over again, but the obverse has maintained the same design since 1932.
The first version of the Washington quarter issued from 1932 to 1998 was designed by John Flanagan even though Fraser emerged winner of a competition that was organised by the Treasury to select a designer for this new quarter.
1942 Jefferson Nickel
Metal Composition
90% Silver – 10% Copper
Mass/Weight
6.25 grams
Diameter
24.3 mm
Mint Mark
"D" "S"
Edge
Reeded
Designer
John Flanagan
The Treasury Director at that time, Mellon, went ahead and chose Flanagan to design the coin instead. There were speculations of Mellon being a chauvinist going around, especially by some numismatists but this is difficult to accept as other coins had been designed by women and even Fraser had designed other coins before with approval from the accused Mellon. Some others were of the opinion that he didn't want to give a woman the chance to design such a significant coin.
The Mint mark of this coin can be found on the reverse, beneath the wreath surrounding the arrows the Eagle is standing on. It was struck in three different Mints and these mints have the same features, the only thing that differentiates them is the Mint mark. Philadelphia ( No Mint mark), Denver (D Mint mark), San Francisco ( S Mint mark)
The 1942 silver quarter is a Washington silver quarter. Like other coins, they are named after the pictures that are depicted. Below are some other silver quarters manufactured by the Mint.
Design
Obverse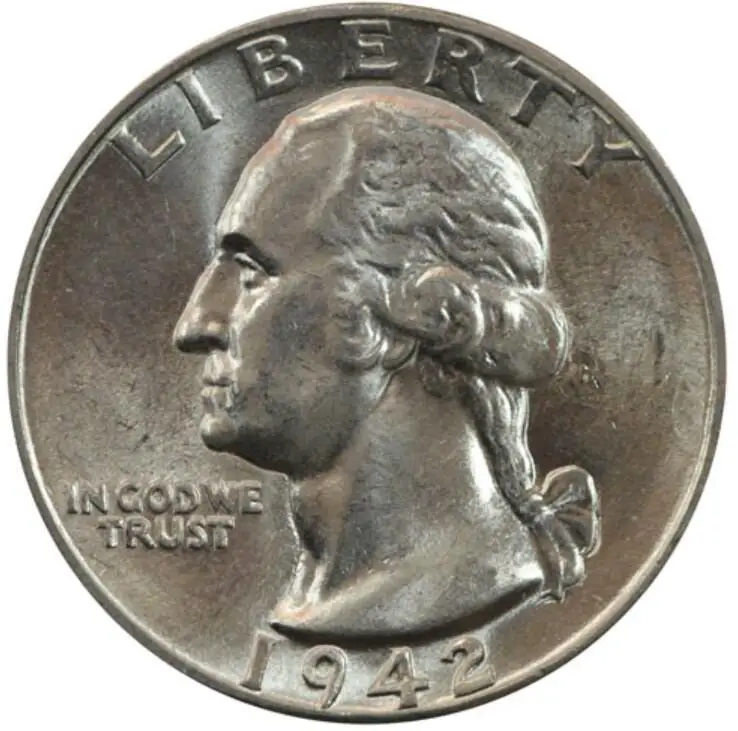 At the front of this coin, you will find a bust of George Washington. "Liberty" is inscribed above his head while 1942, which is the year of production, is inscribed below the bust.
On the left field of this face also is engraved " In God We Trust", it is a very simple design which makes it easy to strike.
Reverse
The reverse of the 1942 silver quarter dollar features the American bald eagle facing left while its wings are spread. Forming an arch from 3 o'Clock to 9 o'Clock just above the Eagles head is "United States of America"
Directly beneath this inscription, you will find another inscription " E. Pluribus Unum. The eagle is perched on an arrow and an olive branch is found beneath this Arrow. Finally, very close to the bottom Rim is the engraving "QUARTER DOLLAR".
Mints
In 1942, the American economy was booming, even though it was involved in World War Two. In response to the urgent need for new coinage, The United States Mint struck over 114 million Washington quarters that same year.
The Philadelphia mint issued 21,120 Proof mints in 1942, but later stopped the production of Proofs and instead concentrated on producing business- strike versions because the demand for it was growing but generally Philadelphia, San Francisco and Denver Mints were responsible for the production of the 1942 silver quarters.
Philadelphia Mint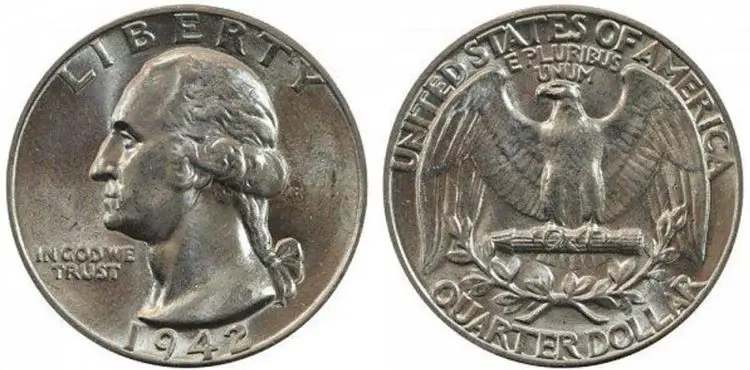 In 1942, the Philadelphia Mint with a mintage of 102,107,123 pieces struck the most silver quarters. It was also in this Mint that 21,120 Proof coins were struck. The easiest way to differentiate 1942 silver quarters that were struck in the Philadelphia Mint is the absence of mint marks on them. Since the proof coins were manufactured in Philadelphia, you will notice that they also do not have mint marks.
San Francisco Mint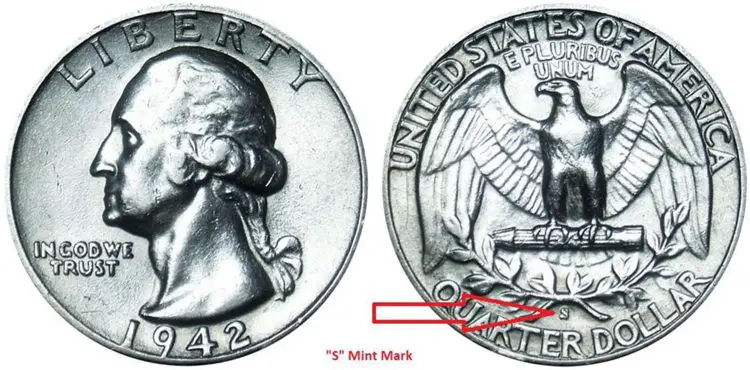 19,384,000 1942 S Washington quarters were struck in 1942. This was the second highest mintage of Washington silver quarters for that year. The only way you can identify coins that were struck here, is that they have "S" inscribed beneath the wreath on the reverse.
Denver Mint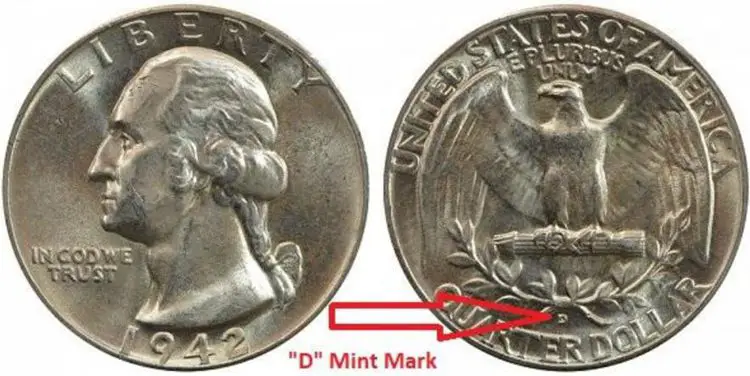 This Mint produced the least amount of silver quarters in the year 1942, it had a mintage of 17,48 7,200 pieces. Having exactly the same measurements and features on the obverse and reverse, the only way to recognize this issue is if you find letter "D" inscribed beneath the wreath on the reverse, The popular Doubled Die error coins were also produced in this mint.
1942 Quarter Error
The 1942 Washington quarter has a popular error, which is a Doubled Die Obverse. It is the Denver Mint that produced these error coins. There is no record of how many of these coins were manufactured. You can identify this coin by looking at the inscription of "Liberty" and "in God we trust" you will see a very strong doubling of these words.
These happen to be the most valuable variation of this coin. Collectors and Numismatists sure want a piece or more of these error coins.
The 1942 D Washington Quarter (Doubled Die Obverse) is 149 $dollars or more in average condition. It can go up to $2136 to $7,720 or more in its Uncirculated Ms+ mint condition.
Even a Good grade costs as much as $121. As of when this article was written, its melt value was $3.6097 point. This value is subject to change because the price of silver might fluctuate
Grading 1942 Silver Quarter
Uncirculated: This coin has been lightly handled and has an original mint luster that is still almost intact. There are only a few minor contact marks that can be seen with the naked eye. Overall, the coin has an extraordinary eye appeal that is hardly ever seen. A few minor hairlines can be found only with magnification.
Extremely Fine: An Extremely Fine coin is one that was in circulation for a short time, which means the coin is clean and free of wear. You'll be able to make out some minor imperfections under close inspection, but overall it will appear pristine.
Fine: A coin that is graded as being Fine will have been in circulation for a moderate period of time. During that time, the coin was subject to wear and tear. Light scratching is one type of imperfection you're likely to find, but the types of damage can vary dramatically from coin to coin.
Good: This grade is given to those coins that have been fairly heavily circulated and are in rough shape. The overall texture of the coin will have likely been worn down considerably, but the details of its imagery and inscriptions should still be visible.
1942 Quarter Value
When you set a price for the 1942 Washington Quarter or any other U.S. coin, you should look at its condition first. Good condition is an important consideration for collectors, so these coins will sell for higher prices than less-well preserved ones. Second of all, there are many different types of quarters produced annually, so the asking price depends on the specific type of coin.
The 1942 P Quarter stands for those that were manufactured in the Philadelphia Mint. As earlier stated, this variant was struck in a very generous amount of over 100 million pieces. In average condition, the 1942 P quarter is worth $5.42 or more
Its Uncirculated (Ms+) mint condition is between $7.55 to $40 dollars. You can expect to find Proof coins at approximately $149 dollars or more. These are much more valuable than regular coins. Its melt value is estimated at $3.613 or more, although this is largely determined by the price of silver.
1942 Quarter Value & Price Chart
The 1942 Washington Quarter is worth $5.26 in average condition and can be worth $7.39 to $40 or more in uncirculated (MS+) mint condition. Proof coins can be worth $149 or more.
The 1942 Washington quarter was the first to have a mintage of over 100,000,000 coins. Perhaps this dampened the enthusiasm of dealers and collectors of the era to save this coin as the 1942 is actually a bit of a sleeper in Gem condition.
Gem examples of this coin are scarcer than most other Washington quarter issues from this time period. When found, Gem examples can be fully lustrous and quite nice.
| | |
| --- | --- |
| Grade | Price |
| MS 62 | |
| MS 64 | |
| MS 66 | |
| MS 67 | |
| MS 67+ | |
1942 S Quarter Value & Price Chart
The San Francisco variant of this coin is estimated at $5.42 or more in average condition. Its Uncirculated (Ms+) mint is even worth more than that. You should expect it to be about $80 to $199 or more.
In the 1950s and 1960s, the 1942-S Washington quarter was considered the rarest issue of that decade. Today, this issue must be considered scarce only as many Gems exist, including a good number of Superb Gems.
| | |
| --- | --- |
| Grade | Price |
| MS 62 | |
| MS 64 | |
| MS 66 | |
| MS 67 | |
| MS 67+ | |
1942 D Quarter Value & Price Chart
This variant is worth $5.42 or more in average condition. It is estimated at $17 dollars to $46 or more. In Uncirculated, (Ms+) mint state Its About Uncirculated is estimated at $78 while its melt value is $3.6097. As earlier said, this is subject to change as it is affected by the value of silver per time.
The 1942-D is of similar rarity to the 1941-D and 1942-D. It's not rare in Gem condition. This issue, like most early 1940s Washington quarters from Philadelphia and Denver, can be found in full Gem condition with great frosty luster and beautiful surfaces.
| | |
| --- | --- |
| Grade | Price |
| MS 62 | |
| MS 64 | |
| MS 65 | |
| MS 67 | |
| MS 67+ | |
How Rare is the 1942 Silver Quarter?
In the 1950s and 1960s, the 1942 S was considered to be the rarest of all silver quarters manufactured in the 40s, but currently you can only say it is scarce in higher grades such as its Uncirculated mints
The 1942 P in as much as it had a mintage of over 100 million silver quarters,
Is not as common as you would think. The abundance of these coins at the time of production might have caused collectors to be relaxed about saving these coins. It becomes even scarcer in its gem condition.
The 1942 Denver coins are not rare but they can be considered scarce. They are also available in gem condition.
The 1942 quarter error is rare and it is scarce. PCGS is said to have a population of only 21 pieces of this variety. The rarity of these error coins is what contributes to the value. This is why it is sold for such a high amount compared to its counterparts.
Where To Sell 1944 Silver Quarters
Making google searches such as "coin dealers near me" would be a great start if you want to sell your coins. Consider the options below to help you.
Coin shops and dealers
The advantage of selling to this category of people is that there is a possibility of selling it faster. Only that you might need to reduce your price to give them space to add their own profits. Remember they are buying it from you to resell.
Auction houses
This is only an option for you if your piece is unique. Auction houses might only be interested in bidding if you have something really rare and special and that cannot be easily gotten anywhere else.
Online Marketplace
Check out Etsy, eBay, Amazon and other online stores. This method might be slow but definitely worth trying.
Metal buyers
If your coins are in really bad shape,have no eye appeal and are not desirable as collectibles, then consider selling to metal buyers. This is only applicable if your piece has gold or silver content, this method is also pretty fast.
Individual Collectors
Though it might be a slow process, you might be able to sell to an individual collector at a higher price than you would sell to a coin dealer or shops.
Summary
The 1942 silver quarter is a very collectible piece. The S variant of this quarter is the most valuable of the three.
The value and price of these coins have changed over the years as rarity and scarcity have also changed. Different issues have become more available at different points, for example, in the 1950s, it was so difficult to get the San Francisco issue that it was tagged the rarest 1940s silver quarter.
As much as the "S' variant is considered the most valued of the three, the error coins of the Denver issue are even more valuable than these. Make sure to look closely at your coins. If you might find any die breaks, clip errors or anything different, that might help you sell your coins at an even better rate.