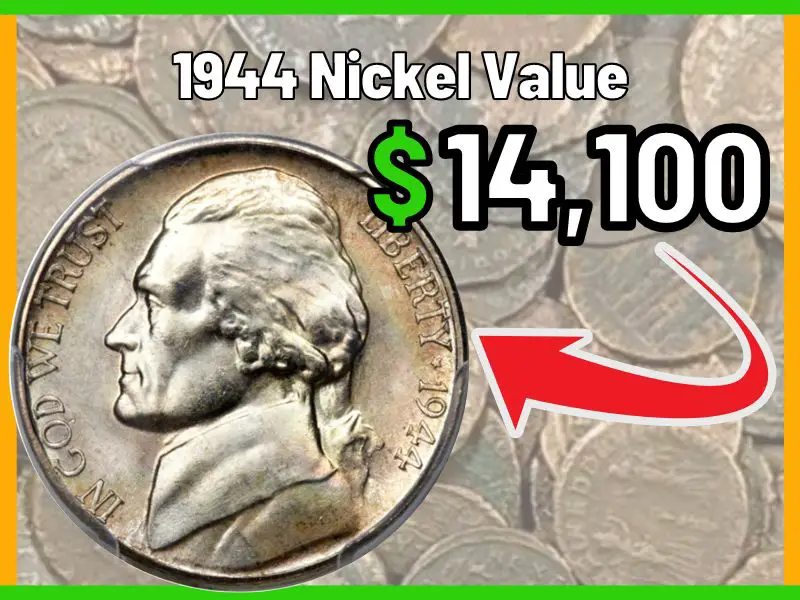 How much is a 1944 nickel worth? The 1944 Jefferson Nickel is worth $1.62 in average condition and can be worth $8.08 to $28 or more in uncirculated (MS+) mint condition.
The United States was in the middle of World War II in 1944. There were many coins being produced because of the flow of metals and metal shortages were common. The prices of materials, such as nickel increased, causing a slight change in the look of Nickels.
The 1944 nickel value is hard to find. The coin is not worth much and finding on the loose is even harder. But finding a collectable example can be easy with the right information. In this guide, you will learn how much a 1944 Nickel is worth, how to grade the Jefferson Nickel and more.
Most Valuable 1944 Jefferson Nickel
Most Valuable 1944 Jefferson Nickel is a 1944-S 5C MS68 Full Steps PCGS Sold on Oct 29, 2015 for: $14,100.00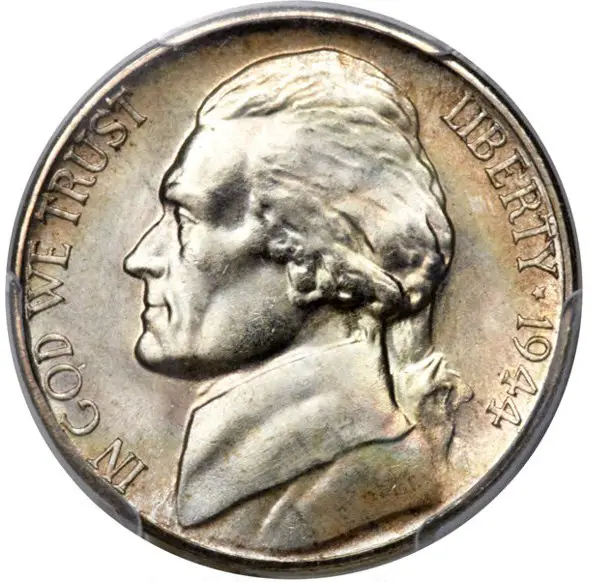 1944 Jefferson Nickel
The Jefferson nickel is the five-cent coin struck by the U.S. Mint since 1938, when it replaced the Buffalo nickel. From 1938 until 2004, the nickel-copper coin featured a front-facing portrait of Thomas Jefferson, the third U.S. President, by artist Felix Schlag.
The 1944 issue of the Jefferson Nickel had a different composition from other years due to the war during that period. The1944 has a composition of 56% Copper – 35% Silver – 9% Manganese.
History
When it first went into circulation in 1913, the Buffalo nickel was difficult to mint, and after its 25-year term during which it could be replaced only by Congress ended, the Mint moved quickly to replace it with a new design.
The Mint engaged in a design competition, in early 1938, for a quarter depicting Thomas Jefferson on the obverse and Monticello on the reverse. Schlag won the competition, but had to make changes to his reverse before the new piece went into production in October 1938.
1944 Jefferson Nickel
Location
Mintage
Philadelphia
119,150,000
Denver
32,309,000
San Francisco
21,640,000
Total
173,099,000
In 1942, the United States government declared that nickel would be a strategic war material. To avoid having to adjust vending machines and other coin-operated machines, nickels coined from 1942 to 1945 were struck in a copper-silver-manganese alloy.
The production of the Jefferson nickel began at all three mints (Philadelphia, Denver, and San Francisco) on October 3, 1938. By mid-November 12 million had been coined and they were released into circulation on November 15.
1944 Jefferson Nickel
Metal Composition
56% Copper – 35% Silver – 9% Manganese
Mass/Weight
5 grams
Diameter
21.2 mm
Mint Mark
"D" "S"
Edge
Plain
Designer
Felix Schlag
Early on, people hoarded the Jefferson nickel. It wasn't until 1940 that the nickel was commonly seen in circulation.
The 1944 Nickel was struck in Philadelphia, Denver and San Francisco mints. 119,150,000 coins were minted at the Philadelphia mint making it the highest to produce 1944 Nickels, the Denver mint struck over 30 million coins, while the San Francisco mint had just above 20 million coins minted.
Design
The Mint announced an open competition for a new design for the nickel, with a prize of $1,000 and production into circulation as the reward. The deadline for submissions was April 15; Mint Director Nellie Tayloe Ross and three sculptors were to judge them.
Jefferson's portrait was to be placed on the obverse, and Monticello, his house, on the reverse—the only president to have his home depicted on U.S. currency. Few entries were received by mid-March, but many artists planned to enter the contest and submitted their designs at the last minute.
In April 1959, 390 entries were submitted in a competition to design the new nickel coin. Four days later, Felix Schlag was announced as the winner.
Obverse
The obverse of the coin features Thomas Jefferson, who was the third President of the United States. The word LIBERTY is engraved on the far right of the obverse, just behind the head of Thomas Jefferson. It is followed by the year that the coin was issued, in this case, "1944". The details on the face of Jefferson, especially his jaw is absolutely outstanding. On the left side of the obverse of the coin, just below Thomas's face, is the motto of the United States: "In God We Trust."
Reverse
The back of the coin features a crisp depiction of Monticello, the home of former president Thomas Jefferson. The word "MONTICELLO" is written boldly underneath the building. Above the building are the words "E PLURIBUS UNUM," which translates to "Out of many, one."
The words "FIVE CENT" are engraved on the coin just below the word MONTICELLO, which denotes the face value of the coin. Finally, the words "UNITED STATES OF AMERICA" appear in capital letters beneath the FIVE CENTS, leaving this out would have made the reverse look somewhat empty.
Mints
Three mints struck the 1944 Jefferson Nickels and there were; Philadelphia, San Francisco and Denver, with Philadelphia having the highest number of struck coins. Now comes the big question, how do you identify which 1944 Nickel you have? The answer is pretty much easy: "the mint mark." After reading this section, you will know how to properly determine the Jefferson coin in your possession.
Philadelphia Mint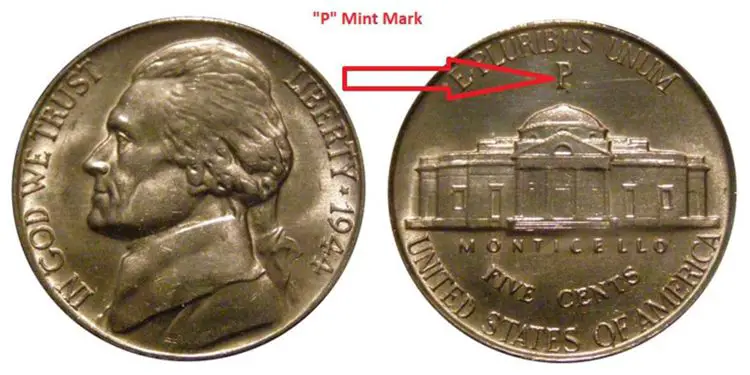 The Philadelphia mint produced 119,150,000 Jefferson Nickels bearing the 1944 date. If you check the reverse of the coin you should see a P mint mark which indicates that the coin was struck in the Philadelphia mint.
Most Jefferson nickels during the war time era had the P mint mark engraved on the obverse. The mint mark can be found just above the Monticello building.
Denver Mint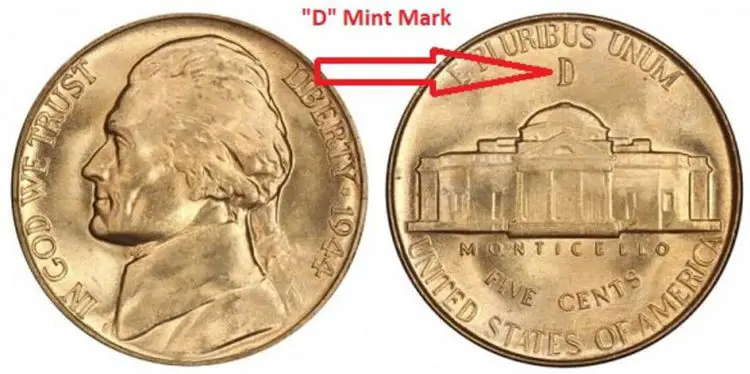 All Denver mint struck coins have a "D" mint mark that indicates that they were struck in the United States Denver mint. A total number of 32,309,000 coins carrying the 1944 date and D mint mark were struck in this mint. The value of this coin is a bit different from the Philadelphia mint due to the rarity of this coin especially in high grades.
San Francisco Mint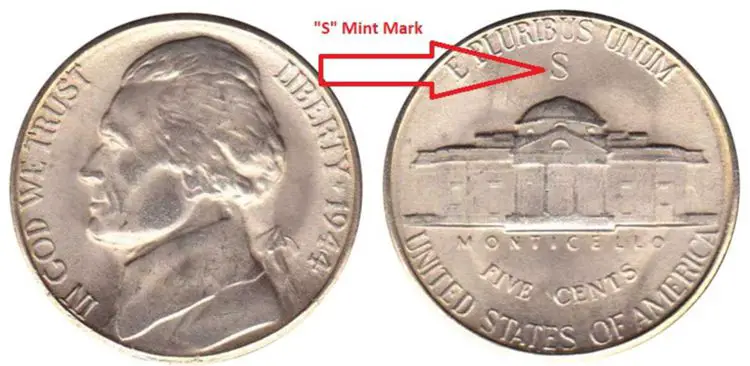 In U.S coin history, the San Francisco mint has always been known for producing a lesser number of coins compared to the Denver and Philadelphia mints. For the 1944 issue of the Jefferson Nickel, the San Francisco mint struck 21,640,000 coins. The "S" mint mark on the reverse of the coin is how we know that it was among the coins struck in San Francisco.
1944 Jefferson Nickel Value
The question you're probably asking yourself is what is the 1944 Jefferson Nickel worth? As we all know, value is always a relative term, especially in the world of coin collecting. The 1944 nickel coin is not especially valuable by itself, especially in low grades. However, the value increases if the condition is about uncirculated or uncirculated.
For a collector, a Jefferson Nickel must be in superb condition in order to be valuable. The most beautiful coins are not only worth the most, but they are also the most valuable.
| | | | | | | |
| --- | --- | --- | --- | --- | --- | --- |
| Year | G | VG | F | VF | EF | AU |
| 1944 | $1.34 | $1.63 | $1.92 | $2.49 | $3.02 | $3.51 |
| 1944 | $1.34 | $1.63 | $1.92 | $2.49 | $3.02 | $3.51 |
| 1944 | $1.34 | $1.63 | $1.92 | $2.49 | $3.02 | $3.51 |
To accurately determine the value of a 1944 Jefferson Nickel, you must first assess the condition of the coin. In 1944, three different types of this coin were produced, so determining what you might pay for one depends on identifying which type you have. Second, the condition of a coin is important to collectors. Coins that have been preserved and are in excellent condition often sell for much higher prices than similar coins in less-than-excellent condition.
Grading The Jefferson Nickel
The next step in collecting coins is judging their condition. Collectors want an affordable example to represent a date and mint combination. Grading is the process of inspecting the surface of the coin to detect wear if any, and the amount of original detail present.
Uncirculated: These coins have not been circulated and were only exchanged a few times. Because of this, their condition is excellent and they will appear to the eye as if they were just struck the very same day. Uncirculated coins are often the target of the serious coin collector. Pristine and glittering, they have never been used for any type of exchange and have not been handled.
Extremely Fine: A collectible grade Extremely Fine condition coin is crisp, clear, and has small details that are easily visible. Extremely fine Jefferson Nickels may also be sought after by coin collectors. These coins, however, may have very minor signs of use and damage; most are in "like new" condition. It is only on close inspection that you can see the coin's tiny imperfections.
Fine: While coins in this category may have been exchanged countless times over the years, they can still be identified by their appearance. The images and text on a coin remain fully intact, but they may have significant scratches and blemishes. These coins may have been a part of millions of transactions.
Good: Most Jefferson Nickels are considered to be in good condition. Due to heavy use over a period of many years, these coins will display significant scratches and other imperfections. That said, even in a poor state of preservation Jefferson Nickels are still worth at least face value. A worn-out coin that is still identifiable as a Jefferson Nickel will fetch $1 or less at most banks and coin shops.
1944 P Jefferson Nickel Value & Price Chart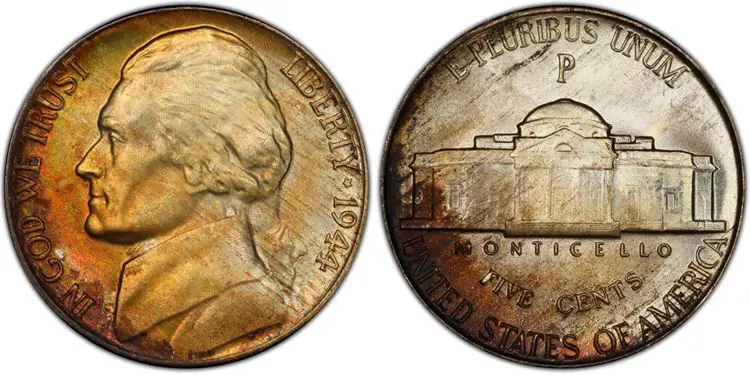 A 1944-P Jefferson Nickel in average condition is worth $1.62; in uncirculated (MS+) mint condition, it could be worth $8.08 to $28 or more.
The large mint mark on the reverse of War Nickels allows for easy identification of the coins. Since War Nickels contain some silver and carry a premium, and because the larger mint marks on the reverse make it easier to verify the authenticity of individual coins, collectors have already set most of them aside.
The 1944-P Nickel is very common in circulated grades, with the Mint striking over 119 million of them. In Mint State grades of 60 to 66, they are readily available and can be purchased for less than $25 each. However, in Mint State-70 condition they become scarce with only four dozen or so known that survive; there are no examples graded higher than MS68.
| | |
| --- | --- |
| Grade | Price Sold |
| MS 64 | |
| MS 65 | |
| MS 66 | |
| MS 67 | |
| MS 67+ | |
1944 D Jefferson Nickel Value & Price Chart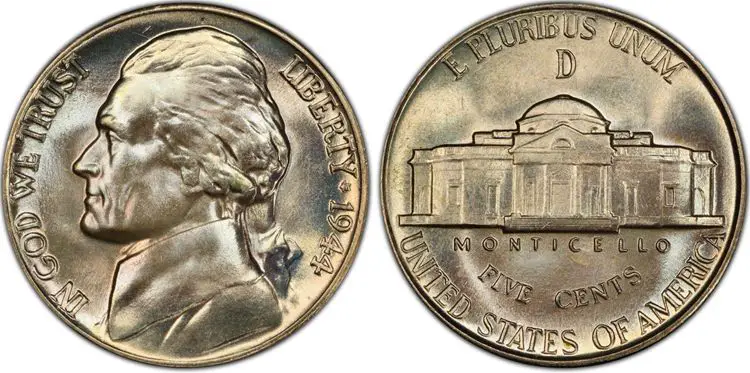 A 1944-D Jefferson Nickel in average condition is worth $1.62, while an uncirculated (MS+) mint condition coin can be worth $6.85 to $28 or more. The coin is pretty rare in all grades, however, MS 60-67 grades are almost impossible to find with only a few existing pieces.
| | |
| --- | --- |
| Grade | Price Sold |
| MS 64 | |
| MS 65 | |
| MS 66 | |
| MS 67 | |
| MS 67+ | |
1944 S Jefferson Nickel Value & Price Chart
The 1944-S Jefferson Nickel is worth $1.62 in average condition and can be worth $5.90 to $23 or more in uncirculated (MS+) mint condition.
This coin isn't quite rare in MS 65, 66, and 67 as a lot of coins have been sold in these grades. However, finding a 1944 S nickel in MS 68 and above is almost impossible, so far only 15 pieces have been graded MS 68 by PCGS.
| | |
| --- | --- |
| Grade | Price Sold |
| MS 65 | |
| MS 66 | |
| MS 67 | |
| MS 67+ | |
| MS 68 | |
How much silver is in a 1944 nickel?
35% of the composition of the 1944 Jefferson nickel contains silver. In total, the coin has 56% Copper – 35% Silver – 9% Manganese. During world war II nickel was needed for war operations and so the mints changed the composition from the previous 75% Copper – 25% Nickel. However, The change in composition did not affect the appearance or even the weight of the nickel.
Selling Your 1944 Nickel
If you have an old nickel, where can you sell it?
You can sell your coin at a local coin store, however, you should get it graded first. Your old coin can also be sold easily online. Here are some of the best places to sell your coins:
eBay – This is one of the most popular places to sell your coins. You can sell your coins for their melt value or for whatever price the market will bear (which is often much higher). You'll need to do some research on the condition of your coin and use keywords like "mint" or "uncirculated" in your listing title so that buyers know what they're getting.
Auctions typically close after 14 days and if there's no buyer interest by then, eBay will send you an email asking if you want to relist it with a lower starting price. If you've had a successful auction experience before and have good feedback ratings from buyers, you may want to consider selling at auction rather than through fixed-price listings because this gives you more flexibility when setting prices for each item.
Local Store – If you have a rare coin, you may want to consider selling it locally instead of online or through an auction site. The best way to do this is by visiting a local pawn shop or coin shop in your area with the intent of selling your coins there. This will make sure that you get the best price possible for your coins and that they are not stolen during transport or sold on the black market by an unscrupulous dealer.
How can you tell a war nickel?
If you have a nickel with a large mint mark (P, D, or S) on the reverse above Monticello's dome, it's a "war nickel." Traditionally, the Philadelphia Mint never used a mintmark. Another method of telling a war nickel is by looking at the date on the obverse, war Jefferson nickels were minted from 1942-1945. Although a 1942 non-war nickel exists, you can still tell the difference by looking at the large mint mark on the reverse.
Final Words
All in all, the 1944 nickel is a coin worth a bit more than $1, but not a ton. The key to a valuable coin is condition since there are many out there that have been damaged over the years. Uncirculated pieces are of course worth the most with coins that are still shiny and well preserved being worth more than those that are worn out or discolored.