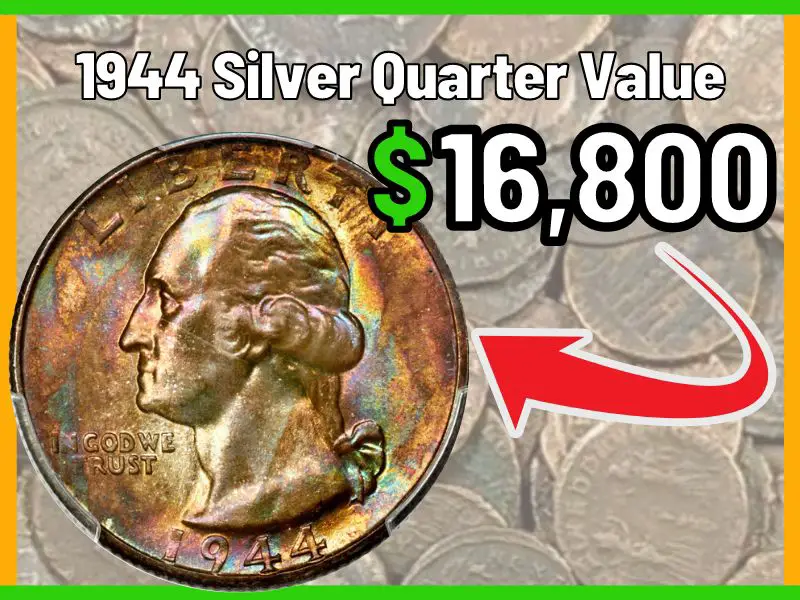 A 1944 Washington quarter in average condition is valued at $5.06 and can be worth $7.19 to $40 or more in uncirculated (MS+) mint condition.
There are several factors that could affect the value and consequently the price of the 1944 silver quarter. The condition, grade, rarity plus other factors can influence the value of your coin.
The 1944 Washington silver quarters are good quality coins even today because they were well-struck. Owing to the design that does not have too many small details and intricacies, it was easy to strike properly so you can still find a good number of coins with details on them.
Most Valuable 1944 Washington Quarter
Most Valubale 1944 Washington Quarter is 1944 25C MS68 PCGS Sold on Aug 24, 2022 for: $16,800.00
The 1944 Washington Quarter
The 1944 Washington silver quarter is a 25-cent piece with a mass of 5.67 grams and a diameter of 24.3mm, and its edges are reeded. The 1944 silver quarters as the name implies contain silver but not 100% silver as It was made of 90% silver and 10% percent copper.
Since it is a silver coin, apart from them being collectible for their eye appeal they are also wanted for silver content.
History
A silver quarter also currently called the Washington quarter is a 25- cent piece issued by the United States Mint. It was first struck in 1932 and was designed by John Flanagan. The 1944 Silver quarter is a Washington quarter, prior to 1932, the silver quarter was a standing Liberty, its name was derived as usual from the depiction of Liberty on the coin.
Even though the George Washington Bicentennial celebration would occur in 1932, Congress formed the Bicentennial Commission on December 2, 1924, which gave the team a whole 8 years to plan for the event. It was the commemoration of the first president of the United States of America, so it was definitely a big deal that needed enough time for appropriate planning.
1944 Washington Quarter
Location
Mintage
Philadelphia
104,956,000
Denver
14,600,800
San Francisco
12,560,000
Total
132,116,800
As part of the celebration, the committee wanted a Washington half dollar but instead, after much consideration, Congress decided to replace the standing Liberty with a Washington Quarter, so the face of George Washington was depicted on the new quarter.
Laura Gardin Fraser was initially supposed to design the new quarter since she won the competition that was organised by the Treasury but finally, Treasury Secretary Andrew W. Mellon chose John Flanagan's design for the quarter and this decision was not disputed. Mellon was accused of discriminating against Fraser because she was a woman.
Numismatic historian Weller Breen believed his male chauvinism was the reason why he did not accept her design for the new quarter even after she emerged winner of the competition. This accusation does not hold water as Mellon had accepted designs from Fraser and other women for other coins.
1944 Washington Quarter
Metal Composition
90% Silver – 10% Copper
Mass/Weight
6.25 grams
Diameter
24.3 mm
Mint Mark
"D" "S"
Edge
Reeded
Designer
John Flanagan
After its entry into circulation on August 1, 1932, the Mint continued to strike these coins in silver, it was in 1965 that the composition of the Washington coin was changed to copper-nickel clad, therefore the 1944 Washington quarter was among those struck with silver.
By 1965 the silver content was taken out and was made as a copper-nickel clad. The Washington quarter is still minted till present, although its silver content has been taken out and the new composition is what is used. In 1975 and 1976 its reverse was used for the commemoration of the United States Bicentennial.
These special pieces bore double dates from 1776 to 1976, since 1999, the original Eagle reverse has not been struck. The back has been used instead to commemorate the 50 states and other American historic and natural sites
Design
The design of the 1944 Washington quarter is by John Flanagan, the obverse bears a really simple design of George Washington while the reverse depicts the American bald Eagle and has more details on it.
Obverse
The 1944 silver quarter depicts a bust of George Washington facing left. On the left-hand side of the coin is inscribed "IN GOD WE TRUST" Beneath the bust of Washington is inscribed the year of production "1944" and above his head is "Liberty"
Reverse
The reverse of the coin is a little more dramatic as it has more elements and intricate designs. At the top periphery is inscribed "united states of America" An eagle spreading its wings, standing on what looks like a big branch. An olive branch forms an arch just below this. At the bottom of this quarter is an inscription of "Quarter dollar", above the eagle's head is "E PLURIBUS UNUM"
Mints
The 1944 silver quarters were struck in three different mints, namely Philadelphia, Denver, and San Francisco Mints. For this year, Philadelphia produced the highest number of quarters while San Francisco produced the least, no Proofs were struck in any of the Mints.
Philadelphia Mint
The Philadelphia Mint struck 104,956,000 pieces of this silver quarter in 1944. This Mint produced the highest number of 1944 Washington silver quarters. There is no mint mark on these pieces, so whenever you see a 1944 silver quarter without mint marks you should know that you are most likely looking at a coin struck in the Philadelphia Mint
Denver Mint
The Denver mint produced 14,600,800 of these silver quarters in 1944. To identify a quarter struck in this Mint, you should check on the reverse, if you find a "D" above the R in "QUARTER" then it was struck in the Denver Mint
San Francisco Mint
12,560,000 pieces of 1944 silver quarters were minted in the San Francisco Mint in 1944. Having a diameter of 24.3mm and weighing 6.25 grams and just like the other S quarters are silver, you can only differentiate those struck in San Francisco Mint by checking the reverse. For this variety, you will find the letter "S" inscribed above "quarter" on the back.
Grading The 1944 Silver Quarter
Sending your coins off to a Professional Coin Grading Company can be expensive and time-consuming. So we have included these details below to help you ascertain what the grade of your coins might be so that you can determine the value and how much you would like to sell them.
Grading your silver quarters will help you determine their value, in order to grade your Washington quarters, one of the easiest ways to do this is to observe the highest points on the coin.
The following are four major grades that you can find:
Good
Good grade Washington silver quarters have been very well circulated and have spent a lot of time in the open market with a lot of exchange of hands. There is heavy wear and smoothness on these coins. All fine details are mostly gone and only Outlines will be remaining.
For this grade of the Washington quarter, you will find that the date is still visible even if it is beginning to merge with the rims. Generally, you will notice fading of letters on the surface of the coin.
Most feather details are all gone, and the head, breast, and legs of the eagle are all flat and worn. The lettering has also started fading and touching the rims. Overall there is serious wear and no lustre left on this coin
Fine
Fine Grade coins have been circulated for a long time. You will notice some wear, smoothing, and flattening due to the exchange of hands but generally, it has not been heavily damaged. The quality and definition of the inscriptions and imagery have reduced visibly.
There is no mint luster remaining, the majority of the hair strands on Washington's head have merged, there is no more line separating the forehead, and the flatness of his cheek is now very visible.
On the reverse, you will find that details of the center feathers of the eagle are still visible but the outer edges of the wings of the eagle are worn. Details of the breast and leg feathers are also now worn out.
Extremely Fine
Extremely fine coins have only been spent a very short period of time in the open. They have only been in circulation for a brief amount of time. They have only minor blemishes on them since they have been well preserved.
Little or no more luster is remaining on this coin, you will find smoothness around the curls behind the ear. There is flatness on the hair along the line of the forehead, wear is also visible on the cheek just below the eye.
Uncirculated
These are coins that have never been in circulation and are usually highly appreciated and valued because all fine details and luster are still available.
There is no wear present on any surface of this coin. This is what most collectors are looking for to add to their collection. Mint luster is still present and the coin is very lustrous. Even under rotating light, you will not find any broken points in the luster, the high points which are the hair on Washington's head, the curls around the ear, and his cheek will also not have any dulling present.
On the reverse, on the eagle's legs, breast, and top of wings, you will see that there is no wear and that mint luster is still present.
| | | | | | | |
| --- | --- | --- | --- | --- | --- | --- |
| Year | G | VG | F | VF | XF | AU |
| 1944 | $5.04 | $5.04 | $5.04 | $5.04 | $5.66 | $6.22 |
| 1944 D | $5.04 | $5.04 | $5.04 | $5.04 | $6.22 | $8.40 |
| 1944 S | $5.04 | $5.04 | $5.04 | $5.04 | $6.22 | $8.40 |
1944 P Silver Quarter Value & Price Chart
The 1944 Washington quarter is worth $5.04 in average condition and can be worth $7.17 to $40 or more in uncirculated (MS+) mint condition. The 1944-S Washington quarter is the highest mintage pre-1962 Washington quarter. It is not the most common issue in Gem Mint State 65 or better. That honor falls to the 1946-S, 1947-S, and 1958, the three coins that because of their low mintages were heavily hoarded by collectors.
| | |
| --- | --- |
| Grade | Price |
| MS 64 | |
| MS 65 | |
| MS 66 | |
| MS 67 | |
| MS 67+ | |
| MS 68 | |
1944 D Silver Quarter Value & Price Chart
In average condition, the 1944-D Washington Quarter is worth $5.05. In uncirculated (MS+) mint condition, it can be worth $17 to $46 or more. The 1944-D is the least rare of the three 1944 issues in Gem condition, but all three are still fairly common. Many 1944-D quarters have great luster and are well-struck.
| | |
| --- | --- |
| Grade | Price |
| MS 64 | |
| MS 65 | |
| MS 66 | |
| MS 67 | |
| MS 67+ | |
| MS 68 | |
1944 S Silver Quarter Value & Price Chart
If your 1944-S Washington Quarter is in average condition, its estimated value is $5.04. If it's in uncirculated (MS+) mint condition, it could be worth as much as $13 to $40. The 1944-S is fairly easy to locate in Gem condition. There are many fully lustrous, well-struck coins that have survived in great numbers.
| | |
| --- | --- |
| Grade | Price |
| MS 64 | |
| MS 65 | |
| MS 66 | |
| MS 67 | |
| MS 67+ | |
| MS 68 | |
How Rare is a 1944 Quarter?
The Denver issue is the rarest 1944 Washington silver quarter to find. Finding it in gem condition is even scarcer.
Followed by the 1944 S Washington silver quarter that is those that were produced in San Francisco. Finding it in gem condition is also not so easy, but it is easier to find than the Denver issue.
The Philadelphia mint had the highest number of Washington quarters struck in 1944 and they are the most common to find today.
1944 actually has the highest mintage of Washington quarters before 1962. In gem condition, It is relatively harder to find but not as much as the other issues.
Where To Sell 1944 Silver Quarters
Selling these coins shouldn't be difficult as there are several ways you can get this done. Below are a few ways you can sell them;
Coin shops
Approach coin shops and dealers if you want to sell coins. The good part about selling to coin shops is that it is relatively easy and faster. The only problem is you would most likely sell it cheaper than you would have sold it to an individual collector. The shops need to buy it at a good price from you so that they can still add their own profits, if you are selling to coin stores, you should keep this in mind.
Auction houses
Another place is auction houses are great if your coins are pristine, valuable, or have something unique about them. It is a really great place to sell since the competition from multiple bidders will most likely drive up the price of the pieces. You should also remember that the Auction houses will also take their cut of the final sale price.
Online Marketplace
Sites like eBay, Amazon, and Etsy are good online markets for your pieces. When setting prices remember that the sites will charge a fee. Using sites that you have to pay to set up your shop will make the entire sale process more expensive. Sites that charge a fee after sale has been made might be more favorable.
Metal buyers
If your coins are in really bad shape, have no eye appeal and are not desirable as collectibles, then consider selling them to metal buyers. This is only applicable if your piece has gold or silver content, this method is also pretty fast.
Collectors
Individual collectors are one of the ways you can sell your pieces of 1944 silver quarters. It can be incredibly difficult to find a collector to purchase your coins but it is usually one of the most profitable ways to sell them. If you are not in a hurry you should consider selling to collectors and numismatists.
Summary
Generally the 1944 Washington quarters are still available and very collectible coins. Collectors and numismatists will mostly prefer to have them in high-quality grades such as Ms 65 and above. They're relatively scarcer in higher grades, with high eye appeal, lustrous, much more valuable, and of course, come at a higher price.
If you think you might have a peculiar coin such as error coins, you should consider taking it to auction houses. These coins have sold at incredible figures even up to thousands of dollars. If you would like to buy the 1944 silver quarters, the price guide in this article will assist you.
The reason you want to buy it should also help you make a decision on the grade you should go for and what amount of money to spend on it, for example, there might be no need to buy any high-quality coin that is very expensive if you only need it for its silver content. No Proof mints were struck for the 1944 silver quarters, those would have been another grade to go for if you are searching for pristine coins with extraordinary eye appeal.