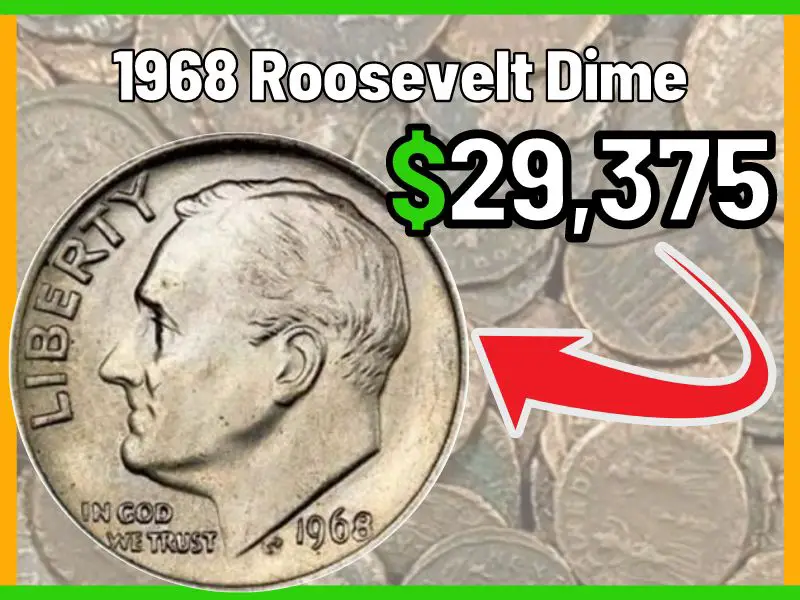 The estimated value of a 1968 Roosevelt dime in mint condition is $2.28 or more. In circulated condition, the coin is worth between $0.15 and $0.35. However, on the open market, pristine, uncirculated Roosevelt dimes sell for as much as $400.
When grading coins, the Sheldon Grading Scale is used to determine the quality of a coin. The scale ranges from 1 to 70. The higher the number, the higher the quality, and reputation of the dealer who authenticated it.
All potential buyers should consider two things when attempting to purchase Roosevelt Dime Value. Know the difference between circulated coins and uncirculated coins. Be aware of Roosevelt Dime Value before you buy one! This guide is going to help you identify the type of 1968 Roosevelt Dime in your possession, grade it yourself, and will also help narrow down the value of your coin.
1968 Roosevelt Dime
The Roosevelt dime is a current United States ten-cent piece. Struck by the United States Mint in 1946. It displays President Franklin D. Roosevelt's profile on the obverse and was authorized soon after his death in 1945.
The Roosevelt dime, introduced in 1946, remains one of the most common U.S. coins to this day. In 1965 the Mint began striking it in a less costly metal, and the coin's design has remained the same since its original release by John Sinnock in 1946.
History
The Roosevelt dime was minted for the first time on January 19, 1946, at the Philadelphia Mint. It was released into circulation on January 30, coinciding with President Franklin Delano Roosevelt's 64th birthday. Its planned release date had been February 5; it was moved up to coincide with the anniversary.
1968 Roosevelt Dime
Location
Minted
Philadelphia
424,470,000
Denver
480,748,280
San Francisco
3,041,506
Total
908,259,786
The first chief engraver to be credited with designing a new circulating U.S. coin since those designed by Charles E. Barber was George T. Sinnock, who designed the Roosevelt dime in 1946.
The release of the new coins caused a stir, and demand for the coins remained high, although many Republicans were outraged.
The new dime was reported to have been rejected by some vending machines, but no changes were made to the coin. The design of the dime has remained constant for over seventy years; the only significant alteration being a minor change to Roosevelt's hair and the shifting of the mint mark from reverse to obverse in the 1960s.
1968 Roosevelt Dime
Metal Composition
91.67% Copper – 8.33% Nickel
Mass/Weight
2.27 grams
Diameter
17.9 mm
Mint Mark
"D" "S"
Edge
Reeded
Designer
John R Sinnock
In 1965, the Mint transitioned to striking clad coins due to the coinage act of 1965, which made a sandwich of copper-nickel around a core of pure copper. Coins dated from 1965 to 1967 do not have mint marks, as the Mint made efforts to discourage the hoarding that it blamed for the coin shortages that had preceded the 1965 act.
The 1968 Roosevelt Dime was struck in three United States mints; Philadelphia, Denver, and San Francisco, with the Denver mint striking over 480 million coins in the year, followed by the Philadelphia mint. Proof only coins were struck in the San Francisco mint with over 3 million coins struck in the mint.
Design
The obverse design was by Chief Engraver John R. Sinnock, who had been in his position since 1925. Assistant Engraver Gilroy Roberts did much of the work in preparing the new coin, which went into circulation in 1964.
Sinnock initially submitted models that featured a bust of Roosevelt on the obverse and, on the reverse, a hand grasping a torch and also clutching sprigs of olive and oak. He prepared several other sketches for the reverse. His initial design was rejected but he came up with another which was accepted and approved for production.
Obverse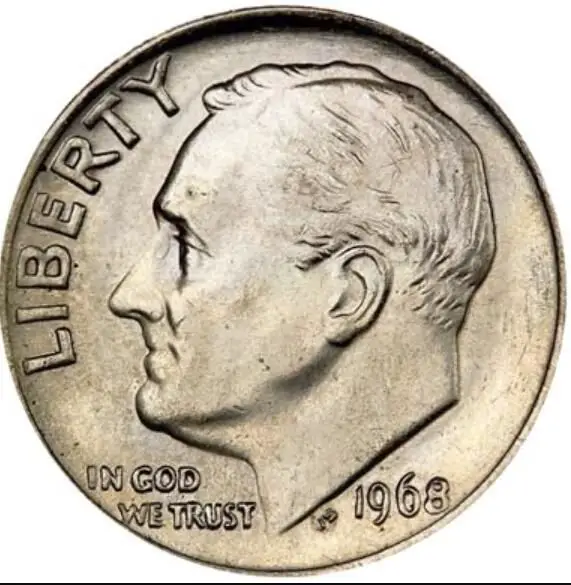 The obverse of the Roosevelt Dime features a portrait of former President Roosevelt facing left. Right in front of his face is the word "LIBERTY", "IN GOD WE TRUST" is located just below his chin. The date of the coin is also featured on the obverse in this case "1968" Sinnock's initials, JS, are found on the truncation of the bust to the left of the date.
Reverse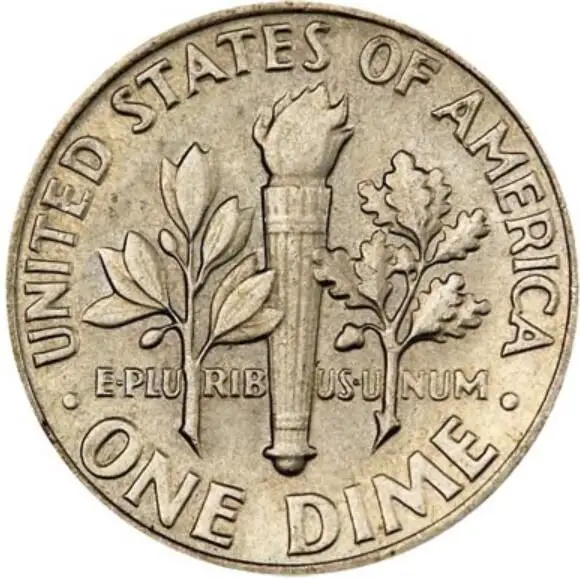 The reverse of the 1968 Roosevelt Dime features a torch, an olive branch, and an oak branch. The torch signifies liberty, the olive branch represents peace, and the oak branch symbolizes strength and independence. The inscription E PLURIBUS UNUM (out of many, one) is embossed across the field. The name of the country "UNITED STATES OF AMERICA" and the value of the coin "ONE DIME" are the legends that surround a design symbolic of the victorious end of World War II.
Mints
Before you go ahead to evaluate your 1968 Roosevelt Dime, you must first determine the coin in your possession. I have seen many people who do not know that there's a difference between a 1968 D, 1968 P and 1968 S dime.
In the year 1968, the dime was minted across three locations, Philadelphia, Denver and San Francisco. This section should help you properly identify the coin in your possession without having to ask an expert one or one.
Philadelphia Mint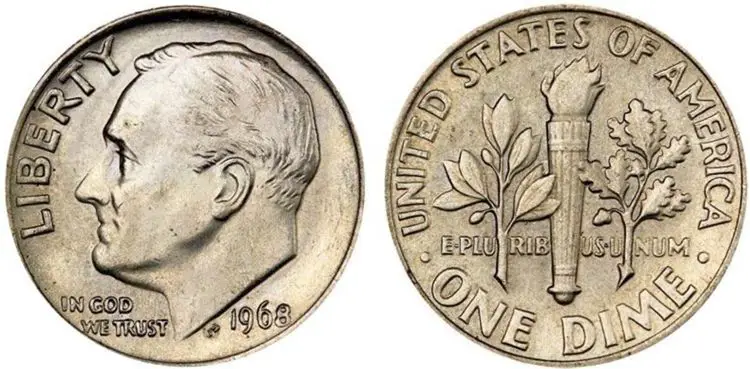 The Philadelphia mint didn't add a mint mark to the 1968 issue of the Roosevelt Dime. You would normally find the mint mark of this coin on the obverse just above the date. If your coin bears the 1968 date but doesn't have a mint mark, it means the coin was struck amongst the many coins in the Philadelphia mint.
424,470,000 coins were struck bearing the 1968 date and with no mint mark, this means a lot of these coins are still in circulation, although they may be worn and in terrible condition depending on the level of use.
Denver Mint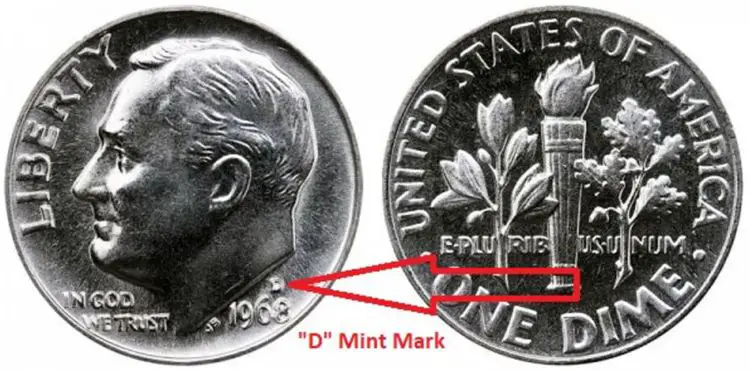 The Denver mint produced the highest number of Roosevelt Dimes bearing the 1968 date. 480,748,280 coins were struck in the Denver mint. The "D" mint mark located at the obverse is unique to only coins struck in Denver Mint. The mark is located just above the year of the coin. The 1968 D might be common in lower grades, however, it becomes rare in higher grades.
San Francisco Mint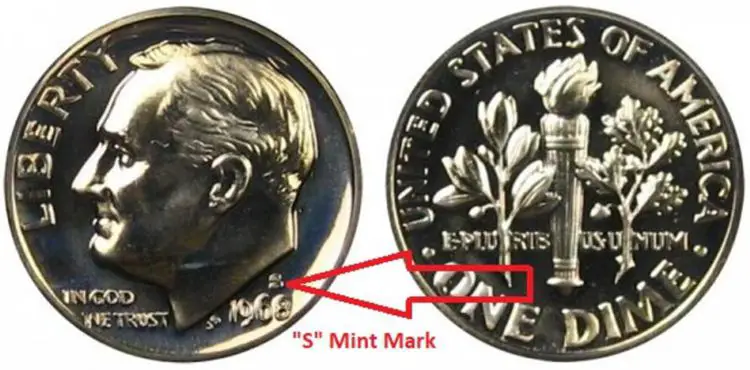 In 1968, the San Francisco mint struck proof only coins that weren't intended for public circulation. Proof coins are the most beautifully crafted commemorative coins, with sharp detail and a flawless finish. They are made using the highest quality dies, which are carefully hand-finished to ensure that all imperfections in the metalwork are removed.
If your 1968 Roosevelt Dime has an "S" mint mark on the obverse, that means it was struck in the San Francisco mint and it is a proof coin.
How To Grade The Roosevelt Dime
To determine the value of a coin, you need to examine it closely. Grading Roosevelt dimes involves evaluating the condition of specific areas on the coin. The amount of remaining detail will determine which grade is assigned to the coin.
Uncirculated: First, consider the sought after "Uncirculated" Mint State condition. What separates it from other coins is that it hasn't been used or circulated. It has the original mint luster—the shine of a new coin. Rotate the coin while holding it under a light, and the luster will move across all parts of the coin—the high points and flat areas alike. Fine lines of the hair must be visible without losing its luster.
Extremely Fine: As a coin begins to show signs of wear, it is considered Extremely Fine. Although wear is visible, it is not distracting and does not overwhelm the appearance of the coin. In this grade, Hair strands are distinct, only slight flatness to the fine lines is noticeable. The olive and the oak leaves are starting to show spots that are flat.
Fine: Grading a Roosevelt dime in fine condition can be tricky. The amount of wear the coin has experienced is evident on this coin, but it still presents itself as nice and well detailed. The hair shows areas of merged lines, but there is ample detail visible. Flame to the torch is missing all central detail, Olive leaves have lost their contour and roundness.
Good: A Roosevelt dime in the good grade has lost most of its fine detail. Overall, it is recognizable by its facial contours, wide areas of flatness in the hair, faint lettering and low rims. Roosevelt's ear has worn smooth, with little inner ear detail left exposed. The lettering is faint but remains. Often the rim and tops of the letters are now faint, merging with the field.
1968 Roosevelt Dime Value
The price a person will pay for a particular Roosevelt dime depends on several factors, including the coin's condition and who is selling it. These coins are affordable for collectors at all levels because so many remain in circulation.
On the open market today, you can expect to find Roosevelt Dimes for a range of prices: as little as $1 and as much as $4 in absolutely pristine condition; some other editions of the coin sell for even higher prices in excellent condition. Most often, however, you will come across editions from $1-4.
Although a dime may not seem overly expensive, when you consider that the face value of the coin is ten cents, $3 is quite an increase.
| | | | | | |
| --- | --- | --- | --- | --- | --- |
| Year | Good | Very Fine | Extremely Fine | AU 50 | AU 58 |
| 1968 P | $0.15 | $0.15 | $0.15 | $0.15 | $0.25 |
| 1968 D | $0.15 | $0.15 | $0.15 | $0.15 | $0.25 |
A universal truth among coin collectors is that they prefer Uncirculated Roosevelt Dimes. These coins are given the highest grade possible and usually sell for a great deal more than circulated coins of the same year.
The coins that were almost immediately put under lock and key after minting are so desired because of their appearance. They take on the look of a coin that was minted recently, but have a much higher value than coins that are in circulation today.
1968 Dime Value & Price Chart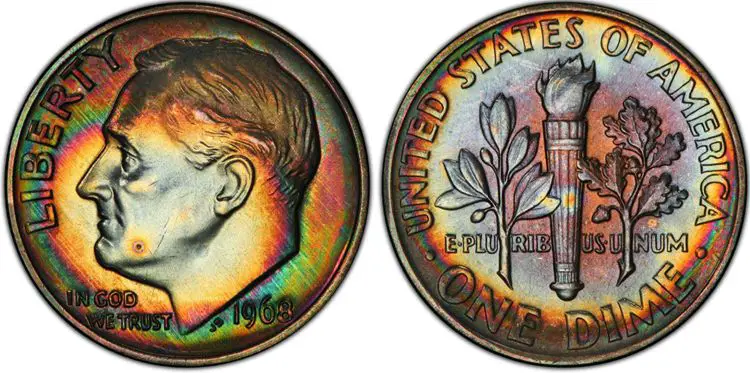 A 1968 Roosevelt dime in uncirculated (MS+) condition is worth $2.28. The value of the dime in circulated condition is between $0.15 and $0.35, but on the open market, 1968 Dimes in pristine, uncirculated condition can sell for as much as $400.
The 1968-P Roosevelt Dime is common in circulated grades up to about MS65 grade. In MS66 it becomes somewhat scarce and is inexpensive for collectors. It is very tough to find in Mint State 67 condition and higher, especially displaying full band characteristics. It appears to be an underrated issue in Mint State 67 condition and higher.
1968 D Dime Value & Price Chart
The estimated value of a 1968-D Roosevelt Dime in uncirculated (MS+) mint condition is $2.28 or more. The 1968-D Roosevelt Dime is very common in grades up to about MS66. It becomes much scarcer in MS67, especially if it has the Full Band characteristics on the reverse design. In the coin collecting world, coins grading above MS67 Full Bands are very rare, and less than a few dozen examples are known.
| | |
| --- | --- |
| Grade | Price |
| MS 65 | |
| MS 66 | |
| MS 67 | |
| MS 68 | |
1968 No S (Proof) Dime Value & Price
This is the only United States coin that was accidentally struck without an S mint mark. As of 2009, a few dozen of the coins are known to exist in all grades combined. The small number of existing coins makes it likely that the San Francisco Mint caught this mistake early in the production process.
There aren't any Mint records for those coins, so their origins are a complete mystery. The 1968 No S Dime is not often sold at auction. The prices realized by these coins when they are sold indicate that the coin has surfaced in a public auction only 19 times in the past 12 years. This means that collectors seeking to buy this coin will have to compete for the one or two coins that appear at auction each year.
| | |
| --- | --- |
| Grade | Price |
| PR 66 | |
| PR 67 | |
| MS 68 | |
| MS 68+ | |
What is a 1968 No S dime?
The 1968 No S dime was the first Proof "S-less" variety to come to light in numismatics. The Philadelphia Mint discontinued striking annual proof sets in 1964 but resumed them in 1968 when they were first struck at the San Francisco Mint.
Is there Silver in a 1968 dime?
The San Francisco mint didn't produce Silver 1968 dimes, however, some error coins exist, a perfect example would be the 1968 dime struck on a silver planchet. We found one that was sold on HA.COM. A 1968 D Roosevelt dime struck on a silver planchet.
Where To Buy And Sell
Looking for where to sell your 1968 Roosevelt dime, here are some of the best ways to sell your Roosevelt for good value.
eBay – eBay is one of the most popular places to sell coins and has been around for a long time. There are plenty of buyers on eBay who are looking for rare coins, so it's worth checking out if you want to see what your 1968 Roosevelt dime is worth.
Amazon – Amazon has a lot of different products listed, but it's also home to many rare coins. You can list your coin in the rare coins section on Amazon or simply list it under general items and hope that someone will buy it from there. You'll have to wait a few days until you find out whether anyone bought your coin or not, but this can be an easy way to get rid of it if you don't mind waiting around a little bit longer than usual.
Coin shop – Coin shops can be found in most major cities as well as small towns across the country. They are a great place to meet other collectors and learn about coins. Many shops have websites where they sell their inventory online. You can also find them listed on eBay or other online auction sites.
Conclusion
If you've never done any coin collecting, it's a hobby that's filled with variety and interest. And unlike stamp collections, new coin designs arrive every year—pulling in droves of new collectors. While there are many rare collectible coins you could add to your collection, one of the most popular types is the Roosevelt dime. You can find these at most banks, but they are still worth their value! While the 1968 Roosevelt might not be the most priced coin, it is still worth adding to your collection of beautiful U.S coins.