The 1969 Washington quarter is worth $11 or more in uncirculated (MS+) mint condition. In average conditions, this coin won't be worth much. You could sell yours for about 25 cents or more.
Are you an avid coin collector? Do you have a special coin in your collection? Coin collecting is an activity that many people have tried over the years. But, not everyone knows how to get started or what they should be looking for when they begin this activity. If you are curious about coin collecting, keep reading to find out more about how to start it.
So, you've got a 1969 Washington quarter. You're wondering what they're worth in today's market! A quarter from over 50 years ago sounds like a worthless coin, but hold on to your horses.
How much is a 1969 quarter worth? We will be answering this question in the course of this article, keep reading to know more.
Most Valuable 1969 Washington Quarter
Most Valuable 1969 Washington Quarter is 1969-D 25C MS68 PCGS Sold on Nov 1, 2013 for: $3,818.75
1969 Washington Quarter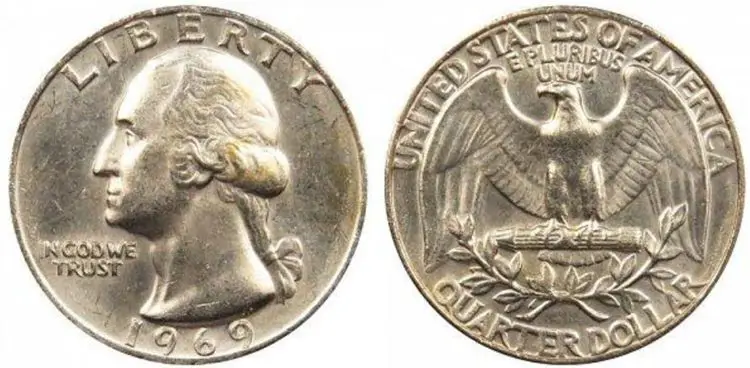 The quarter is a U.S. coin worth 25 cents, or one-quarter of a dollar. It has the profile of George Washington on its obverse, and its design frequently changed after 1998. It has been produced since 1796 and consistently since 1831.
The coin was first struck in 1932; its original design was by sculptor John Flanagan. The coin was struck in three locations in the United States. Philadelphia, Denver, and San Francisco mint.
History
In 1932, as the United States prepared to celebrate the bicentennial of the birth of its first president, George Washington, members of a committee established by Congress sought a Washington half dollar.
Instead of displacing the Walking Liberty half dollar for only one year, Congress permanently replaced the Standing Liberty quarter, requiring a depiction of Washington appears on the obverse of the new coin.
1969 Washington Quarter
Location
Minted
Philadelphia
176,212,000
Denver
114,372,000
San Francisco
2,934,631
Total
293,518,631
The Mint began striking new quarters in silver on August 1, 1932. The silver coins continued to be minted until the Mint shifted to copper-nickel clad coinage in 1965.
The original Washington quarter design, which appeared from 1932 to 1998, depicted a head of George Washington facing left, with 'In God We Trust' above the head, the date below, and 'Liberty' in the left field. It was first made of 6.25 grams of 90% silver but switched to a base-metal composition of cupronickel (75% copper, 25% nickel) clad in a pure copper core.
1957 Washington Quarter
Metal Composition
90% Silver – 10% Copper
Mass/Weight
6.25 grams
Diameter
24.3 mm
Mint Mark
"D" "S"
Edge
Reeded
Designer
John Flanagan
Currently the 1969 Washington Quarter contains 91.67% Copper – 8.33% Nickel which indicates yet another change in the metal composition of the coin.
The Philadelphia mint produced the highest number of Washington Quarters bearing the 1969 year, the mint struck 176,212,000, and the second highest was the Denver mint which struck 114,372,000 coins. The San Francisco mint produced the lowest number of Washington
Quarters with only 2,934,631 coins struck.
Design – 1969 Washington Quarter
Many quarter coins exist, if you are new to US coins, you would have to pay attention to this section in order to know the kind of quarter you have. The Washington Quarter designed by John Flanagan has an amazingly outstanding design.
The committee asked sculptor Laura Gardin Fraser to design a commemorative medal, and she agreed to adapt her original design for use in the quarter. Secretary Mellon wrote back to Moore, explaining that since the Treasury was not involved in the earlier design agreement, it was not bound by it and would not follow it.
The Treasury then held a design competition, and when the Fine Arts Commission met to consider the submitted designs in an advisory capacity, it chose those submitted by Fraser.
The designs were submitted to Mellon in November 1931; he selected Flanagan's design, and Moore was notified. On April 16, 1932, Flanagan's designs were announced and publicly displayed.
Obverse
The design of the obverse of the Washington Quarter is pretty much simple and straightforward. It features a portrait of the first President of the United States, George Washington facing right. The detail in his hair is pretty much amazing and would make it a bit easier for professionals to grade the coin.
The front of the coin also features the year of the coin just below the portrait of the former president. The words "IN GOD WE TRUST" are engraved just below his chin. Above his head is the word "LIBERTY."
Reverse
The back of the coin features an eagle with its wings spread, standing on a bundle of arrows with two olive sprays beneath. The detail on the back of the coin is one of the best we've seen. Below the olive sprays are the words "QUARTER DOLLAR" indicating the denomination of the coin.
Just above the eagle's head is the motto of the United States " E PLURIBUS UNUM." Finally, you would also find the words "UNITED STATES OF AMERICA" circling over the top of the motto and stretching to its wings.
Mints
Three United States Mint Directors served President Washington during his term of office – David Rittenhouse, Henry William Desaussure, and Elias Boudinot. However, these were not the names in charge of the three mints that struck the 1969 Washington Quarter.
Sometimes the price or value of a coin can change significantly due to where it was minted. This section would help beginners to better identify the kind of coin in their possession.
Philadelphia Mint
Washington quarters struck in this mint do not bear a mint mark. The mint mark of this coin is usually located at the obverse of the coin just behind the neck of former president George Washington.
If the quarter in your possession doesn't have a "D" or "S" mark on the obverse, it means it was struck in the Philadelphia mint. This mint struck the highest number of 1969 Washington quarters, 176,212,000 in total, this means you'd easily find this coin in good to about uncirculated grades.
Denver Mint
Second highest goes to the Denver mint with 114,372,000 coins struck. If your 1969 Quarter has a D mark on the obverse just behind the neck of George Washington, it means the coin was struck in Denver.
Denver coins are also easy to come by due to the large number of coins circulated for public use way back in 1969. While a good condition Denver struck coin might not be worth much, higher grades might fetch a reasonable amount.
San Francisco Mint (PROOF)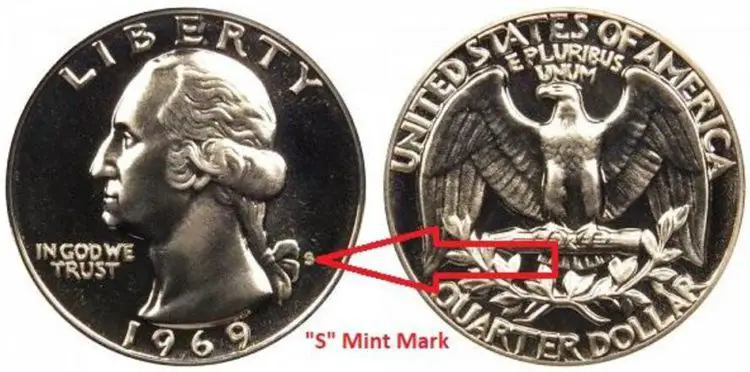 The San Francisco mint limited the number of coins it struck in the clad composition era of the Washington Quarter which lasted from 1965-1974. The coins were struck as proof only coins. Before this era, the San Francisco mint would strike as many coins as the other mints. However, we noticed a sort of decline in the numbers during the clad composition era.
If your coin belongs in the group of ones struck in the San Francisco mint, it should have an "S" mint mark on the obverse located behind the portrait of the former president of the US.
1969 Quarter Value
Circulated 1969 quarters without mint marks that show wear are worth 25 cents. 1969 Washington quarters without mint marks in uncirculated condition are valuable coins. For example, a base-level uncirculated 1969 quarter is worth $5 to $10, while a gem quality uncirculated 1969 quarter can be worth $20 to $50.
The value of circulated 1969 quarters is generally determined by their condition. The value of circulated coins decreases as they age and lose their luster and shine. Coins that are heavily worn or damaged are not considered collectible and are generally not sold by dealers or coin shops.
| | | | | | |
| --- | --- | --- | --- | --- | --- |
| Year | G | VG | F | AU | MS 60 |
| 1969 | $0.25 – $0.30 | $0.30 | $0.30 | $0.40 – $0.55 | $1.50 |
| 1969 D | $0.25 – $0.30 | $0.30 | $0.30 | $0.40 – $0.55 | $1.50 |
Uncirculated coins have never been in circulation and retain their original luster and shine. Uncirculated coins also retain their mint mark, which is stamped on the obverse side of the coin above the date. This mark indicates where the coin was made and helps determine its value if it's in pristine condition.
Grading 1969 Washington Quarter
Uncirculated: This coin has been lightly handled and has an original mint luster that is still complete and almost perfect. There are only three or four very small contact marks. Overall, the coin has an extraordinary eye appeal that is hardly ever seen. A few minor hairlines can be found only with magnification.
There are no distracting marks on the coin. The mint luster is above average. You'll see that Washington's face looks as if he were alive today and the fields look shiny, too.
About Uncirculated: The coin has only minor traces of wear or abrasions, which are visible only on the highest points. The luster is almost complete and the surfaces of the coin are well preserved. The coin's highest points show traces of wear, including the curls of hair that surround Washington's ear and the hair in the center of his head. The mint luster remains visible on the surface of nearly all of the coins.
Extremely Fine: A coin in Extremely Fine-40 condition has only the slightest wear on the very highest points of the coin. All details are sharp and all design elements are well defined. Some traces of mint luster may still exist. The overall eye appeal of an Extremely Fine-40 will be pleasing without any major defects that detract from the beauty of a circulated coin.
Very Fine: The coin shows moderate to minor wear on the highest parts of the design. The overall condition of the coin is pleasing and attractive. On the reverse, the eagle's breast is worn, but a few details in the feathers are starting to show. The legs have worn smooth and most details in the wings are evident.
Good: The coin has a worn appearance overall. The devices, lettering, legends, and date are readable but faint in spots. All major features are visible in at least their outlines, and the rim is almost complete but may be missing in some areas. The major features of the coin are well-formed and clearly identifiable.
1969 Washington Quarter Value & Price Chart
In average condition, the 1969 P Washington Quarter is worth 25 cents or more. It gains more value in higher grades.
The 1969-P stands as one of the three toughest dates in the entire series to obtain in MS67 grade. In addition to being rare, coins are often found with problems, such as toning, spots, or scratches.
In the 1980s, it was not difficult to obtain several 1969 Mint Sets. That is no longer the case in 2010-present; a significant percentage of the material has already been searched or has been somewhat negatively affected by sitting in the government depository.
| | |
| --- | --- |
| Grade | Price |
| MS 66 | |
| MS 66+ | |
| MS 67 | |
1969 D Washington Quarter Value & Price Chart
On average, the value of this coin is between $0.25 – $0.30, however, in higher grades, you could get $40-$2000 depending on the grade.
The 1969-D Washington Quarter is one of the most well-struck coins in the series. Examples up to MS67 can be found with relative ease, although collectors may choose to be more selective when searching for high-quality pieces.
MS68 condition is where they begin to be much harder to find. However, there are several examples known in this condition and serious collectors who are willing to wait can obtain one.
| | |
| --- | --- |
| Grade | Price |
| MS 66 | |
| MS 67 | |
| MS 68 | |
1969 S Washington Quarter Value & Price Chart
Struck as proof coins, the 1969 S Washington Quarter isn't worth much as well. Even the highest grade found was sold for just $10.
The Mint produced Proof Washington Quarters from 1936-1964, with no mint mark. Proof Quarters from 1932-1964 did not contain a mint mark. The Mint did not produce Proof Washington Quarters from 1965-1967.
In 1968, it began producing Proof Washington Quarters again. These coins were marked with an S mint mark indicating that they were struck at the San Francisco Mint.
In Cameo and Deep Cameo conditions, Proof 1969-S Quarters are available with little effort. These coins only become scarce when they are in PR68 Deep Cameo or better condition. In Deep Cameo PR69 condition, they are even rarer, with fewer than 100 examples known and none graded higher.
| | |
| --- | --- |
| Grade | Price |
| MS 67 | |
| MS 68 | |
| MS 69 | |
How do I know if my quarter is valuable?
The value of a coin is determined by its condition and rarity. To know whether or not your quarter is valuable, you must first check its date and mint mark. Washington quarters that belong to the Silver composition (1932-1964) are considered valuable thanks to their 90% silver content. Clad Composition quarters on the other hand (1965-1998) are not quite valuable.
Coins minted from 1965 onwards are made of copper and nickel clad over an inner core of pure copper (which gives them a dull appearance). These were introduced because it was cheaper than making coins out of precious metals like silver and gold. However, this means that clad composition quarters don't really have any intrinsic value as metal goes;
What years of quarters are silver?
Quarters minted in the United States during 1964 and earlier are made of 90% pure silver. Some people may not realize that U.S. quarters minted before 1965 are made of 90% pure silver, but coin collectors know this very well.
Conclusion
The 1969 Washington quarter isn't a valuable coin in average grade, no thanks to the metal composition of the coin. Early Washington quarters from 1932-1964 are way higher in value thanks to their silver content. All coins after the said date have little or no value in average condition. However, you might be lucky enough to sell your coin for over $1000 if it is in pristine condition.
If you have any doubts about your Washington quarter or any coin, it is best to seek the services of a professional. You can also consult your local coin dealer who would be able to appraise the value of your coins.