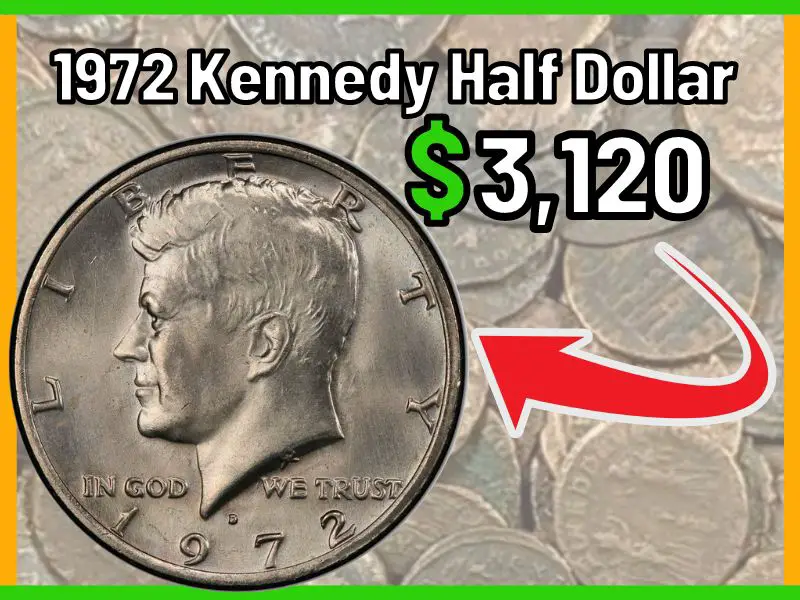 The 1972 Kennedy half dollar has a minimum value of $15, depending on its condition. A 1972 S Proof Kennedy half dollar also has a value around that range. However, certain errors can drastically increase a coin's value, and in this case, the 1972 half dollar with no FG can fetch as much as $300 upward.
Join us as we explore one of the most beloved coins struck by the US Mint. Some might ask how much is a 1972 Kennedy half dollar worth? Others simply want to add the coin to a collection. Regardless, this article embodies the answer to your questions.
1972 Kennedy Half Dollar Identification Guide
1972 Nickel Half Dollar Specifications

Weight
11.34 grams
Diameter
30.6 mm
Designer
Gilroy Roberts Metal
With a composition of 75% Copper and 25% Nickel, the 1972 half dollar has no silver constituent. The copper forms the coin's core, with the nickel making up its cladding. Although it fetches relatively little even in top conditions, this coin belongs to one of the most famous series among collectors.
The Kennedy half dollar started as far back as January 1964, almost two months after the late president's assassination. Gilroy Roberts designed the coin's obverse while Frank Gasparro handled the coin's reverse.
Despite the ceremonial first strike held in February 1964, the coins already went into production about a full week before. This was because of fast the US Mint needed to meet public demands by minting the Kennedy half dollar.
However, people started to hoard the coins as soon as they went into circulation. Coin collectors were responsible for the hoarding and also people who wanted a memento of the late President John F. Kennedy.
The half dollar series initially contained 90% silver which was reduced to 40% in subsequent coins after 1964. Eventually, silver was completely removed from the Kennedy half dollar in 1971, extending to the subsequent series starting with the 1972 Kennedy Half Dollar.
Features of the 1972 Kennedy Half Dollar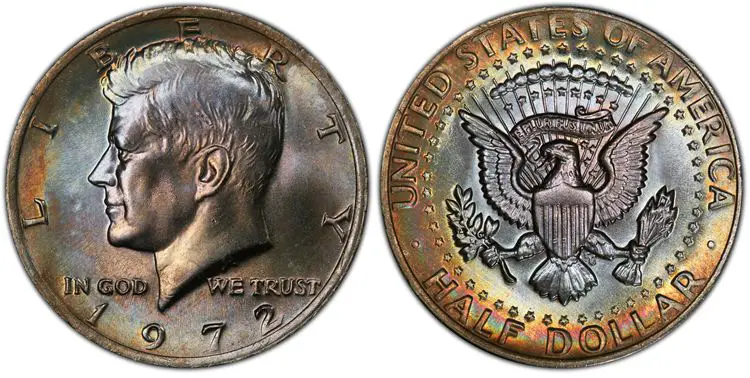 The then Chief Engraver, Gilroy Roberts, created the design for the coin's obverse by improving on the late president's bust that he used on the Kennedy Medal. Frank Gasparro did the same for his previous design on the Medal's reverse.
It is important to note that these features remained the same from the initial strike in 1964 till 1975 when a new design was made for the coin's reverse in celebration of the United States Bicentennial.
Obverse Features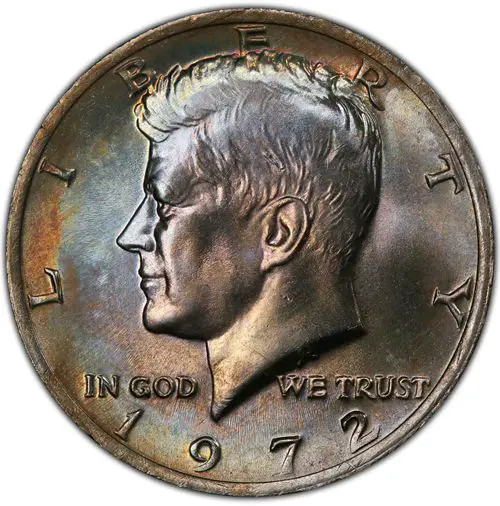 The coin's obverse has the left side profile of John F. Kennedy at its center with the word "LIBERTY" along the top of the profile and coin. You will see the year of production at the bottom of the coin, which in this case is 1972.
The words "IN GOD WE TRUST" are engraved across the coin with the profile's neck truncating the sentence between "IN GOD" and "WE TRUST."
Reverse Features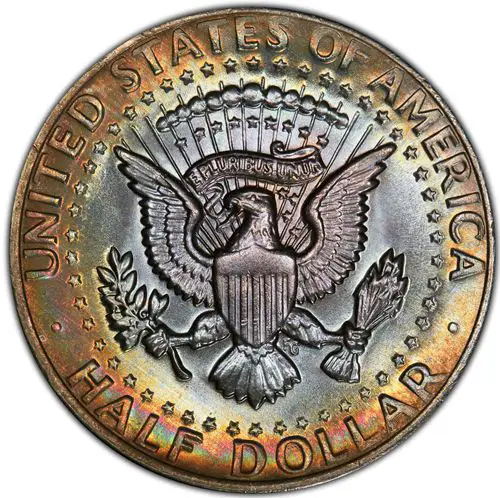 The eagle's profile at the center is the most prominent feature on the coin's reverse. With outstretched wings, while clutching an olive branch in one talon and arrows in the other, the eagle forms the perfect profile around which other features could be struck.
Along the top of the coin's reverse, you will find "UNITED STATES OF AMERICA," and at the bottom, the coin's denomination "HALF DOLLAR." 50 stars form a circle around the eagle while the famous words "E PLURIBUS UNUM" are engraved on a ribbon above its head.
Note: You can find Frank Gasparro's initials FG on the area between the eagle's right leg and its tail feathers. Also, the coin's mint mark is struck on the area below Kennedy's neck and above the coin's production year.
1972 Kennedy Half Dollar Series
Three Mints struck the 1972 half dollar, with one producing only Proof coins for collectors.
1972 Kennedy Half Dollar Quantity Minted

Year
Location
Minted
1972 D Kennedy Half Dollar
Denver
141,890,000
1972 D No FG Kennedy Half Dollar
Denver
–
1972 Half Dollar With No Mint Mark
Philadelphia
153,180,000
1972 S Proof Half Dollar
San Francisco
3,260,996
1972 D Kennedy Half Dollar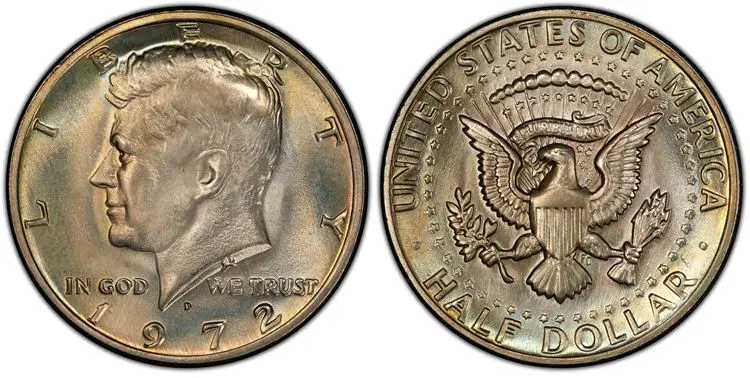 The Denver Mint struck a total of 141,890,000 half dollar coins in 1972. You can easily know which coin came from this facility through the presence of a "D" mint mark on the coin's obverse.
With such high mintage, these coins are not rare to encounter and quite cheap to acquire.
1972 Half Dollar With No Mint Mark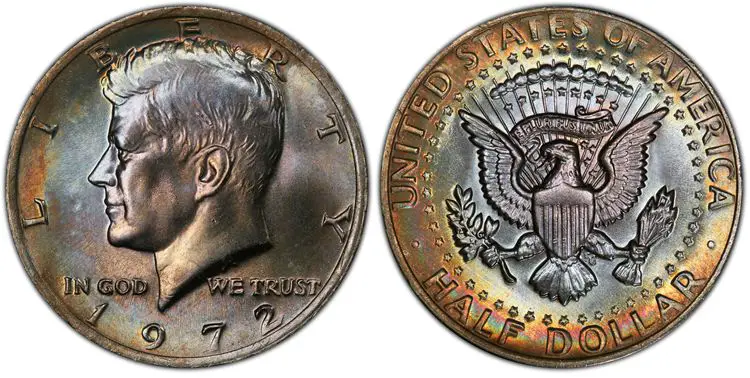 With a total of 153,180,000 1972 half dollar coins, the Philadelphia Mint struck the highest number. However, this facility does not use mint marks; therefore, the absence of one means the coin was struck at the Philadelphia Mint.
As you might have guessed, the 1972 half dollar with no mint mark is not a rare coin to find; as such, it's cheap.
1972 S Proof Half Dollar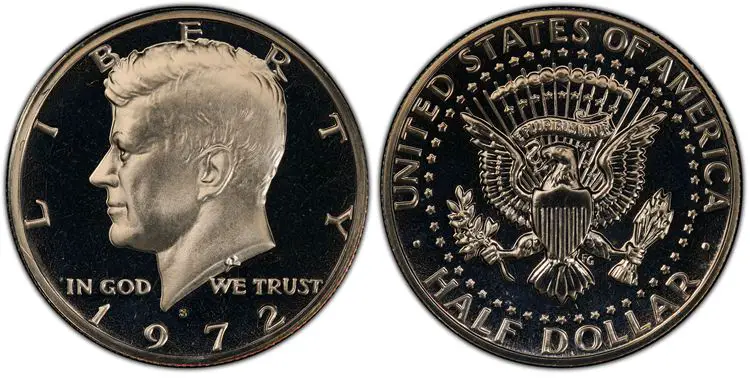 The San Francisco Mint struck only Proof coins intended for collectors, not circulation. With a total of just 3,267,667 proof, these coins are significantly rarer than the other standard ones. Apart from the typical look of proof coins, the "S" mint mark indicates that the coin was struck at the San Francisco Mint.
1972 Kennedy Half Dollar Errors
Like other popular coins with high mintage, the 1972 half dollar also has its share of errors. Fortunately, most of these errors add to the coin's value during sales and auctions.
1972 D No FG Kennedy Half Dollar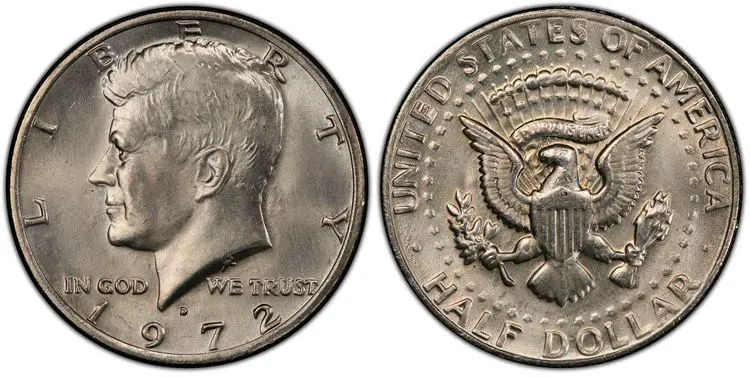 FG on the 1972 Kennedy half dollar represents Frank Gasparro's initials. Normally, one can find it on the coin's reverse at the spot between the eagle's tail and right leg. However, an accident while cleaning the dies erased these initials.
This event led to the Denver Mint striking 1972 half dollar coins that do not carry the sculptor's initials. Fortunately, this error drastically adds to the coin's value, with one having the error selling for a minimum of $300 compared to the $15 for error-free ones.
1972 D Kennedy Half Dollar Missing Clad Layer
This error occurs when the coin lacks a nickel/tin clad layer. With the similarity between the components, the coin ends up looking like other ones struck on penny planchets. You can distinguish between these coins by looking at their rims.
A 1972 D half dollar with its clad layer missing will not have a rim and the accompanying writings.
1972 S Kennedy Half Dollar Struck on Cent Planchet
You can easily spot this error because of the significant features of the coin that would be missing. This happens because a cent planchet is not wide enough to contain all the features of a half dollar.
1972 D Kennedy Half Dollar Struck on 25C Planchet
To recognize this error, simply check if the coin looks like the die wasn't well aligned before striking it, therefore giving the appearance of having only a section of the planchet struck.
1972 Kennedy Half Dollar with Double Die Obverse or Reverse (DDO or DDR)
This error occurs when a detail gets struck on a coin multiple times because the first time didn't imprint it clearly. A coin can have it on either its obverse (Double Die Obverse) or reverse (Double Die Reverse) or even both sides.
Generally, these errors add to the coin's value but not that much.
1972 S and D Kennedy Half Dollar Struck on 5C Planchet
This error also leaves out some details and features of the half dollar because the nickel planchet is not as big as that of a half dollar.
How Rare is the 1972 Kennedy Half Dollar?
As we have shown concerning the various mints of the 1972 half dollar, the series had a high mintage. This abundance only led to more of the coins in circulation, making them common to find and cheap to add to your collection.
However, the 1972 proof half dollar had a significantly low mintage compared to the standard ones. Therefore, you expect it to be quite rare to find and more costly to add to a coin collection.
On the other hand, an error coin with a significantly high value like the 'No FG' error coin is considered rare.
How much is a 1972 kennedy half dollar worth
Looking at the prices at which most of these coins sell shows that some factors play vital roles in determining a coin's value. On the one hand, you have the coin's condition/grade. On the other, the coin's rarity is also important.
Grade
Coins have up to nine different categories that indicate their condition. However, we have simplified these categories to just four; they are
Good Condition
This condition loosely covers coins with heavy wear and damage. One would also find it quite challenging to read the coin's engravings with the naked eye. The discolouration is also heavy, and intricate details like Kennedy's hair have also disappeared due to wear.
Fine Condition
Although this grade depicts the coin in better condition than the former, it still shows considerable wear and damage. However, you can better make out more details and coin features compared to one in good condition.
Extremely Fine Condition
Sub categories under this one cover coins that are in the best grade possible whilst still in circulation. For coins that fall under this category, you will commonly see grades like About Uncirculated (BU), Extremely Fine (XF), etc.
They also retain most of the details and finesse of newly struck coins.
Uncirculated Condition
While this condition refers to coins that have never been spent or circulated, it also has different sub-categories. Grades like the various Mint States (60 – 70+) belong under this category. Coins with the highest form of this grade retain all their details, like the day they were struck.
Coin Rarity
Coin collectors generally agree that for a coin to be considered rare, it must have a mintage below 10 million. In this case, the total 1972 half dollars struck at the Denver and Philadelphia Mints puts the coins comfortably in the common section.
Therefore, it is only normal that these coins cost less due to their availability exceeding demand. However, the proof series had a mintage of 3+ million, making it more valuable than the others. This explanation also applies to the 'No FG' error 1972 half dollar.
1972 Kennedy Half Dollar Price Chart
| | |
| --- | --- |
| Coin | Price |
| 1972 D Kennedy Half Dollar (MS 63) | $11.52 |
| 1972 D Kennedy Half Dollar (MS 65) | $20 |
| 1972 D Kennedy Half Dollar (MS 66) | $14.95 |
1972 Kennedy Half Dollar With No Mint Mark Value
| | |
| --- | --- |
| Coin | Price |
| About Uncirculated (AU 50) | |
| Mint State (MS 65) | $25 |
| Mint State (MS 66) | $38.95 |
1972 S Proof Kennedy Half Dollar
| | |
| --- | --- |
| Price | Coin |
| Proof (PR 68) | $5.50 – $13.95 |
| Proof (PR 69) | $5 – $119 |
Where to Buy or Sell Your 1972 Kennedy Half Dollar
The place you choose to buy or sell your coin can determine whether you will get a good deal. Generally, you want to look at places and platforms where other coin collectors are active. That way, you can ensure that you interact with the right people.
Online Platforms
Websites like Heritage Auctions focus on auctions, including coins and other currencies for collectors. Another excellent platform for buying or selling coins is eBay. Online platforms generally yield more value for coins because of the bidding system and the exposure they bring to the product.
Local Coin Dealers and Pawn Shops
This option is perfect for low-value coins because of how easy you can make the sale. Several people also prefer these guys because they pay in cash and can even grade your coin for you.
However, local pawn shops and coin dealers generally offer less value for your coin compared to online platforms.
Wrapping Up
Even though it doesn't worth much, standard 1972 Kennedy half dollars remain a worthy part of every Kennedy half dollar collection. However, if you manage to get your hands on the rare ones like the "No FG" coin(s), you can auction it off for good money.