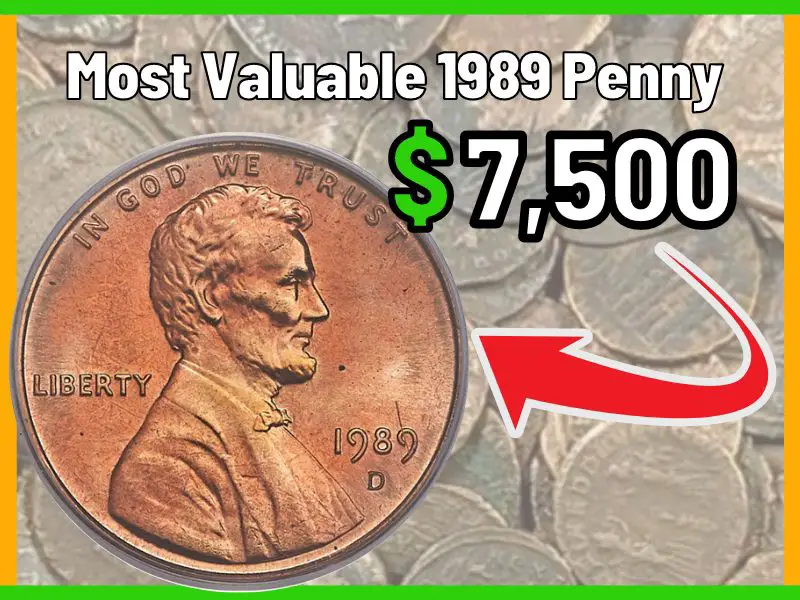 The 1989 Lincoln Memorial penny, in uncirculated mint condition, is worth $0.33 or more.
Coin collectors are inquisitive especially about pennies, speaking of pennies; how much is a 1989 penny worth? The 1989 Penny is not a sought-after date in the Lincoln penny series and its value depends on how high the condition of the coin is. Lower grades are worth only the face value of the coin.
It's no secret that collecting Lincoln Memorial pennies is fun and enjoyable. This is mainly due to the fact that people purchase them based on their collectability, not the actual coin's value. Not only are these coins popular amongst coin collectors, but they are also popular among the general public.
In this guide, we'll help you determine the worth of your coin in various grades, in addition, we will also show you how to grade your 1989 Lincoln Penny like the pros do.
Most Valuable 1989 Lincoln Memorial Penny
Most Valuable 1989 Lincoln Memorial Penny is 1989-D 1C Cent – MS65 Red PCGS-Sold on Jan 4, 2018 for: $7,500.00
1989 Lincoln Memorial Penny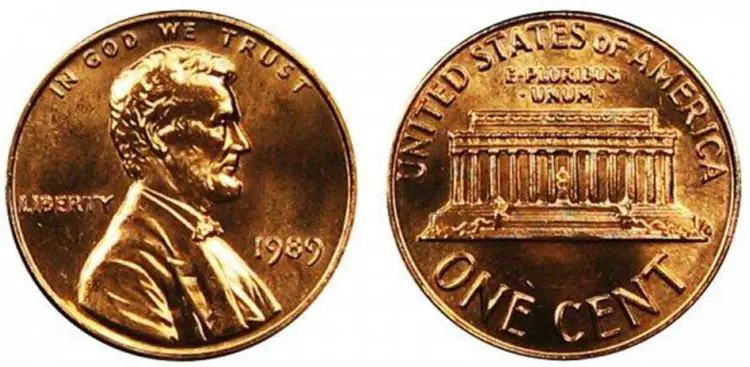 The Lincoln cent is a one-cent coin that has been struck by the United States Mint since 1909. The obverse or heads side was designed by Victor David Brenner, as was the original reverse, depicting two stalks of wheat.
The one-cent coin has had several reverse designs. It currently bears one by Lyndall Bass depicting the Union shield. All U.S. coins valued at 1⁄100 of a dollar are called cents because the United States has always minted its coins with decimals. The nickname "penny" was carried over from the coins struck in England, which went to decimals for coins in 1971.
History
In January 1909, the Mint engaged Brenner to design a Lincoln cent for the centennial of Lincoln's birth. It was the first time an image of a U.S. president appeared on a coin, a practice that had been rejected in the past by George Washington. Despite initial doubts, Brenner's design was approved, and the new coins were issued to great public interest on August 2, 1909.
1989 Lincoln Memorial Cent
Location
Minted
Philadelphia
7,261,535,000
Denver
5,345,467,111
San Francisco
3,220,194
Total
12,610,222,305
In 1918, the one-cent coin was made of 95% copper. However, in 1943, it was made out of zinc-coated steel because copper was needed for the war effort. The mint used 95% copper until 1982 when rising inflation made that metal too expensive and the composition was changed to zinc with an outer layer of copper.
In 1952, Mint officials considered replacing Lincoln with a new design by Mint Chief Engraver Gilroy Roberts but feared that the incoming Eisenhower administration would be hostile to replacing a Republican on the cent.
To the delight of coin collectors, President Eisenhower's press secretary, James Hagerty, announced on December 21, 1958, that a new reverse design for the cent would begin production on January 2, 1959.
The new design, developed by Frank Gasparro at the Treasury Department in consultation with the Lincoln Sesquicentennial Commission, was approved by President Eisenhower and Secretary of the Treasury Robert B. Anderson.
The new design featured a depiction of the Lincoln Memorial in Washington, D.C. The redesign was a complete surprise, as word of the proposal had not been leaked to the press. The coin was officially released on February 12, 1959, honoring the 150th anniversary of Lincoln's birth. However, some coins were put into circulation earlier than that.
1989 Lincoln Memorial Cent
Metal Composition
97.5% Zinc – 2.5% Copper
Mass/Weight
2.5 grams
Diameter
19 mm
Mint Mark
"D" "S"
Edge
Plain
Designer
Frank Gasparro
The design Gasparro selected for the obverse of the coin was the result of internal competition among Mint engravers. Gasparro did not travel to see the Lincoln Memorial; however, he created an amazingly outstanding depiction of it.
The 1989 Penny was struck across three United States Mints with the Philadelphia striking one of the highest figures ever known to U.S coinage. Over 7 billion coins were struck in the Philadelphia mint followed by the Denver mint with over 5 billion coins. The least to strike 1989 pennies was the San Francisco mint with a little over 3 million coins struck.
Design
Brenner's design was similar to one he had used on other works, such as a desk plaque he made for the Gorham Manufacturing Company in 1907. Numismatic historian Roger Burdette believes that Brenner's work was based on an 1864 photograph of Lincoln taken at Mathew Brady's studio by one of his assistants.
The obverse side of the coin was first produced to commemorate the 100th anniversary of Lincoln's birth. To commemorate the 150th anniversary of Lincoln's birth, the reverse image of the Lincoln Memorial replaced the Wheat Ears design that appeared on the reverse of the 1909 Lincoln cent.
Although the photograph in question showed only Lincoln's head and shoulders, Reed indicates that Brenner obtained additional detail from an 1860 campaign photograph of Lincoln without a beard. Regardless of the fact that the Lincoln Wheat Penny design has many stories surrounding it, you still can't neglect the fact that the design of the coin is amazing!
Obverse
The obverse of the 1989 Lincoln cent is pictured above. Designed by Victor David Brenner, it shows the side view of Abraham Lincoln. He is seen facing the left, and one significant thing about this design of Lincoln is that it shows his figure from his head to his chest. The date 1989 is located on the front of the coin just after his chest. Behind him is the word "LIBERTY" Finally, the words "IN GOD WE TRUST" span above his head.
Reverse
The back of the coin features a design by Frank Gasparro. The design was ordered by the Eisenhower administration. Frank Gasparro never saw the building in real life; he drew this design from his imagination. Many people thought the new design was dreadful. However, the administration that authorized the design accepted it.
The reverse has a couple of inscriptions, one of which is the motto of the United States "E PLURIBUS UNUM" located just above the building. The words ONE CENT is also located on the reverse just below the building. "UNITED STATES OF AMERICA" spans across the top of the building. In summary, this is an amazing design by an amazing artist.
Mints
The Lincoln Memorial Cent was coined in only three United States Mints throughout the production of the coin from 1959 – 2009. The mints that produced this coin are; The Philadelphia, Denver, and San Francisco mints. The Philadelphia mint is known for producing Lincoln memorial cents in large numbers.
Where the coin was minted plays a role in the value of the coin, we have seen situations where a collector would pay top dollar for an "S" coin and lesser for a "D" marked coin.
Philadelphia Mint
The Philadelphia mint, known for producing an all-time highest number of Lincoln memorial cents, struck 7,261,535,000 pennies bearing the 1989 date on the obverse. All coins produced in the Philadelphia mint do not have a mint mark present on the obverse of the coin.
The large number of coins minted in this location means that a lot of coins went into circulation and thus the 1989 Lincoln Cent could be easy to find in various grades. This is probably why collectors don't yearn for the 1989 cent in average condition.
Denver Mint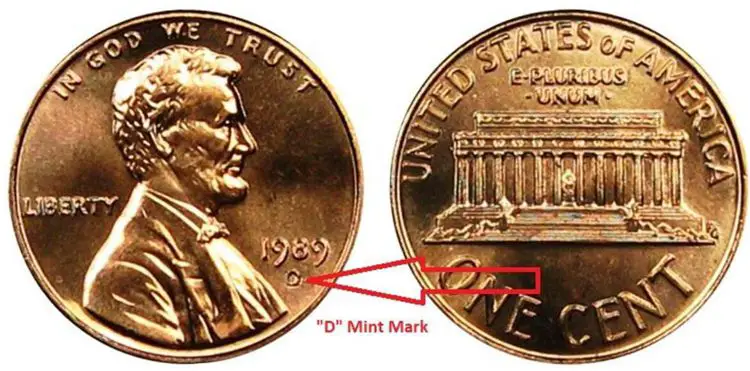 If you don't can't find a 1989 Lincoln Cent without a mint mark when you do see one with a mint mark, it would most likely be from the Denver mint. The mint struck 5,345,467,111 coins bearing the 1989 date and D mint mark on the obverse. For this coin collectors aren't willing to pay thousands even for the highest grades.
San Francisco Mint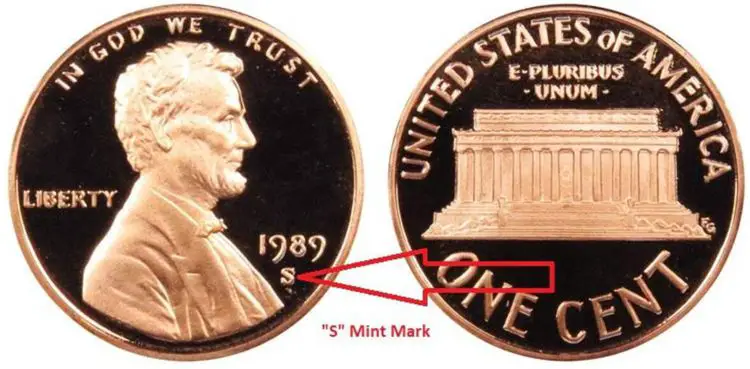 The San Francisco mint produced the least number of Lincoln Cents in almost all years. Coins struck in the San Francisco mint were struck as proof coins. The total number of coins bearing the 1989 date and "S" mint mark was 3,220,194. If your coin has an "S" on the obverse, this means it was struck in the Philadelphia mint.
1989 Penny Value
Coin dealers and collectors are willing to pay a higher premium for Lincoln Memorial Pennies that are in superior condition and of a higher grade. In fact, collectible pennies can be worth several dollars to over $1000. However, not all dates might be sought after by collectors. The 1989 Penny is one of those dates.
The Lincoln Memorial cent was minted from 1959 to 2009 and is one of the most widely recognizable coins. The Lincoln Memorial cent is technically an obsolete series, but billions are still in circulation and hence the value of this coin is greatly reduced. A circulated 1989 penny might be only worth its face value $0.01.
However, if the condition of the 1989 Penny in your possession seems like it just left the mint factory, it might have a way better value in the eyes of collectors who want to hold on to the piece until it appreciates decades to come.
Grading The 1989 Lincoln Cent
Good: Lincoln pennies in this condition are not good collectibles, because you can see long-term circulation on their surface and they have many scratches, cracks, and relief flattening. Lincoln's face is almost merged with his jaw and his hair details are missing, but most letters and the date might still be legible.
Fine: This coin has been in circulation for a long time, and it's worn down. The main relief details are still present and you can see signs of wear on the President's coat and hair. The inscriptions and the minting date might still be legible.
Extremely Fine: This coin has been in circulation for a short time and has not suffered significant damage. A magnifying glass is recommended to get a better look at it. Surface luster adds to a coin's overall appeal and strengthens its numismatic value when it remains in areas protected from wear—such as the protected areas of lettering or rays. Scratches, dents, and contact marks reduce the grade of a coin, but contact marks are ignored when grading coins in the extremely fine grade.
Uncirculated: The original mint luster is complete and almost perfect. There are only a few contact marks, but they are hardly noticeable. Overall, the coin has an extraordinary eye appeal that is rarely seen. A few minor hairlines can be found only with magnification.
1989 Penny Value & Price Chart
The 1989 Lincoln Memorial penny is worth $0.33 or more in uncirculated (MS+) mint condition. It is only worth its face value of $0.01 in circulated condition. Some coins in uncirculated grade have sold for up to $400 or more.
The 1989 Penny is available in MS+ grades, however not overly rampant. Basically, it is not so hard for a collector to get his or her hands on a 1989 Penny in MS 60-65 grades and wouldn't pay a premium to obtain the coin.
| | |
| --- | --- |
| Grade | Price |
| MS 66 | |
| MS 67 | |
| MS 68 | |
1989 D Penny Value & Price Chart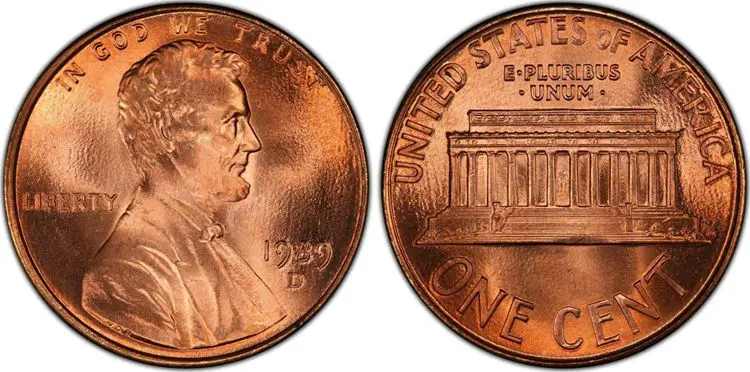 The 1989-D Lincoln Memorial Penny is worth an estimated $0.33 or more in uncirculated (MS+) mint condition. In circulated condition, the 1989 D Lincoln Memorial Penny is only worth its face value of $0.01. Even the AU 50 grade might be worth only $0.01.
The coin is very much available in MS 66 to MS 68 grades, although not a lot has been graded by the PCGS in these grades. Collectors aren't willing to pay a high amount for 1989 even in the highest grade achievable. If the coin has an error such as the double-die, it could be worth much more.
| | |
| --- | --- |
| Grade | Price |
| MS 66 | |
| MS 67 | |
| MS 68 | |
1989 S Penny Value & Price Chart
The estimated value of a 1989-S Lincoln Memorial penny is $5.70 or more. If you have a 1989-S Lincoln Memorial Penny (proof coin), you may have a valuable piece of currency in your hands. The 1989 S penny might not be a valuable coin now, however, its value might increase in years to come. So, this coin can be seen as a great investment.
| | |
| --- | --- |
| Grade | Price |
| MS 66 | |
| MS 69 | |
| MS 70 | |
| | |
What were pennies made of in 1989?
Originally, Lincoln Memorial Cents were made of 95% Copper – 5% Tin and Zinc, however, that changed after 1982, as coins had a new composition of 97.5% Zinc – 2.5% Copper. This change was due to the high rise in raw materials used in the production of Lincoln pennies during the time.
Selling And Buying 1989 Lincoln Memorial Pennies
The Lincoln Memorial Penny is one of the most popular coins in American history. Its low price makes it affordable for almost anyone, while its historical significance makes it a great collectible! If you're looking to sell or buy 1989 Lincoln Memorial pennies, here are some tips.
The value of a coin is determined by a number of factors, including its condition, rarity, and desirability. This makes it difficult to pinpoint an exact value. However, there are some general guidelines that can help you determine what your 1989 Lincoln Memorial penny is worth.
Know what they're worth: A good first step when selling any type of coin is knowing what it's worth so you can get an accurate estimate of your coins' value before trying to sell them online or at pawn shops or coin dealerships.
Online Auction Sites: These sites have become increasingly popular over time, so much so that they have become extremely competitive with each other, driving up prices on many items while also driving down profit margins for sellers like yourself! You can expect to receive around 90% of the value of your item at these sites unless you've got something really rare or valuable.
Conclusion
For many collectors and dealers, the 1989 Cent is a premium coin that could be a very promising investment. As a general rule, uncirculated examples are worth substantially more than circulated ones. As of 2022, the 1989 Lincoln Memorial Penny doesn't have great value, especially in lower grades. In the open market, higher grades such as MS 67-68 exist and they're worth $200-$450.
If you have a premium 1989 penny, here's some golden advice; Hold on to the coin for a couple more years, who knows, the value might skyrocket in 2-3 decades or maybe less.