The 1994 Lincoln Memorial penny has a value of $0.33 or more in uncirculated (MS+) mint condition.
Today we are going to find out about the 1994 penny value and price chart. You see, if you have ever wondered what your pennies from 1994 were worth, then keep reading.
People who collect coins love pennies in particular. Some people even joke that Pennies are to coin collectors what Honda is to auto enthusiasts. Pennies are a lot easier to come by than earlier half-dollars and dollar coins. That has made them more popular with collectors and has caused them to grow in value.
But it isn't as easy as just knowing that they're worth money. A lot of factors go into determining whether a certain coin will be valuable years down the road, or if it will be considered worthless.
1994 Penny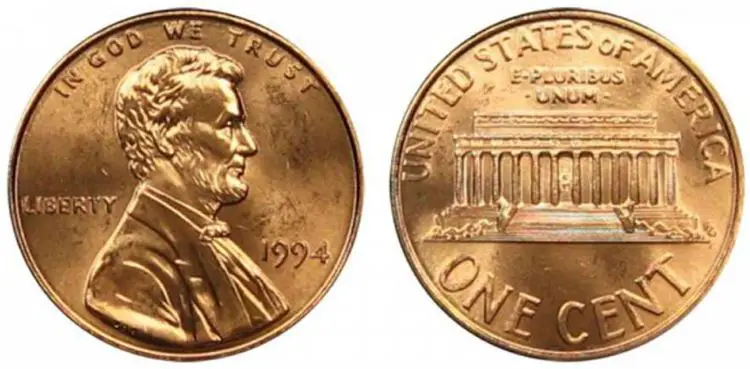 Lincoln Memorial pennies are fairly common, and most dates can be found in circulation today. Pennies minted from 1959 to 1982 are made of 95 percent copper and contain about 2.5 cents worth of copper each.
In 1909, the United States Mint produced a commemorative coin featuring a portrait of President Abraham Lincoln to honor the 100th anniversary of his birth.
The Lincoln Memorial's reverse image was selected to appear on the coin commemorating the 150th anniversary of Lincoln's birth. It replaced the Wheat Ears design that appeared on the reverse of the 1909 Lincoln cent.
History
The Lincoln Memorial became the reverse design of the Lincoln cent in 1959, marking not only the 50th anniversary of the coin but also the 150th anniversary of Abraham Lincoln's birth. This design was created by Frank Gasparro, a Mint employee who later became a chief engraver.
1994 Lincoln Memorial Cent
Location
Minted
Philadelphia
6,500,850,000
Denver
7,131,765,000
San Francisco
3,269,923
Total
13,635,884,923
The Lincoln cent has been issued since 1909, and many collectors got their start with this coin. A new design was introduced in 1959 to mark the sesquicentennial of Abraham Lincoln's birth. The Memorial Reverse type, which was struck from 1959 through 2008, has no significant date-and-mint rarities. A complete set, including proofs, is within reach of many collectors of modest means.
On Sunday morning, December 21, 1958, President Eisenhower's press secretary announced that a new reverse design for the cent would begin production on January 2, 1959.
The new design featured the Lincoln Memorial in Washington, D.C., and was approved by President Eisenhower and Secretary of the Treasury Robert B. Anderson. The redesign came as a complete surprise, as word of the proposal had not got out.
1994 Lincoln Memorial Cent
Metal Composition
97.5% Zinc – 2.5% Copper
Mass/Weight
2.5 grams
Diameter
19 mm
Mint Mark
"D" "S"
Edge
Plain
Designer
Frank Gasparro
The Mint's engravers competed for the chance to design a coin for the Lincoln Memorial. Mint engraver Frank Gasparro was chosen. Although he had visited Washington, D.CHe had never seen the Memorial before creating his design.
The 1994 Penny was struck in three locations, the Philadelphia mint struck the second highest number of coins totaling 6,500,850,000, one of the highest ever known figures in the Lincoln Penny series. The Denver was the highest with 7,131,765,000 coins struck. The San Francisco mint made proof-only coins with only 3,269,923 coins struck.
In 1981, faced with another rise in the price of copper, the Mint changed the composition of the cent from pure copper to a combination of zinc and copper. Production of the first copper-plated zinc cents was delayed due to contract difficulties and production delays. The first such cents were struck at the Philadelphia Mint on January 7, 1982, without a mintmark; Denver did not convert until October 21.
Design
Numismatic historian Roger Burdette believes that Brenner's work was based on an 1864 photograph of Lincoln taken at Mathew Brady's studio by one of his assistants. The resemblance between the works suggests that Brenner may have used the photograph as a model.
The photograph in question only shows Lincoln's head and shoulders, but Reed indicates that Brenner obtained additional detail from an 1860 campaign photograph of Lincoln without a beard. Despite the fact that the Lincoln Wheat Penny design has many stories surrounding it, you can't ignore the amazing design of this coin!
Obverse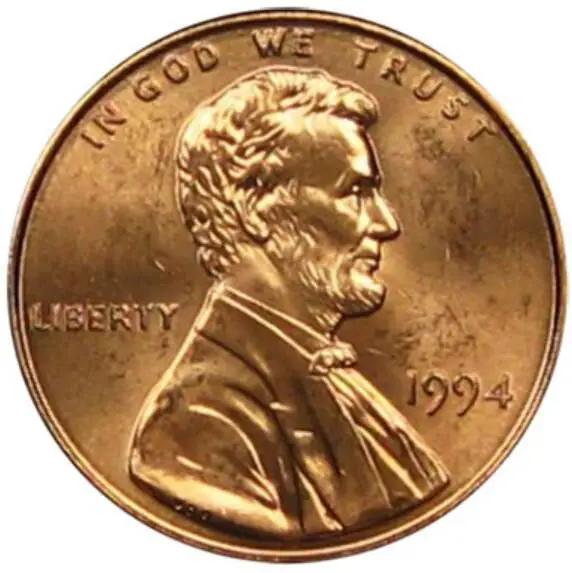 The side of the 1994 Lincoln cent is pictured above. Designed by Victor David Brenner, it shows Abraham Lincoln's bust and shoulders. He is facing to the left and one interesting detail about this design is that it shows his figure from the head to the chest. The Word "LIBERTY" appears behind the neck of former President Lincoln, and the date of the coin appears in front of his chest area. The words "IN GOD WE TRUST"
Reverse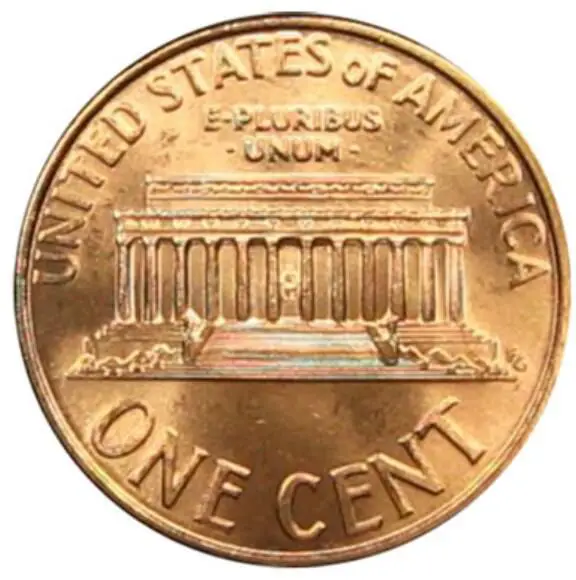 The obverse of the coin features a design by Frank Gasparro. The design was requested by the Eisenhower administration. Frank Gasparro never saw the Capitol Building in real life; he drew this design from his imagination. Many people thought the new design was dreadful, but the administration that authorized it accepted it.
The reverse of the coin bears a few words and inscriptions. One of the inscriptions is E Pluribus Unum, the motto of the United States, which is located above the building. The words ONE CENT are also located on the reverse below the building. "UNITED STATES OF AMERICA" spans across the top of the building. In summary, this is an amazing design by an amazing artist.
Mints
The Lincoln Memorial Cent was minted in only three United States Mints from 1959 to 2009. Mints that produced this coin are Philadelphia, Denver, and San Francisco. This section would help you determine the type of 1994 penny you have before going on to grade the coin and determine the value.
Philadelphia Mint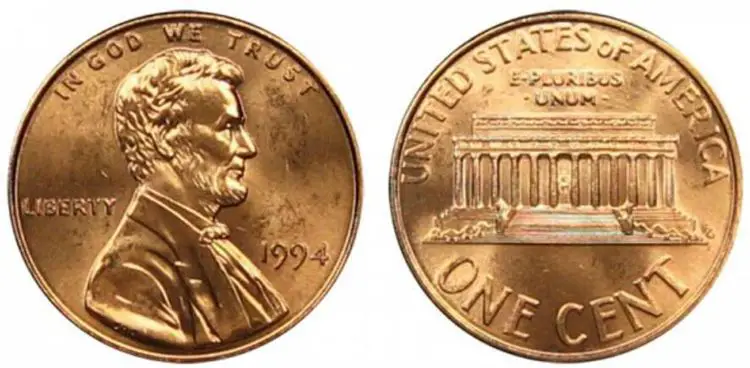 Philadelphia mint coins are the most common coins you would find in the Lincoln penny series, and this fact is due to the relatively high number of coins produced by the Philadelphia mint each year. In the year 1994, the Philadelphia mint struck 6,500,850,000 coins. A lot of those coins are still in circulation.
If you find a random 1994 penny, chances are it was minted in the Philadelphia mint and won't have a mint mark on the obverse no thanks to the ridiculously high mintage figure. This actually reduces the value of the coin. It isn't rare and it isn't made of any precious metal.
Denver Mint
If you don't find a Philadelphia mint-struck coin, then you would most definitely find the Denver issue. An Easy way to know if a penny was struck at the Denver mint is to look below the year of the coin on the obverse, the "D" mark indicates that it was struck in the Denver mint.
7,131,765,000 coins were struck in the Denver mint, making it the mint with the highest number of pennies struck in 1994. This also reduces the value of the coin, the coin is still very much in circulation and might not be worth a fortune.
San Francisco Mint
The "S" mint mark on the obverse is a unique sign given to coins that were struck in the San Francisco mint. If your 1994 penny has an S mark below the year, it was struck in San Francisco.
The San Francisco mint didn't strike as many coins as the Denver and Philadelphia mint. For the record, only 3,269,923 bear the S mark and 1994 date. This coin might be considered a rarity for some collectors and they might have a better offer for this coin than the Philadelphia or Denver issues.
1994 Penny Value
Most pennies minted in 1994 are only worth their face value of $0.01, but they can sell for a higher price if they are in uncirculated condition. A lot of people do not want to hear or see this, but it is the truth. An old 1994 Penny you found in the basement or an old pair of jeans won't get you rich by morning.
Even in higher grades, for example, the 1994 penny with no mint mark and the 1994 D penny each have a value of about $0.30 in uncirculated condition with an MS 65 grade.
| | | | | | | |
| --- | --- | --- | --- | --- | --- | --- |
| Year | G | VG | F | VF | XF | AU 50 |
| 1994 | $0.01 | $0.01 | $0.01 | $0.01 | $0.01 | $0.01 |
| 1994 D | $0.01 | $0.01 | $0.01 | $0.01 | $0.01 | $0.01 |
| 1994 S | $0.01 | $0.01 | $0.01 | $0.01 | $0.01 | $0.01 |
On the other hand, a 1994 S-proof penny in PR 65 condition is worth around $9. The coin is quite rare and collectors might pay higher to obtain it.
Grading The 1944 Penny
Good: A Lincoln penny in this condition is not a good collectible, because you can see long-term circulation on its surface and it has many scratches, cracks, and relief flattening. Lincoln's face is almost merged with his jaw and his hair details are missing. Most of the letters and the date are still legible.
Fine: This coin has been in circulation for a long time, and it's worn down. You can see the main details of the design, and there are signs of wear on the President's coat and hair. The inscriptions and the minting date might still be legible.
Extremely Fine: This coin has been in circulation for a short time, and it remains in mint condition. A magnifying glass will help you get a closer look at its details. Surface luster is a coin's shine and beauty, which strengthens its value when it remains on areas of lettering or rays. Scratches, dents, and contact marks reduce the grade of a coin, but contact marks are ignored when grading coins in the extremely fine grade.
Uncirculated: The coin has a nearly perfect original mint luster. There are only a few contact marks, but they are hardly noticeable. Overall, it has an extraordinary eye appeal that is rarely seen in coins of this type. A few minor hairlines can be found only with magnification.
1994 Penny Value & Price Chart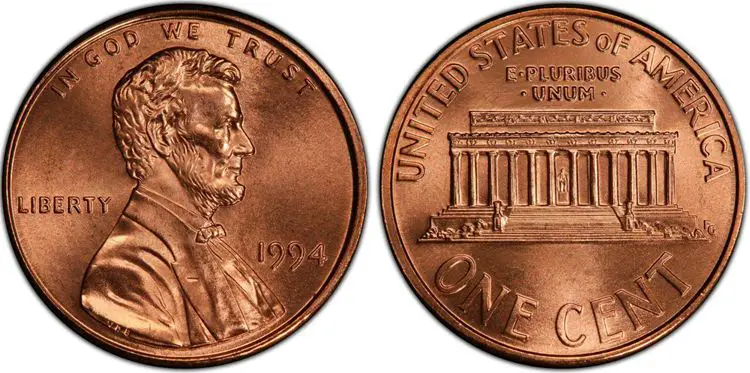 The 1994 Lincoln Memorial Penny is worth $0.33 or more in uncirculated mint condition. There were over 6.5 billion 1994-P Lincoln Cents struck for circulation. Because so many were made, obtaining one should be easy. The only condition where it becomes scarce is in MS68 or higher.
While the Lincoln Memorial cent is technically an obsolete series, billions are still in circulation. Should it become illegal to melt down copper coins in the future, these coins will likely remain common for decades to come.
| | |
| --- | --- |
| Grade | Price |
| MS 65 | |
| MS 66 | |
| MS 67 | |
| MS 67+ | |
| MS 68 | |
1994 D Penny Value & Price Chart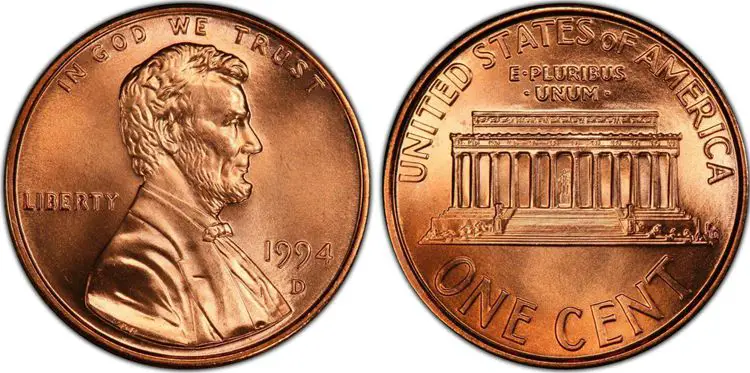 If you have a 1994-D Lincoln Memorial penny in uncirculated (MS+) mint condition, it could be worth $0.33 or more. However, in average condition, the 1944 Lincoln Memorial Penny is only worth its face value of $0.01.
The 1994-D Lincoln cent is common in most grades, but in MS68 it is scarce, and in MS69 or higher it is very difficult to find.
| | |
| --- | --- |
| Grade | Price |
| MS 66 | |
| MS 67 | |
| MS 67+ | |
| MS 68 | |
1994 S Penny Value & Price Chart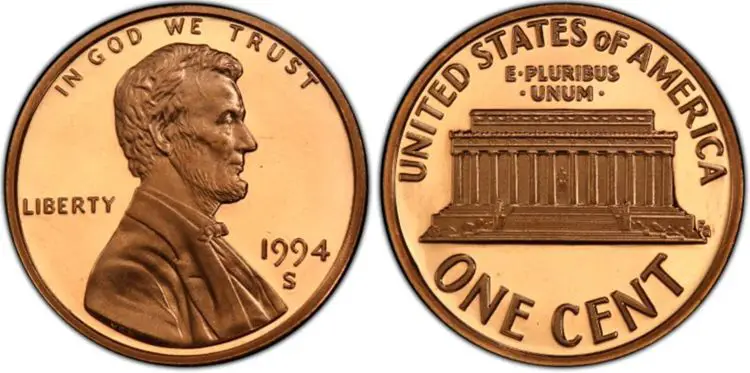 The 1994-S Lincoln Memorial Penny (Proof Coin) is estimated to be worth $7.88 or more.
The US government started a program in 1936 to market special "sets" of the year's coin issues in proof format. From 1936-1955, these coins were delivered in boxes with cellophane packaging. Most of these coins were removed from their original holders to protect their surfaces from damaging wrappers. Values for coins from 1955 are listed for sets in their intact holders, as issued from the Mint.
| | |
| --- | --- |
| Grade | Price |
| PR 67 | |
| PR 68 | |
| PR 69 | |
| MS 68 | |
5 Most Valuable 1994 Penny Ever Sold
5 Most Valuable 1994 Penny
No.
Type
Condition
Sold Date
Price
1
1994-S 1C
PR70
Nov 21, 2002
$1,955.00
2
1994 1C Doubled Die Reverse
MS67
Feb 23, 2020
$1,560.00
3
1994 1C Lincoln Cent–Over Struck on a 1994-P 10C
MS66
Mar 20, 2011
$1,495.00
4
1994-S 1C
PR70
Mar 20, 2003
$1,265.00
5
1994 1C Lincoln Cent
MS65
Mar 10, 2021
$1,140.00
1. 1994-S 1C PR70 Sold on Nov 21, 2002 for: $1,955.00

2. 1994 1C Doubled Die Reverse MS67 Red Sold on Feb 23, 2020 for: $1,560.00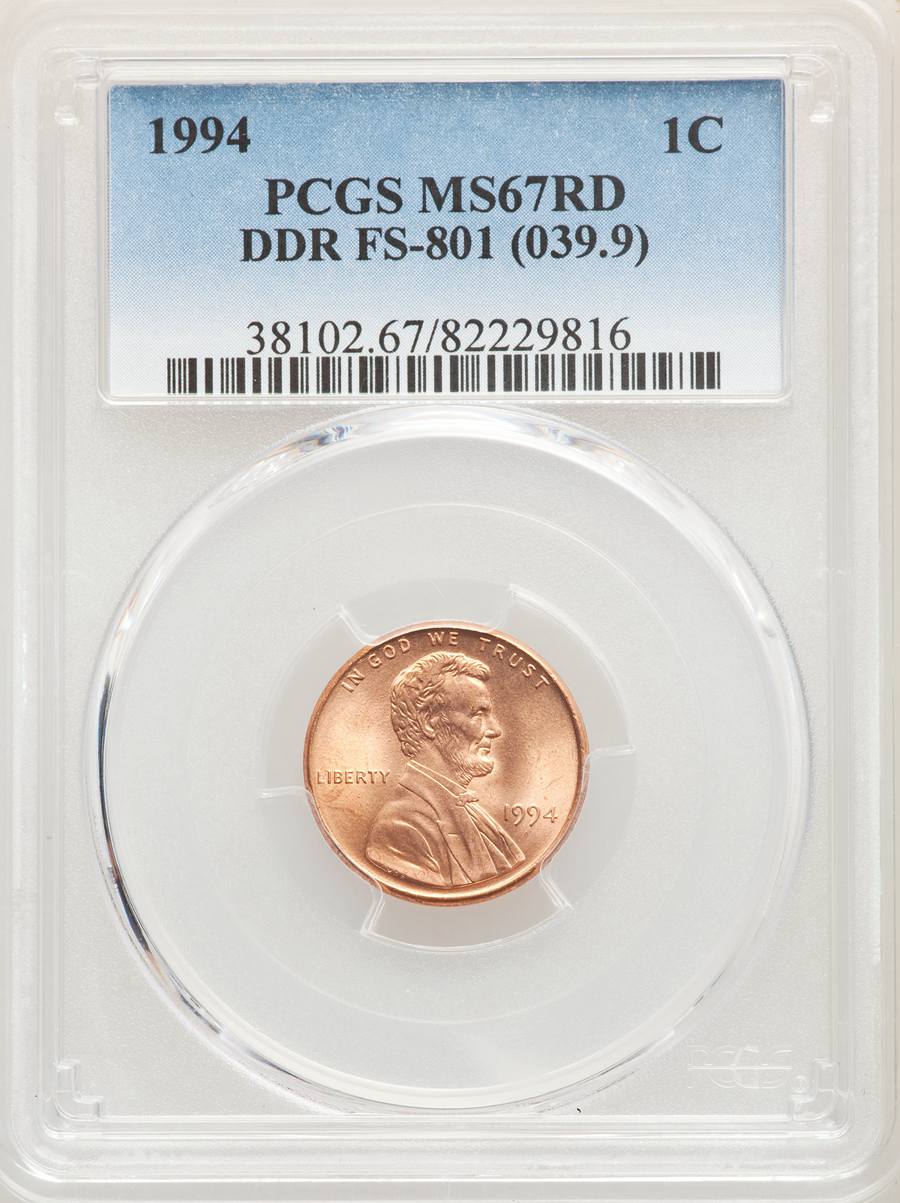 3. 1994 1C Lincoln Cent–Over Struck on a 1994-P 10C–MS66 Sold on Mar 20, 2011 for: $1,495.00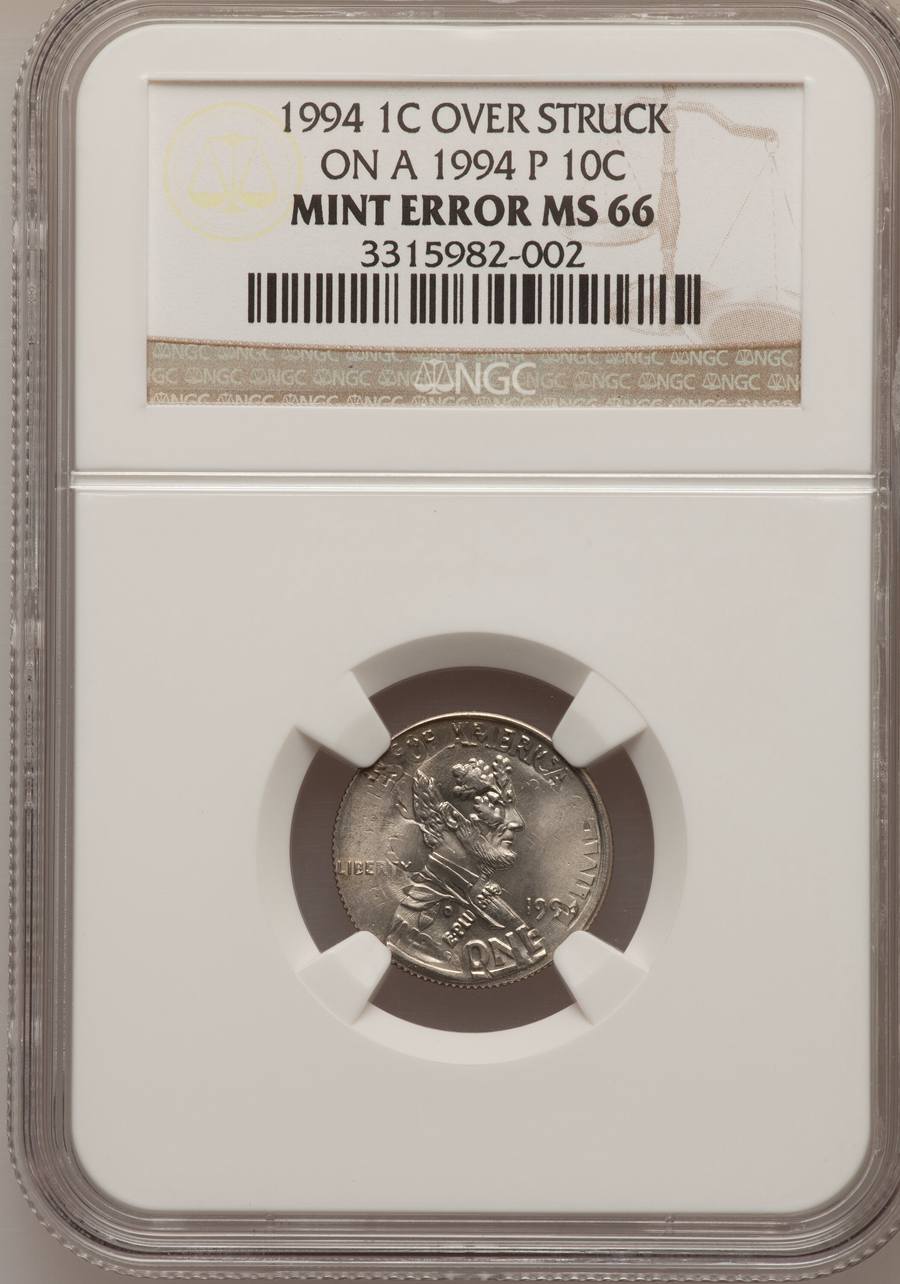 4. 1994-S 1C PR70 Sold on Mar 20, 2003 for: $1,265.00
5. 1994 1C Lincoln Cent — Struck on 1994-P 10C — MS65 Sold on Mar 10, 2021 for: $1,140.00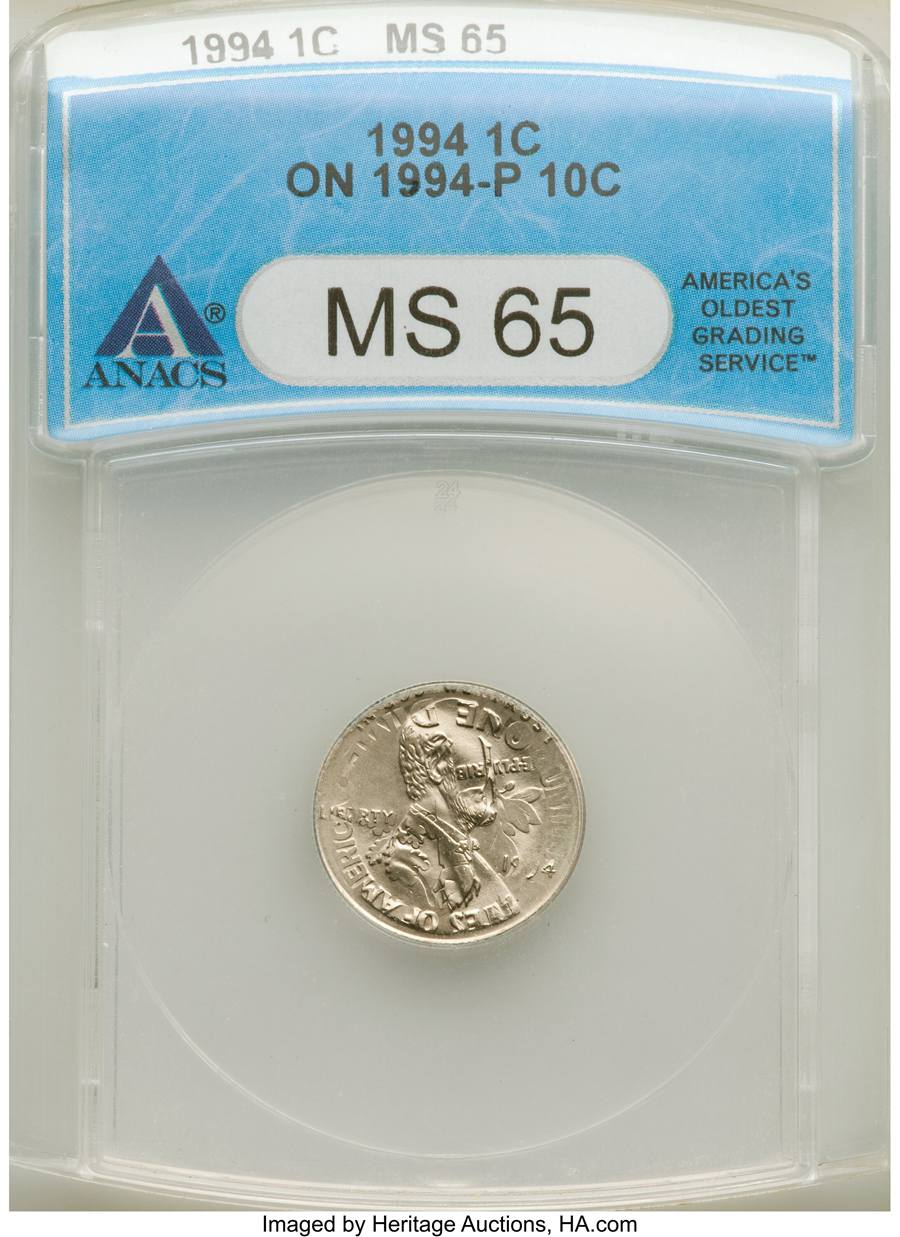 How much is a coin from 1994 worth?
A penny from 1994 isn't worth much, collectors would pay $0.01 good – very fine Lincoln Memorial cent. Even higher grades aren't worth much. A 1994 penny graded MS 68 was sold for only $201. The Lincoln Memorial Cent might not be appreciated in the next few years.
Coins from 1994 might only be worth their face value, this is because a lot of them are still in circulation and it might be easy to come by one.
Where To Buy And Sell 1994 Penny
The Lincoln Memorial Cent is one of the most popular collectibles in the world. These coins are highly sought after by collectors and they can be purchased at a wide range of prices depending on their condition and date.
The best place to buy and sell this coin is on eBay.com, which is the world's largest online marketplace. The site has over 150 million active buyers from around the globe who are looking for all kinds of goods, including coins like this one.
On eBay, you will find that there are thousands of listings for this coin in varying conditions and price ranges. You'll also see a variety of different types of packaging options available for sellers as well as shipping options at competitive rates.
How much is a penny 1944 worth?
A 1994 Lincoln Memorial penny in uncirculated mint condition is worth $0.33 or more. Most pennies minted in 1994 are only worth their face value of $0.01, but they can sell for a higher price if they are in uncirculated condition. The same applies to other variations of the 1944 penny. The 1994 S and 1994 D are worth their face value in average condition and about $0.33 or more in higher grades.
Conclusion
In the end, the Lincoln Memorial Cent is a meaningful addition to any collection. It's not overly sought after by coin collectors, but it is a reminder of our nation's past and the architectural wonders that were created in Lincoln's honor. If you have any of these rare coins, consider yourself lucky! But don't forget to check the coin value against its actual value before you decide if you want to sell or keep it.
The 1994 Lincoln Memorial cent isn't a very valuable coin. You would only get a reasonable amount for this coin if you own an uncirculated coin. If your coin has passed through human hands, pockets, machines, banks, and more, it would be only worth its face value of $0.01. However, if you own an error coin, the value might skyrocket! So, fingers crossed.