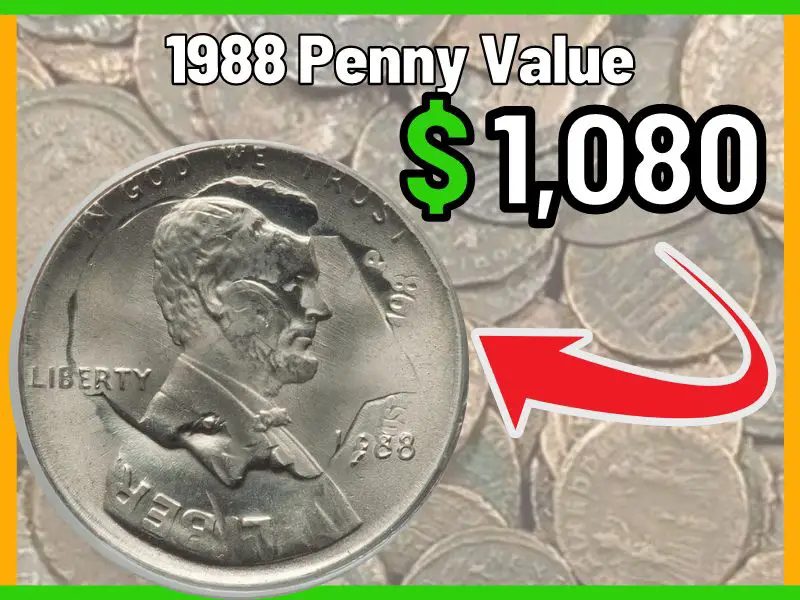 This 1988 penny without a mint mark is worth its face value in worn condition which is 1 cent, and in brilliant uncirculated condition graded MS 65 it is worth $0.33. It is the same for the 1988 penny with the D mark on it.
For the penny marked with S, it is slightly different. The 1988 penny with the S mark are proof coins and are worth $5.70 when graded PR 65.
If you are new to coin values but you have heard or read in other places that folks are making premium profits from selling coins, the meager value of the 1988 penny may surprise you. This is understandable.
As you are learning, the coin value is affected by many factors. Taking time to educate yourself about these factors will help you in making coin purchase decisions. The 1988 penny was produced in very large amounts—billions—so it is hardly rare. You can find them in pocket change today.
1988 Lincoln Memorial Cent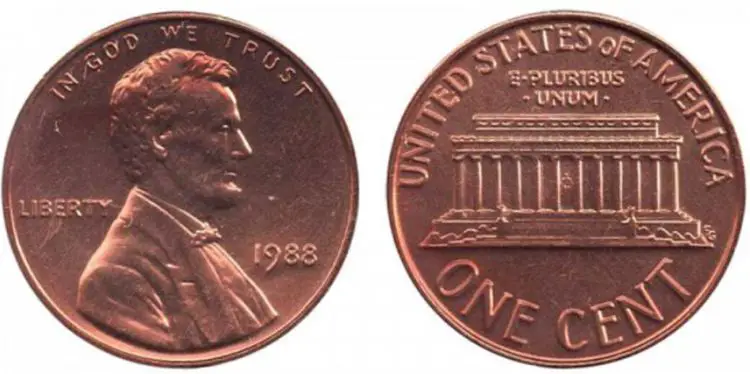 The 1988 penny is also a Lincoln penny, called so because it has the image of late president Abraham Lincoln on the head side. It is also called a Lincoln memorial penny because it features the Lincoln memorial building on the reverse or tail side of the coin.
It is also a coin that features designs from two engravers: Victor David Brenner and Frank Gasparro. Though a whopping amount of this penny was made, it is worth taking a dive into.
History
The 1988 penny belongs in a long line of pennies that began production in 1909 as wheat pennies, called so because the penny at the time featured two stalks of wheat on the reverse or tail of the coin. By 1959 the Eisenhower administration announced its desire to change the design of Penny's reverse.
The new design was to be worked on by Frank Gasparro, the tenth engraver of the United States mint. This new design was to feature the Lincoln memorial building in Washington DC.
By February 12, 1959, the new design was released to celebrate the 150th anniversary of the birth of Abraham Lincoln.
It is interesting to note that to arrive at the design that was used to replace the wheat stalks on the Lincoln penny, the engravers at the mint did an internal competition. Gasparro had never seen the real Lincoln building in Washington DC yet the engraver was able to create what the mint authorities called an impressive job.
For some reason, the US Treasury decided to make the Lincoln penny in a very large number in 1988. Billions of the pennies were made in Philadelphia, Denver, and San Francisco mints.
1988 Penny
Location
Mintage
Philadelphia
6,092,810,000
Denver
5,253,740,443
San Francisco
3,262,948
Total
11,394,813,391
Another change that occurred on the penny was the composition. By 1981 rising expenses in metal required that the pennies be produced using copper-covered zinc.
As recently as 2020 there have been arguments for the elimination of the cents because it now costs a lot more to make a one-cent coin which results in an annual loss of approximately $58 million for the US government. The raw materials required to make pennies now exceed the face value creating a situation where people may be tempted to melt the coin illegally.
Besides, pennies are losing appeal in everyday transactions as they are too small on the denomination count. Their utility has diminished greatly over the past years.
1988 Penny Composition
Metal Composition
97.5% Zinc, 2.5% Copper
Mass/Weight
2.5g
Diameter
19.05mm
Mint Mark
D, S
Edge
Plain
Designer
Victor David Brenner, Frank Gasparro
It looks like the penny has come to stay. Whether it is being used in transactions as expected has not changed the importance of the coin. The argument by those who want the penny to continue its existence is that the poor among us would be forced to spend more dollars each year if all transactions were rounded up.
They suggest instead, changing the composition to something cheaper to keep the price of production down. Moreover, a great majority of Americans still consider the penny an important coin for payments of groceries. Do you have a 1988 penny in-pocket change? It is time for you to take a good look at it.
Design
The American treasury has been known to put a lot of effort into making pennies. The one-cent penny and the American people share a sentimental relationship. Abraham Lincoln was the first historical figure to grace the face of a penny or any coin for that matter in the US.
It was a big deal for the country the year the first penny came out and it has maintained pretty much the same design with only one major change since inception. Every coin has two sides; the obverse or popularly called the head, and the reverse called the tail.
Obverse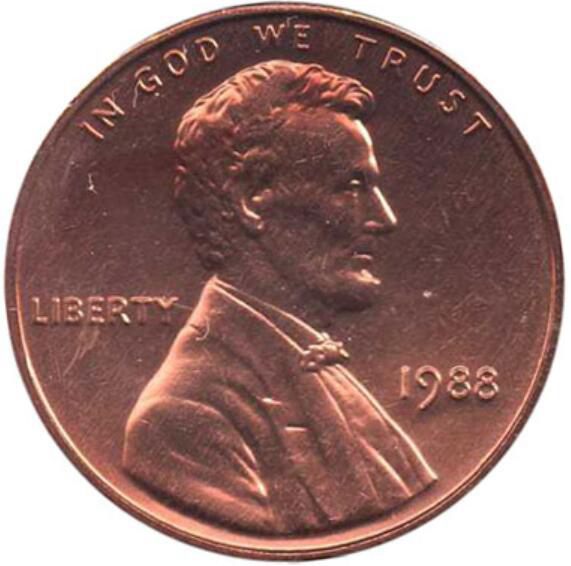 The penny of any year is a simple-looking coin with what artists would call a minimalist design. The obverse or head of the coin shows the bust of Abraham Lincoln facing right. Over his head are the block words: IN GOD WE TRUST, and LIBERTY behind his neck. In front of his chest is the date: 1988.
If you have a coin with a mint mark, the mark would be located under the date. In the picture above note the intricate detail in the hair, ear, eyes, cheekbones, and beard. It is important to take note of these details when valuing your penny. The existence and consistency of these details contribute to how high your coin would be graded by experts.
Reverse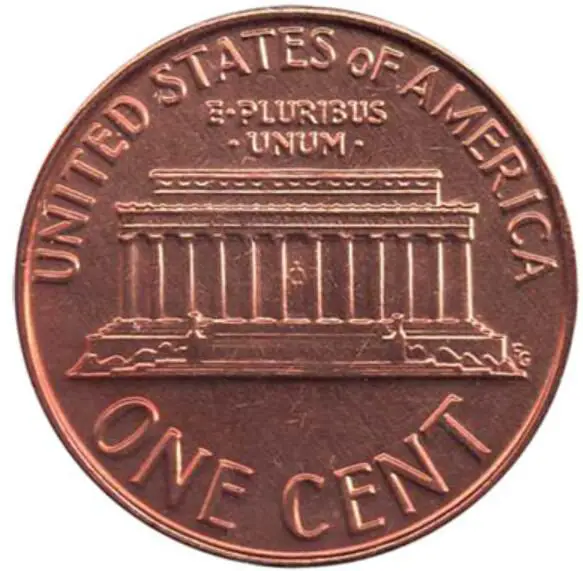 The reverse of the 1988 penny features a design created by mint engraver Frank Gasparro. The former design was the one created by Victor David Brenner which was the wheat penny. The design as you can see in the picture above shows the Lincoln memorial building in Washington DC.
A closer look reveals the tiny image of Lincoln standing in the middle of the columns. You can also see how realistic the steps up the building are. The letterings on the coin are: UNITED STATES OF AMERICA over the building, E PLURIBUS UNUM below that, and ONE CENT under the building.
Mints
Unlike many countries of the world, the United States has three dedicated facilities for the production of her coins. In the year 1988 all three of these mints worked to produce billions of the penny. It was one of the biggest productions in the history of minting coins. The three mints are in Philadelphia, Denver and San Francisco.
Philadelphia Mint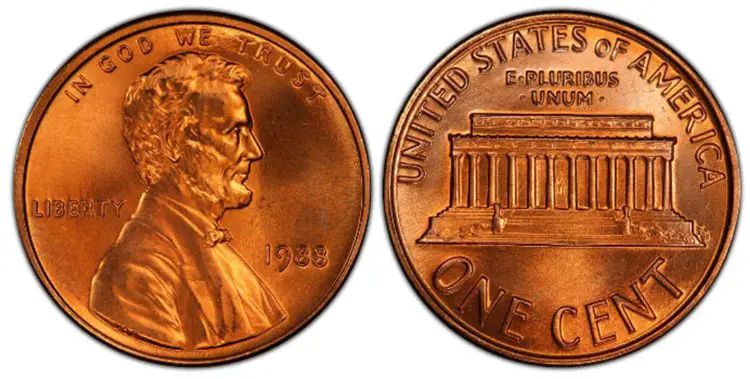 The Philadelphia facility produced more than 6 billion pennies in 1988 using copper plated zinc. All pennies from this facility didn't have mint marks to show they came from that mint which is a custom of that mint. If you have a penny with the 1988 date and there's no mint mark under it, then it was made in Philadelphia.
Denver Mint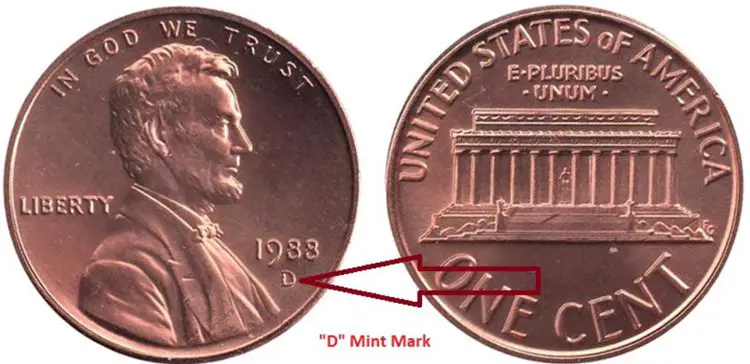 The Denver facility is the second mint where the US Treasury makes coins. Here they made more than 5 billion pennies in 1988. Every coin from this mint has a mint mark below the date. The "D" mint mark on this coin indicates that it was among the coins struck in the Denver mint.
San Francisco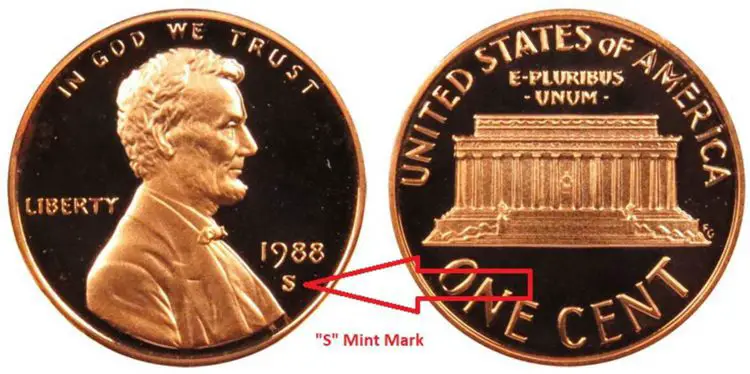 Fewer pennies were made in the San Francisco mint in 1988. All of them bore the S mark under the date and they were all proof coins. Proof coins were made in sets and purchased by collectors. Pennies from the San Francisco mint weren't meant for the public's use in that year.
Grading The 1988 Penny
Coins are not sold the same way other things like clothes and cars are sold. The value of coins is determined by experts trained in the field. If you present your coins to just anyone who's interested in buying them you will likely get a poor sale even though your penny is worth more. But you don't know this, and neither does the buyer. The situation is different if you learn how coins are generally graded.
The following ways are how coins are graded:
Uncirculated (MS)
Coins in this category show luster with their mint looks preserved for theist part. It doesn't mean all coins in this category are the same. They are graded from MS 60 to MS 70.
About Uncirculated (AU)
These are pennies or coins that are so well preserved they look like uncirculated coins. They have less luster though. You will notice some wear on facial features of Lincoln and on the memorial building.
Extremely Fine (EF)
Here you'll notice some wear around the cheeks and jaw area of Lincoln. These coins are referred to as extremely fine because they show only a little wear.
Poor or Basal (P1)
This is the grade for the worst condition of the coin. However, the mint mark and date remain identifiable. The coin is severely bad and faded.
Fair (FR-2)
Here the coin is a little better than the poor coin in that it does not have severe damage but is smooth on the surface like the poor coin. This coin is worth little.
About Good (AG-3)
Here the date is hard to read, major details are worn down. Coins in this grade are better than fair coins only slightly. There is severe wear too.
Good (G)
If your 1988 penny is good it means it is heavily worn and has lost almost all its fine details in Lincoln's hair, his beard, and ears. The memorial building on the reverse has also lost most of its luster and fine details.
Very Good (VG8)
There is heavy wear here too but major details are still visible. Features like the details in Lincoln's image are worn down.
Fine (F12)
Here the overall design of the coin is still very much visible. There's a lot of wear but the rim is separated.
Very Fine (VF20)
The details show a little more wear here. Sharp and bold details persist on Lincoln's cheek and jaw.
Extremely (Extra) Fine (EF 40)
A coin in this category exhibits very little wear. There are bold and clear details in the major features of the coin.
Proof (PR)
This is the grade for proof coins. They are graded PR 1 to PR 70.
Now that you know how coins are graded, if you have a 1988 penny you must be curious to know just how much they are worth today.
| | | | | | | |
| --- | --- | --- | --- | --- | --- | --- |
| Year | G | VG | F | VF | XF | AU 50 |
| 1988 P | $0.01 | $0.01 | $0.01 | $0.01 | $0.01 | $0.01 |
| 1988 O | $0.01 | $0.01 | $0.01 | $0.01 | $0.01 | $0.01 |
| 1988 S | $0.01 | $0.01 | $0.01 | $0.01 | $0.01 | $0.01 |
1988 No Mint Mark Penny Value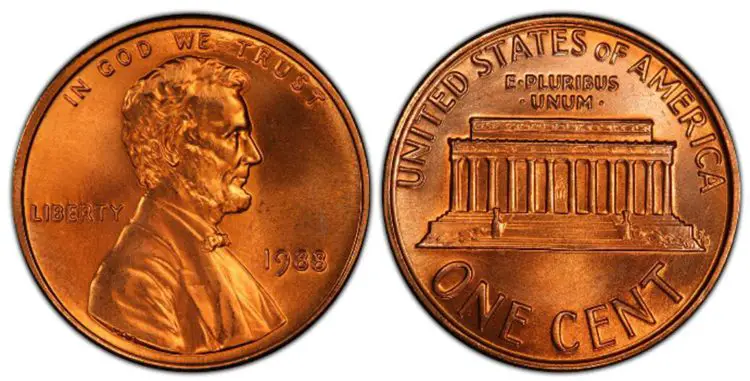 This no mint mark penny is worth $0.33 in brilliant uncirculated condition. If you have a 1988 penny or a collection of it somewhere, it is time to get them out. Here is a chart showing sales of the no mint mark penny for prices higher than $0.33.
| | |
| --- | --- |
| Quality | Price |
| MS 65 | |
| MS 66 | |
| MS 67 | |
| MS 68 | |
1988 D Penny Value
1988 D penny was produced in the Denver mint. 5 billion of this penny were produced that year. It bears the same design and composition as the one made in Philadelphia. And it has outdone the other penny in the market too. As the chart below shows.
| | |
| --- | --- |
| Quality | Price |
| MS 65 | |
| MS 66 | |
| MS 67 | |
| MS 68 | |
1988 S (Proof Coin) Penny Value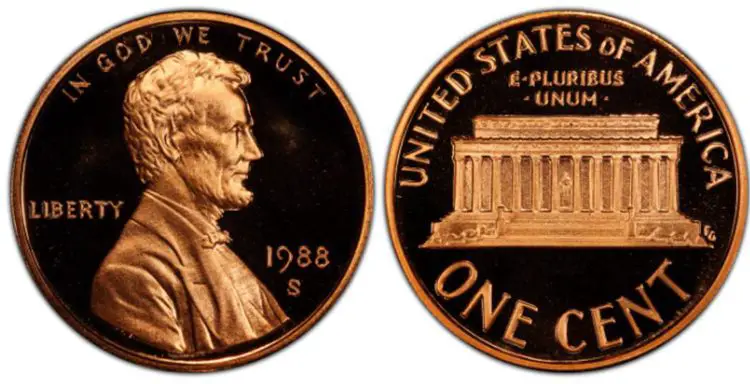 More than 3 million proof coins marked with S were made in the San Francisco mint in 1988. They were mirror-like and very appealing to the eyes.
| | |
| --- | --- |
| Quality | Price |
| PR 68 | |
| PR 69 | |
| PR 70 | |
1988 Error Pennies
Almost every US coin has error variations. This refers to coins that have imperfections that originate from the mint. These imperfections do not include the ones that occurred to the coins while in circulation. They must have occurred as the pennies were struck. There are different errors in the 1988 penny in existence. Many of them can be found on eBay. Below are a few.
Doubled Die

In the example above you can see the doubling in the letters D and FG which stands for the name of the designer of the reverse Frank Gasparro.
A doubled Die occurs when the die is not properly placed over the blank before the strike causing an error in the minting of the penny. Not all error coins sell for premium prices. A 1988 penny with a doubled die in Lincoln's ear was sold for $3,120. It was graded MS 66.
1988 Penny Die Break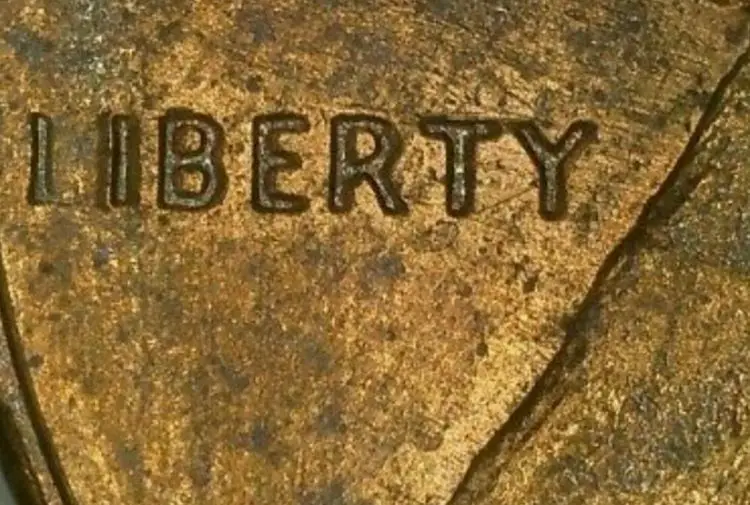 A die break refers to lines, cracks, or protrusions on the coin. This error makes a coin quite expensive depending on how severe the break is. Some are worth $3 while others are worth as much as $100 or higher. Die breaks are easy to catch on a coin with the naked eye.
1988 Off Center Penny Value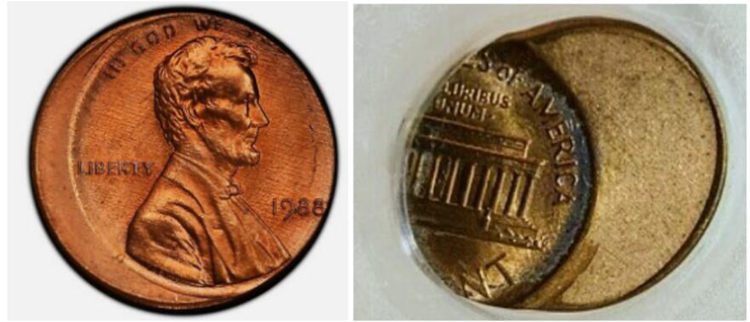 An off-center error occurs when there's a misalignment in the planchet during the strike. This causes some parts of the features of the coin to go missing. As in the example above, some of the letterings are missing, and a large part of the rim features. For an off-center error to be worth enough, the missing parts have to be at least 50% of the coin. A 40% off center can be worth as much as $129 or more.
5 Most Valuable 1988 Penny Ever Sold
5 Most Valuable 1988 Penny
No.
Type
Condition
Sold Date
Price
1
1988 1C Lincoln Cent — Double Denomination on a Struck Dime
MS66
Aug 28, 2022
$1,080.00
2
1988 1C Lincoln Cent — Struck on 1988-P 10C
MS64
Sep 10, 2017
$504.00
3
1988 1C Lincoln Cent — Struck on a Clad Dime Planchet
MS65
Aug 6, 2017
$470.00
4
1988 1C
MS68 Red
Mar 6, 2016
$399.50
5
1988 1C Lincoln Cent — Struck on a 10C Planchet
MS64
Jan 12, 2015
$387.75
1. 1988 1C Lincoln Cent — Double Denomination on a Struck Dime — MS66 Sold on Aug 28, 2022 for: $1,080.00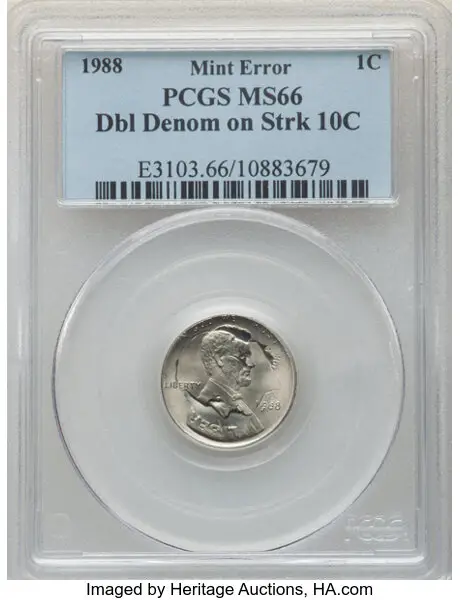 2. 1988 1C Lincoln Cent — Struck on 1988-P 10C — MS64 Sold on Sep 10, 2017 for: $504.00
3. 1988 1C Lincoln Cent — Struck on a Clad Dime Planchet — MS65 Sold on Aug 6, 2017 for: $470.00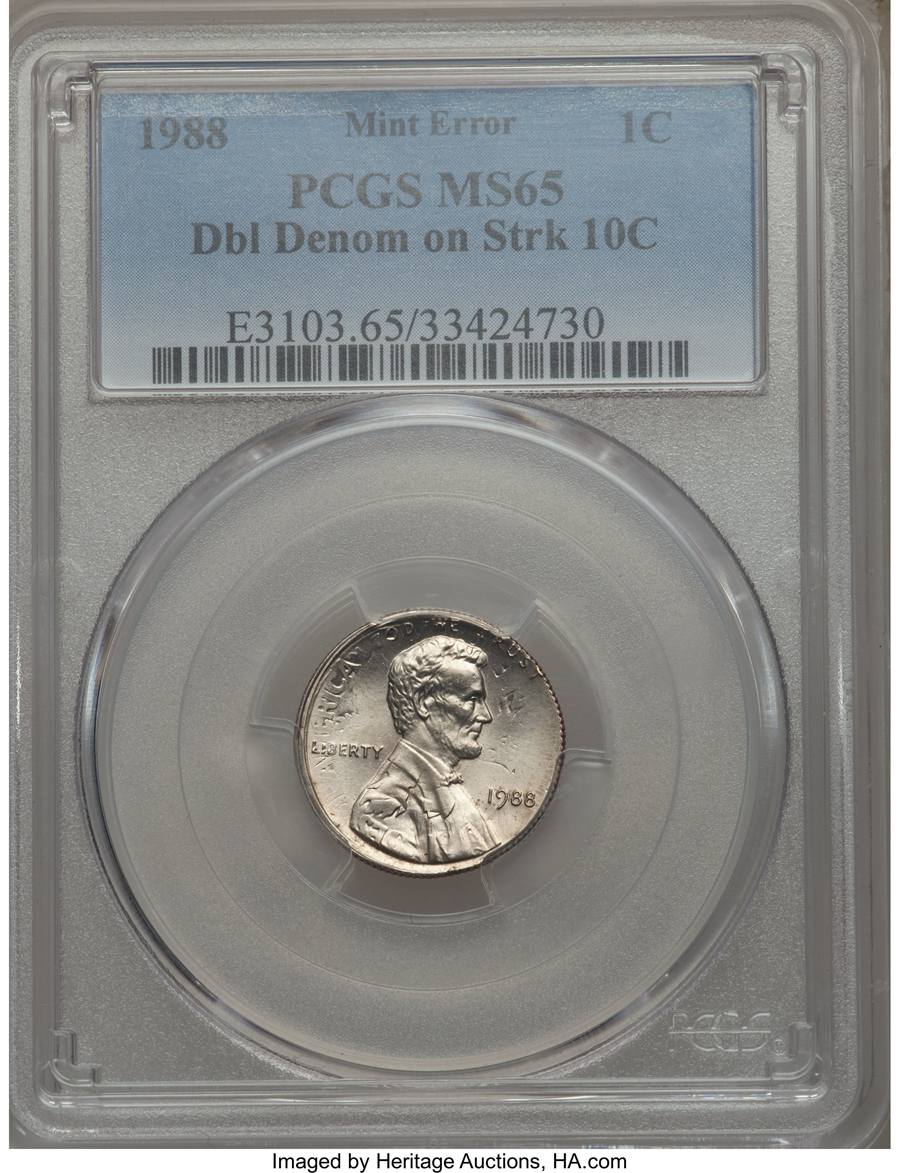 4. 1988 1C MS68 Red PCGS Sold on Mar 6, 2016 for: $399.50
5. 1988 1C Lincoln Cent — Struck on a 10C Planchet — MS64 Sold on Jan 12, 2015 for: $387.75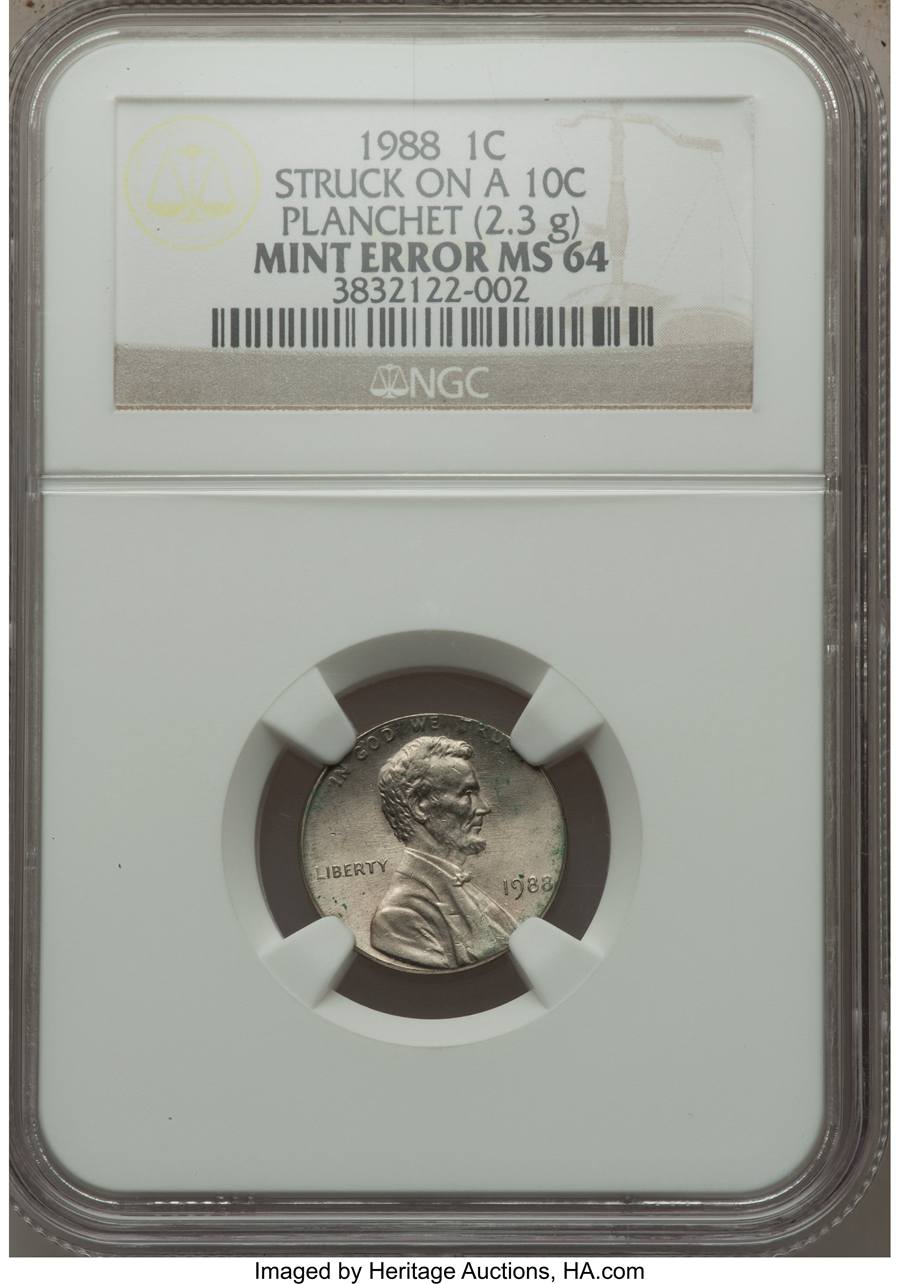 Where To Sell Your 1988 Penny
Now that you know enough to understand the value of the 1988 penny, you may be thinking of selling your pieces. Before taking this step, you need to review the section in this article about how to grade coins. They have your 1988 pennies graded by PCGS (Professional Coin Grading Service) or any other experts. This helps you have an idea of what to expect from the sale of the coin.
The places you can sell your coins include the internet. Online places include
This is a well known and trusted online auction place where you can post pictures of your coin for sale. They charge a fee which is deducted at the end of the sale.
This site accepts sales and also provides grading services. They provide price updates and news about coins. They are known to feature information about virtually all US coins that have ever been made. They are one of the best sites for coin sales. They have a wide audience of experts and collectors you can leverage for the best transactions.
This site offers a wide audience for your coins too. They offer their services for a fee as well.
This is one of the most popular places you can sell your coin. eBay is visited by thousands of people every day looking for antiques. They also take a fee for using their platform.
Offline places to sell include:
Pawnshops
Yard sales
Direct Sale to Collectors
Bottom Line
Pennies provide an inexhaustible opportunity to understand US coins and their value. If you are new to the world of coins, begin with the penny. There's plenty of material to read up with a rich history. The 1988 penny is only one out of an array of pennies, each with its own value.