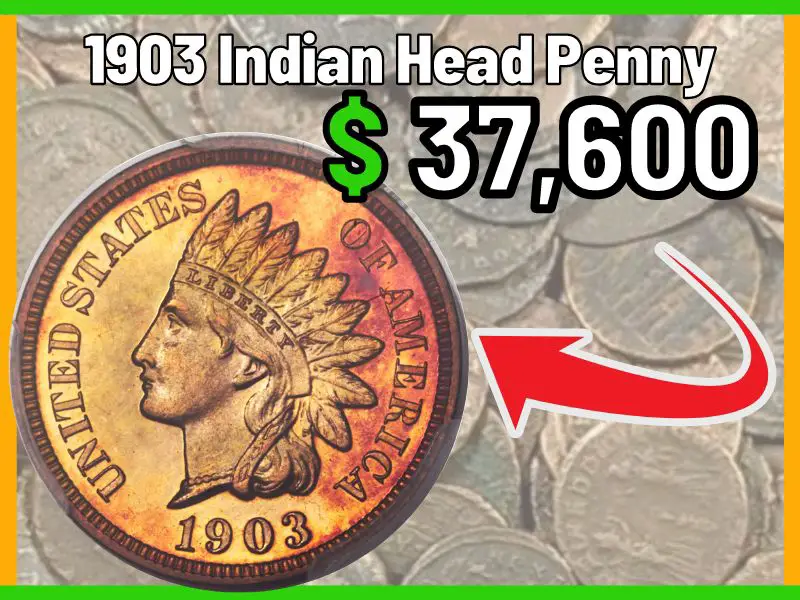 A 1903 Indian penny can sell anywhere from $2 to as high as $100 depending on its grade. However, the coin has a face value of $0.01, making it a low-value one.
Although it's neither rare nor particularly unique, the Indian Head penny is an interesting piece to have in any collection, especially in its mint condition. But since this penny is over a century old, finding one in such pristine conditions might pose a feat.
In this article, asides from knowing how much a 1903 penny is worth, you'll also know how to identify one, its history, and the best place to sell your penny.
The Indian Head Penny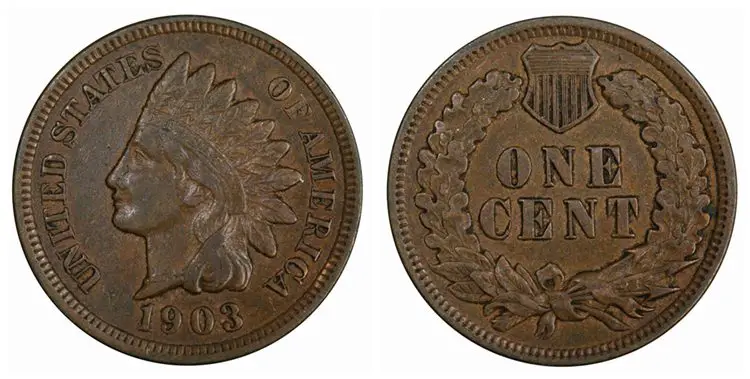 The Indian head penny is one of the oldest coins ever minted in United States history. In fact, the 1903 Indian Head penny especially is one of the last pieces in the series that the US minted over the course of the years.
It's been over a hundred years since the last Indian head penny was produced, and that's why many collectors struggle to find one in excellent condition today.
1903 Indian Head Penny

Face value
One cent ($0.01)
Metal Composition
95% Copper – 5% Tin and Zinc
Diameter
19 mm
Mass / Weight
3.11 grams
History
The Indian head penny, which is also known as the Indian head cent, can be considered a relic.
Initial production started in 1859, and it was in circulation for 50 years before production for this coin was finally drawn to a close in 1909, with the 1903 Indian head penny being the last series ever to be produced.
Interestingly enough, the Indian head penny, in the course of its history, has seen some changes, especially in its composition.
From 1859 -1864, the coin was made from copper and nickel. But in 1864, the composition was altered, and coins minted from that year to 1909 contained copper, zinc, and tin.
The reason for this change in composition was because of the discovery of gold in California, causing inflation. Thus, Gold became more abundant, and the price of copper increased alternately. Since cents and half cents production was the major profit of the Mints, alternatives were needed.
That's how the coin got a new composition of 12% nickel and 88% copper (which was actually a copper-nickel combination) and even a reduction in size.
This new composition was the first use of copper-nickel by the US mint.
With the new rebranding, the Indian head coin also saw a major design change as well. In 1858, the initial design of a flying eagle was replaced by the "Indian head" design for which the Penny is known today.
The 1903 Indian Head penny was designed by James Barton Longacre, the chief engraver at the mint in Philadelphia.
Even though it was widely circulated, especially post-war with the advent of coin-operated machines, production of these popular coins stopped. They were replaced in 1909 by the Lincoln cent, which Victor Brenner designed.
Features
The 1903 Indian head penny has a composition of 95% copper and 5% tin and zinc. This unique composition was used in minting these pennies from 1864, giving them a shinier, almost silvery appearance, and as a result, they were often referred to as white cents or nicks.
Since copper is a very active metal, you might find that similar coins might have different colors. For example, uncirculated Indian head pennies have a certain gold background shine, but the bust on the obverse side and the Indian's headdress maintain a deep red color.
However, circulated ones might have a rusty-looking appearance due to being exposed to moisture.
The Indian head penny weighs about 3.11 grams, has a plain edge, and measures 19mm in diameter. Like every other coin, it has an obverse side and a reverse side which features unique insignia or busts portraits that distinguishes them from other coins.
Obverse
The obverse side of the Indian head penny features a portrait of a lady wearing a traditional headpiece.
However, contrary to what the name implies, the subject on the obverse side is not a native American. Instead, it's actually Lady Liberty's image that was engraved onto the coin with her features modeled after the face of chief engraver Longacre.
She wears a native headdress with the inscription "LIBERTY" struck on the headband around her head.
The portrait is struck on the center of the obverse of the coin, and surrounding it on either side is the inscription "UNITED STATES OF AMERICA," while the date is struck right below the bust.
Reverse
The reverse side or tails side has a simpler design. You can recognize it by an oak wreath and a shield at the top. The "ONE CENT" denomination lies struck at the coin's center, and the a laurel wreath surrounds it on either side.
Finally, the wreath is tied with olive leaves and several arrows.
Mints and Mintage
Most old coins were struck at three minting facilities. They are the mint in Philadelphia, San Francisco, and Denver.
Depending on where coins are minted, you can distinguish them from each other by the presence or absence of mint marks. The presence of a "D" or "S" indicates that the coin was struck at the Denver or San Francisco mint, respectively.
With 85,092,703 Indian head pennies struck by the Philadelphia mint, this coin was abundant in circulation. However, the other minting facilities did not produce Indian head pennies this year.
1903 Indian Head Penny

Location
Year
Minted
Philadelphia
1903
85,092,703
Philadelphia
1903 proof
1,790
Total
/
85,094,493
How Rare is the 1903 Indian Head Penny?
The Indian head pennies weren't a limited edition type coin. They were minted for years, and over a billion pennies were produced in total during the pennies' course in circulation.
As such, the 1903 Indian head penny also circulated in great numbers, making it quite easy to acquire today. However, the real challenge lies in getting one in excellent conditions like MS 67 and above.
Although the Indian head pennies aren't all that rare, finding one in mint uncirculated condition might pose a problem.
The reason is that most of the last 1903 pennies have been circulated so many times that they might not even look recognizable anymore.
That's why a 1903 Indian head penny in uncirculated condition has a higher value than others with lesser grades. While the circulated ones might sell at face value, the Uncirculated ones can fetch as much as $20 per piece.
Factors that Influence a Coin's Worth
Not all coins that belong to the same series will sell at a similar price. Some can sell at face value or less, while others can be worth hundreds of dollars.
All these are determined by certain factors like the state or condition of the coin, its rarity, demand etc. These attributes can bolster the coin's value at auctions and sales.
Grade
Grading a coin involves analyzing and inspecting the coin's surface to determine its condition and quality.
Certain points in a coin indicate the amount of wear a coin has been subjected to over the years.
Coin dealers, by Inspecting these key points on the coin, like Lady Liberty's portrait help them ascertain the coin's grade and ultimately, its value.
Depending on the degree of wear, the coin can be categorized into good, fine, extremely fine, and mint state, with the latter being the best grade a coin can have, while the good grade indicates the poorest condition.
Coins in Mint State have the most value and will fetch significantly higher prices when sold.
Demand
The 1903 Indian penny is quite popular among collectors, making it in constant demand. However, its high mintage makes it available to meet the demands, effectively reducing its value
Rarity
Rare coins are more valuable than common ones. 1903 Indian pennies with low grades are easy to find, lowering their value among collectors.
However, the ones in uncirculated conditions are rare to find, and they can fetch you higher prices if you choose to sell. If not, they still make excellent additions to a collection.
Error
Errors occur in every coin production run, and depending on these errors, the coins can cost more or less when being sold.
Common errors like re-punches, planchets, and doubled dies generally add to a coin's value. This is also true for 1903 Indian head pennies.

1903 Indian Head Penny Value
Although an Indian head penny is worth a face value amount of about $0.01, data has proved that the ones in excellent conditions sell for much more.
If you're lucky enough to get yourself an Indian head penny in uncirculated condition, you can sell it for as much as $100.
Here's a table showing the prices some Indian head pennies have been sold for on eBay.
1903 Indian head penny
| | |
| --- | --- |
| Coin | Price |
| MS 62 BN | $74 |
| MS 63-Toned | $75 |
| MS 64 RB | $160 |
| MS 65 BN | $205 |
Prof
| | |
| --- | --- |
| Coin | Price |
| PR 63 BN | $299 |
| PR 64 RB | $291 |
| PR 65 BN | $650 |
5 Most Valubale 1903 Indian Head Penny Ever Sold
5 Most Valubale 1903 Indian Head Penny
No.
Type
Condition
Sold Date
Price
1
1903 Indian Cent
PR68
Jan 5, 2017
$37,600
2
High-Grade Six-Piece 1903 Proof Set
PR65
Sep 27, 2007
$23,000
3
1903 Indian Cent
PR68
Feb 15, 2007
$20,700
4
1903 Indian Cent
MS67
May 29, 2008
$16,100
5
1903 Indian Cent
MS67
Aug 14, 2019
$15,000
1. 1903 Indian Cent PR68 Sold on Jan 5, 2017 for: $37,600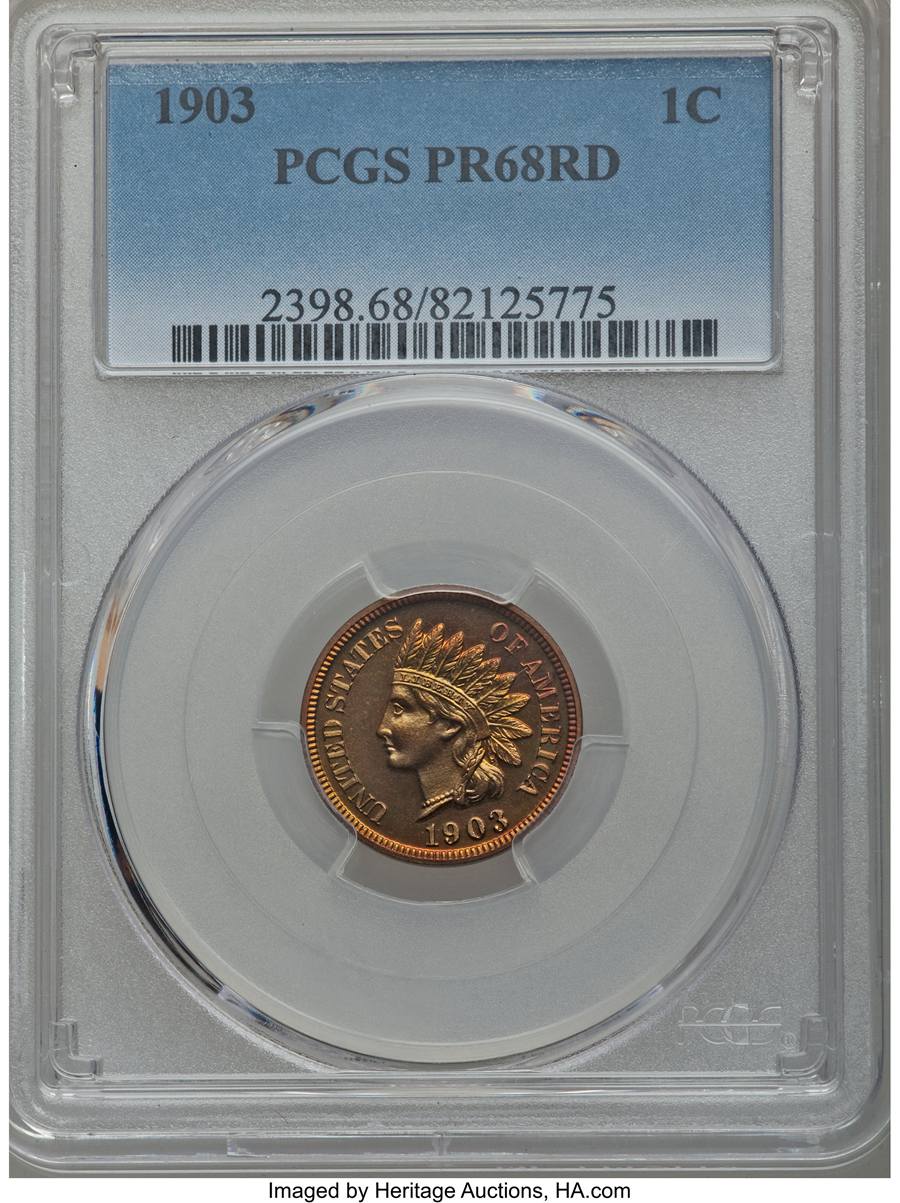 2. High-Grade Six-Piece 1903 Proof Set PR65 to PR68 Sold on Sep 27, 2007 for: $23,000.00
3. 1903 Indian Cent PR68 Sold on Feb 15, 2007 for: $20,700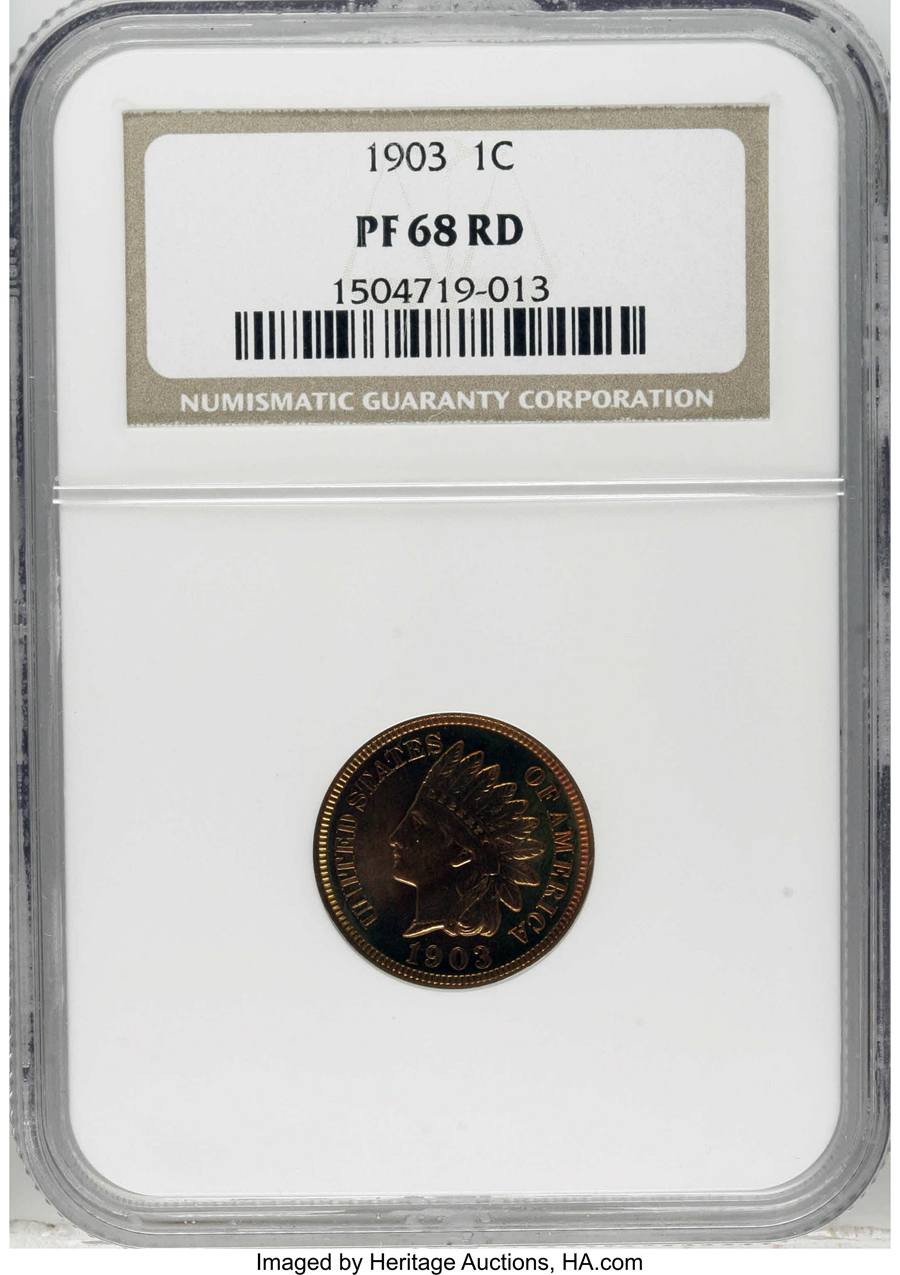 4. 1903 Indian Cent MS67 Sold on May 29, 2008 for: $16,100
5. 1903 Indian Cent MS67 Sold on Aug 14, 2019 for: $15,000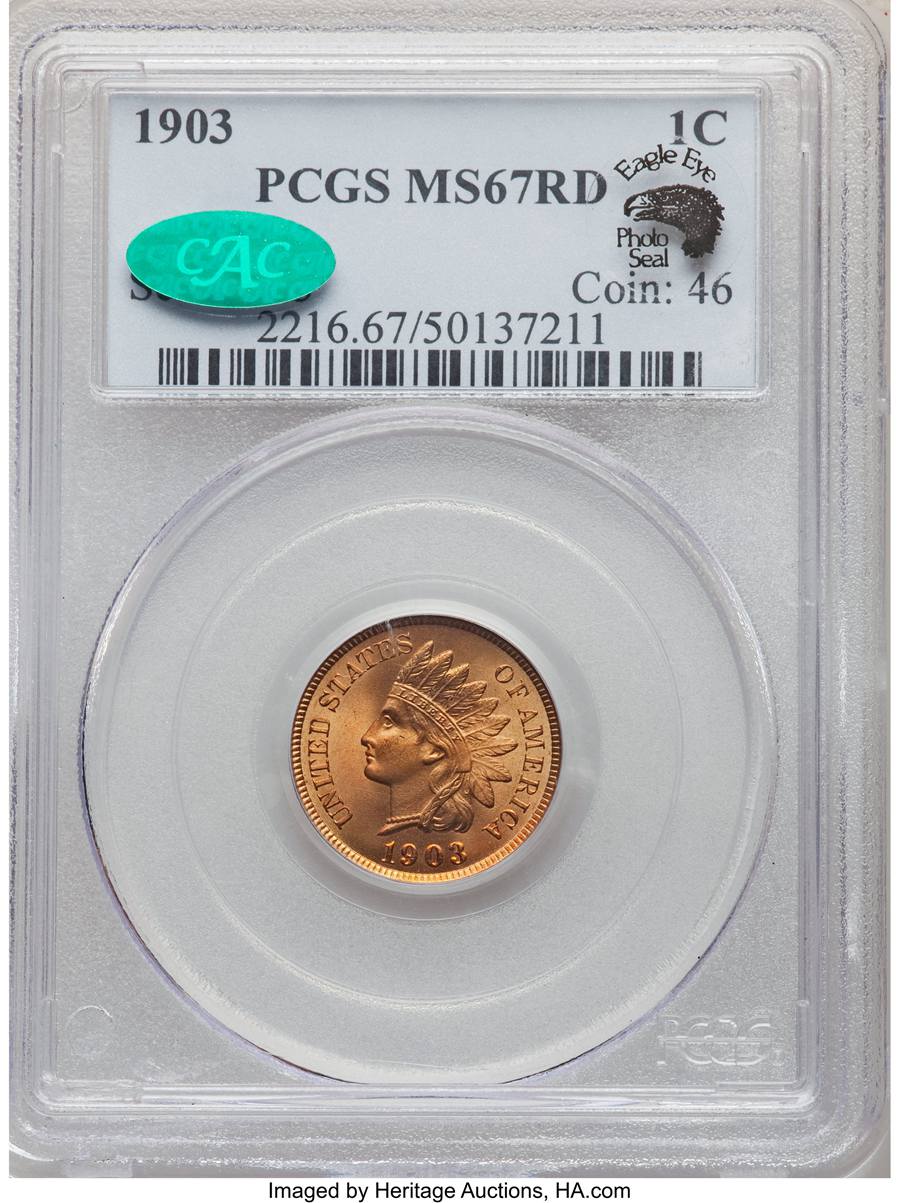 Best Places to Sell Your 1903 Indian Head Penny
Before you make the move to sell your Indian head penny, it is vital to know that the prices might vary depending on the platform you chose.
For example, pawn shops can buy your Indian head penny (depending on its condition) for $1 in good condition or $10 in extremely fine condition. An uncirculated coin might be higher with Ms-60 sold for $30.
However, pawn shops aren't your only options. Online platforms provide excellent possibilities for you to get the best value for your coin.
Websites like eBay and Heritage Auctions are popular choices among people looking to build coin collections. However, there are other online platforms like Etsy, and the US quarters. These alternatives will also work fine.
Note: To make sure you are getting your money's worth for your coin, you should get your coin appraisal from a professional.
Although an online shop is where the money is, pawn shops are best when it comes to accessibility and other factors, including getting your coin graded. They also serve as good choices for low-value coins as you can sell to them for quick cash.
Wrapping Up
The 1903 Indian head penny with its interesting history and the unique color is a great addition to any collection. If you happen upon this piece, it's worth finding out its value or adding it to your private collection.
Since it's been over 100 years since coins in these series were produced, it might be difficult to find any in a pristine mint state. However, they'll be a worthy find either as an addition to a collection, to complete a series, or to sell off to the highest bidder.
That notwithstanding, the ones you find amongst your loose change might still be of value but definitely not as much as the others in better conditions.