The price of a 1971 Kennedy half dollar depends on its condition. A circulated half-dollar coin can go for up to 50 cents, and a certified mint coin is worth $12 per coin.
The 1971 half dollar has experienced a long and quite interesting production life since its first mintage in 1964.
After the assassination of President John F. Kennedy, congress immediately swung into action. It passed a law that removed the Benjamin Franklin half dollar and replaced it with a coin that would immortalise and honour president Kennedy.
Of course, a coin created to celebrate such a beloved man should be worth more than a dime today, right? Well, this article will cover everything about how much a 1971 half dollar is worth.
The 1971 Kennedy Half Dollar
The 1971 Kennedy half dollar production was started because of history-altering circumstances. And the coin has been a significant part of history, from its historical significance to its production record.
However, even with all the changes made, the coin has only become more popular since the first year it was produced. We will explain whether or not the popularity of the 1971 half dollar affects its value later in this post. But first, some history of the coin is needed.
History
The production of the 1971 half dollar served to honour one of America's most loved presidents, John F Kennedy. Unfortunately, it came at a cost, and that was the Franklin half dollar seeing a complete shut down in production as the Kennedy half dollar replaced it the following year after the assassination of the President.
Gilroy Roberts was responsible for creating the portrait of Kennedy on the obverse. At the same time, Frank Gasparro sculpted the heraldic eagle on the reverse based on the Great Seal of the United States.
Although that alone didn't mark the most significant thing in history to affect the 1971 half dollar because when the 70s came rolling by, the mints had to alter even the materials used in the half dollar production.
Initially, when mintage first began for the Kennedy half dollar, the constituents of the coin were 90% silver and 10% copper. However, in 1971, the United States mint removed all silver from the half dollar series.
This led to the half dollar coin being composed of two outer layers; 80% silver and 20% copper with an inner core of 20.9% silver and 79.1% copper. Unlike in the previous years where silver made up most of the constituents of the 1964 half dollar, the 1971 new mint now had a net composition of 40% silver and 60% copper.
The reason was due to The Coinage Act of 1969 which authorized the production of the Eisenhower dollar (although that bill also called for the production of silver-clad dollar coins to be sold to collectors). It is important to note that this bill was signed by President Richard M. Nixon minutes before midnight on December 31, 1970.
All the removed silver eventually went into the production of coins honoring the late president and World War II general Dwight D. Eisenhower. The silver removal from the Kennedy half was attached as an amendment to the One Bank Holding Act of 1970.
Fortunately, this course of action worked for production material-wise. Nevertheless, while the production of the 1971 half dollar did increase exponentially due to the lower cost of mintage, the same couldn't be said about its usage by the public.
Mints
1971 Kennedy half dollars were produced at three different mints which were the Philadelphia, Denver and San Francisco mints. All three mints have their unique designated marks or means of identification known as mint marks.
Coins struck at the Philadelphia mint had no mint mark, Denver had the letter D and San Francisco the letter S. All mint marks of the Kennedy half dollar coin were located on the reverse side of the coin below the eagle's claw until 1968.
In 1968, the position of the mint marks changed to the obverse side below Kennedy's bust and above the date. This new mint mark position carries on till date.
A fun fact about the mint mark of the half dollar coin is that from 1965- 1967, they didn't carry any mintmark. In fact, no US coin carried a mint mark within those years.
Features
The 1971 Kennedy half dollar coin was no ordinary coin, it was created to honor the recently assassinated president and, by so doing, immortalize him. Perhaps that's what made the coin so popular back then and even now.
Obverse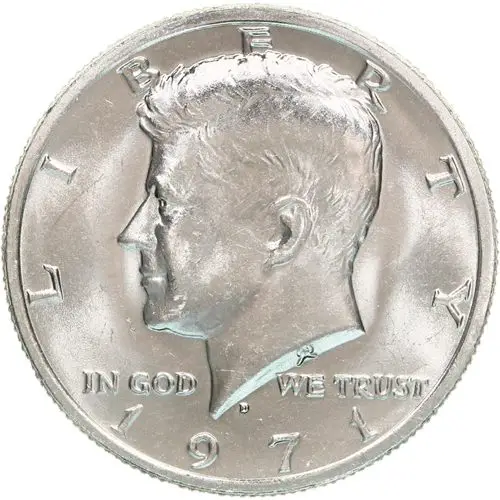 You will find the left side profile of John F. Kennedy, which was engraved by Gilroy Roberts. Right below the bust of Kennedy were the famous words "IN GOD WE TRUST" that are also seen on the 1971 Lincoln coin and other coins still minted today.
Also, below that is the mint year and above the late president's profile is the word "LIBERTY".
Reverse
The coin's reverse carries the heraldic eagle clutching an olive branch in its right talon and arrows in the other. There are about 50 stars encircling the eagle with the famous motto "E PLURIBUS UNUM" engraved above it.
At the bottom of the coin, you will find its denomination which is "ONE DOLLAR" in this case and "UNITED STATES OF AMERICA" at the top of the coin.
How to tell if a 1971 Kennedy Half Dollar is Silver
Even though silver was removed from being the major component of the 1971 half dollar, it's still possible to find a Kennedy half dollar with silver as its major constituent. The best to ascertain your coin's components is to take it to an expert numismatist or coin appraiser.
For the sake of context, it's worth knowing that All U.S. coins, including silver dimes, half dollars and quarters that were minted either before 1964 or within 1964, have 90% silver content. These coins are referred to as "junk silver." While those that were minted after 1965 contain a metal base having copper and nickel as their major content.
If you want to tell them apart (i.e. junk silver from metal base coins), you need to inspect the edge of your coins. If the coin still has a solid silver stripe, then it's safe to assume that the coin is silver. However, after all the wear and tear of the years, you notice that the coin edge now has a copper stripe, the coin isn't silver.
Also note that generally speaking, a coin that still contains silver but in a lesser quantity (e.g the limited edition Eisenhower coin, which has 40% silver content) will have a more subdued silver stripe with faint traces of copper.
How Rare is a 1971 Kennedy Half Dollar?
The 1971 Kennedy half dollar was a rather popular coin during its days. And with so many issues and varieties being circulated, it only makes sense that one of them is rare. Surprisingly, none of the half-dollar issues are particularly rare or even all that expensive.
Basically, any coin collector can add the coin to their collection at an affordable price, and it would be a worthy find too.
However, there are some rather rare half dollars that are a much higher value than the rest. Like the half dollars that were struck at the Denver mint in 1970. The Philadelphia mint, which usually has the highest mint of all three, didn't produce any Kennedy half dollar in that year. And the coins produced in other mints like in San Francisco and Denver basically had to bear the weight of production.
The coins minted in Denver were of very high quality and were included in the United States Uncirculated Mint Set. That means if you wanted to get these coins, you'd have to buy the United States Uncirculated 1970 mint set.
1971 Kennedy Half Dollar Value
The value of a coin is basically what you'd expect to get for the said coin when retailed, which depends largely on the grade of the coin. Grading a coin simply means determining a coin's condition.
Coin collectors generally grade a coin's condition based on four different categories, with three under the circulated category and one in the uncirculated category.
If a coin was circulated, it could be either; good, fine or extremely fine. While an uncirculated coin is a coin in mint condition. Meaning it was never released, and it still looks as it did the day it was produced.
Uncirculated or mint coins are the best condition a coin can be in, and that means their retail value will be higher than others.
If you're unsure of what the grading condition of your coin is, you can either check it for yourself or meet a professional.
Mint Values
Here's how much your 1971 Kennedy half dollar will fetch on eBay based on its grading condition.
1971-P Kennedy Half Dollar Value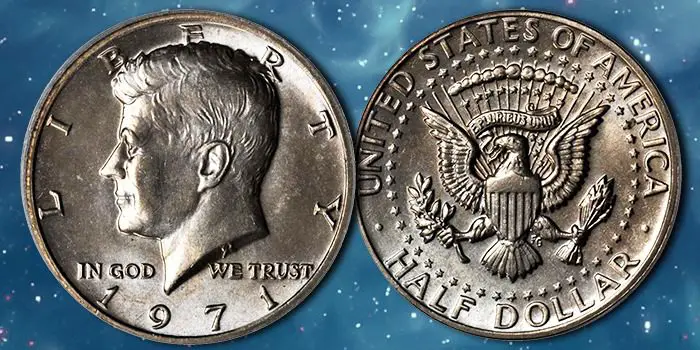 | | |
| --- | --- |
| Coin | Price |
| 1971 P Kennedy Half Dollar (MS 65) | $65 |
| 1971 P Kennedy Half Dollar (MS 66) | $69 |
1971-S Kennedy Half Dollar Value
| | |
| --- | --- |
| Coin | Price |
| 1971-S Kennedy Half Dollar – About Uncirculated (AU) | $1.09 |
| 1971-S Kennedy Half Dollar (PR 64) | $19.95 |
| 1971-S Kennedy Half Dollar(PR 67) | $13.99 |
| 1971-S Kennedy Half Dollar(PR 68) | $24.99 |
| 1971-S Kennedy Half Dollar(PR 69) | $175 |
1971-D Kennedy Half Dollar Value
| | |
| --- | --- |
| Coin | Price |
| 1971-D Kennedy Half Dollar – MS 64 (Double Die Obverse) | $80 |
| 1971-D Kennedy Half Dollar – MS 64 (Clipped Planchet) | $67.66 |
| 1971-D Kennedy Half Dollar (MS 65) | $3 |
| 1971-D Kennedy Half Dollar (MS 66) | $29 |
| 1971-D Kennedy Half Dollar (MS 67) | $80 |
| 1971-D Kennedy Half Dollar (PF 69) | $36 |
Where to Sell Your 1971Kennedy Half Dollar
It is quite common knowledge that you can increase the value of your 1971 Kennedy Half Dollar by selling it on the platform or in the right place. The first and probably the most popular place to sell your coins is on online platforms like eBay or Etsy.
Here you can place your coin on an auction and sell it to the highest bidder. This is probably the most profitable out of all of them. A good course of action is to grade your coin before listing it on these platforms. This will help you get the right value for your 1971 Kennedy half dollar.
Another option is your local pawn or coin shop, where they can grade your coin for you and give you cash upfront. On the downside, you might receive less compared to using an online platform even though this option is somewhat comfortable.
All in all, any option that works best for you will suffice.
Wrapping Up
John F. Kennedy was a great president that's why upon his assassination it only seemed right to honor him by dedicating a denomination to celebrate him.
Although the half dollar has experienced a lot in the case of production, it's still a neat find to add into any condition especially if you're able to procure a limited edition. Regardless of its rarity, anyone in at least fine condition will fit it nicely in your collection.