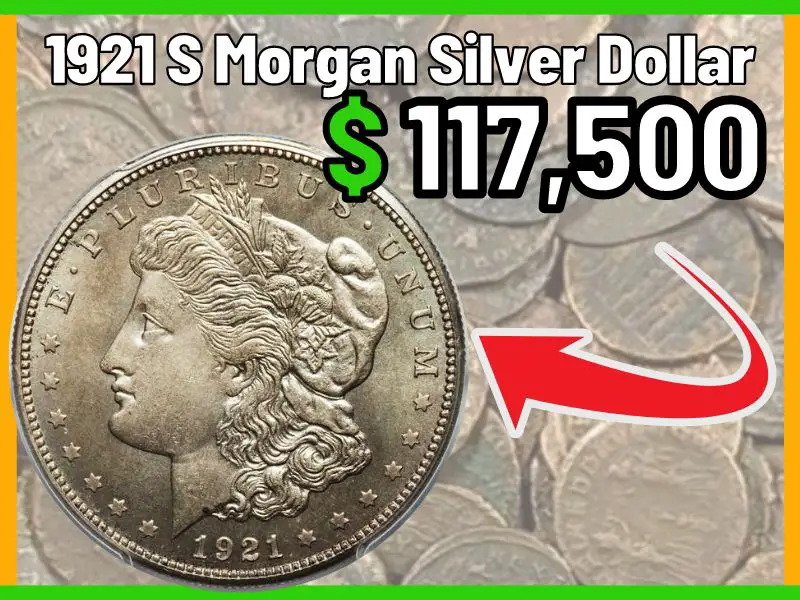 A 1921 S Morgan Silver Dollar is worth around the same amount as other mints at lesser grades. One in good condition sells for $23, but you can get as much as $34 for one in fine condition. With a melt value of $14.60, the coin's value is more than that of its silver component.
The real difference in prices begins to show at higher grades with the 1921 S Morgan Silver Dollar having the most value at MS67 and above. Finding a proof can fetch as much as $10,000 because of their rarity.
The Morgan Silver Dollar
The Morgan silver dollar is quite popular among collectors. It replaced the Seated Liberty Dollar and was itself replaced by Anthony de Francisci's Peace dollar. With an initial production run that lasted for twenty six years, the coin enjoyed good circulation.
It was also minted in 1921 for some months and the US mint began producing it again in 2021. The Morgan silver dollar remains one of the most popular coins among collectors.
History
With the Coinage Act of 1873, the United States ended the bimetallic standard, adopting the gold standard. The Act led to the demonetization of silver that didn't favour mining companies among others, causing affected parties to lobby for the restoration of free silver.
However, while Congress listened to the various complaint, it passed the Bland-Allison Act as a response to the situation. Instead of requiring the US mint to accept every silver brought and strike it into coin, the Act made the US treasury to buy up to $4 million worth of silver every month and coin them into dollars.
The US mint struck the purchased silver into Morgan dollars until production stopped in 1904 after the Bland-Allison Act was repealed. Later in May 1921, production resumed again in fulfilment of the Pittman Act before the Peace dollar replaced the Morgan dollar in December of the same year.
Although it carried a profile of Lady Liberty on its obverse, the coin got its name from its designer, George T. Morgan, the then Assistant Engraver of the US mint. The coin also has an eagle with outstretched wings on its reverse.
Due to his desire to depict an American woman for Liberty, the profile on the obverse was modelled by Anna Willess Williams, a teacher and philosophical writer who Morgan would later declare to have a perfect profile for the artistic figure.
1921 Morgan Silver Dollar
1921 Morgan Silver Dollar

Metal Composition
90% Silver – 10% Copper
Mass/Weight
26.73 grams
Diameter
38.1 mm
Mint Mark
"D" "S"
Edge
Reeded
The US mint resumed production of the Morgan silver dollar in 1921 following the Pittman Act passed years earlier. With the obligation to replace all the silver coins melted for sale to Britain, it made sense to resume the production of an existing silver dollar series.
However, the coin's production only lasted for about seven months before the Peace dollar replaced it in celebration of the end of World War 1.
The coin comprised 90% Silver and 10% Copper, with a weight of 26.73 grams and a diameter of 38.1 mm.
Features
With a reeded edge, this coin has a great design for both its obverse and reverse. However, collectors regard some of its last set of mints as having weak strikes on their features.
Obverse
The coin's obverse has a left-side bust of Lady Liberty with elegant and well-styled hairdo, a crown with the inscription "LIBERTY," and no other visible piece of jewelry. Seven stars line the coin's rim in front of the bust with the motto "E * PLURIBUS * UNUM" above it and six other stars after.
At the bottom of the coin, you will find its production year: 1921.
Reverse
An eagle with outstretched wings is at the center, clutching arrows and an olive branch. There is an inscription of "IN GOD WE TRUST" above the eagle and two laurel wreaths encircling it, one on each side.
The "UNITED STATES OF AMERICA" lines the coin's rim while its denomination is struck at the bottom in words: "ONE DOLLAR."
Mints and Mintage
Three mints struck the Morgan silver dollar in 1921 and they were the ones at Denver, Philadelphia and San Fransisco. Of the three, the Philadelphia mint struck the most, having a mintage higher than the other two combined.
1921 Morgan Silver Dollar Mints and Mintage
Location
Minted
Mint Mark
Philadelphia
44,690,000
None
Denver
20,345,000
"D"
San Francisco
21,695,000
"S"
Total
86,730,000
/
1921-D Morgan Silver Dollar
The Denver mint struck a total of 20,345,000 1921 Morgan silver dollars, making it the lowest mintage of the three facilities. Coins from this mint carry a "D" mintmark above the DO in "DOLLAR" struck on the reverse.
One would expect this type to have the highest value of the series but that is surprisingly not the case.
1921 No Mintmark Morgan Silver Dollar
With a total of 44,690,000 minted 1921 silver dollars, the Philadelphia mint had the highest mintage. Coins struck at this facility generally don't carry a mintmark although that does not influence their value in any way.
Despite its abundance compared to the others, these coins have the same value as the others at lower grades.
1921-S Morgan Silver Dollar
The San Fransisco mint struck a total of 21,695,000 1921 silver dollars. However, about 10 – 15 million were melted under provisions of the 1942 Silver Act, according to PCGS. This puts surviving mints at around 6 million, making the coins quite rare at high grades.
This is why 1921-S Morgan silver dollars with MS67 grades and above have a huge value than the other mints.
Known Errors
Even though 1921 S Morgan silver dollars with errors are rare, few that have been found sold for a huge amount of money. An off-center error is one of the types that massively increase the coin's value.
Off-center Strike
This error occurs when a coin is struck off its center, leaving a significant amount of blank planchet space. It increases a coin's value if the production date remains intact, as in this case.
A 1921 S Morgan dollar with an off-center strike sold for an impressive $16,450 back in 2017. PCGS graded the coin an MS-63, and the error was 20% off center. The coin's date remained intact, and it retained its luster, further increasing its eye appeal.
Another one of the same mint sold for $14,375 with a 25% off-centre strike. PCGS graded it an MS-62, but the coin's production date was not intact, reducing its value.
Two factors influenced the value of both coins. One was the presence of the production date, and the other was its grade. One might also say that the error percentage plays a role too, but it wasn't as much as the other factors.
1921-S "Zerbe Proof" Dollars
With a total of just 24, these coins are the rarest of the 1921-S Morgan dollars. The San Fransisco mint struck them at the request of Mr Farran Zerbe, the father of the Peace dollar, following an incident that disappointed the renowned numismatist.
He was waiting for the arrival of the dies meant for the first set of Peace Dollars at San Fransisco. Due to a mix-up, the dies that arrived early were meant for old Morgan dollars. The mint officials were happy to strike two dozen Morgan dollars in Proof condition at Zerbe's request as an apology for his disappointment.
Zerbe was said to have bought them all and distributed them to his numismatist friends. If found, these coins will fetch record -values.
How Rare is the 1921 S Morgan Silver Dollar?
Despite its high mintage, the 1921 S Morgan silver dollar is not as common as the coins from the other mints in the same production year. The main reason is that more than half of the 1921 Morgan silver dollar struck at the San Fransisco mint was melted down for their silver component.
However, the coin is one of the most popular among collectors, and the discovery of several preserved bags containing the piece helped meet the demand at the time. Unfortunately, people who were buying them ended up hoarding them, further contributing to the coin's rarity in bagged form.
On the other hand, Morgan dollars at lower grades are quite easy to find and acquire. Although they still have a value higher than their denomination.
1921 S Morgan Silver Dollar Value
As we mentioned earlier, the value of a 1921 S Morgan silver dollar is the same as the other mints at lower grades. However, you will notice a significant disparity in value and prices at the best of conditions.
Collectors use the Sheldon Numerical Scale to grade coins, and while it has a well -and comprehensive classification, we will highlight it in a simpler form.
Coin Grades
A coin is graded to indicate its level of preservation and eye appeal. Generally, circulated coins have lesser grades and attractiveness than uncirculated ones. The former can be split into three broad grades.
Good
This grade indicates the worst a coin can have and still be sellable. When observing under a singular light source, you will notice discolouration across the coin, heavy wear, and obvious scratches. The damage is primarily due to frequent exchanges during spending, exposing the coin to friction and other harmful elements.
Intricate details like Liberty's hair strands are not discernable due to the level of wear.
Fine
In fine condition, the coin looks better than one in good condition. You will notice fewer scratches and wear but areas like Liberty's cheek will still show signs of wear and damage. While the colour is better, it is not uniform across the coin and lustre is non-existent.
Extremely Fine
This condition covers several other grades that depict the best state for a circulated coin. At the highest extremely fine grades, colour and coin features remain intact and visible to the naked eye. The coin also has good eye appeal and you can observe its intricate details.
Mint State (MS 60 – 70)
Mint states indicate that the coin has never been spent or circulated, putting it in the uncirculated category. As expected with such coins, they retain lustre and every detail from the initial strike.
However, this grade has levels from 60 – 70, with the latter indicating a perfect grade and condition outside of proofs.
Mintage
A coin's mintage also goes a long way to determine its rarity, which affects its worth among collectors. Since an item's value rises in direct proportion to its rarity, collectors generally regard coins with less than 10 million mintage as rare.
In this case, the 1921-S Morgan silver dollar had a mintage of over 20 million. Naturally, this should make it common, but since about 15 million were later melted down, the total number of available ones reduced drastically.
Demand
As a coin belonging to one of the most famous series among collectors, the 1921-S Morgan dollar has a high demand. At higher grades, the supply is severely limited, further driving up the demand for it.
Therefore, the value for the ones in excellent conditions is quite high compared to lesser grades.
1921-S Morgan Silver Dollar Prices
The table below shows coins of this mint that have sold online and their prices.
| | |
| --- | --- |
| Coin Grades | Prices |
| Extremely Fine (XF 45) | $50.00 |
| About Uncirculated (AU 55) | $58.00 |
| Mint State (MS 60) | $59.66 |
| Mint State (MS 62) | $85.00 |
| Mint State (MS 63) | $188.70 |
| Mint State (MS 64) | $234.50 |
| Mint State (MS 65) | $785.00 |
10 Most Valuable 1921-S Morgan Silver Dollars Ever Sold
10 Most Valuable 1921-S Morgan Silver Dollars

No.
Type
Condition
Sold Date
Price
1
1921-S Zerbe Specimen Morgan Dollar
SP65
Aug 9, 2013
$117,500
2
1921-S Morgan Dollar
SP65+
Jan 20, 2021
$102,000
3
1921-S Morgan Dollar
SP64
Apr 24, 2021
$96,000
4
1921-S Morgan Dollar
SP64
Jun 5, 2014
$94,000
5
1921-S Morgan Dollar
PR64
Jan 5, 2006
$92,000
6
1921-S Morgan Dollar
MS67
Jan 4, 2018
$19,200.00
7
1921-S Morgan Dollar
MS66+
Dec 15, 2022
$18,600
8
1921-S Morgan Dollar
MS67
May 2, 2003
$18,400
9
1921-S Morgan Dollar
MS63
Jan 5, 2017
$16,450
10
1921-S Morgan Dollar
MS62
Jan 7, 2012
$14,375
1. 1921-S Zerbe Specimen Morgan Dollar
SP65 Sold on Aug 9, 2013 for: $117,500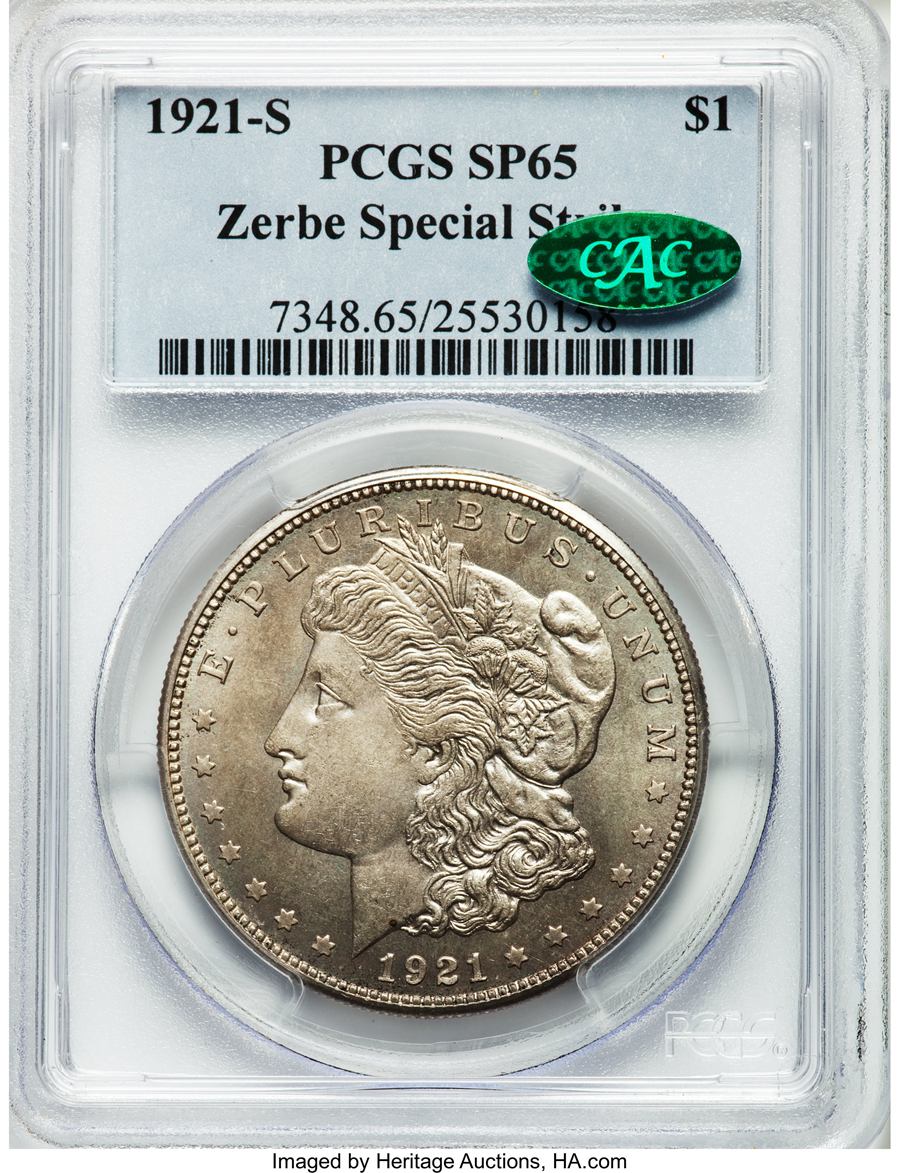 2. 1921-S Morgan Dollar
SP65+ Sold on Jan 20, 2021 for: $102,000
3. 1921-S Morgan Dollar, SP64 Sold on Apr 24, 2021 for: $96,000.00
4. 1921-S Morgan Dollar, SP64 Sold on Jun 5, 2014 for: $94,000.00
5. 1921-S Near-Gem Branch Mint Proof Morgan Dollar PR64 Sold on Jan 5, 2006 for: $92,000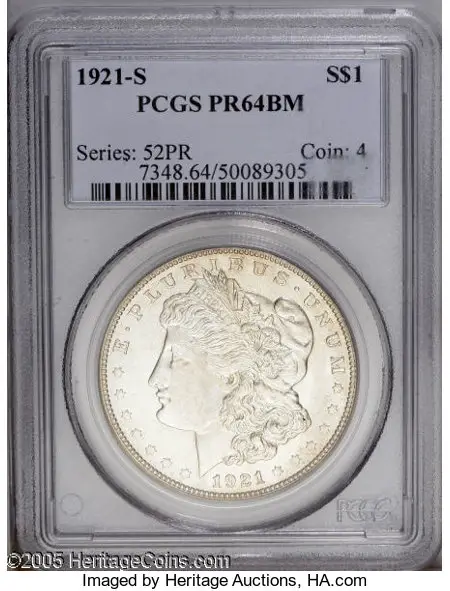 6. 1921-S Morgan Dollar, MS67 Sold on Jan 4, 2018 for: $19,200.00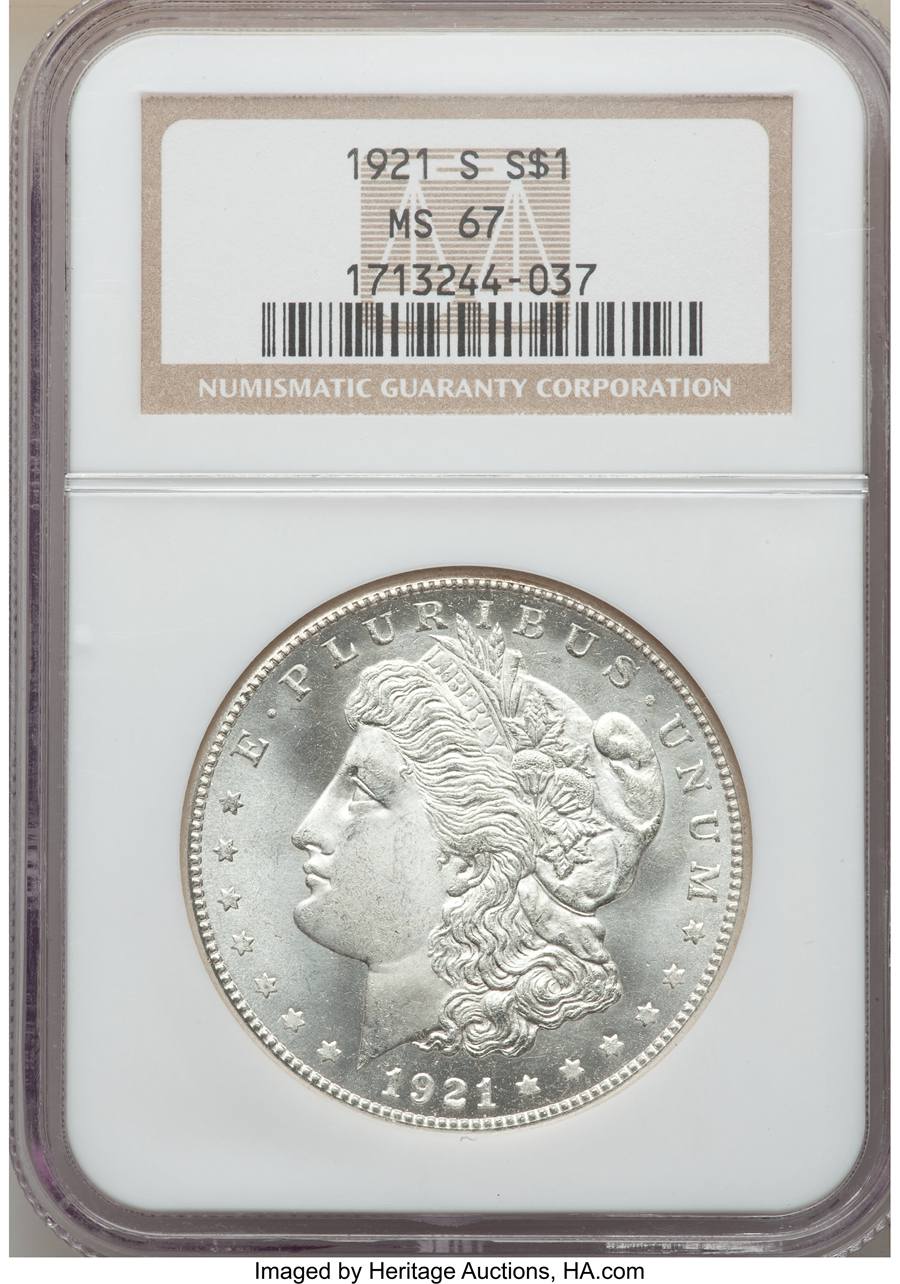 7. 1921-S Morgan Dollar, MS66+ Sold on Dec 15, 2022 for: $18,600

8. 1921-S Morgan Dollar Certified MS67 Sold on May 2, 2003 for: $18,400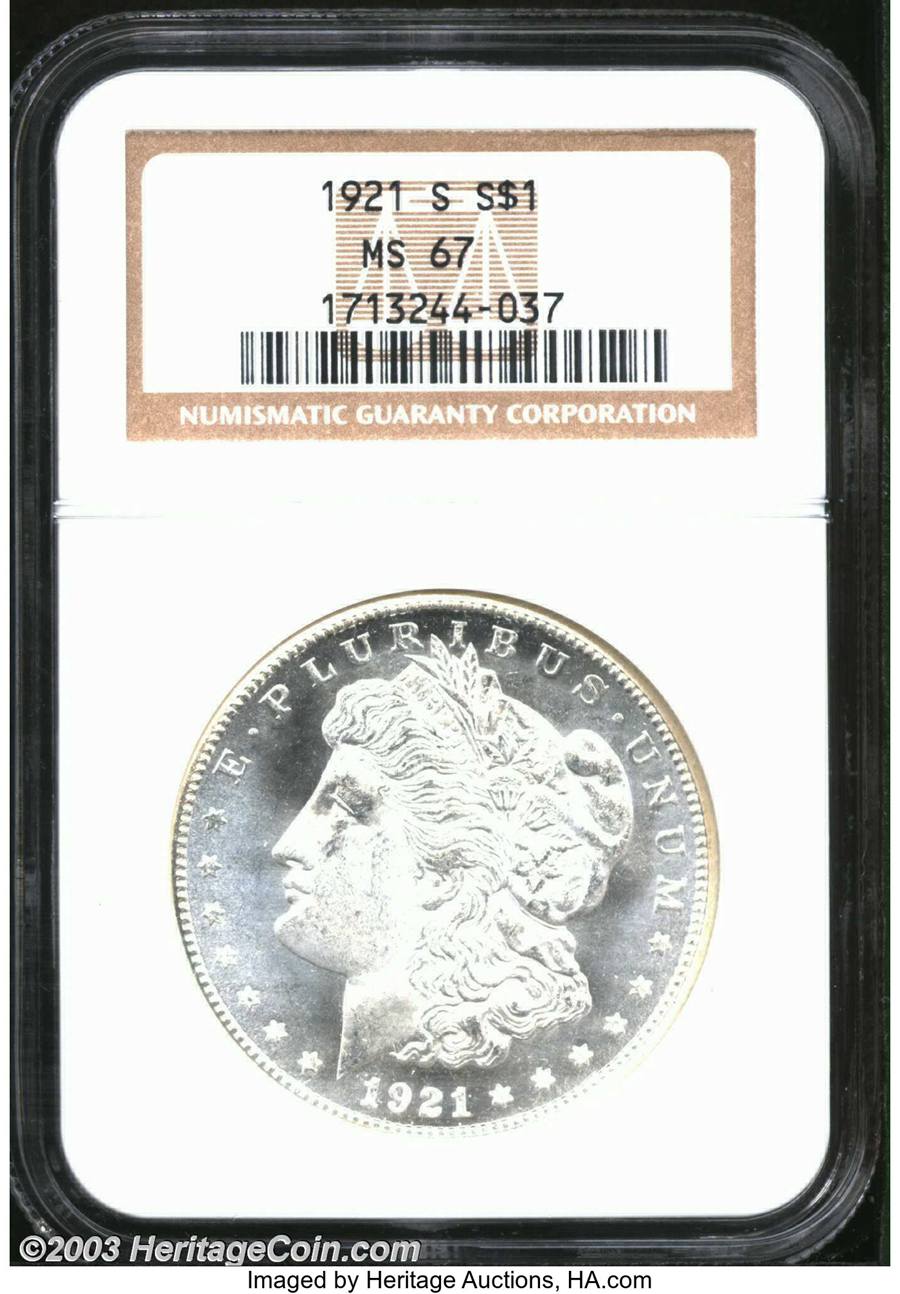 9. 1921-S Morgan Dollar, MS63 Sold on Jan 5, 2017 for: $16,450
10. 1921-S Morgan Dollar — Struck 25% Off Center — MS62 PCGS Sold on Jan 7, 2012 for: $14,375

Where to Sell Your 1921-S Morgan Silver Dollar
Selling your coin in the right places increases the value you can get for it. The reason is that doing this allows you sell to those who value your coin more. You should always pick the best outlets except the coin has a low value.
While the best place to sell your 1921-S Morgan silver dollar is at auctions or online platforms that support bidding, you can sell low grade ones to local coin dealers for some quick cash. On the downside, you might get lesser value for your coin
Websites like eBay and Heritage Auctions are excellent choices for online platforms because they popular among collectors and support bidding. This way your coin can potentially fetch higher prices that it would on other platforms.
Wrapping Up
Even among the 1921 Morgan silver dollar series, 1921-S mints are popular and have higher values at excellent grades. Finding one with an MS 67 grade or higher will conveniently fetch premium values.
Whether you are building a collection or want to make a profit, this coin should be on your list.