People prefer to collect coins or currency for different reasons. While some do that for their passion, some collect coins to make money, as collectible coins are very expensive. When it comes to collecting currency, it has been seen that people like to collect U.S. currencies. And one of such popular currencies is the 1941 Mercury Dime.
If you have one, you might wonder how much is it worth? Here we will discuss different mercury dime values, and you'll also learn about some of the major factors that can affect the value of the 1941 Mercury Dime. So, keep reading and understand the real value of your coin.
Is 1941 Dime Really Valuable?
Before exploring your 1941 liberty numismatic coins value, it will be better for you to know more about the coin. Speaking of the 1941 Dime, it is a coin that the U.S.A produced at three major mints including the Philadelphia mint, San Francisco mint, and Denver mint.
The coin is a popular part of the dimes series with Liberty Head created by Adolph A. Weidman. As per the records, the coin ran from around 1916 to 1945.
The design of this coin also won a competition organized by the Treasury Department in the year 1916.
Are 1941 Dimes Silver?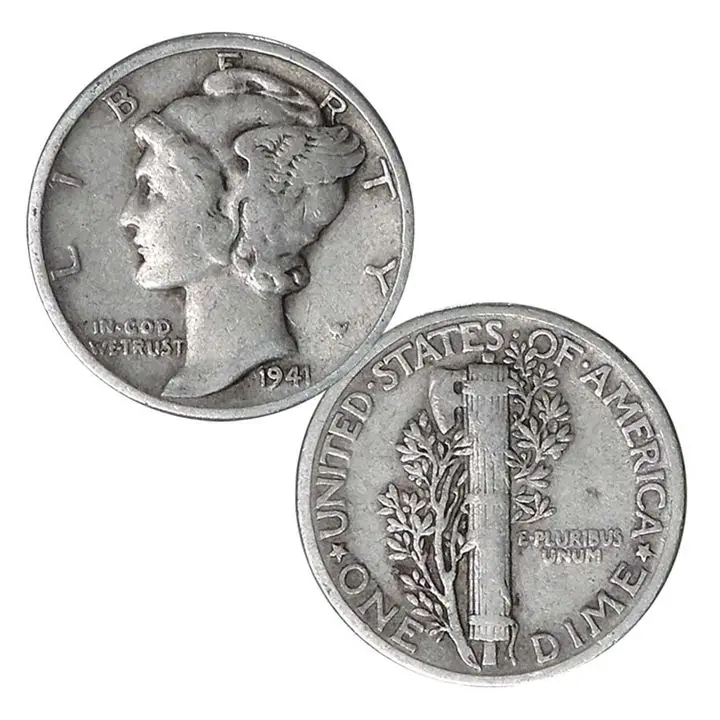 Every 1941 Dime has 10 percent copper and 90 percent silver. The mint process of this coin was halted in 1945 as the numismatic coins were replaced by the Roosevelt Dime. However, their unique design and silver content makes them collectible coins.
These coins have become a popular collectible among novice and seasoned coin collectors.
Total Number Of Dimes Produced
1941 D Dime- 45, 634, 000 Dimes
1941 Philadelphia Dime- 174, 106, 557 Dimes
1941 S Dime- 43,090, 000 Dimes
Understanding The Features Of 1941 Mercury Dimes
Some of the major features of 1941 Mercury Dimes that can help you to authenticate the originality of the coin are:
The Portrait
Adolph A. Weinman, the coin's creator, engraved the Lady Liberty image on the coins and on all Mercury dimes.
Obverse Features
If you look at the head of the coin, you will see a clear portrait of Lady Liberty along with a perfectly-fitted Phrygian cap. The creator designed it with wings, demonstrating the freedom of thought.
Lady Liberty resembles the Roman God Mercury. Due to this, the coin got the name Mercury Dime. However, the real name of the coin is Winged Liberty Head.
If you see on the left side of the neck, you can see the motto, In GOD WE TRUST. On the right side, you can see the letter W. Some people think this is a mint mark. But the fact is, this is Weinman's mark. The 1941 dime w mint mark coins are very rare.
Below the neck, you will find the year 1941. This suggests the time when the coin was minted. And two-thirds of the upper part of the coin is covered with LIBERTY words.
Reverse Features
If you look closely at the coin, you can see a Roman Fasces along with a branch of an olive tree. This is considered a symbol of authority, unity, and strength. And the olive branch symbolizes peace.
The upper section has "United States of America" engraved over it, and you can see the denomination on the lower side.
Mint Mark
The mint mark of your coin can be found on the reverse side. It may be noted that the mint mark can vary from one coin to another based on the place where the coin was minted.
Denver Mint
If your 1941 Mercury Dime has a D letter mark, it was produced at the Denver mint.
San Francisco Mint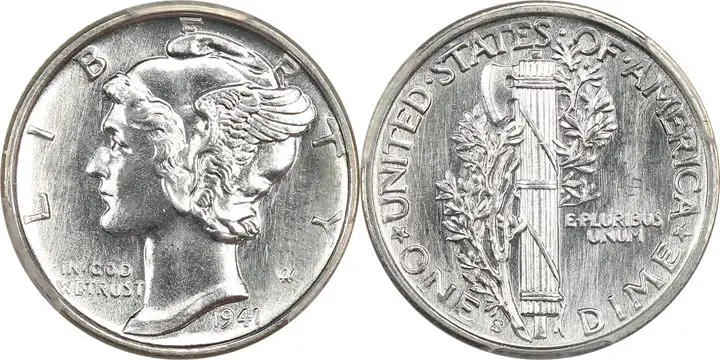 Some 1941 dimes have an S mark over them. These coins were produced at the San Francisco mint.
Philadelphia Mint
On the other hand, the rarest 1941 dime coins made at Philadelphia Mint don't carry a mintmark.
All the 1941 Mercury Dimes were created using copper and silver. The diameter of every coin is around 17.8mm, weighing around 2.5 grams.
Value Of 1941 Mercury Dimes
Evaluating how much a 1941 liberty dime is worth is not that difficult when a circulated piece is the subject. Circulated pieces come under heavily worn grades and are valued based on silver value.
As per the current records, the silver melt value for the 1941 silver bullion is around $1.54. This value is generally calculated from the silver spot value of around USD 21 per ounce.
If you have a 1941 dime that doesn't have a mint mark, it may be worth around $3 if the condition is very good. If your coin is in extremely fine condition, the value can go up to $3.50.
A coin collector can pay around $7 for an uncirculated 1941 dime with the MS 60 grade. It has been seen that some coins with MS 65 grade are listed at around $30.
How Much Is A 1941 D Mercury Dime Worth?
The 1941 d mercury dime value can vary based on the grade. If it is in very fine condition, you can expect to get around $3.13. The value of an extremely fine 1941 D can go up to $3.40.
If you have an uncirculated one, then its value would be around $8.40 if it has the MS 60 grade. An uncirculated 1941 D coin with the MS 65 grade can be sold for around $25 to $28.
How Much Is A 1941 S Mercury Dime Worth?
The 1941 s mercury dime value for a fine condition coin is around $3. If your coin is in extremely fine condition, collectors can pay around $3.30 for that.
On the other hand, the value of uncirculated 1941 S dime is around $7 to $8 if they have the MS 60 grade mark. An uncirculated 1941 S dime with MS 65 grade mark can sell at $30.
Wondering about the 1941 proof coins with no mint mark? As per records, the poor 65 specimens are valued at around $175 to $180. It may be noted that only 16,557 proof coins were minted. The coins have 10 percent copper and 90 percent silver.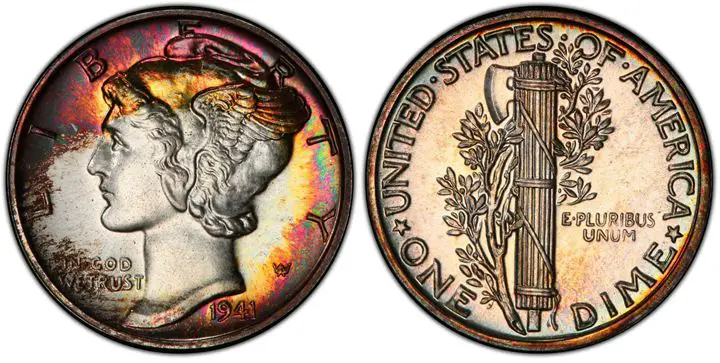 1941 Mercury Dime Auction Records
Record auction prices generally illustrate the demand and the rarity of the coin in the best condition. Even though these are not a direct indicator for ascertaining value for your numismatic coins, by analyzing this, you can compare mintages.
The below-given table of 1941 Mercury Dime auction records shows the relative value of the coin for every mintage.
| | | | |
| --- | --- | --- | --- |
| Year | Business Strike | Full Bands | Proof |
| 1941 Mercury Dime | $2,128 | $17,625 | $13,200 |
| 1941 D Mercury Dime | $423 | $5,290 | – |
| 1941 S Mercury Dime | $1,266 | $28,175 | – |
What Are The Gradings For the 1941 Mercury Dime?
Before you can understand the bare minimum value of 1941 liberty silver bullion, if you are planning to buy or sell a 1941 Mercury Dime, you should consider the condition coin's mint condition or grading.
For every collector, the primary goal is to create a collection full of beautiful and unique coins. And one of the major parts of this is ensuring that the coins are in excellent condition. That's why most investors or coin collectors pay close attention to every coin detail.
In some cases, coins' condition is verified by a certified coin grading organization. But the fact is, not all have the money and time to get their coins tested by a professional. You must judge the coins' quality and compare them to the descriptions to get an accurate 1941 dime value.
Uncirculated 1941 Mercury Dime
An uncirculated coin is one that has not been introduced into the market. Such coins are very well preserved, and when you look at the coin, you will feel like these coins are recently minted. There will be no sign of wear on your coin.
All the descriptions and imagery on the coin faces will remain intact and appear pristine. While examining, ensure that Liberty's cheek and the hair above the eye don't have signs of wear. Well, most collectors prefer to buy uncirculated 1941 dimes.
Fine 1941 Dime Coin
If you have a fine-grade 1941 dime coin, then signs of wear can be noticeable on the entire surface. If you check the central wing part, you may find it a little flat and lack design details. You can also find wear signs on the hair braid moving to a chine line from the forehead.
However, the imagery, as well as the inscription of your coin, can be easily visible. The value of such coins will be a little lower than an uncirculated 1941 mercury dime.
Extremely Fine Grade
Even though such coins have been in circulation, their condition will be good and remain quite detailed in their appearance. However, the coin's surface can have a little sign of wear. If you check closely, the feather detail of the wind above the year has lost detail, but it still looks good.
A slight flatness can also be observed on Liberty's cheek. Collectors can pay a good amount for such coins. If you have such a type of coin, then you can expect to enjoy a great deal.
Good
If a 1941 Mercury Dime is graded to be in good condition, then it means that the coin has been used for a long time on the open exchange market. There can be ample signs of wear on the coin surface. The ring of the coin may be blended with the lettering.
If your silver 1941 Mercury dime is in this condition, the value can be calculated considering the silver content. However, even though the coin is in poor shape, most collectors who want to complete their collection will purchase such coins.
Conclusion
As you can see, there are a lot of factors that can greatly influence the 1941 mercury dime value. For example, its condition, grade, and more. If your 1941 mercury dime is in good condition, it will be much easier for you to sell on online sites like eBay or CoinsForSale.
Besides, you can also get good value. The value of an uncirculated 1941 mercury dime can be around $5, and some online sites sell it at around $20. On the other hand, the 1941 liberty dime value is around $3, and a coin with a mint state grade can cost around $34.
Collectors can pay more if the coin is in good condition and rare. So, if you have one, then you are lucky. Just find a good site and list it for sale. What type of 1941 dime do you have? Want to know more about it? Comment below if you have any questions to ask.