Roosevelt dimes were first made in 1946 and since then the United States mint has continued to make them. If you have any of the Roosevelt dimes you may wonder if they're worth money. Also, you may want to learn a thing or two about getting them sold. You want to know if you could just put the coin up for sale and take in a fortune.
Well, this guide will show you the exact worth of this dime, how coin experts value it, and if the one you have or intend to purchase is worth it.
The 1967 Roosevelt Dime
Usacoinbook estimates the worth of this coin at $2.28 or more in uncirculated mint condition and the melt value at $0.0224. The brilliantly uncirculated coin graded MS-65 is valued at $2.28.
1967 was the largest minting year for dimes in US history. A whopping 2,244,007,320 of the coins were minted which makes it not worth a fortune at face value. The coin has no variety either.
Note that the 1967 dime has no mint marks on it and this is the case with all the dimes from 1965 because the mint wanted to discourage hoarding the coins. This lack of mint mark also lowers the sentimental value that collectors place on the coin.
Moreover, silver was removed from dimes in 1964 making the composition of the 1967 dime mostly copper and partly nickel. More on the particulars of this dime in the chart below.
Only recently, on April 26, 2020, a 1967 dime graded MS-68 Full Bands by PCGS sold for $1,440.
| | |
| --- | --- |
| Mintage | 2,244,007,320 |
| Diameter | 17.90mm |
| Mass/weight | 2.27 grams |
| Edge | Reeded |
| Composition | 75% copper, 25% nickel |
| Years of minting | 1967 |
| Mint mark | None |
| Designer | John R. Sinnock |
| Minted at | Philadelphia |
| Proof | 1,863,344 |
The 1967 dime has no varieties, has no mint marks showing where the coins were made but there is documented evidence they were made at the Philadelphia mint. Be that as it may, there are error 1967 dimes, and proofs as well. And each of these types of coins has its individual values.
1967 Dime: A Short History
This dime shares its story with other dimes in the Roosevelt dime series which began in 1946. All dimes display the head of Franklin D Roosevelt on the obverse. The appearance of this president's head was authorized after his death in 1945. Dimes are 10 cents or 0.10 US dollars.
Roosevelt who has been stricken with polio since 1921 was one of the ardent proponents of dimes. He founded the March of Dimes in 1938, a nonprofit organization that sought to fight the spread of infantile paralysis and polio. The name, march of dimes is credited to actor, singer, and songwriter Eddie Cantor.
A bill was introduced by a Louisiana representative called James Hobson Morrison for a Roosevelt dime. Treasury secretary Henry Morgenthau wanted the dime to replace the Mercury dime or winged liberty dime, but Stuart Mosher, the editor of The Numismatists favored a commemorative silver dollar instead.
Other quarters thought Roosevelt had not earned a place among the likes of Washington and Jefferson whose images were on silver dollars. The Bureau of Mints could change the Mercury design without congressional action and this was what was done.
Chief engraver John R Sinnock alongside his assistant Gilroy Roberts did the sketches and presented them to the Commission of Fine Arts. The models Sinnock submitted at first showed a burst of Roosevelt and a hand holding sprigs of olive and oak. Several drafts were rejected, some described as weak. With a slew of rejections, there was a call for competition on who would drop the best sketches.
Finally, Sinnock submitted a sketch where he made the other details on the coin smaller and Roosevelt's head bigger. The models were approved and on January 19, 1946, the first dimes rolled out of the Philadelphia mint. They were released into circulation on January 30.
There's been a continuous minting of the dime since then. From 1965, the mints started making cladded coins, a sandwich of copper-nickel around a core of pure copper.
1967 dimes have no mint marks because of efforts to discourage the hoarding of coins that existed before the 1965 Coinage Act. The demand for silver coins by collectors drove it out of circulation and government stock if silver was running out because of rapid use.
The 1967 dime was manufactured using mostly copper. The Philadelphia mint was forced to produce all the Roosevelt dimes in that year and went on to mint 2,244,007,320 with reeded edges. Learn more about the value of this coin here in this video:
1967 Design: The Obverse And Reverse
All coins come with designs specific to them. And if the coin belongs in a family of coins like this dime, it features designs that are similar to others in the series. This dime is like the other dimes from the inception of Roosevelt dimes. Here is a look at the features.
Obverse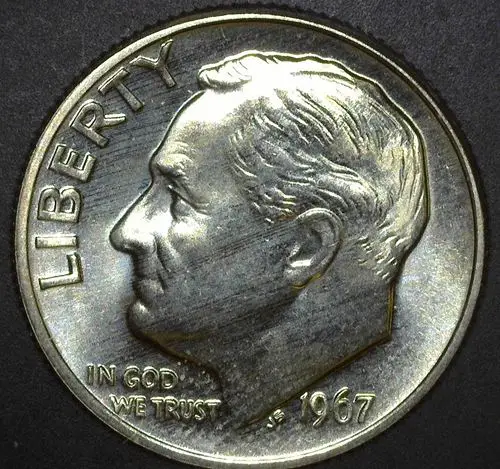 On the obverse, you will see the head of Franklin D Roosevelt facing left. In front of his face is the word "LIBERTY" in block letters. Under his chin are the words "IN GOD WE TRUST" in block letters. And under his neck, you have the designer John R Sinnock's initials JS. Lastly, the date 1967 is featured.
If your coin is a double-die, further features would include a double appearance in the US motto and the JS.
Reverse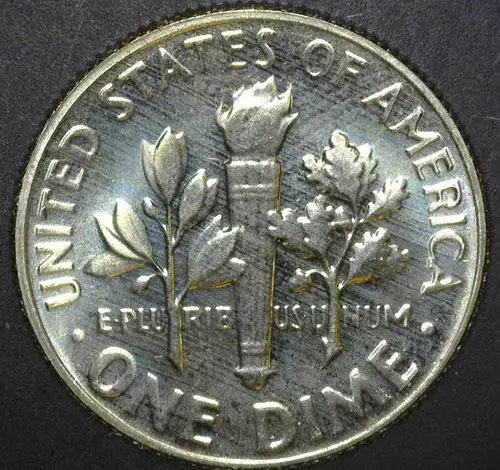 The reverse of this coin features one of the busiest reverses on a US coin. Here you have the words "UNITED STATES OF AMERICA" in a circle over the top of the coin. And on the other side is "ONE DIME" both in block letters. The coin also features in the design two branches, one of olive and oak, and in the middle of that is a torch.
The 1967 Dime Value
If you have a dime that was made in 1967 you likely want to sell it and make some money. However, your coin just might be worth a lot of money but you'd only know its worth by comparing it with what's already sold or selling at auctions.
Furthermore, people don't arbitrarily value their coins. There are standards and the gatekeepers of these standards include agencies like NGC, PCGS, and Coinbook.com.
Coins are valued based on how much they look in mint condition or mint state. The closer they are to mint state (MS) the more they're worth.
Each grading service has its own variation in the grading system. Below is the NGC value table grading from PrAg (Poor About Good), G (Good), VG (Very Good), F (Fine), VF (Very Fine), and XF (Extra Fine) down to number 70.
1967 Roosevelt Dime Value By NGC
Grade
Value
PrAg
$0.15
G
$0.15
VG
$0.15
F
$0.15
VF
$0.15
XF
$0.15
XF+
$0.15
AU 50
$0.15
AU 50+
$0.15
AU 53
$0.15
AU 53+
$0.15
AU 55
$0.15
AU 55+
$0.15
AU 58
$0.25
AU 58+
$0.35
MS 60
$1
MS 61
$1.50
MS 62
$2
MS 63
$2.50
MS 64
$5
MS 65
$10
MS 66
$20
MS 67
$40
MS 68
$65
Greysheet, another reputable grading site, values the 1967 dime below. Here MS means Mint State, XF is Extra Fine and AU means About Uncirculated.
1967 Roosevelt Dime Value By Greysheet
Grade
Value
XF 40
$0.10
XF 45
$0.25
AU 50
$0.10
AU 53
$0.10
AU 55
$0.10
AU 58
$0.10
MS 60
$0.15
MS 61
$0.15
MS 62
$0.15
MS 63
$0.20
MS 64
$0.50
MS 65
$1.00
MS 66
$1.00
MS 67
$6.00
1967 Roosevelt Dime Sold At Auction
The 1967 Roosevelt Dime is an interesting coin because of both its rarity and the fact that some people have been lucky enough to sell it at auction. Below are a few examples of what some collectors have been able to get for their 1967 coins and how much they sold for.
If you're looking to buy a coin online, it may help to know that some rare collectible coins have sold at auction for much more than you'd pay for them in a store. Some collectors recently saw the value of their coin rise by hundreds of dollars when they put their 1967 Roosevelt Dime up for sale on Heritage Auctions.
1967 10C SMS MS68 Deep Cameo PCGS Sold on Jan 9, 2014 for: $9,987.50
1967 10C SMS MS68 Deep Cameo: Sold on Jan 10, 2008 for: $5,750.00
1967 10C SMS MS68 Deep Cameo: Sold on Oct 16, 2020 for: $3,360.00
Frequently Asked Questions
Is A 1967 dime real silver?
The 1967 dime is not silver. It is made of 75% copper, and 25% nickel. The US mint stopped using silver for the dimes in 1964 because the coins were being hoarded and the government was running out of silver supply and would soon have none.
How much is a 1967 dime with no mint mark?
The 1967 dime has no mint marks. The dimes were all manufactured in the Philadelphia mint. It is not the only dime without a mint mark. All dimes from 1965 to 1967 were made with no marks.
The face value of the 1967 dime is $0.10. Its numismatic value is 10 cents to $7.
What year of dimes are worth money?
The most valuable dimes are the following:
What is a double die dime?
A double-die dime is that which is incorrectly produced. It leads to a duplication of images on the coin.
Is there any silver in 1967 dimes?
No. There is none. It is made with copper and nickel.
Final Thoughts
Delve into the colorful story behind the Roosevelt 1967 dime. If you have one of these coins in mint condition, you should know by now how to value it. Better still, have your coin graded by any of the grading services shown in this article. That coin of yours just might be worth more than you think.