A 1957 Jefferson nickel in uncirculated (MS+) mint condition could be worth $0.56 to $17 (or more) and proof coins can be worth $3.30 or more.
Have you ever wondered what your 1957 Jefferson nickel is worth? Are you about to buy or sell one and want to know the value? Well look no further, we've put together an informational chart that will tell you all of the ins and outs of this coin.
If you are considering selling your 1957 nickel then you'll want to check out the price chart somewhere below this section. This will give you an insight into what price to expect should you seek to sell your nickel.
Most Valuable 1957 Jefferson Nickel
Most Valuable 1957 Jefferson Nickel 1957 5C PR68 Sold on Jan 6, 2010 for: $7,475.00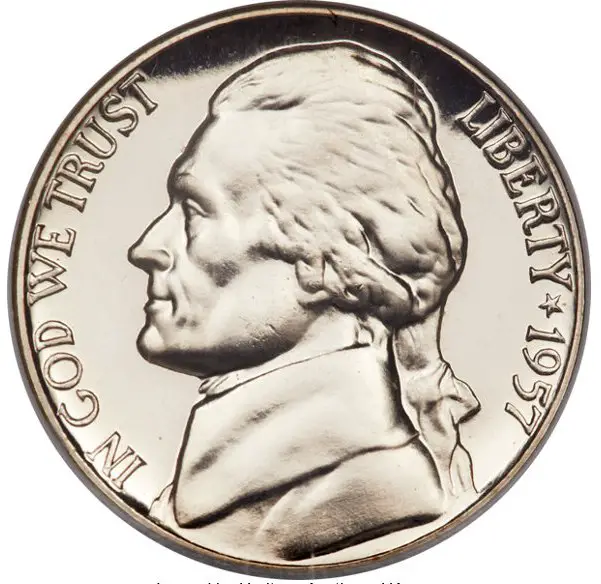 1957 Jefferson Nickel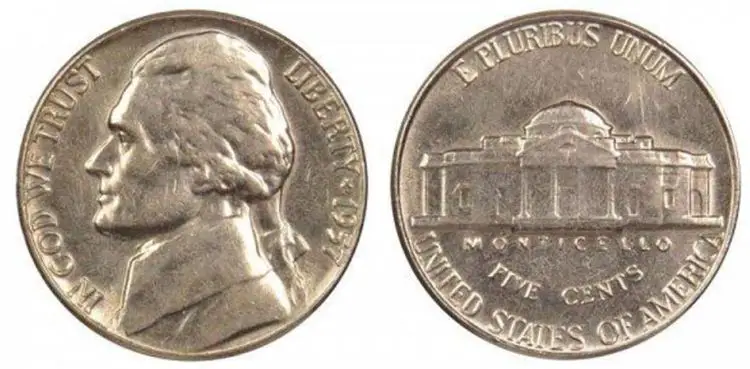 The Jefferson Nickel, a five-cent piece first produced by the U.S. Mint in 1938, is a top-rated coin and can be found in many Americans' pockets today. It comprises 75% Copper – 25% Nickel, which doesn't give it a significant melt value.
The 1957 Jefferson Nickel was struck in the Philadelphia mint and a total of 39,655,952 coins were struck during the year. Another mint also struck the 1957 Jefferson nickel and it was the Denver mint.
History
The Jefferson nickel is a five-cent coin issued by the United States Mint since 1938 when it replaced the Buffalo nickel. The obverse of the coin showed a portrait of Thomas Jefferson, the third president of the United States, by Felix Schlag. The design used in 2005 also portrayed Jefferson in profile, but it was created by Joe Fitzgerald.
Although first struck in 1913, the Buffalo nickel was difficult to coin, and after it completed its 25-year term during which it could be replaced only by Congress, the Mint moved quickly to replace it with a new design.
1957 Jefferson Nickel
Location
Minted
Philadelphia
39,655,952
Denver
136,828,900
Total
176,484,852
The U.S. Mint's design competition for the 1936 Jefferson nickel required that both Monticello and Jefferson appear on the coin. In early 1938, Schlag won the competition with a depiction of Monticello on the reverse and Jefferson on the obverse. But before production began, he was forced to revise his work based on further requirements from the Mint.
During World War II, nickels struck from 1942 to 1945 were made of a copper-silver-manganese alloy that would not need to be adjusted for use in vending machines. They bore the large mint mark above the depiction of Monticello on the reverse.
1957 Jefferson Nickel
Metal Composition
75% Copper – 25% Nickel
Mass/Weight
5.000 grams
Diameter
21.21 mm
Mint Mark
"D"
Edge
Plain
Designer
Felix Schlag
From 1946-2003 the mints responsible for striking Jefferson nickels were Philadelphia, Denver, and San Francisco. However, the 1957 issue of the coin was minted only at just two of three mints which were the Philadelphia and Denver.
The Philadelphia mint struck 39,655,952 coins in total while the Denver mint struck over 100 million coins (136,828,900). In all grades, Jefferson nickels are readily available. However, for certain issues, business strikes that display a full set of steps on Monticello are hard to find and command significant premiums.
Design – 1957 Jefferson Nickel
In 1938, the U.S. Mint announced an open competition for a new design for the nickel. The winner would receive a prize of $1,000 and have his or her design produced into circulation. The deadline for submissions was April 15; Mint Director Nellie Tayloe Ross and three sculptors were to be the judges.
Competitors were to place a portrait of Jefferson on the obverse, and a depiction of his house, Monticello, on the reverse—the only American president to have his home depicted on U.S. currency.
Few entries had been received by mid-March. This seeming lack of response proved to be misleading, as many artists planned to enter the contest and submitted designs near the deadline.
On April 20, 1959, a panel of judges viewed 390 entries for the competition to design the new nickel coin; four days later, Felix Schlag was announced as the winner. (It is thought that either through a misunderstanding or an oversight he did not include his initials in the design; they would not be added until 1966.
Obverse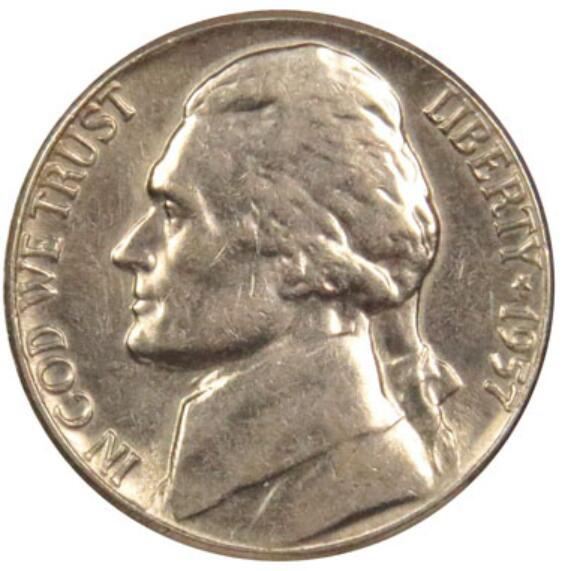 The obverse design features a portrait of Thomas Jefferson who was the 3rd President of the United States. The word "LIBERTY" is engraved on the far right of the obverse just behind the head of Thomas Jefferson. Below the word, Liberty is a start followed by the year that the coin was issued, in this case, "1957".
Also on the far left of the obverse is the motto of the United States "IN GOD WE TRUST " it appears just in front of Thomases face.
Reverse
The reverse design has a crisp representation of the home of the former president Thomas Jefferson struck on it. The word "MONTICELLO" is written boldly underneath the building. Above the building are the words "E PLURIBUS UNUM" Which translates to "Out of many, one" The words "FIVE CENT" is inscribed boldly just underneath the MONTICELLO word on the reverse denoting the face value of the coin.
Finally, the words "UNITED STATES OF AMERICA" appear just beneath the FIVE CENTS, leaving this out would probably have made the reverse look somewhat empty.
Mints
As earlier stated, the 1957 Jefferson nickel was produced in only 2 mints, most years in the series were produced in more than two mints. The Philadelphia and Denver mint are the only locations in history to have struck Jefferson nickels with the 1957 date. Of course, there should be a way of differentiating both mints. Keep reading to find out.
Philadelphia Mint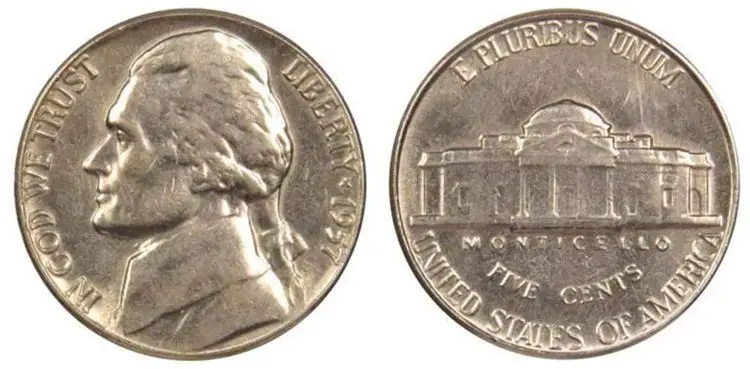 The Philadelphia mint produced millions of 1957 Jefferson Nickel amounting to a total of 39,655,952 coins, of course, the majority of these went into circulation. Jefferson nickels minted in the Philly mint did not come with a mint mark. Usually, the mint mark of the Jefferson Nickel appears on the reverse of the coin at the far left of the Monticello building, as you can see in the image above, no mint mark is present, thus indicating that this coin was among those struck in the Philadelphia mint.
Denver Mint
In 1957, the Denver mint struck over 100 million Jefferson Nickels. The total number of coins struck was 136,828,900. The Denver mint coins had a mint mark "D" on the reverse of the coin, located at the far left of the Monticello building. Finding this coin in high grades is very much possible and some would say it is quite easy to come by.
1957 Jefferson Nickel Value
The value of a 1957 Jefferson nickel depends on the grade of the coin and on its mint mark. Most circulated examples have no value above face value, while uncirculated versions in a perfect state can sell for higher amounts. Because there are so many 1957 Jefferson nickels available, you might have a hard time selling your coin especially if it is in circulated condition.
Another factor that affects the price of your coin is its metal composition. In this case, nickel is used instead of pure copper to make up the outer layer of the coin. This means that your coin is not worth much in melt value because nickel and copper aren't worth much today.
| | | | | |
| --- | --- | --- | --- | --- |
| Year | Good | Very Good | Fine | Extremely Fine |
| 1957 | $0.05 | $0.05 | $0.05 | $0.75 |
| 1957 D | $0.05 | $0.05 | $0.05 | $0.70 |
The first thing to do when determining how much your coin is worth is to look at its grade. Coins are assigned grades from 1 through 70 based on their condition. A "perfect or uncirculated" coin with no imperfections gets a grade of 70 and is referred to as a gem. A very worn-out coin gets a grade of 1 and is called "poor."
How To Grade 1957 Jefferson Nickel
This section will teach you how to properly grade the 1957 Jefferson nickel. If you have a 1957 nickel and want to know if it is worth anything, you can use the information in this article to learn how to grade it.
The grading of coins is an art. There are many different methods that have been developed over the years, but none are perfect. The main reason for this is that each coin has its own unique characteristics that make it different from other coins of the same type. In order to grade your coin, you need to know what is considered acceptable wear for this type of coin and what would cause it to be downgraded or disqualified from being graded as uncirculated or mint state.
Uncirculated: It is in a pristine condition, with a delicate luster covering the surface completely and evenly. No breaks in the luster due to wear are evident. If it were ever used in circulation, its high points would lack the shimmer of the fine grain to its surface. Uncirculated coins are often the target of the serious coin collector. Pristine and glittering, they have never been used for any type of exchange and have not been handled.
Extremely Fine: Jefferson's hair has a pleasing amount of detail and is in good condition, with only light wear and lack of luster. If a coin collector can't afford coins in mint condition, then the next best thing is an extremely fine coin. These coins may appear brand new at first glance, but a closer inspection will reveal minor blemishes.
Fine: In fine condition, most of the higher relief details have been worn away. Even so, all major elements remain visible. Smooth areas are apparent in the top, middle, and lower portions of the hair. Coins that have been assigned a grade of fine have seen their share of action over the years. These coins may have been a part of millions of transactions and they may show signs of wear and tear, but their images and details should still be robust enough to clearly identify them.
Good: Overall heavy wear is the impression of a Jefferson nickel in Good condition. Gone are all but outlines of the major designs, which have been smoothed to near indistinctness. Current demand for Jefferson nickels in Good condition is low. Most of the Jefferson Nickels minted between 1938 and 1964, are often in good condition. These coins have clearly seen lots of action, and they may have serious defects such as deep scratches, dents, or discoloration.
1957 Jefferson Nickel Value
The estimated value of a 1957 Jefferson nickel from good to extremely fine condition is $0.05 to $0.56 or more. PCGS doesn't even give value for coins in good to extremely fine condition, so we figured if anything, the coin would at least be its face value or maybe less.
The fact is, your old 1957 Jefferson Nickel with worn out surfaces on both obverse and reverse isn't appealing to collectors and as such they won't pay a reasonable amount for this coin. However, you may consider holding on to your coin for a couple of years, who knows, it might become rare even in good condition and its value just might go up.
If you have an uncirculated coin in your possession, don't give up just yet, collectors are willing to pay higher for 1957 Jefferson nickels in this category. See the price chart below, it will give you a clue as to how much a 1957 Jefferson Nickel is worth in uncirculated condition.
| | |
| --- | --- |
| Grade | Price Sold |
| MS 64 | |
| MS 65 | |
| MS 66 | |
| MS 66+ | |
| MS 67 | |
| MS 67+ | |
1957 D Jefferson Nickel Value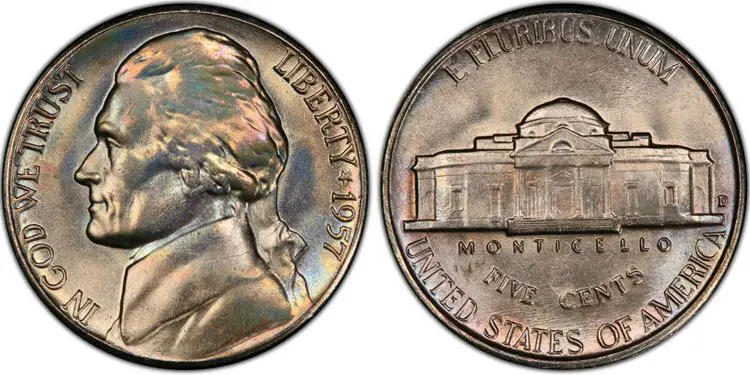 A 1957-D Jefferson Nickel in uncirculated (MS+) mint condition is worth $0.56 to $17, while the coin in circulated condition is worth $0.55 or less, depending on the state of the coin. With over 100 million coins struck at the Denver mint, getting a good-extremely fine condition of the 1957 D Jefferson Nickel won't be quite difficult.
Numismatists don't think this coin is worth buying in lower circulated grades, however, you could get above the face value of this coin if the issue in your possession is uncirculated. The table below will show you the value of this coin in various grades as seen on PCGS.
| | |
| --- | --- |
| Grade | Price Sold |
| MS 64 | |
| MS 65 | |
| MS 65 | |
| MS 66 | |
| MS 67 | |
Selling your 1957 Jefferson Nickel Online
You can sell your coin at a local coin store, however, you should get it graded first. Your old coin can also be sold easily online.
Selling your 1957 Jefferson Nickel Coin Online is easy and convenient. You simply need to find an online auction site that has the best price for your coin, list it for sale, and wait for buyers to come in and make a bid on your item.
To find the best price for your 1957 Jefferson Nickel Coin, you should start by searching through several different sites like eBay or Great collections. Some websites will even allow you to put up your own ads for free so that you can reach more customers who might be interested in buying one of these old coins from you.
It's important to remember that when selling online, there are no guarantees that anyone will actually buy anything from you — especially if they are looking for something specific. Good luck though.
Wrapping Up
Coin values for all dates are constantly rising and there is a big potential for any ambitious coin collector to make a tidy profit from the hobby. However, for now, the 1957 Jefferson Nickel isn't worth much in circulated condition, while owing one in uncirculated coin could be valuable, the amount one will be willing to spend to buy or sell a 1957 Jefferson even in MS 67 quality is relatively low as compared to other coins we've reviewed in the past. You might want to hold on to your coin for a few more years in hopes that the value increases with time.
I hope this article has been helpful, do well to share with friends and family members that love coins and have a few for sale. Our website would most definitely come in handy for people who love coins and are willing to buy or sell. Thanks for stopping by.