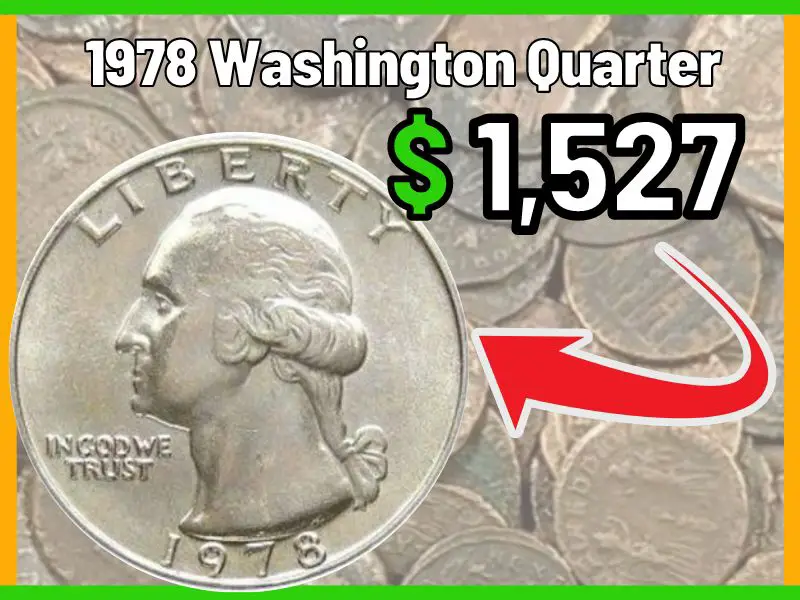 The 1978 quarter with the bust of George Washington on it is like many other US coins. Its value is greatly influenced by its condition and type. While its melt value is a mere $0.0518, It is worth $5.50 to $6.65 in mint uncirculated state. It is worth 25 cents in average condition as of 2022.
The 1978 quarter is often called a clad coin because it has different metals in it. As you may already know, most American coins have an inner core of copper and an outer layer of nickel and copper alloy. This alloy looks like silver making some think it is silver.
If you're looking for the best examples of clad coins it is the quarter and the half dollar. Recently the Washington quarter inspired interest again and collectors began to demand it.
Most Valuable 1978 Quarter
Most Valuable 1978 Quarter is 1978-D 25C MS67+ PCGS Sold on Aug 14, 2016 for: $1,527.50
The 1978 Quarter
George Washington appears on the face of the coin. The quarter is also known as the quarter dollar, which is worth 25 cents. While the obverse design has remained the same, the reverse has seen several changes since 1998. The quarter has been produced off and on since 1796.
History
The Washington quarter is not the first quarter that was produced. The one with the head of George Washington on it began its life in 1932. The man responsible for the design was John Flanagan, a sculptor who lived from 1865 to 1952.
Before 1964 the Washington quarter was 90% fine silver but then rising prices in silver necessitated the switch to the Johnson Sandwich, the cladding of nickel with copper.
1978 Washington Quarter
Location
Minted
Philadelphia
521,452,000
Denver
287,373,152
San Francisco
3,127,781
Total
811,952,933
As already noted, quarters weren't always the same composition from one period to the other. Quarters were silver from 1932 to 1964. They became a clad composition from 1965 to 1998. And the 1978 quarter is one of those.
As the composition changed to meet the period's needs, so did the design change. The quarter maintained the head of George Washington on the obverse but the reverse went through a few adjustments.
1978 Washington Quarter
Metal Composition
91.67% Copper – 8.33% Nickel
Mass/Weight
5.67 grams
Diameter
24.03 mm
Mint Mark
"D" "S"
Edge
Reeded
Designer
John Flanagan
For example, the 1978 quarter had the eagle design also called the Flanagan reverse, Washington quarters from 1999 have a reverse featuring the Crossroads of The Revolution. These quarters are still found in circulation today but most of them are worth a little more than face value.
On the other hand, uncirculated coins are rife and come in a little over their face value. The best bet for a seller of the 1978 quarters is to bring together a large collection and have them graded.
The Washington Quarter comes in three types.
Design
The 1978 quarter comes with obverse and reverse sides that have amazingly outstanding detail. Below are the features of the quarter.
Obverse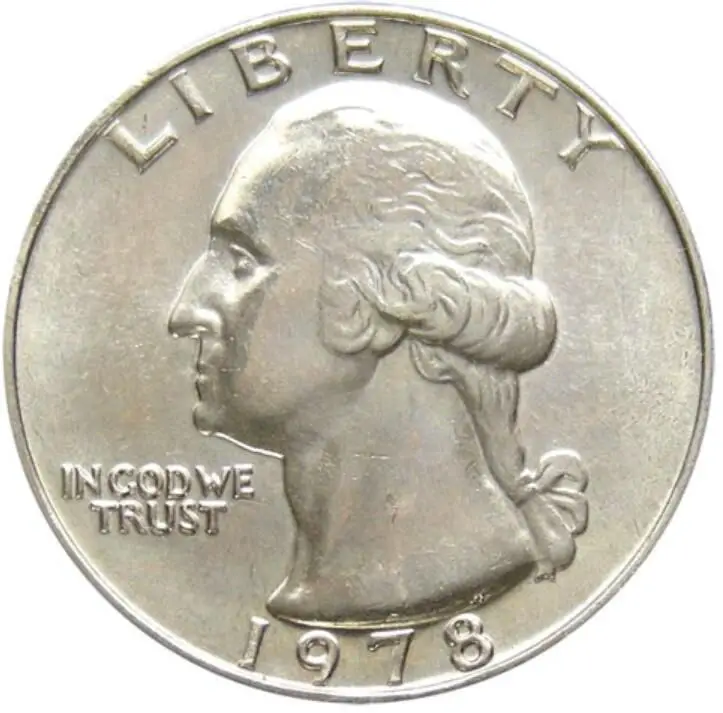 The obverse features the head of George Washington facing left. It was the 200th anniversary of George Washington in 1932 which was what influenced the decision to have his face on the quarter.
The fact that George's portrait is facing left on the coin has no real significance, it is simply a design factor determined by Victor David Brenner in a former penny.
George Washington wears a lock in this picture, the words LIBERTY is written on the top of the coin. Below is the date 1978 and in front of Washington's face is the motto IN GOD WE TRUST. Marked coins have an additional D or S. Quarters made in Philadelphia don't have marks on them.
Reverse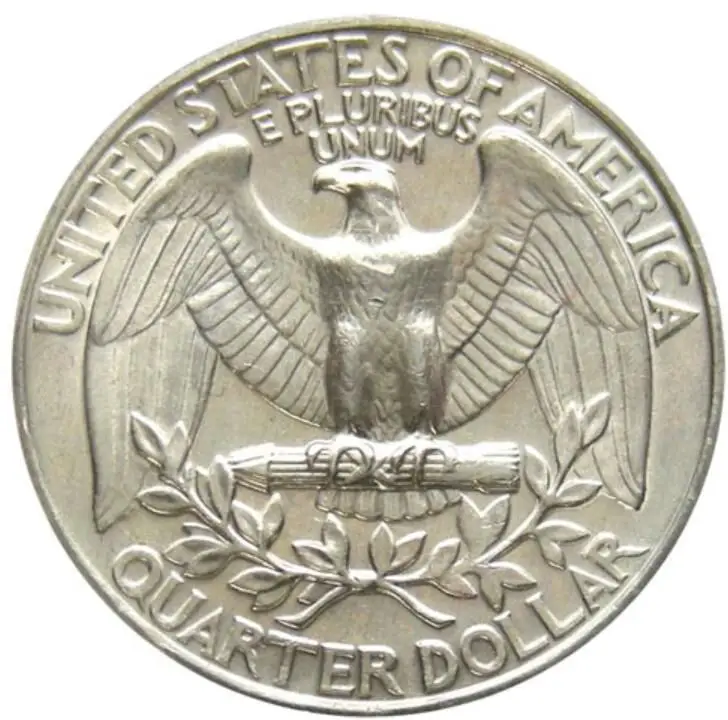 The reverse features the major points inherent in US coins. The eagle is a majestic element here and it's perched on a bundle of arrows and under that are olive branches. The words UNITED STATES OF AMERICA are over the legend and the words E PLURIBUS UNUM is below that. Lastly, QUARTER DOLLAR is under the olive branches.
Mints
There are three mints in the US where coins are made by the authority of Congress. They are the Philadelphia, San Francisco, and Denver mints. Each of the mints made sizable amounts of the quarter and stamped their marks on it, except the Philadelphia mints.
All 1978 quarters notwithstanding the mints that made them have the same design. The only difference is the mint mark on the coin. If you are delving into the art of coin collecting as a novice this shouldn't pose a problem.
It is true though that coins with marks collect more value than those without. Bar other factors, coins with the mark D or S will bring in more profits than the quarter with no mint mark from the Philadelphia mint.
Philadelphia Mint
Denver Mint
San Francisco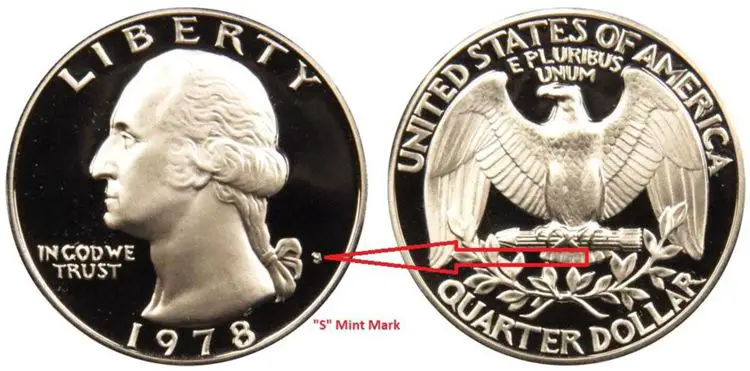 1978 Washington Quarter Grading
As already pointed out the value or worth is determined by how high the quarter is graded. Since the no-mint-mark quarter is pretty much available in circulation it will only bring in a high price if it is in mint condition. If you are entering the coin business fresh, the grading of the quarter can follow the PCGS system of grading:
This describes the worst condition a coin can be in. As the word suggests, this coin is not likely to bring in a lot of revenue. For a quarter to qualify the details must be clear for identification. Then poor coins usually have severe damage to them.
This coin is not better than a poor coin in major ways other than that it has no damages like the poor coin. It has a very smooth surface because it has lost most of the sharpness of its details.
This is a worn coin. Details like the details are hard to read because of wear. But they are better than the fair coins.
Here the major details are gone but you can at least see the date clearly. Other major details are so worn they are merged with the rim of the coin.
There is heavy wear here but you can still pick out the major details that identify the coin. Of course, these details are worn down, you are just able to make them out.
There is a lot of wear here too but the design and details are bold enough at first glance.
The rims here are definable, and most of the words are clear to read. You can see the fine details are just about to begin wearing out.
Extremely (Extra) Fine (EF 40)
There is very little wear on this coin. You can see both major and minor details without aid and straining your eyes.
About Uncirculated (AU50)
This coin appears to never have gone out into the public's hands. There's very little wear and may show some contact marks like scratches.
Very Choice About Uncirculated (AU 58)
This coin is like the AU50 coin only in that it has almost no marks at all. It is very appealing to the eyes.
Uncirculated Mint State Basal (MS 60)
This coin is surely uncirculated and never made it into the public but it shows plenty of marks and scratches from its interaction with other coins in the mint. This coin is not appealing to the eyes at all.
Choice Brilliant Gem Uncirculated (MS 65)
This coin is appealing to the eyes, has plenty of lusters, has no scratches, and exhibits a great strike.
Premium Quality Mint State Uncirculated (MS 68)
This coin shows a sharp strike. There are no contact marks except the one you see with an aid. You will also find great luster.
All But Perfect Mint State Uncirculated (MS 69)
This coin reeks of a perfect strike and high appeal. Under a magnifier, you will discover some imperfections like scratch marks and flaws.
This is a totally flawless coin, the collector's delight. This coin is perfectly stricken, the luster is complete. Numismatics would love to lay hands on coins of this nature.
This refers to proof coins, especially those made in the San Francisco mint. The grade runs from 1 to 70 like the MS scale. In comparison, this is like a Choice brilliant gem uncirculated MS 65 coin. You can tell a proof coin from the mirror-like surface. They are distinct like this because they were struck under greater pressure and longer.
1978 Washington Quarter Value
A 1978 Washington quarter in uncirculated (MS+) mint condition has a value of $6.65 or more. The 1978-P Washington Quarter is fairly common in circulated grades and should be fairly easy to find in circulation. In Uncirculated grades, it might be a little more difficult, but some may still be found by searching.
When looking for Uncirculated Morgan dollars in MS65 condition, it is best to find examples that have already been graded. In MS66 condition, they are scarce with less than 100 examples graded by PCGS, and none in higher conditions.
| | |
| --- | --- |
| Grade | Price |
| MS 66 | |
| MS 67 | |
| MS 67+ | |
The 1978 D Washington Quarter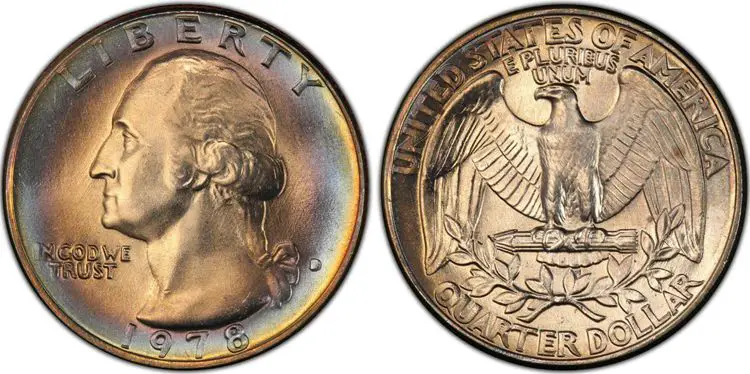 The 1978-D Washington Quarter is estimated to be worth $6.65 or more in uncirculated mint condition. The 1978-D Washington Quarter is readily available in any condition, and uncirculated examples can still be found in circulation.
Only in MS67 conditions and above does it become scarce. Grades higher than MS68 are rare for the issue and definitely an example worth keeping.
| | |
| --- | --- |
| Grade | Price |
| MS 65 | |
| MS 66 | |
| MS 67 | |
| MS 67+ | |
1978 S Washington Quarter
The 1979 Washington Quarter is worth $6.65 or more in Uncirculated (MS+) Mint Condition. More than 3 million (3,127,781) of the S quarter was made in the San Francisco mint. This coin shares the same details as the other types of the 1978 quarter.
By proof, it means the quarters were not made for public use but to be purchased by collectors. Proof coins are usually different in appearance. They feature greater and clearer detail in the design. 1978 S quarters are worth $4.52 graded PR 65. You can spot the S mark in the spot
behind Washington's lock of hair.
| | |
| --- | --- |
| Grade | Price |
| MS 67 | |
| MS 69 | |
| MS 67 | |
| PR 70 | |
How Rare Is The 1978 Washington Quarter
The quarter minted in the Philadelphia mint which has no mark is not so rare because it was produced in large quality. It is easy to find this quarter in circulated grades. That being the case if you have this coin don't expect it to bring in so much revenue.
These days it is difficult to find the no mint mark 1978 quarter in uncirculated condition. The rarity also depends on how the coin is graded. 1978 quarters graded MS 65 to MS 66 are rare and valuable so you'd have to grade any coin you have to find out.
PCGS has only graded a few in MS 67.
Now let's do a closer check on the value of the 1978 Washington Quarter value based on each type of coin. You will also have charts to help you understand the value and grades at a glance.
Best Places To Sell Your 1978 Washington Quarter
Newcomers into the world of coin collection and sale would wonder just where to sell their 1978 Washington Quarter. You can begin your search on the internet for the best spots close to you. You can also find places on the internet.
eBay is one the best places on the internet to post up your quarter I'd you have them.
Heritage Auctions is also a great place to feature your coin. They also provide grading services on this site. Here buyers and collectors bid for your coin. You can get a good sale for your quarter here.
JM Bullion features world-class services for coin sales. Your coin is featured on their website where thousands of people have access to view and bid for it.
Coin Appraiser offers sales and grading services. You don't have to go through the stress of getting grading services elsewhere.
Note that your quarter would do better at auctions if they are graded. If the outlet you choose doesn't offer grading services, you can get the services from other professionals.
Other places where you can sell your coin include the following places:
This represents one of the best places to sell your coin. The transaction is faster and they usually provide a good deal without the usual fees that internet auctions deduct from your sale. Also, you may not have to grade your coin before selling it to a pawnshop. The downside is you may not get premium prices for the coin.
You can organize your own yard sale. First, advertise the sale in a local paper or on your social media handles. This method of selling your quarters is effective especially if you have a large collection of coins to sell, not just a few pieces.
One of the first people to consult is coin dealers. First, be sure of the reputation of the dealer before letting go of your coins. A coin dealer will help you identify the coin, probably grade it and provide you with general helpful services that will help your coin get a good price.
Final Thoughts
The 1978 Washington Quarter was produced in excess of 800 million when you combine all the products from the three mints. If you have quarters that are graded MS 63 and higher, then you are definitely in profit. Hence grading can never be overemphasized.
A newcomer to coin collection can begin with the Washington quarter. The copper-clad quarters were first produced in 1965 so you don't have so far back to go in collecting. And the coins don't come in series in one year other than the types. It is important to not have too high hopes for the 1978 copper-clad quarters because, in the series of quarters, this is the least valuable.